The global argan oil market was valued at USD 86.53 billion in 2021 and is expected to grow at a CAGR of 20.2% during the forecast period. The market will be driven by the rising demand for it frozen foods, desserts, confections, snacks, and sweets because it gives these foods flavor. Furthermore, macroeconomic factors that are favorably affecting the market include the rise in beauty consciousness and the growing market for oil as a medication for the treatment of diabetes and heart disease.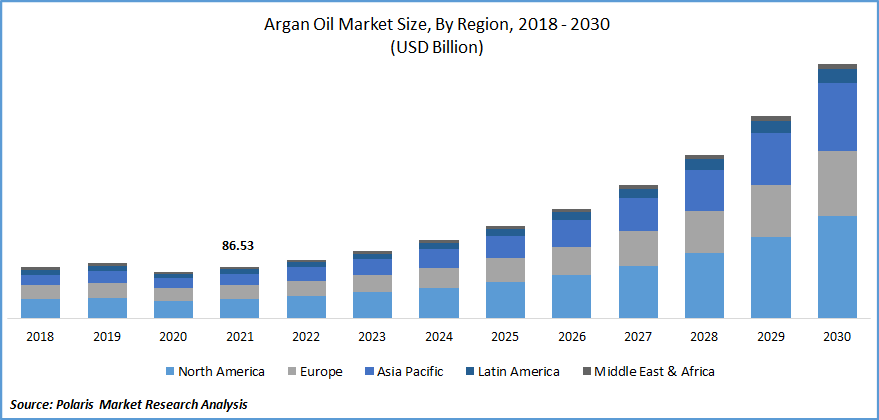 Know more about this report: Request for sample pages
The kernels of the argan tree are used to make argan oil, an organic material. It contains significant amounts of omega-6 fatty acids, antioxidants, and linoleic acid in addition to vitamins A and E. The oil is offered commercially in concentrated, blended, and absolute forms for use in cooking and cosmetics.
For several health benefits, such as solving acne problems, skin irritation, and growing age signs, as well as moisturizing the skin, it can be applied topically or taken as a supplement tablet. The oil is, therefore, present in a large selection of high-end personal care items, such as moisturizers, soaps, and conditioners.
Further, the emergence of the new coronavirus has caused revenue bars in practically every industry to decrease. Lockdowns were enacted nearly everywhere in the world to flatten the curve of daily case increases. Production was stopped as a result of socially divisive policies, which had a negative impact on the world economy. The supply chain was severely affected at this time, which limited market expansion. The COVID-19 pandemic's immediate changes to the retail environment for cosmetics are probably going to make it difficult for the argan oil market to expand over the next years.
According to studies, buyers preferred skincare and haircare items throughout the outbreak. These sectors have experienced a minimal fall and rather quick recoveries as a result of local reopenings. These elements may aid the sector in regaining momentum in the years to come, along with the widespread knowledge of the health advantages of the product and the progressive relaxation of COVID-19 regulations in many nations.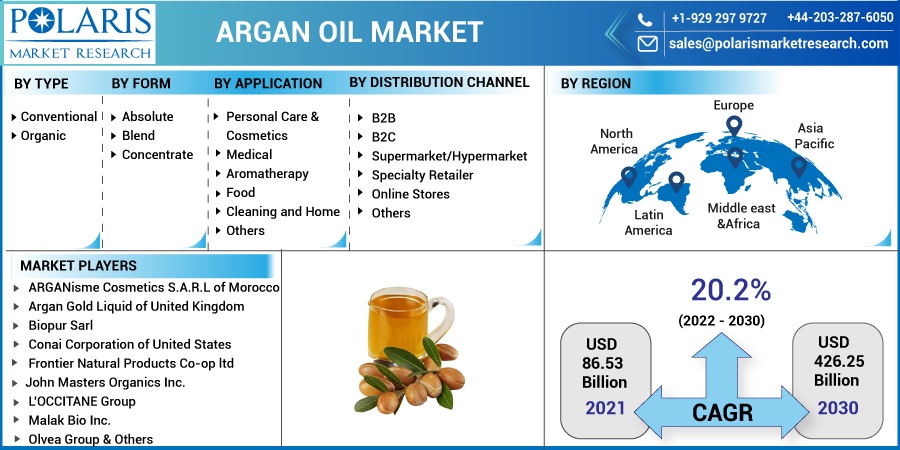 Know more about this report: Request for sample pages
Industry Dynamics
Growth Drivers
The expansion is explained by rising product demand from a variety of end-use industries, including the food and beverages, cosmetics, and medical sectors. Particularly in the cosmetics and personal care sectors, it has emerged as one of the most popular items. This is explained by their cutting-edge qualities, which include significant antioxidant and anti-inflammatory content as well as other noteworthy advantages for skincare and haircare.
Over the past few years, there has also been an increase in the usage of men's care products such as shower gels, hair and beard oils, and waxes enriched with argan and essential oils. All potentially dangerous compounds are completely absent from organic products. Over the past several years, market demand for organic personal care products has surged as a result of growing consumer awareness of the many benefits these products have over their synthetic equivalents.
Consumers are becoming more conscious of how they look, placing a premium on having youthful-looking, healthy skin. This trend is anticipated to increase consumer demand for natural cosmetics and personal care items, which will benefit the argan oil market.
Report Segmentation
The market is primarily segmented based on type, form, application, distribution channel, and region.
By Type

By Form

By Application

By Distribution Channel

By Region

Absolute
Blend
Concentrate

Personal Care & Cosmetics
Medical
Aromatherapy
Food
Cleaning and Home
Others

B2B
B2C

Supermarket/Hypermarket
Specialty Retailer
Online Stores
Others

North America (U.S., Canada)
Europe (France, Germany, UK, Italy, Netherlands, Spain, Russia)
Asia Pacific (Japan, China, India, Malaysia, Indonesia. South Korea)
Latin America (Brazil, Mexico, Argentina)
Middle East & Africa (Saudi Arabia, UAE, Israel, South Africa)
Know more about this report: Request for sample pages
Medical Application is expected to witness the fastest growth
The medication is intended to treat skin wounds, cuts, and abrasions more quickly due to its antibacterial characteristic. Due to its analgesic, anti-proliferative, aphrodisiac, anti-inflammatory, and antioxidant qualities, it is becoming more and more popular for a variety of medical purposes. Infections like chickenpox, skin problems like burns, eczema, and psoriasis, and illnesses like diabetes, epilepsy, osteoarthritis, and atherosclerotic are all treated with this.
Numerous advantages of aromatherapy massage have been established. The mind and body are harmonized, balanced, and relaxed as a result. It also strengthens the immune system to support different biological processes and combat infections. For commercial use, it is also offered in food and cosmetic grades. Culinary oil is a phrase for a food-grade product that is distinguished from cosmetic grade by the production method.
Conventional Type accounted for the highest market share in 2021
The traditional variety is obtained from the argan tree's kernels and is a great source of essential fatty acids and other vital elements. To grow high-yielding cultivars and produce greater oil content, conventional harvesting is characterized by the use of irrigation water, synthetic fertilizers, and chemical pesticides. Manufacturing of personal care and cosmetics, pharmaceuticals, aromatherapy, food, and household cleaning goods all heavily rely on this type.
One of the purest varieties of argan oil, a common component in aromatherapy, is organic. When harvesting organic argan oil, biobased fertilizers including bone meal, green manure, and compost manure are used to boost crop productivity. International cosmetics corporations are becoming increasingly interested in this kind, which is marketed as a luxury good.
B2C channel is expected to hold the significant revenue share
Business to Consumer (B2C) refers to the practice of selling goods directly to customers or end users through retail outlets such as grocery stores, department stores, specialized shops, internet marketplaces, and door-to-door sales. Customers across the globe prefer to purchase argan oil directly from the business to get better knowledge and benefits of the product.
In Europe, the Middle East, and North America, it is projected that sales through hypermarkets and supermarkets will increase significantly. On either hand, due to a simple shopping experience for the clients, online sales of the product are anticipated to increase greatly in the Asia Pacific and Central and South America.
Further, The term "business to business" (B2B) refers to the selling, trading, and distribution of goods via the Internet, wholesalers, and value-added distributors. Through partnerships with shipping and logistics companies, argan oil producers widely distribute their products over the world.
The demand in North America is expected to witness significant growth
The rising use of bio-based personal care, cosmetics, and aromatherapy products has made North America one of the major argan oil users. Because argan oil contains high-performance components like vitamin E, omega 6, omega 3, triterpenoids, lupeol, and tocopherols, the U.S. argan oil market is expanding and becoming more significant. These components support the body's natural anti-inflammatory and antibacterial properties while accelerating cell growth.
The substance helps to improve physical, mental, and spiritual wellness when used in aromatherapy treatments. Massage with aromatherapy improves stress reduction, physical balance, and numerous immune system activities. As a result, aromatherapy items are readily available in specialized stores and online shopping malls in North America. In the United States, a favorable regulatory environment and technological innovation aimed at improving chemical and microbial quality are likely to contribute to the market's overall growth.
One of the biggest markets for argan oil worldwide is Europe. Applications of products in the personal care and cosmetics industries dominate the European market. The majority of cosmetic grade processing takes place in Europe and involves solvent extraction of the kernels. This grade is mostly used to make moisturizers, cosmetics products, creams, shampoos, and anti-wrinkle cosmetic goods.
Additionally, Europe has recently played a significant role in biopharmaceutical research. Pharmaceutical businesses in the area have produced biobased medications with effectiveness for several conditions, including diabetes, cancer, high blood pressure, and cardiovascular diseases.
Furthermore, The organic personal care and cosmetics business in the Asia Pacific is showing great promise. The biggest regional market is China, which is followed by Japan and India. Argan oil producers in the area should benefit from the creation of novel organic medications for the treatment of diseases like cancer, cardiovascular disease, hormone imbalances, gastrointestinal problems, anti-infectives, anti-aging, and stress reduction.
Competitive Insight
Some of the major players operating in the global market include ARGANisme Cosmetics S.A.R.L of Morocco, Argan Gold Liquid of United Kingdom, Biopur Sarl, Conai Corporation of United States, Frontier Natural Products Co-op ltd, John Masters Organics Inc., L'OCCITANE Group, Malak Bio Inc., Olvea Group, Purus International, and Zineglob ltd.
Recent Developments
In May 2022, One 'n Only broadens its selection of color removal products with the new Colorfix Hair Color Remover. It is produced with 100% argan oil and effectively removes semi-permanent hair color while nourishing and shielding strands from harm.
In June 2021, The Creme of Nature with Argan Oil From Morocco collection announced the fresh, contemporary packaging, and the company is promoting it with the hashtag #ShineDifferent. The ethnic brand provides hair style and care items blended with Moroccan Argan Oil, which is organically certified. The product line doesn't use mineral oil, petrolatum, or sulfates in its formulation.
Argan Oil Market Report Scope
| | |
| --- | --- |
| Report Attributes | Details |
| Market size value in 2021 | USD 86.53 billion |
| Revenue forecast in 2030 | USD 426.25 billion |
| CAGR | 20.2% from 2022 - 2030 |
| Base year | 2021 |
| Historical data | 2018 - 2020 |
| Forecast period | 2022 - 2030 |
| Quantitative units | Revenue in USD billion and CAGR from 2022 to 2030 |
| Segments covered | By Type, By Form, By Application, By Distribution Channel, By Region |
| Regional scope | North America, Europe, Asia Pacific, Latin America; Middle East & Africa |
| Key companies | ARGANisme Cosmetics S.A.R.L of Morocco, Argan Gold Liquid of United Kingdom, Biopur Sarl, Conai Corporation of United States, Frontier Natural Products Co-op ltd, John Masters Organics Inc., L'OCCITANE Group, Malak Bio Inc., Olvea Group, Purus International, and Zineglob ltd |