The global bronchodilators market was valued at USD 22.29 billion in 2022 and is expected to grow at a CAGR of 3.3% during the forecast period. The rising prevalence of respiratory disorders such as Lower Respiratory Tract Infections (LRTI) among pediatric patient population along with a higher occurrence of bronchoconstriction in these patients is anticipated to support the uptake bronchodilators, thereby promoting the growth of the market. Moreover, increasing awareness of treating lung diseases through various research studies and Key Opinion Leaders (KOLs) are expected to augment the growth of the market.
Know more about this report: Request for sample pages
For instance, a research study published by PLOS, in April 2022, the total number of patient admissions for Acute Respiratory Infections (ARI) accounted for 60.8% of pediatric patients. Furthermore, the World Health Organization (WHO) reported respiratory infections to account for 6% of the global disease burden. The rising incidence of respiratory disorders combined with growing disease burden is estimated to drive the demand for bronchodilators and augment the growth of the market.
According to a research article published by the AJMC, in March 2022, the prevalence COPD and other respiratory disorders to be at 15% among geriatric patients aged 65 and above along with 8% in patients aged 40-65. The rising prevalence of COPD among geriatric patients is anticipated to increase the patient pool undergoing bronchodilator therapy. This along with increasing geriatric population is projected to augment the demand of bronchodilators thereby supporting market growth.
The outbreak of the COVID-19 pandemic has significantly impacted the growth of the bronchodilators market. The impact was positive primarily due to superseding pathological cases of respiratory disorders as co-morbidity of the corona virus. This promoted medical facilities and healthcare professionals for off label use of respiratory medications such as bronchodilators. All the more, the corona virus was responsible for lower immunity and increased susceptibility of patients to relapse into respiratory diseases post recovery. This further supported the adoption of bronchodilators owing to bronchial alleviation and bolstered market growth during the pandemic.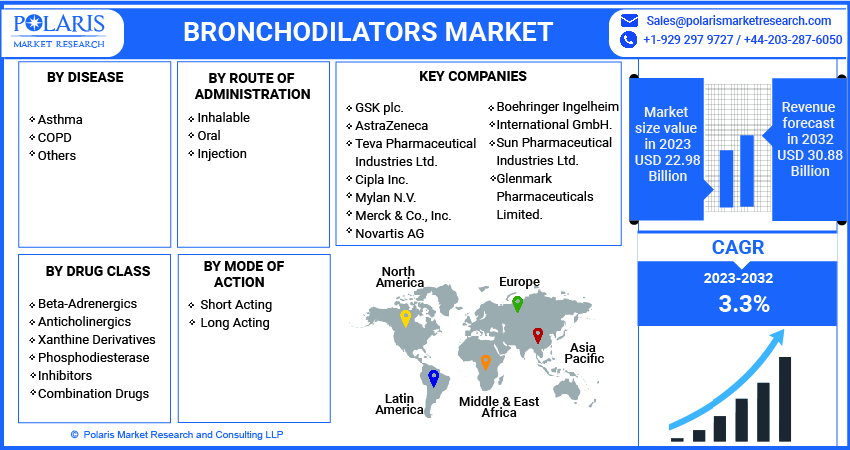 Know more about this report: Request for sample pages
Industry Dynamics
Growth Drivers
The current dependency of bronchial symptom alleviation with bronchodilators alongside increasing occurrence of lifestyle altering diseases such as Asthma and chronic bronchitis are some of the key factors responsible for growth of the bronchodilator market. The increasing number of hospital admissions due to respiratory diseases and breathing complications coupled with rising availability of novel bronchodilator combinations to support therapy is further estimated of drive the demand for bronchodilator therapy and growth of the market.
Moreover, increasing patient pool requiring bronchodilator treatment has promoted major market players to invest in researching pipeline drugs and other novel drug delivery methods to cater the rising demand of bronchodilators. This coupled with rising adoption of telemedicine and remote consultation is anticipated to encourage uptake of portable bronchodilator device technology, boosting the presence of bronchodilators in homecare and other remote medicine markets.
Report Segmentation
The market is primarily segmented based on disease, route of administration, drug class, mode of action and region.
By Disease

By Route Of Administration

By Drug Class

By Mode of Action

By Region

Beta-Adrenergics

Anticholinergics

Xanthine Derivatives

Phosphodiesterase Inhibitors

Combination Drugs

North America (U.S., Canada)

Europe (France, Germany, UK, Italy, Netherlands, Spain, Russia)

Asia Pacific (Japan, China, India, Malaysia, Indonesia, South Korea)

Latin America (Brazil, Mexico, Argentina)

Middle East & Africa (Saudi Arabia, UAE, Israel, South Africa)
Know more about this report: Request for sample pages
COPD segment is expected to witness fastest growth over the forecast period
The decline in breathing air quality due to pollution over decades along with poor lifestyle choices such as chronic tobacco smoking are found to trigger COPD symptoms overtime through long term diagnosis and clinical research. These along with occupational hazards such as exposure to poisonous gases and fumes by industrial labor and genetic susceptibility to develop COPD are some key factors causing affecting the segment and is responsible for higher adoption of bronchodilators. Due to the reasons, increasing prevalence of COPD in pediatric and adult population along with higher mortality rates of COPD is increasing its therapy awareness and growing the number of patients undergoing bronchodilator treatment. This coupled with increasing therapy availability is responsible for growth of the segment.
For instance, an article published by the Centre of Disease control (CDC), in December 2022, COPD was responsible for the 6th largest cause of death in the U.S. with a death rate of approximately 10% accounting for 102.5 deaths per 100,000 patient population. Moreover, the occupations rated for the highest Pulmonary Mortality Rates (PMR) were found to be hospitality, healthcare, and construction. Therefore, the increasing number of hospital visits due to occupational health hazards is responsible for increasing the demand of bronchodilators for the segment.
Oral accounted for the largest market share in 2022
The oral segment is estimated to grow through the forecast period due to long term bronchodilator therapy required for management of severe respiratory conditions such as Acute Exacerbated Chronic Bronchitis (AECB) and Reversible Airway Disease (RAD) which alter the quality of life for patients. Moreover, the population habitual to chronic smoking along with long term asthma patients, require long acting oral bronchodilators for avoiding frequent attacks of bronconstriction and risk of death. Oral bronchodilators are a supplemental therapy and have proven to lessen the episodes of adversity observed historically. This has reduced the number of patients undergoing emergencies and is expected to further augment the growth of the segment in the bronchodilator market.
According to an article published by British Medical Journal, in March 2022, the total number of patients receiving escalated treatment for acute severe asthma was estimated to be 7.3% along with 4.2% receiving parenteral bronchodilators. Moreover, 4.3% of patients received respiratory support. Most cases of patients on oral supportive therapy did not report any adversities requiring escalated treatment or respiratory support. The increasing success rates of oral therapy in bronchodilation are anticipated to drive the adoption of oral bronchodilators among the patient pool thereby augmenting the growth of the segment.
Beta-Adrenergic is expected to hold the significant revenue share
Beta Adrenergics are the one of most widely accepted bronchodilators among the industry due to their robust use cases and time tested effects on relieving bronchoconstriction. Beta Adrenergics also have a direct mechanism of action over airway smooth muscles thereby providing immediate effect. The widespread adoption of these drugs along with escalating demand for effective bronchodilators as a first line treatment is anticipated to drive the growth of the segment. Moreover, increasing emphasis of major market players over innovating novel combinations of Beta Adrenergics is also estimated to increase availability alongside an upsurge in adoption of these drugs. This coupled with high demand of bronchodilators is projected to drive the growth of the segment.
For instance, in December 2022, the National Institute of Health published recruitment status of an experimental Albuterol therapy aimed at treating Asthma with a cloud based digital system. It is an electronic multi-dose dry powder inhalation system with a patient smart interface built in the dispenser. The delivery system is based on the generic Albuterol which is currently in Phase 4 clinical trials. Such technological development by key companies to cater rising need of novel solutions utilizing Beta Adrenergics is anticipated to promote the growth of the segment.
The demand in North America is expected to witness significant growth
Increasing geriatric population suffering from respiratory disorders, large presence of cigarette consumers, rising environmental pollution hampering quality of air and growing industrialization are some reasons responsible for the dominance of North America in the market. Moreover, increasing focus of regulatory health bodies such as the U.S. Food Drug Administration over approving various generic drug combinations top improve availability and affordability of bronchodilators is expected to improve the adoption these medicaments and support the growth of the market.
Furthermore, the increasing burden of COPD in North America is also creating a new demand of bronchodilators due to increasing incidence of co morbid respiratory disorders. This in turn fosters the patient pool undergoing bronchodilator therapy and is projected to grow the regional market. For instance, according to an article published by the British Medical Journal, in July 2022, the disease burden of COPD in North America was estimated to be 3558.4 per 100,000 of patient population which is the highest in the world. Additionally, smoking and ambient air particulate matter were primary reasons for causing COPD across the globe.
Competitive Insight
Some of the major players operating in the global bronchodilators market include GSK, AstraZeneca, Teva Pharmaceutical, Cipla Inc., Mylan, Merck, Novartis, Boehringer Ingelheim, Sun Pharmaceutical Industries, Glenmark Pharmaceuticals.
Recent Developments
In November 2022, AstraZeneca in collaboration with Avillion, announced its U.S. Food and Drug Association approval of PT027 (albuterol/budesonide) for the treatment of asthma. The regulatory approval is aimed at treatment of age 18 and above as a FDC (Fixed Dose Combination) medication to provide coverage of severe exacerbations and underlying inflammation in short term therapy. The development strengthens the market position of company along with diversification of its product portfolio in the bronchodilator industry.

In October 2022, AeroRx Therapeutics announced its collaboration with HCmed Innovations for development of a novel therapeutic combination for treatment of chronic obstructive pulmonary disease (COPD) using various classes of bronchodilators. The development will enable the company to conduct clinical trials and commercialize the new formulation along with customization of AdheResp, an innovative breath-actuated mesh nebulizer platform. This coupled with increasing prevalence of COPD and subsequent demand of portable medications to cater rising patient population is anticipated to provide a competitive advantage for the company in the bronchodilator market scenario.
Bronchodilators Market Report Scope
| | |
| --- | --- |
| Report Attributes | Details |
| Market size value in 2023 | USD 22.98 billion |
| Revenue forecast in 2032 | USD 30.88 billion |
| CAGR | 3.3% from 2023 - 2032 |
| Base year | 2022 |
| Historical data | 2019 – 2021 |
| Forecast period | 2023 - 2032 |
| Quantitative units | Revenue in USD billion and CAGR from 2023 to 2032 |
| Segments covered | By Disease, By Route of Administration, By Drug Class, By Mode of Action and By Region |
| Regional scope | North America, Europe, Asia Pacific, Latin America; Middle East & Africa |
| Key companies | GSK plc., AstraZeneca, Teva Pharmaceutical Industries Ltd., Cipla Inc., Mylan N.V., Merck & Co., Inc., Novartis AG, Boehringer Ingelheim International GmbH., Sun Pharmaceutical Industries Ltd., Glenmark Pharmaceuticals Limited. |