Report Summary
The global medical disposable market was valued at USD 190.4 billion in 2017 and is anticipated to grow at a CAGR of 6.1% during the forecast period. Medical disposable device are the devices that are used only-one time. These medical devices are primarily manufactured for infection control. Disposable medical device includes needles, syringes, exam gowns, face masks, bandages, applicators, wraps, gloves, drug tests, surgical sponges and suction catheters. The major factors that has promoted manufacturing of disposable medical devices for careful balance between performance, cost, reliability, materials, and shelf life.
Global Medical Disposable Market (USD Billion) & Y-o-Y Growth (%)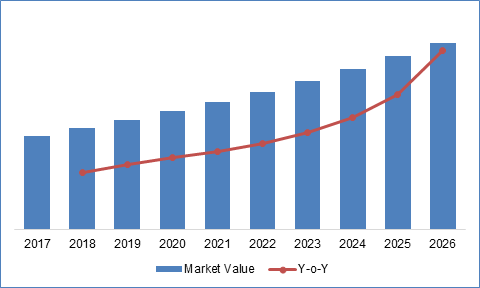 Know more about this report: request for sample page
The medical disposable device market is primarily driven by the changing life style of the individuals, reducing the risk of infection, and cross-contamination to the patient. Furthermore, increasing the number of geriatric populations, and rising prevalence of chronic diseases to also spur the market growth during the forecast period.
With the effective product engineering & design has promoted new product development that are developed by sustainable material, process and design innovation in this industry. Additionally, increased awareness in the patients for the use of medical disposable devices to also boost the market growth in the coming years. Moreover, the increasing number of chronic diseases across the globe, and improved government regulations that has positively influenced the market growth during the forecast.
Segment Analysis
The worldwide medical disposable industry is segmented on the basis of product type, raw material type, end use and geography. Based on the product type the medical disposable market is segmented as Wound Management, Drug Delivery, Dialysis, Nonwoven Incontinence, Respiratory Supplies, Diagnostic and Laboratory, and Sterilization. Drug delivery segment is expected to be the fastest growing segment which uses needles, pre-filled needles, transdermal patches etc. owing to their advantages is the key factor driving the segment growth. Moreover, Diagnostic & laboratories, is the second fastest growing segment in the coming years.
On the basis of raw material, the medical disposable market is segmented as Paper and Paperboard, Plastic Resin, Nonwoven Material, Metals, Glass, and Rubber. Plastic Resin is expected to be the fastest growing segment owning to its various application. End user for the medical disposable devices include Hospitals, Outpatient/Primary Care Facilities, and Home Healthcare.
Regional Analysis
Geographically, the medical disposable market is segmented across North America, Europe, Asia Pacific, Latin America, and Middle east & Africa. The North America medical disposable market is dominating the global market owning to the rising awareness for the quality of healthcare, need for decreasing the cross-contamination and infection, and increasing healthcare facility to the elderly population in this region. Asia Pacific is supposed to grow at a faster rate owning to the continuous development in the healthcare infrastructure of the developing countries, and increasing number of geriatric populations affected with various chronic diseases.
Competitive Landscape
The major players operating in medical disposable market include Johnson & Johnson Services, Inc., 3M, Abbott Laboratories, Medtronic Plc., B. Braun Melsungen AG, Bayer AG, Smith and Nephew Plc., Medline Industries, Inc., Cardinal Health, and Becton, Dickinson & Company among others. These leading players in the medical disposable market are introducing innovative products in the market to cater to the consumers. Global players are entering new markets in developing regions to expand their customer base and strengthen market presence