Efficient and New Age Innovative Technology Can Help Global Agriculture and Farm Equipment Market to
The global agriculture and farm equipment market is anticipated to rise to USD 272.1 Billion by 2026. In 2017, it was USD 132.7 billion and is estimated to grow at 8.8% CAGR till 2026 as per the report published by Polaris Market Research. Last year in 2017, the farm tractors sector revenue had conquered the global market. During the forecast period, it is predicted that Asia-Pacific market will turn out to be the leading participant in terms of returns in global agriculture and farm equipment market.
The agriculture equipment market is rising with the innovation of new technologies in the field of farming and agriculture. Global farm equipment manufacturers are focussing on assimilating smart applications like GPS, robotic and automation solutions or Google Earth into present-age machinery to make them more productive. Governments in developing countries are also helping agriculture industry in their countries by offering subsidies to farmers on farm machinery.
Latest types of farm machinery and equipment are used in the agriculture sector to reduce costs and to increase the quality, profitability and efficiency. These types of machinery are used for various processes such as –
Management of remains from previous harvests
Compost delivery and application
Cultivation of the soil
Pest control
Sowing, planting
Transportation
Harvesting
Storage of crops
Irrigation
Premarketing processing
Drainage
Water conservation
Pollution control
The innovative technologies are the chiefly responsible to allow the agricultural market to grow. These inventions help in increasing the productivity while maintaining the quality of food to meet the high food demand due to an exponential rise in population. Agriculture and farm equipment product categories contain seeding and fertilizing machines, farm tractors, irrigation and haying equipment, harvesting machinery, ploughing equipment etc.
Reasons driving the growth in Global Agriculture and Farm Equipment Market
Increasing demand for food harvests
Rising demand from developing economies
High-tech technical advancements
Necessity to produce superior quality of crops
Decreasing accessibility of resources/labour
Increasing labour charges
Instead of all these driving factors, there are few restricting which can hinder the growth of agriculture/farm equipment market such as huge capital or investment amount. Such restrictions can be met with advance machinery to provide abundant growth prospects in the future.
The research forecast the growth in agriculture and farm equipment market based on product and region for the time-period from 2017 to 2026.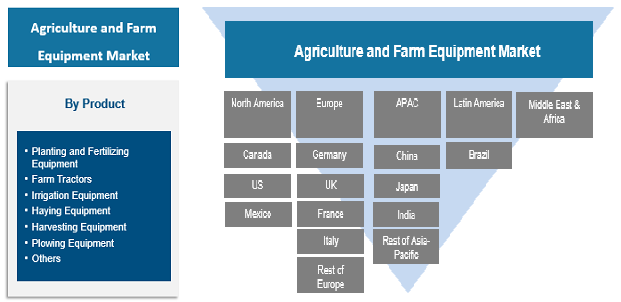 In 2017, farm tractors had the largest share in the global agriculture market as they play important role in various farm activities like dragging or pushing agricultural equipment, plowing, digging, planting and many more. Many renowned corporations are already collaborating with other market leaders to launch innovative and modernize products to meet the ever-growing demands of customers. Few of the companies included in the report published by Polaris Market Research are Agrocenter Limited, Amazone Limited, Agromaster, AGCO Corporation, CNH Industrial N.V., Horsch Maschinen GmbH, John Deere, Kubota Corporation, Mahindra & Mahindra Limited, Morris Industries Limited, CLAAS KGaA mbH and Escorts Group and so on.
---