Global Air Compressor Market Estimated to Grow USD 45.6 Billion By 2026 Due to Widely Accepted Featu
Polaris Market Research has published an extensive research and comprehensive analysis of the present market and estimated future performance of global Air Compressor Market during 2017-2026. The Air Compressor market is projected to grow USD 45.6 billion by 2026.  As per current research, Asia-Pacific is anticipated to be a dominating player region-wise, in the global market in terms of profits during this period.
Research talks about the performance of the major players in the market such as - Atlas Copco, Bauer Group, GE Energy, Hitachi Industrial Equipment Systems Co. Ltd., Ingersoll Rand Inc., Kaeser Compressors, Kobe Steel, Mitsubishi Heavy Industries Ltd., Oasis Manufacturing, Rolair Systems, Sullair, LLC and VMAC Company among others. The market is classified under following categories as per the report –

The report also offers performance analysis based on the following regions which are active players in global Air Compressor market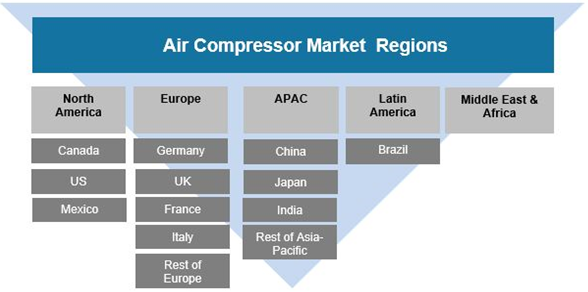 What is an Air Compressor?
Compressed air is evolving with use of advanced technology and will be used for doing critical functions in various fields like robotics, large-scale applications including household tasks. Widely used features of air compressors in non-industrial activities are being appreciated by the world resulting in the boost in Air Compressor market.
Air compressor is an equipment which is used to convert electrical energy into kinetic energy, utilizing compressed air.  Compressed air is a type of gas or mixture of gases put under extreme compression to be used to create energy which can be used in air gears such as air-hammers or drills etc.
Air compressors popularity is accredited to the fact that air compressors are the renewable source of energy. Stationary and portable are two kinds of compressors and currently, there are two evolving technologies in the air compressor sector –
Turbocor technology – Turbocor technology in compressors provide an oil-free design with relatively less moving fragments. It promises high productivity and consistency.
Thermoacoustic technology – These compressors operate on a thermoacoustic engine and positive displacement reciprocating compressor.
Future of Global Air Compressor Market as Projected by The Report
Stationary section of air compressors recorded highest market share in 2017. Features like high capacity large tank dimensions allow them to function with high-powered engines like in heavy industrial applications. Oiled air compressors are used in stationary air compressors. They are also known to support the heavyweight applications in industries like automotive, mining, construction, manufacturing etc.
The demand for power-efficient air compressors has been growing for a few years now, as they help in saving energy and reducing overall costs. Air compressors create energy for various kinds of equipment in miscellaneous for example, robotic tools, spray-painting, material management or separation equipment. Hence, the innovation and development of power-efficient air compressors by top players in the market are one of the reasons behind increasing opportunities in the Air Compressor Market.
Increasing popularity of energy-efficient air compressors will help the market to grow during the forecast period. Other driving factors in the growth of air compressor market are energy efficiency, lower maintenance cost, environmentally friendly, compactness, the capability to offer variation in supplied pressure. Also, the growth in emergent sectors like health care, farming, construction and automation will help air-compressor market to be worth USD 45.6 billion by 2026. Rapid industrial development with the progress of manufacturing business will further support market growth.
---