The global air compressor market size was valued at USD 31 billion in 2017 and is anticipated to grow at a CAGR of 4.5% during the forecast period. Air compressor is a machine that compresses air at atmospheric pressure and delivers it at a higher pressure. Air compressors are used to compress air to a higher pressure and harness the stored energy for various tasks. Air from the compressor can be deployed for pushing a piston in a jackhammer, passing air through turbine for turning the shaft, releasing air through a nozzle for creating a high-speed jet spray and other tasks. Air compressors are widely used in petroleum, chemical, manufacturing, oil & gas, mining, power, and construction industries. In the construction sector, air compressors are used for various tasks such as drilling, painting, cutting, nailing, and others.
The increasing energy consumption in industries such as manufacturing, agriculture and automotive, along with global industrial growth drives the market. Growing demand from oil and gas industry in Middle East and Asia-Pacific is expected to supplement the growth of the market. The global air compressor market is expected to grow during the forecast period owing to growing industrialization and urbanization across the globe. High energy efficiency, low maintenance cost, environmentally friendliness, portability, ability to deliver variation in supplied pressure are some other factors supporting the growth of the air compressor market. The increasing awareness regarding use of energy efficient compressors would boost the market growth during the forecast period. However, rising cost of raw material, noise pollution, and contaminated compressed air hamper the growth of the market. Growing demand from emerging economies, and technological advancements are factors expected to provide numerous growth opportunities in the coming years.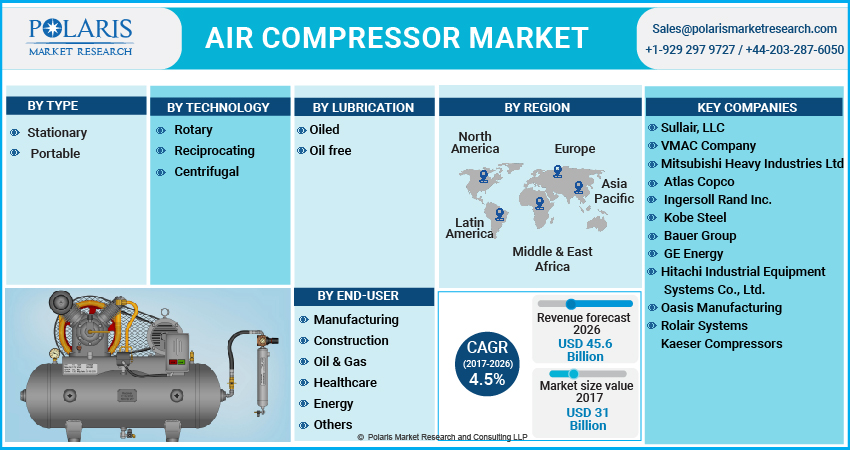 Segment Analysis
The global Air Compressor market is segmented on the basis of type, technology, lubrication, end-user, and region. Based on type, the market is segmented into stationary, and portable. The technology segment is divided into rotary, reciprocating, and centrifugal. The lubrication segment is divided into oiled and oil free. The end-user segment is categorized into manufacturing, construction, oil & gas, healthcare, energy, and others. This report comprises a detailed geographic distribution of the market across North America, Europe, APAC and South America, and MEA. North America is further segmented into U.S., Canada, and Mexico. Europe is divided into Germany, UK, Italy, France, and Rest of Europe. Asia-Pacific is bifurcated into China, India, Japan, and Rest of Asia-Pacific.
Regional Analysis
The leading players in the market include Sullair, LLC, VMAC Company, Mitsubishi Heavy Industries Ltd., Atlas Copco, Ingersoll Rand Inc., Kobe Steel, Bauer Group, GE Energy, Hitachi Industrial Equipment Systems Co., Ltd., Oasis Manufacturing, Rolair Systems, and Kaeser Compressors among others. The leading players in the market are introducing new innovative products in the market to cater to the growing consumer demands. Global players are entering new markets in developing regions to expand their customer base and strengthen market presence.