The global medical devices market size was valued at USD 500.64 billion in 2022. The market is projected to grow from USD 518.30 billion in 2023 to USD 827.88 billion by 2032, exhibiting a CAGR of 5.34% during the forecast period. The rising population, increase in chronic conditions, complex surgeries, and development in the implantation technique are some of the driving factors that support the growth of the market. The advancement in brain monitoring devices and the significant technological advancement in the medical device industry is expected to boost the medical devices market during the forecast period.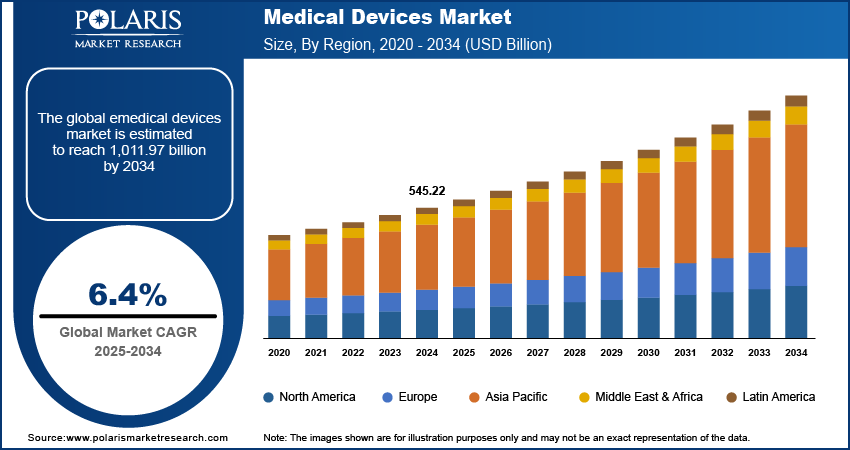 Know more about this report: Request for sample pages
The medical device is utilized for medical purposes such as diagnosis, monitoring, prevention, and treatment of diseases and injuries. Medical devices offer several benefits by helping patients overcome sickness or diseases, and improving their quality of life. The difference between medical devices and everyday devices is its intended use. According to the FDA (Food and Drug Administration), medical devices are classified as Class I, Class II, and Class III.
Class I and II are subjected to the least regulatory control and require special labeling. Class III are those which support or sustain human life. It includes a pulse generator, external defibrillators, and an endosseous implant. The medical device includes establishments that manufacture medical equipment or devices such as in-vitro diagnostic devices, diagnostic imaging equipment, dental equipment and supplies, ophthalmic devices, cardiovascular devices, hospital supplies, and other medical devices.
The coronavirus outbreak is disrupting supply chains all around the world with the most aggravating effect on the medical devices market. The COVID-19 pandemic has impacted the production scenario globally, it has changed the business environment for numerous organizations across the globe. Most companies have extended their production capacity to meet the increasing demand for essential supplies. Covid-19 severely impacted the overall medical devices market around the world, which directly influenced hospital capacities and the ability for patients to seek care for a number of diseases.
According to the World Health Organization (WHO), during COVID-19 over 28 million elective surgeries across the globe were cancelled, whilst 38% of global cancer surgeries were postponed. The coronavirus pandemic caused an unprecedented surge in the demand for medical products. The supply chain for COVID-19 relevant medical devices, such as personal protective equipment (PPE), ventilators, and testing supplies and equipment, was unprepared to satisfy higher demand.
There is a growing prevalence of chronic disorders, including diabetes, cancer, and other infectious diseases, owing to the adoption of sedentary lifestyles and other factors. Also, healthcare agencies of various countries are focusing on increasing the diagnosis and treatment rates through the growing number of awareness programs. With the rising prevalence and awareness of such conditions among the population, the patient population requiring diagnostic procedures and tests is also increasing.
For instance, according to the International Diabetes Federation (IDF), an estimated 537 million people in 2021 suffered from diabetes, which is projected to rise to 643 million by 2030 and 783 million by 2045. Similarly, according to the American Cancer Society, the estimated number of new cancer cases in 2021 was 1.9 million.
Also, a rapid rise in the geriatric population is increasing the demand for ophthalmic and orthopedic procedures due to increasing incidence of impaired vision and joint fractures in the elderly population. For instance, according to a 2021 data published by Osteoarthritis Action Alliance, annual incidence of knee osteoarthritis is highest between the age group of 45-65 years and 45% of the people with osteoarthritis are aged 65 or above.
Industry Dynamics
Growth Drivers
The rising prevalence of chronic medical conditions and treatment of patients suffering from these diseases is exerting huge pressure on the healthcare systems of various countries. This has led to a significant rise in the economic burden of treating these diseases globally. The overall costs of treating a patient in a hospital inpatient setting are significantly higher, and longer hospital stays are associated with a higher economic burden.
For instance, according to a 2021 article published by the American Journal of Managed Care (AJMC), in a recent randomized trial evaluating patients treated in a hospital setting and patients treated in a hospital-at-home setting, there was 19% cost reduction in home care management. Due to increasing economic burden and rising population aged above 60, there is a paradigm shift of preference toward home healthcare services among the population.
Additionally, with increasing efforts of key players and healthcare agencies to develop and launch new and easy-to-use medical equipment, such as portable and wearable devices for the treatment of chronic diseases, the adoption of home healthcare services is rapidly rising in developed countries.
Opportunities
Increasing research and development investment
Increasing investment in research and development activity by medical technology companies due to the rising prevalence of chronic disease and easy approval process for those devices by the regulatory authorities are expected to propel the medical devices market growth over the upcoming years. According to the article published in Regulatory Affairs Professionals Society (RAPS), the US Food and Drug Administration's (FDA) Center for Devices and Radiological Health (CDRH) approved or authorized 13 devices in the year 2021. Additionally, the increasing spending on R&D by the pharmaceutical, biopharmaceutical, and medical devices companies is further supplementing the growth of the medical devices industry during the forecast period
Report Segmentation
The market is primarily segmented based on type, application, end-use, and region.
By Type

By Application

By End-Use

By Region

Drug Delivery Systems

Diagnostic Devices

Invasive Devices

Respiratory Therapeutic Devices

Electronic Medical Device

Others

Cardiovascular Diseases

Diagnostic Imaging

Orthopedics

Oncology

Ophthalmology

General Surgery

Respiratory

Dental

ENT

Neurology

Nephrology & Urology

Others

Hospitals & Clinics

Ambulatory Surgical Centers

Homecare Settings

Others

North America

Europe

Asia-Pacific

Middle East & Africa
Know more about this report: Request for sample pages
Drug Delivery Devices are expected to dominate the market segment during projected timeframe
Drug delivery devices, are pharmaceutical formulations or devices that help in achieving targeted delivery or Controlled Release (CR) of therapeutic agents in the body. The drug delivery systems are segmented into metered dose inhaler devices, infusion systems, and other Companies such as Bayer AG (Germany), Johnson & Johnson (US), and Baxter International, Inc. (US) among others are the key players offering drug delivery systems.
Cardiovascular Diseases

is witnessed to dominate the market segment during forecast period
Rising prevalence of cardiovascular diseases such as heart failure, stroke, cardiomyopathy, and others are expected to drive the medical devices market growth. According to the World Health Organization (WHO), large population people died suffering from cardiovascular diseases in 2019 globally
Hospitals & Clinics has accounted the maximum share in 2022
Rising prevalence of cardiovascular diseases such as heart failure, stroke, cardiomyopathy, have augmented the utilization of the medical devices in hospitals & clinics across diverse geographies. According to the World Health Organization (WHO), in 2021 a large population across the globe died suffering from cardiovascular diseases.
North America is accounting for the largest region in 2022
North America accounted largest market share in Medical Devices Market. This is attributed to the increasing prevalence of chronic diseases such as cancer, cardiovascular disorders, diabetes, Chronic Obstructive Pulmonary Disease (COPD), Alzheimer's, obesity, arthritis among others. Moreover, the presence of favourable reimbursement policies, well-developed healthcare infrastructure, and rapid adoption of advanced medical technologies in the region drive the regional market growth during the forecast period.
Competitive Insight
The global Medical Devices Market is categorized by the presence of global, regional, and local players. The global medical devices market is characterized by the presence of many global, regional, and local players. Developments in the healthcare industry, rising technological developments, and growing research and development make the electronic medical devices market lucrative. To expand their reach and optimize their operational costs, the major players focus on obtaining regulatory authorizations from government agencies for their products and emphasize acquisitions and product launches to gain a substantial market share. Companies like Abbott Laboratories Inc, F. Hoffmann-La Roche Ltd, Philips Healthcare, Siemens Healthineers (Siemens AG), Stryker Corporation, Boston Scientific Corporation, Johnson & Johnson, Medtronic PLC, Smith & Nephew PLC, and GE Healthcare hold substantial shares in the market.
Recent Developments
In May 2022, BD launched a fully automated, high-throughput infectious disease molecular diagnostic platform, BD COR SYSTEM in the US.

In November 2021, Siemens Healthineers introduced Magnetom Free.Star, a cost-effective whole-body MRI scanner, designed to enable significantly better access to magnetic resonance imaging.

In January 2021, Boston Scientific announced that it has entered into an agreement to acquire Preventice Solutions, Inc. (US), a privately-held company which offers a full portfolio of mobile cardiac health solutions and services, ranging from ambulatory cardiac monitors – including short and long-term Holter monitors – to cardiac event monitors and mobile cardiac telemetry.
Medical Devices Market Report Scope
| | |
| --- | --- |
| Report Attributes | Details |
| Market size value in 2023 | USD 518.30 billion |
| Revenue forecast in 2032 | USD 827.88 billion |
| CAGR | 5.34% from 2023 - 2032 |
| Base year | 2022 |
| Historical data | 2019 - 2021 |
| Forecast period | 2023 - 2030 |
| Quantitative units | Revenue in USD billion and CAGR from 2023 to 2032 |
| Segments covered | By Type, By Application, By End-use, By Region |
| Regional scope | North America, Europe, Asia-Pacific, and Rest of the World Abbott (US), Fresenius SE & Co. KGaA (Germany), GE Healthcare (US), Johnson & Johnson Services Inc (US), Medtronic (Ireland), Siemens AG (Germany), Stryker (US), Boston Scientific Corporation (US), Becton, Dickinson, and Company (US), Bio-Rad Laboratories, Inc (US) |
| Key companies | Abbott Laboratories Inc, F. Hoffmann-La Roche Ltd, Philips Healthcare, Siemens Healthineers (Siemens AG), Stryker Corporation, Boston Scientific Corporation, Johnson & Johnson, Medtronic PLC, Smith & Nephew PLC, and GE Healthcare |