The global industry 4.0 market was valued at USD 65.53 billion in 2021 and is expected to grow at a CAGR of 20.8% during the forecast period. The manufacturing sector's rapid adoption of artificial intelligence (AI) and the Internet of Things (IoT), rising market demand for industrial robots in the manufacturing of pharmaceuticals and medical devices, rising government investments in additive manufacturing and 3D printing, and expanding use of blockchain technology are the main factors driving the industry 4.0 growth.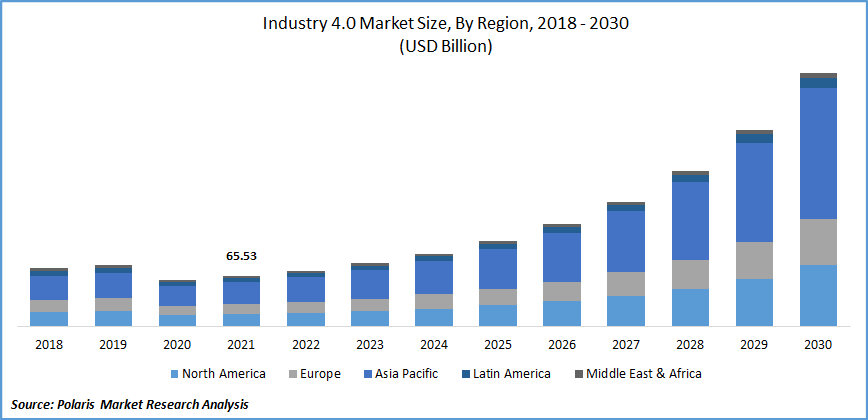 Know more about this report: Request for sample pages
Additionally, the market demand is anticipated to rise as AI and IoT are increasingly used in medical wearables. Over the last five years, IoT and AI technologies have swiftly entered the medical sector. An integrated hospital ecosystem has emerged as a result of the usage of AI and IoT technologies by medical wearables.
For instance, a wearable device and clever algorithms may monitor glucose levels and automatically provide the right quantity of insulin to diabetic patients through continuous glucose monitoring.
For the purpose of monitoring the quality of manufacturing, machine vision is widely utilized. Compared to manual inspection, it is quicker, more cost-effective, and more time-efficient. Additionally, manufacturing facilities employ AI and IoT for proactive maintenance to forecast when repairs and replacement parts are necessary, as well as how long an item will last.
This reduces downtime brought on by unforeseen repair and maintenance tasks. The usage of AI and IoT in manufacturing will become commonplace in the upcoming years, according to cost-benefit analyses of using these technologies in the manufacturing sector.
The outbreak of the COVID-19 pandemic has significantly impacted the growth of industry 4.0. The COVID-19 epidemic has wreaked the most havoc on the Asia Pacific, which has some of the largest developing economies in the world. About 70% of the global electronics sector is accounted for by the APAC region's electronics manufacturing sector. Due to the pandemic, China, which is the world's largest producer of electronics, suffered significant losses in FY2020. Due to the virus's rapid spread, the production of electronic and medical gadgets is still on hold in some containment regions.
A second wave of the pandemic has been hitting India, disrupting supply systems all around the nation. Massive losses are being experienced in the manufacturing sector as a result of sporadic lockdowns and mobility restrictions as of the second quarter of 2021. Japan and South Korea continue to see some moderate effects.
One of the key drivers of the expansion of industry 4.0 in APAC is the rising adoption of robotics in the manufacturing sector in China, Japan, and India. Players in the market can set up manufacturing facilities in APAC nations due to low production costs. Due to ongoing technological developments, financial assistance from regional governments, and a vast industrial base, with China and Japan providing the majority of the industry 4.0 growth, APAC is also one of the regions with the quickest growth rates.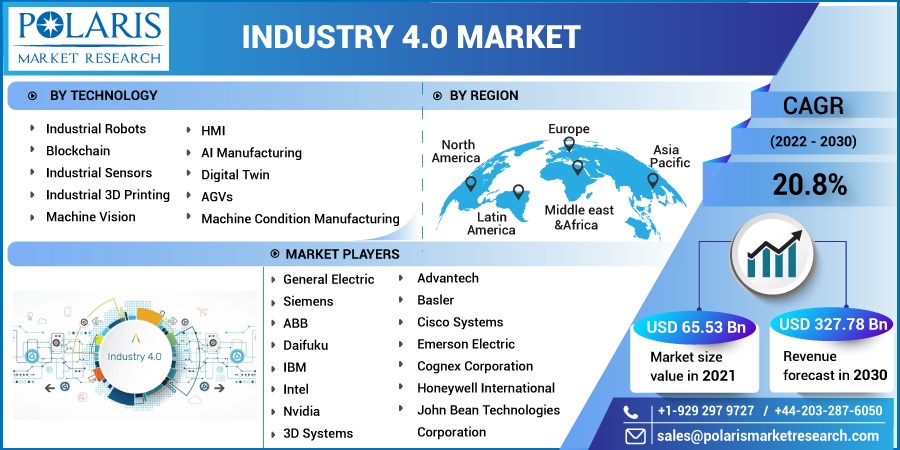 Know more about this report: Request for sample pages
Industry Dynamics
Growth Drivers
The prospect for industry 4.0 growth is being boosted by the growing use of the internet. The market now has more opportunities thanks to recent developments in industrial automation and digital technologies. For instance, Robert Bosch Engineering and Business Solutions Private Limited said in May 2021 that Phantom Edge would be made available to provide real-time views of electric characteristics, appliance level information, electrical energy consumption, and operating usage.
Artificial intelligence (AI) and the Internet of Things (IoT) are combined in the Phantom Edge, which has applications in a number of industries, including retail, industrial manufacturing, healthcare, agriculture, and mobility.
The need for robots has surged recently. Furthermore, robots, which were formerly more expensive and had fewer options, are now affordable devices that can carry out a variety of activities. People all throughout the world frequently employ industrial robots in particular. For instance, a report on the most recent trends in the robotics sector suggests that industrial robots are being employed more frequently in production hubs, leading to quick improvements, development, and evolution. This is likely to fuel the industry 4.0 market's expansion.
Robots have evolved over the past few decades from being prohibitively expensive devices with limited capabilities to being inexpensive machines capable of carrying out a wide variety of jobs. Particularly industrial robots are widely used by people all over the world.
According to recent trends in the robotics business, industrial robots are being used more and more frequently in production hubs, which is hastening progress, innovation, and industrial development.
Report Segmentation
The market is primarily segmented based on technology, and region.
By Technology

By Region

Industrial Robots
Blockchain
Industrial Sensors
Industrial 3D Printing
Machine Vision
HMI
AI Manufacturing
Digital Twin
AGVs
Machine Condition Manufacturing

North America (U.S., Canada)
Europe (France, Germany, UK, Italy, Netherlands, Spain, Austria)
Asia Pacific (Japan, China, India, Malaysia, Indonesia, South Korea)
Latin America (Brazil, Mexico, Argentina)
Middle East & Africa (Saudi Arabia, UAE, Israel, South Africa)
Know more about this report: Request for sample pages
Machine condition manufacturing segment is expected to witness fastest market growth
Machine condition manufacturing is the largest revenue-making segment in the market as vendors in the industry 4.0 market are primarily interested in making money by implementing automated process control systems that enable connected value creation networks and monitor production and assets in real-time. These networks are made possible by early stakeholder involvement and horizontal and vertical integration, and these networks. Industry 4.0 is showcasing these tendencies on a worldwide scale.
The demand in North America is expected to witness significant market growth
Currently, industry 4.0 in Europe is dominating the global industry 4.0 market. In comparison to other regional markets, industry 4.0 in Europe is experiencing the fastest adoption of autonomous production monitoring and control technology. Industry 4.0 in South Asia and the Pacific is predicted to grow more quickly than those in North America and Europe over the course of the forecast period.
It is anticipated that rising market demand for industrial robotics in China's and the United States manufacturing hubs would allow the regional markets to experience rapid expansion over the course of the projection period.
Globally, there has been an increase in the use of intelligent, network-enabled products and services that characterize industrial production. This element is predicted to accelerate the expansion of the world market for industry 4.0. Another factor driving the industry 4.0 growth of the worldwide industry 4.0 market is the expanding use of closed-loop control systems and data models, as well as the rising market demand for application-specific customization of industrial hardware, software, and services.
Competitive Insight
Some of the major players operating in the global industry 4.0 market include General Electric, Siemens, Honeywell International, ABB, Emerson Electric, 3D Systems, Advantech, Basler, Cisco Systems, Cognex Corporation, Daifuku, IBM, Intel, John Bean Technologies Corporation, Nvidia.
Recent Developments
ABB introduced its new SWIFT cobot in February 2021. It has a reach of up to 580 mm, a payload of 4 kg, and the advantages of safe, collaborative operation. This will make it possible for more organizations to use automation and offer up new opportunities for increased productivity across a variety of sectors, from manufacturing to logistics and beyond.
ABB introduced its new GoFa greater payload cobot in February 2021, which will help employees with labor-intensive, repetitive activities.
The Simatic Real-time Locating Systems (RTLS) and SieTrace software, which provides real-time location information, were introduced by Siemens in July 2020. Customers can use these products to manage their manufacturing processes during the COVID-19 crisis and create operating procedures accordingly.
The Siemens Teamcenter X software, a new product lifecycle management (PLM) system, will allow businesses to swiftly adopt, scale, and integrate functionally diverse PLM technology. It was released in June 2020. Having access to Teamcenter X on the cloud will make it possible to build a whole digital twin with an integrated bill of materials and multi-domain design.
The pipeline integrity management system Roxar FSM Log 48 Area Corrosion Monitor, which offers remote online erosion and corrosion monitoring, was introduced by Emerson in September 2018. The tool delivers real-time health data on pipes under any hazardous environment settings and assists in tracking localized corrosion.
Industry 4.0 Market Report Scope
| | |
| --- | --- |
| Report Attributes | Details |
| Market size value in 2021 | USD 65.53 billion |
| Revenue forecast in 2030 | USD 327.78 billion |
| CAGR | 20.8% from 2022 - 2030 |
| Base year | 2021 |
| Historical data | 2018 - 2021 |
| Forecast period | 2022 - 2030 |
| Quantitative units | Revenue in USD million/billion and CAGR from 2022 to 2030 |
| Segments covered | By Technology, By Region |
| Regional scope | North America, Europe, Asia Pacific, Latin America; Rest of World |
| Key companies | General Electric, Siemens, Honeywell International, ABB, Emerson Electric, 3D Systems, Advantech, Basler, Cisco Systems, Cognex Corporation, Daifuku, IBM, Intel, John Bean Technologies Corporation, Nvidia. |