The global catechin market was valued at USD 15.6 million in 2020 and is expected to grow at a CAGR of 3.3% during the forecast period. The growing use of catechins in the healthcare sector is one of the primary reasons driving the growth of the catechin market. These products provide anti-oxidant, thrombogenic, proliferative, inflammatory, hypertensive, and hyper-lipidemic properties. They have an impact on the molecular pathways that control angiogenesis, cell death regulation, extracellular matrix breakdown, and multidrug resistance in malignancies and other diseases.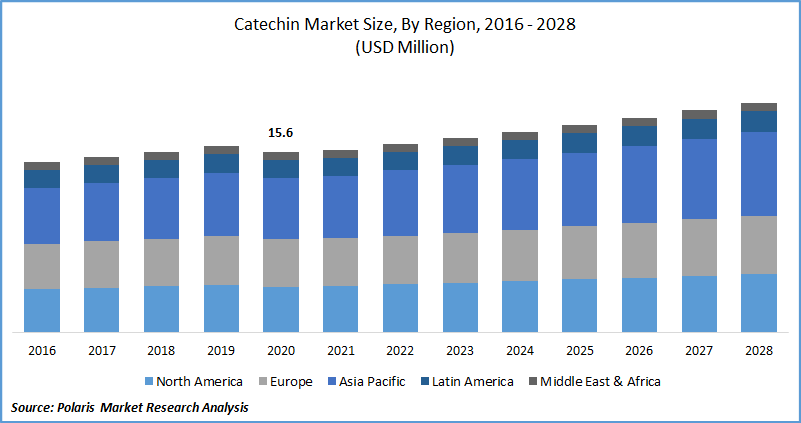 Know more about this report: request for sample pages
Furthermore, the increasing aging population, combined with increased consumer preferences for organic products to improve quality of life, is significantly influencing the market growth. Irregular dietary patterns combined with a rigorous work schedule, particularly among working-class individuals, are boosting demand for catechin-containing dietary supplements, fueling the market. Also, the growing emphasis on oral health is encouraging the use of catechins in mouthwash formulations.
Moreover, many market players are investing heavily in research and development to produce specialized dietary supplements and diversify their portfolio of products. This is expected to drive catechin market expansion. Catechin is known to improve various disease conditions such as obesity, diabetes, cardiovascular diseases (CVDs), and arthritis. They are also used to improve cognitive functions who are suffering from neurological conditions as they are known to enhance the functioning of neurons.
Globally more than 423 million people are suffering from CVDs, and it is the leading cause of death worldwide. 1.9 billion overweight people were living in 2018, and obese people are at risk of developing heart diseases and diabetes. Nearly 463 million adults are living with diabetes across the globe, and the number is expected to increase to 700 million by 2045. All these factors will contribute to the positive growth of the global catechin market during the forecast period.
The emergence of COVID-19 is expected to have a neutral impact on the global market growth during the forecast period. Various studies are being conducted to evaluate the potential of catechin in the treatment of COVID-19. Studies have shown that derivatives of Catechin are known to inhibit COVID-19 Main Protease (Mpro). However, due to the lockdown imposed in many parts of the world there is a significant disruption of the supply chain that is expected to impact the overall production of catechin globally.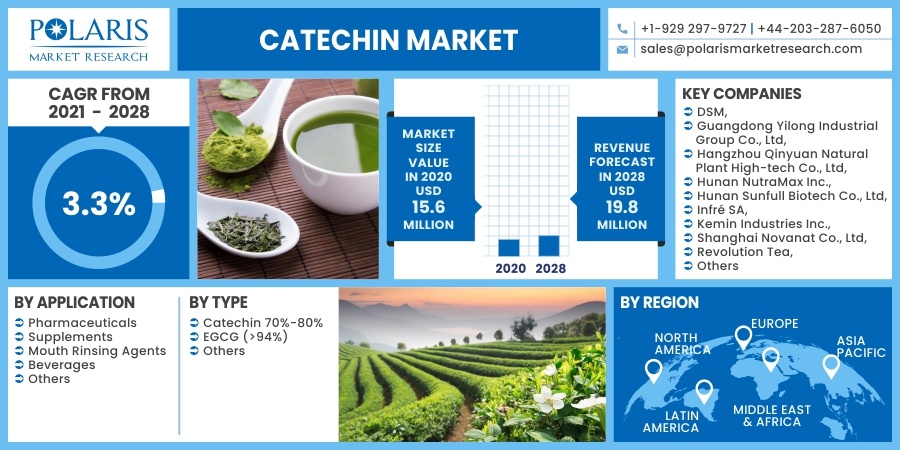 Know more about this report: request for sample pages
Industry Dynamics
Growth Drivers
The growth of the global catechin industry is driven by factors such as an increasing number of people with nutrient deficiency and the increase in various chronic disorders in recent years. The rising awareness of the catechin-associated health benefits is anticipated to further propel the global market growth. Catechins are known to possess anti-microbial properties, and they are increasingly finding applications in the improvement of oral health. They are used in mouthwash formulations.
They also have anti-hypertensive, anti-inflammatory, anti-proliferative, anti-oxidative anti-hyperlipidemic, and anti-thrombogenic properties. Since they are also known to regulate apoptosis and angiogenesis, their therapeutic value is being extensively studied for the treatment of cancer. Cancer is one of the major causes of death worldwide, and, in 2020, alone, 19.3 million new cases of cancer were diagnosed. These useful properties of the product will augment the growth of the catechin industry.
Many new developments have been taking place in the global market in recent years. For instance, in 2020, Amorepacific, based in South Korea, launched Greentea biotics under the brand name VITALBEAUTIE. METAGREEN, which is available under VITALBEAUTIE, contains green tea catechin known to lower blood cholesterol in people consuming this product.
Report Segmentation
The market is primarily segmented on the basis of application and region.
By Application

By Type

By Region

Pharmaceuticals

Supplements

Mouth Rinsing Agents

Beverages

Others

Catechin 70%-80%

EGCG (>94%)

Others

North America (U.S., Canada)

Europe (France, Germany, UK, Italy, Spain, Netherlands, Austria)

Asia Pacific (Japan, China, India, Malaysia, Indonesia, South Korea)

Latin America (Brazil, Mexico, Argentina)

Middle East and Africa (Saudi Arabia, UAE, Israel, South Africa)
Know more about this report: request for sample pages
Insight by Application
The supplements application segment dominated the market and generated the highest revenue in 2020. Catechin is widely employed in many nutritional supplements and beauty products due to its anti-aging, antioxidant, anti-inflammatory, and antibacterial qualities. The supplements are also used regularly as they help lose weight, improve neurological functions of cells, and enhance brain health. It also aids in the maintenance of heart health by lowering blood pressure, cholesterol, and the development of plaque in blood vessels.
The pharmaceuticals application is growing at a high rate and gaining popularity worldwide due to the numerous benefits associated with the product. It helps to mitigate and treat a variety of diseases, including arthritis, cancer, diabetes, obesity, and infections. These products are used in the manufacturing of oral-care products and topical gels to treat perianal and external warts.
Geographic Overview
North America is expected to be the biggest region for the growth of the global market during the forecast period owing to the increase in consumption of functional foods and beverages in the region. The U.S. FDA has also approved green tea sinecatechin in the treatment of anogenital warts. In addition, enhanced healthcare measures to avoid the onset of various diseases and government attempts to improve the national health standard are all contributing to the expansion of the dietary supplements market, which is expected to increase the market demand on the country.
Asia Pacific is projected to be the fastest-growing region of the global market over the study period, owing to the increased awareness for food supplements among people in emerging economies such as China and India. China is the region's leading producer and user of the product due to rising consumer awareness of a healthy lifestyle and high expenditure on functional foods and beverages in the global market.
Competitive Landscape
Major players in the market are investing heavily on research and development to use catechin in different pharmaceuticals and nutraceutical applications. Companies are launching new products, entering into collaborations and acquisitions to strengthen their foothold in the market.
Some of the major players operating in the market include DSM, Guangdong Yilong Industrial Group Co., Ltd, Hangzhou Qinyuan Natural Plant High-tech Co., Ltd, Hunan NutraMax Inc., Hunan Sunfull Biotech Co., Ltd, Infré SA, Kemin Industries Inc., Shanghai Novanat Co., Ltd, Revolution Tea, Shaanxi Dongyu Bio-Tech Co. Ltd., Merck KGaA, Darmstadt, Germany, TAIYO HOLDINGS CO., LTD., and Nanjing Zelang Medical Technology Co., Ltd.
Catechin Market Report Scope
| | |
| --- | --- |
| Report Attributes | Details |
| Market size value in 2020 | USD 15.6 million |
| Revenue forecast in 2028 | USD 19.8 million |
| CAGR | 3.3% from 2021 - 2028 |
| Base year | 2020 |
| Historical data | 2016 - 2019 |
| Forecast period | 2021 - 2028 |
| Quantitative units | Revenue in USD million and CAGR from 2021 to 2028 |
| Segments covered | By Product, By Type, By Region |
| Regional scope | North America, Europe, Asia Pacific, Latin America, Middle East & Africa |
| Key Companies | DSM, Guangdong Yilong Industrial Group Co., Ltd, Hangzhou Qinyuan Natural Plant High-tech Co., Ltd, Hunan NutraMax Inc., Hunan Sunfull Biotech Co., Ltd, Infré SA, Kemin Industries Inc., Shanghai Novanat Co., Ltd, Revolution Tea, Shaanxi Dongyu Bio-Tech Co. Ltd., Merck KGaA, Darmstadt, Germany, TAIYO HOLDINGS CO., LTD., and Nanjing Zelang Medical Technology Co., Ltd. |