The global food & beverage non fungible token (NFT) market was valued at USD 361.30 Million in 2022 and is expected to grow at a CAGR of 16.5% in the forecast period. The surging adoption of blockchain technology and increasing demand for NFTs for transparency and traceability in the food industry are the key supporting factors for the market. Some other driving factors expected to drive the market in the forecasted period include unique ownership opportunities, the use of NFTs in virtual reality and video games, the use of NFTs for promotions and advertising from food companies and restaurants, culinary insights, and knowledge for culinary professionals to monetize their insights and knowledge.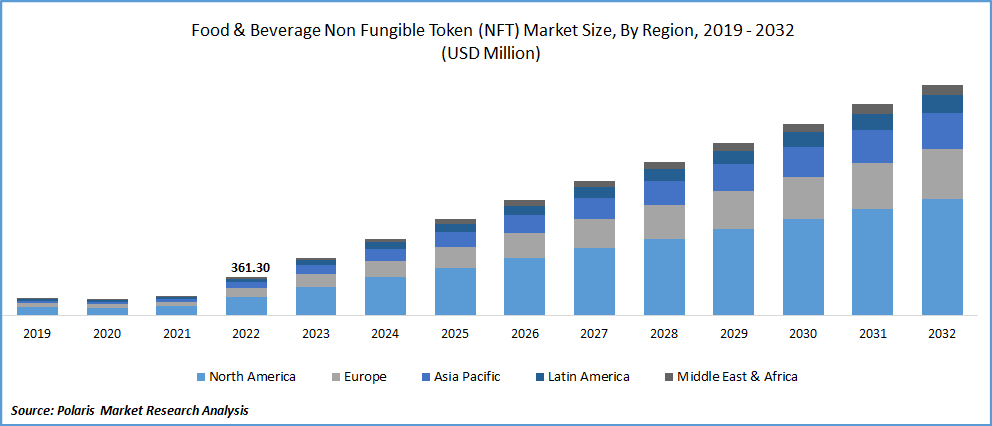 Know more about this report: Request for sample pages
Non-fungible tokens (NFTs) are unique digital assets verified on a blockchain network. Each NFT represents a one-of-a-kind item, such as a piece of digital artwork, a tweet, a video clip, or a virtual real estate property. Food non-fungible tokens (NFTs) are a type of NFT that represents unique food-related assets or collections. These assets could include exclusive recipes, culinary knowledge, cooking techniques, or even virtual representations of food items.
The token can be used by culinary professionals, food companies, and even food enthusiasts to monetize their knowledge and expertise or to promote their products and services. For instance, a chef could sell an NFT representing a unique recipe, providing exclusive ownership to the purchaser. Similarly, a food company could offer its customers an NFT as a reward or exclusive content, increasing customer loyalty and engagement.
For instance, Pizza Hut Canada has introduced "1 Byte Favorites", NFTs of a pizza slice with recipes such as Hawaain, Canadian, Margherita, and Pepperoni, as part of a marketing drive to promote their pan pizzas and draw customer attention. Another example for the market includes Papa John's International, Inc., a pizza take-out chain that launched its NFT "Hot Bags," featuring a sequence of handbag designs to publicize its new line of business — Papa John's X Cheddar, a line of its merchandise.
The COVID-19 pandemic has had a moderate impact on the food NFT market. On the positive side, the pandemic has increased interest in online marketplaces and digital assets. With lockdowns and social distancing measures in place, people have increasingly turned to online platforms to purchase goods and services, including digital assets like NFTs. It has allowed food-related NFTs to gain traction as a new way to monetize and promote culinary expertise and knowledge.
However, the pandemic has also negatively affected the food industry, which could impact the NFT market. With lockdowns and travel restrictions, many food-related businesses, including restaurants, hotels, and catering companies, have suffered. It could affect the demand for food-related NFTs, as fewer people may be interested in purchasing culinary expertise or virtual food items during economic uncertainty.
The lack of standardized regulation in the NFTs has remained one of the primary limiting factors for market growth. Other restricting factors that could affect the non-fungible food token (NFT) market include limited awareness and understanding, technical challenges, limited adoption, and dependence on underlying assets. One of the primary restricting factors for the food NFT market is little awareness and knowledge among consumers. Moreover, the value of an NFT is often tied to the underlying asset, such as a piece of artwork or a specific food item. If the underlying asset loses value, it could impact the value of the NFT, which could affect the market as a whole.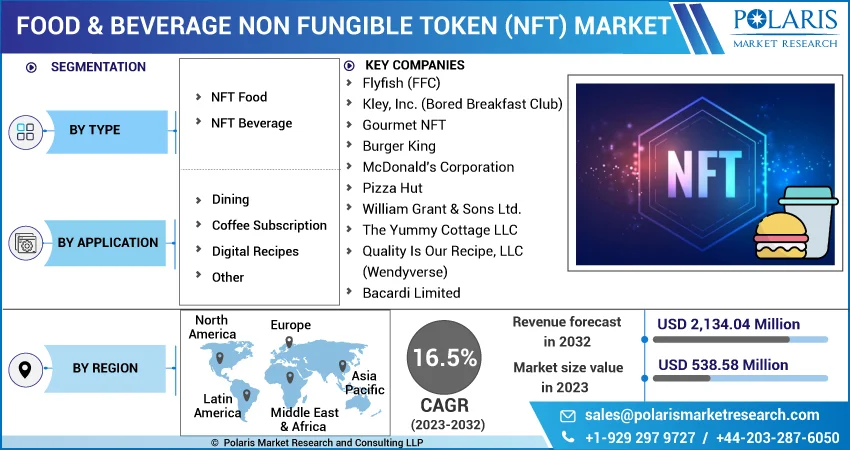 Know more about this report: Request for sample pages
Industry Dynamics
Growth Drivers
The growing demand for transparency and traceability in the food industry is boosting the food & beverage non fungible token (NFT) market. The ability to track and verify food products' origin, quality, and safety is becoming increasingly important to consumers, retailers, and regulatory bodies. NFTs, based on blockchain technology, provide a secure and transparent way to ensure that food products are authentic and meet certain standards. Additionally, NFTs can be used to track the entire supply chain of a particular food product, from the farm to the consumer, ensuring that the product has been handled properly and meets certain standards.
Fast food chain restaurants' increasing adoption of food NFTs is another supporting factor for the market. In recent years, NFTs have gained popularity in various industries, including Food & Beverage. NFTs can create limited-edition product runs, adding exclusivity and scarcity. It can drive demand and increase the perceived value of the product.
NFTs can create a collectible aspect of Food & Beverage products. It is particularly true for products with unique packaging or labeling, such as wine bottles or artisanal chocolates. By creating NFTs that correspond to specific products, companies can tap into consumers' growing interest in collectibles.
The increasing adoption of blockchain technology fuels the non-fungible food token (NFT) market. Blockchain technology provides a secure and transparent way to create, buy, sell, and trade NFTs, including those related to food. Blockchain-based platforms and marketplaces are emerging to support the creation, trading, and storage of food NFTs. These platforms allow consumers and businesses to participate in the market, driving adoption and growth.
Report Segmentation
The market is primarily segmented based on type, application, and region
By Type

By Application

By Region

Dining

Coffee Subscription

Digital Recipes

Other

North America (U.S, Canada, Mexico)

Asia-pacific (China, Japan, India, Australia, Rest of Asia- pacific)

Europe (Germany, UK, France, Spain, Italy, Rest of Europe)

LAMEA (Latin America, Middle East & Africa)
Know more about this report: Request for sample pages
The NFT Food segment is anticipated to dominate the market in the forecast period
In the Food & Beverage industry, NFTs represent ownership or authenticity of a particular food or beverage product and provide information about the product's origin, ingredients, and production process. One potential application of NFTs in the industry is food safety and traceability. NFTs could be used to track the journey of a particular food or beverage product from farm to table, providing consumers with information about the product's origin, production methods, and safety standards.
Another potential application of NFTs in the industry is in Food & Beverage marketing and branding. NFTs could create unique, limited-edition versions of popular Food & Beverage products, which could be sold to collectors and enthusiasts.
The Dining segment dominated the market in the year 2022
The dining segment in the Food & Beverage non-fungible token (NFT) market involves using NFTs to represent unique dining experiences, such as access to exclusive restaurants, private chef services, or food tours. It provides proof of ownership or access to these experiences and offers collectors a way to own a piece.
For example, an NFT could represent a reservation at a high-end restaurant or a private dining experience with a celebrity chef. This NFT could be sold on a marketplace, where buyers would bid on the opportunity to dine at the restaurant or with the chef. The buyer who wins the auction would then have proof of ownership in the form of the NFT, which they could use to claim their dining experience.
It is used to create virtual dining experiences, where users can purchase an NFT that grants them access to a virtual reality dining experience or a live-streamed cooking class. These experiences could be created by chefs, restaurants, or other food industry players to monetize their skills and knowledge while also providing unique experiences for NFT collectors.
North America region is leading the market in terms of revenue share for the year 2022
The key factors for the region to be dominated in adoption and revenue generation are the popularity of blockchain technology and the increasing demand for traceable food goods. The United States and Canada are key players in the North American Food & Beverage NFT market. The US is home to many popular restaurant chains, food brands, and a growing number of specialty and niche food businesses that benefit from NFTs. The novel market presents an exciting opportunity for companies and investors to explore new ways of monetizing and marketing products while tapping into the growing interest in blockchain and cryptocurrency.
The Food & Beverage non-fungible token (NFT) market in the Asia Pacific region is still in its early stages, but it is expected to see significant growth in the coming years. The region is home to a diverse range of cuisines and food cultures and a large and growing middle class with increasing disposable income. Countries like India, China, Japan, South Korea, and Singapore also have well-established industries and could be fertile ground for Food & Beverage NFTs. In addition, the region is home to many socially and environmentally conscious consumers who may be interested in supporting businesses that use sustainable and ethical practices.
Competitive Insight
Some of the prominent key players operating in the Marketspace includes Flyfish (FFC), Kley, Inc. (Bored Breakfast Club), Gourmet NFT, Burger King, McDonald's Corporation, Pizza Hut, William Grant & Sons Ltd., The Yummy Cottage LLC, Quality Is Our Recipe, LLC (Wendyverse), Bacardi Limited.
Recent Developments
September 2022: Starbucks Corporation has launched "Starbucks Odyssey," an experience powered by Web3 technology that enables customers and partners to earn and purchase NFTs that unlock new benefits and immersive coffee experiences.

March 2022: McDonald's Italy has launched a triple cheeseburger NFTs by working with Italian digital artists, which is used as a giveaway to customers participating in the competition.
Food & Beverage Non Fungible Token (NFT) Market Report Scope
| | |
| --- | --- |
| Report Attributes | Details |
| Market size value in 2023 | USD 538.58 Million |
| Revenue forecast in 2032 | USD 2,134.04 Million |
| CAGR | 16.5% from 2023 - 2032 |
| Base year | 2022 |
| Historical data | 2018 - 2021 |
| Forecast period | 2023 - 2032 |
| Quantitative units | Revenue in USD Million and CAGR from 2023 to 2032 |
| Segments covered | By Type, By Application, By Region |
| Regional scope | North America, Europe, Asia Pacific, Latin America, Middle East & Africa |
| Key companies | Flyfish (FFC), Kley, Inc. (Bored Breakfast Club), Gourmet NFT, Burger King, McDonald's Corporation, Pizza Hut, William Grant & Sons Ltd., The Yummy Cottage LLC, Quality Is Our Recipe, LLC (Wendyverse), Bacardi Limited |