The global brachytherapy market was valued at USD 790.1 million in 2020 and is expected to grow at a CAGR of 7.2% during the forecast period. Brachytherapy is being used to treat tumors of the prostate, cervix, breast, and scalp, as well as cancers in other areas of the body including the head and neck. Furthermore, it is frequently used in conjunction with chemotherapy medications to reduce the risk of cancer recurrence.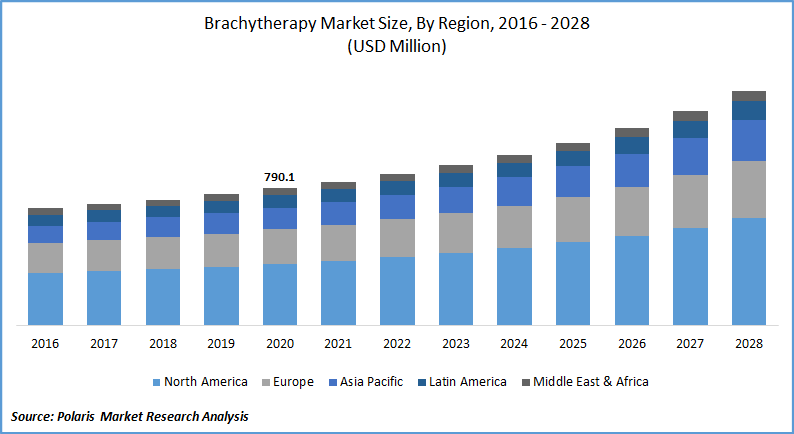 Know more about this report: request for sample pages
During the projected timeline, the market is anticipated to grow due to rising cancer incidence, technological advancements, and a major increase in the acceptance of brachytherapy. Brachytherapy is a form of cancer treatment that uses radiotherapy. Catheters are used to insert the radioactive materials into the body.
Industry Dynamics
Growth Drivers
It is an ideal cure for tumors that are just localized. Iridium-192, Caesium-137, Gold-198, Iodine-125, and Palladium-103 are examples of artificially produced radionuclides presently being used. As per the IARC, cancer will affect 19.3 million people worldwide in 2020. By 2030, this number is projected to upsurge to 24.6 million. The key factor driving the market growth for brachytherapy is the rising cancer burden.
Radiotherapy may be used as a preventative, palliative, or curative measure. It can be used only or in a mixture with other therapies including surgery, immunotherapeutic, and chemotherapy. The broad variety of options for radiotherapy has boosted its popularity among doctors.
The most recent market advancements in radiation therapy allow for a high dose to be given to the patient's target area while causing minimal damage to surrounding healthy tissues. It has opened up the possibility of localized tumor control and improved cure rates, resulting in a surge in radiation treatment demand.
However, a scarcity of qualified radiotherapy practitioners and technologically advanced products, particularly in developing countries, is considered to be a significant stumbling block for this sector. According to the IAEA's Database of Radiotherapy Centres (DIRAC), about 3,300 brachytherapy systems will be located in radiotherapy centers all over the world, by 2020.
LMICs account for about 60% of cancer cases. Since these countries have restricted access to advanced technologies, 80 percent of people in these countries are unable to receive care. Just 3% - 4%of radiation therapy requirements in LMICs are met, compared to 60% - 80% in Europe.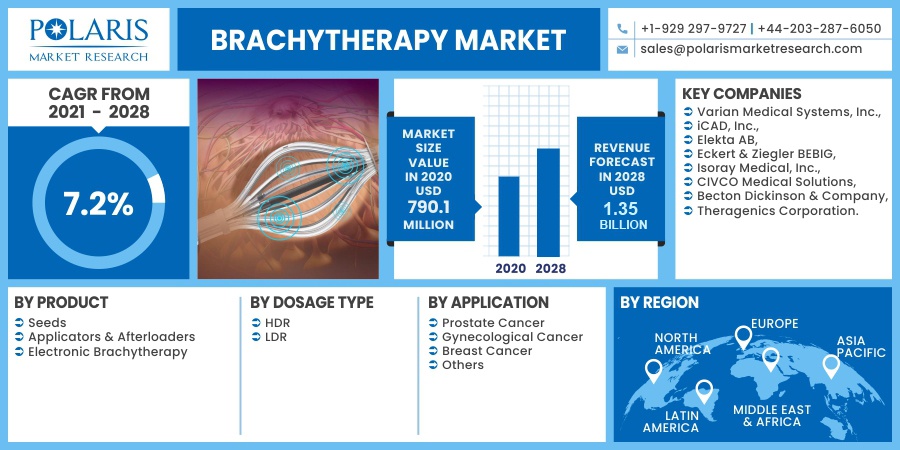 Know more about this report: request for sample pages
Brachytherapy Market Report Scope
The market is primarily segmented based on product, dosage type, application, and region.
By Product

By Dosage Type

By Application

By Region

Seeds
Applicators & Afterloaders
Electronic Brachytherapy

Prostate Cancer
Gynecological Cancer
Breast Cancer
Others

North America (U.S., Canada)
Europe (France, Germany, UK, Italy, Spain, Netherlands, Austria)
Asia Pacific (Japan, China, India, Malaysia, Indonesia, South Korea)
Latin America (Brazil, Mexico, Argentina)
Middle East & Africa (Saudi Arabia, UAE, Israel, South Africa)
Know more about this report: request for sample pages
Insight by Product
In 2020, the seeds market segment for brachytherapy had the maximum revenue share. Seeds are tiny radioactive substances implanted into the body. Depending upon the type of cancer, these seeds may be implanted temporarily or permanently in the body. The electronic brachytherapy segment is projected to increase at the fastest market pace.
Instead of radionuclides, miniaturized x-ray sources are used in this technique. Electronic brachytherapy's various benefits, such as small dose radiation to the body at risk, reduced radiation exposure to treating staff, and no toxic material, are among the key market factors driving its acceptance.
Insight by Dosage Type
In 2020, the HDR brachytherapy segment experienced significant market growth, accounting for the majority of sales. For the treatment of different forms of cancers such as skin, cervical, prostate, head and neck, and breast cancer, the therapy is usually performed as an outpatient procedure.
This market segment's dominance is due to a combination of factors including shorter procedure times, higher effectiveness, and radiation safety. Since most companies no longer support the maintenance of LDR systems, HDR after loaders is gradually replacing LDR after loaders around the world.
Insight by Application
In 2020, the prostate cancer market segment experienced significant growth, accounting for the majority of sales. Brachytherapy is an important treatment choice for all patients with metastatic prostate cancer, as both a monotherapy and in conjunction with external beam radiotherapy. The market segment is being guided by the potential application of brachytherapy in the treatment of cancer.
Geographic Overview
In 2020, North America market led the global brachytherapy market, with the highest sales share. Brachytherapy is commonly used in North America because of the benefits it provides over conventional treatments, such as being a safer and more effective cancer treatment.
The market demand in the Asia Pacific brachytherapy market is anticipated to grow at a significant rate in the given time frame. Cancer is becoming more common as a result of an unhealthy diet. Furthermore, restricted access to technically sophisticated cancer therapies presents several opportunities for market participants in brachytherapy industry.
Competitive Insight
Some of the major players operating in the global market for brachytherapy include Varian Medical Systems, Inc., iCAD, Inc., Elekta AB, Eckert & Ziegler BEBIG, Isoray Medical, Inc., CIVCO Medical Solutions, Becton Dickinson & Company, and Theragenics Corporation.