The global carrier screening market was valued at USD 1.41 billion in 2021 and is expected to grow at a CAGR of 11.7% during the forecast period. The growing focus on early disease detection and prevention, increasing adoption of personalized medicine, and increasing application of routine testing in genetic disorders are the factors driving the growth of the carrier screening market, which is anticipated to boost during the forecast period.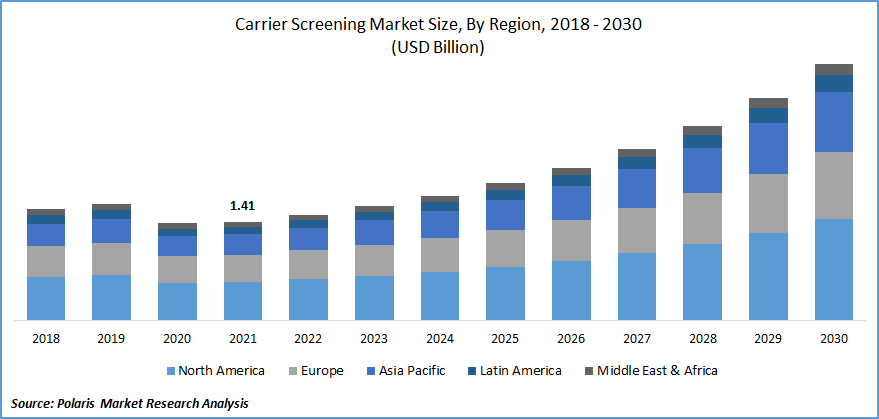 Know more about this report: request for sample pages
Molecular screening tests are commonly used to find DNA abnormalities in genetic information and detect mutations that might cause cardiac issues, pre-leukemia, auditory impairments, and Down syndrome. These also help provide adequate prenatal and reproductive healthcare, which aids in the management of heritable disorders. Furthermore, technical breakthroughs such as developing next-generation sequencing (NGS) tools for genetic disease tests boost carrier screening market growth.
Moreover, the earlier a condition is discovered, the more likely it will be cured or controlled successfully. Early disease identification allows people to plan ahead of time while still able to make critical decisions about their health and support needs, as well as financial and legal problems. These tests detect an aberrant chromosomal or genetic condition in a carrier who inherited one defective gene from one of their parents.
Carriers frequently exhibit no signs of the genetic illness to which they have transferred a defective gene. Carrier testing for such disorders can advise a couple about their chances of delivering a kid with a genetic problem. Predictive/presymptomatic testing identifies the risk before the emergence of symptoms. Many genetic diseases are detectable early in pregnancy. As a result, customer market demand for safe and effective carrier tests propels the carrier screening market.
Furthermore, incorporating carrier tests into routine clinical treatment provides the market with a commercial edge. Many investigations have shown that early detection of diseases can entirely prevent them or, at the very least, reduce their effects. Several countries' healthcare organizations are financing newborn testing to predict disorders such as cancer that may emerge later in life.
Additionally, an increase in these applications in genetic disorder domains, numerous initiatives, and financing from government and private agencies for large-scale programs affect the global market's growth. However, the high cost of the genetic test is retraining the market growth. Carrier screening is a high-priced genetic test that can range from $100 to $2,000, depending on the test's sensitivity. Furthermore, many people worldwide are ignorant of the advantages of carrier screening. These variables are expected to reduce the carrier screening market value in the coming years.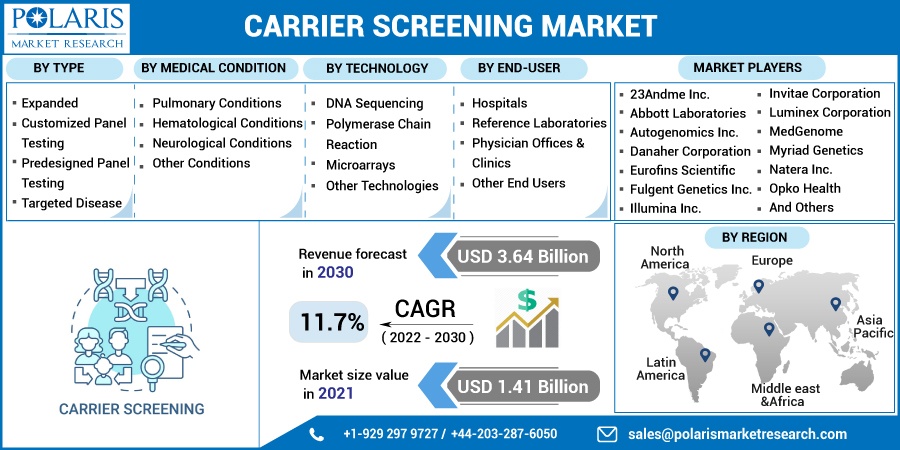 Know more about this report: request for sample pages
Industry Dynamics
Growth Drivers
There is a massive base of people who are suffering from cancer. For instance, according to WHO, Cancer is the most significant cause of death globally, responsible for over 10 million fatalities in 2020. In regards to new cancer diagnoses in 2020, the most prevalent were breast (2.26 million cases), lung (2.21 million cases), colon/rectum (1.93 million cases), and abdomen (1.09 million cases).
Also, the government funding for the support of carrier screening is driving the market growth. For instance, as per the American Association for Cancer Research, the Senate Labor, Health, and Human Services (LHHS) bill, created by Chairwoman Patty Murray, would also provide $47.9 billion again for the National Institutes of Health (NIH), an increment of $2.7 billion for the NIH minimum amount and $2.4 billion for the suggested Advanced Research Projects Agency for Health (ARPA-H). The National Cancer Institute (NCI) would get $6.7 billion under the proposal. In addition, the plan would fund $388 million for the Cancer Prevention and Control programs of the Centers for Disease Control and Prevention.
Further, as per the National Institute of Health Study, the rapidly growing incidence and death from cancer need a concerted effort to maximize cancer prevention measures' impact. Although when solid, appropriate, and effective international recommendations are released, there are significant disparities in the preventative effect of implemented screening measures in the field of early detection.
Large population-based screening is currently recommended only for three types of cancer (cervical, breast, and colorectal cancer), but given the growing cancer burden, efforts are needed to facilitate the discovery of new biological markers for screening, as well as the identification of obstacles to the adoption of new discoveries. Establishing a network of excellence in cancer prevention research is likely to contribute significantly to development in these areas. Thus, the rising prevalence of cancer cases, government funding of cancer screening, and adoption of carrier screening for cancer tests are boosting the market growth during the forecast period.
Report Segmentation
The market is primarily segmented based on type, medical condition, technology, end-user, and region.
By Type

By Medical Condition

By Technology

By End-User

By Region

Expanded

Customized Panel Testing
Predesigned Panel Testing

Targeted Disease

Pulmonary Conditions
Hematological Conditions
Neurological Conditions
Other Conditions

DNA Sequencing
Polymerase Chain Reaction
Microarrays
Other Technologies

Hospitals
Reference Laboratories
Physician Offices & Clinics
Other End Users

North America (U.S., Canada)
Europe (France, Germany, UK, Italy, Spain, Netherlands, Austria)
Asia Pacific (Japan, China, India, Malaysia, Indonesia, South Korea)
Latin America (Brazil, Mexico, Argentina)
Middle East & Africa (Saudi Arabia, UAE, Israel, South Africa)
Know more about this report: request for sample pages
Insight by Technology
Based on the technology segment, the DNA sequencing segment was the most significant revenue contributor in the global market in 2021 and is expected to retain its dominance in the foreseen period owing to the developments in genetic analytical techniques, such as assays predicated on next-generation sequencing and microarray technology solutions, molecular diagnostics, and progressing the type for hereditary diseases.
Geographic Overview
In terms of geography, North America had the highest market share in 2021 due to the rise in the number of pulmonary, hematological, and neurological disorders in the region, which fuels the necessity for testing. According to the WHO, genetic illness is the primary cause of newborn mortality in the United States, accounting for nearly 2.4 million children dying in their first month of life worldwide in 2019. Around 6 700 newborns die every day, accounting for 47 percent of all child mortality under five, up from 40 percent in 1990.
Many developments in genomic medicine and technological platforms have enabled low-cost, pan-ethnic, broadened carrier screening, allowing obstetric healthcare professionals to screen for more than 100 recessive genetic illnesses. Moreover, Asia Pacific is anticipated to witness the highest market growth rate globally. The rising population of people with genetic illnesses, together with the increasing popularity of test kits, will drive growth. Such factors may boost the market demand in the coming years.
Competitive Insight
Some of the major players include 23Andme Inc., Abbott Laboratories, Autogenomics Inc., Danaher Corporation, Eurofins Scientific, Fulgent Genetics Inc., Illumina Inc., Invitae Corporation, Luminex Corporation, MedGenome, Myriad Genetics, Natera Inc., Opko Health, Quest Diagnostics Incorporated, Roche AG, Sequenom Inc., Thermo Fisher Scientific Inc., and True Health.
Carrier Screening Market Report Scope
| | |
| --- | --- |
| Report Attributes | Details |
| Market size value in 2021 | USD 1.41 billion |
| Revenue forecast in 2030 | USD 3.64 billion |
| CAGR | 11.7% from 2022 - 2030 |
| Base year | 2021 |
| Historical data | 2018 - 2020 |
| Forecast period | 2022 - 2030 |
| Quantitative units | Revenue in USD million and CAGR from 2022 to 2030 |
| Segments covered | By Type, By Medical Condition, By Technology, By End-Use, By Region |
| Regional scope | North America, Europe, Asia Pacific, Latin America; Middle East & Africa |
| Key Companies | 23Andme Inc., Abbott Laboratories, Autogenomics Inc., Danaher Corporation, Eurofins Scientific, Fulgent Genetics Inc., Illumina Inc., Invitae Corporation, Luminex Corporation, MedGenome, Myriad Genetics, Natera Inc., Opko Health, Quest Diagnostics Incorporated, Roche AG, Sequenom Inc., Thermo Fisher Scientific Inc., and True Health. |