The global nephrology and urology devices market was valued at USD 5.21 billion in 2021 and is expected to grow at a CAGR of 6.7% during the forecast period. Urology devices assist in the diagnosis and treatment of an extensive range of urological disorders, including urolithiasis, bladder illnesses, urinary tract malignancies, as well as kidney damage. Stents, dilators, and blades are examples of consumables.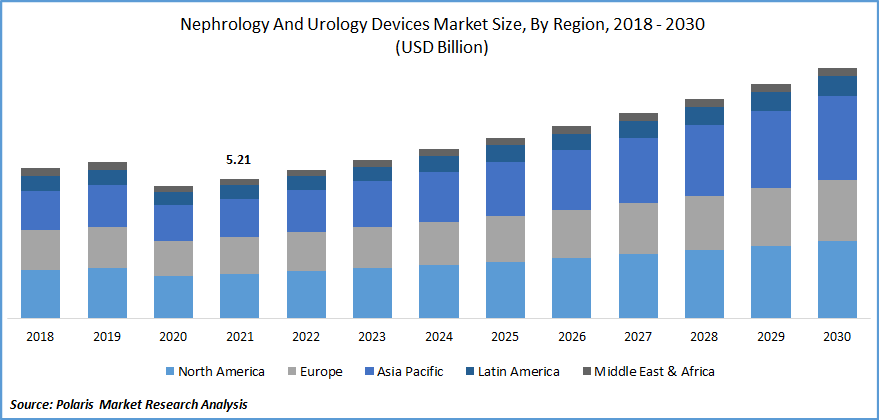 Know more about this report: Request for sample pages
Moreover, the motivation primarily for minimally invasive and non-invasive therapeutic approaches is expected to increase the need for the nephrology and urology devices market. Minimally invasive surgical techniques for nephrology diseases such as urinary retention, urinary stones, and benign prostatic hyperplasia (BPH) are becoming increasingly popular because they significantly reduce treatment costs and time compared to traditional surgical methods.
Furthermore, as a result of recent developments in technology, the nephrology and urology devices market is predicted to expand. Nephrology and urology devices, including ureteral angioplasty, catheterization, guidewires, and kidney and liver dilators, are made from exotic technologies such as titanium and silicone.
Carbothane is resistant to a wide range of chemical compounds, including iodine, hydrochloric acid, and alcohol, which extends its life. Thus, the use of advanced technologies during industrial production will provide several benefits, such as increased strength and resistance, driving growth for the machines, and igniting market growth.
COVID-19 is anticipated to have a reasonable influence on the market's development in the short term. The financial impact of the epidemic varies by country, based on the condition of local healthcare systems and the behavior taken to deal with the pandemic. During the pandemic, diagnostic and therapeutic surgeries were deemed unnecessary.
As a result, all outpatient and elective surgical interventions were lowered or discontinued to reduce risk. During this time, specialty centers for dialysis and support industries were also closed, further limiting the market growth. Due to decreasing patient volumes and postponements in elective surgeries, the introduction of COVID-19 has reduced market demand for nephrology and urology devices.
Because of the COVID-19 pandemic, key nephrology and urology devices market players saw a significant drop in revenue. The redistribution of medical resources for COVID-19 treatment, the decline in client hospital visits and clinical services, interruptions in supply chains, and other major factors all had an impact on global sales of cystoscopes and urology types of equipment.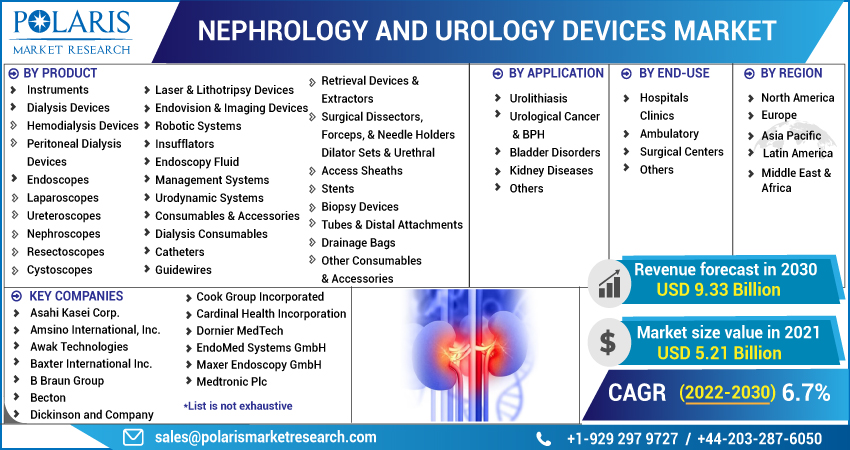 For Specific Research Requirements, Request for a Customized Report
Industry Dynamics
Growth Drivers
The increased incidences of kidney failure, bladder cancer, and chronic kidney diseases are driving the global implementation of dialysis equipment. According to Fresenius Medical Care's annual report-2021, the approximate incidence of chronic kidney breakdowns will be approximately 3.8 million in 2022 and much more than 6.0 million by 2030.
Furthermore, a huge patient portfolio for dialysis therapy expanded the market for dialysis product lines such as dialysate and kidney dialysis automated systems. As a result, automakers are releasing urology equipment into the market, fueling the nephrology and urology devices market growth.
Moreover, technological advancements in nephrology and urology product lines are expected to increase demand for such equipment to diagnose these diseases. For instance, in December 2021, GlaxoSmithKline plc and the University of Oxford entered into a five-year partnership to create the Oxford-GSK Institute of Biological molecules and Computer science and information medicine.
The developments and advances, which will be premised at the University of Oxford, will strive to enhance the accomplishment and quickness of new medication research and development by drawing on insights from human biology and employing sophisticated technology such as genomic information and machine learning. Such new nephrology and urology devices launches, combined with the rising incidence of kidney disorders, are expected to boost the number of patients seeking dialysis treatment, spurring nephrology and urology devices market growth.
Report Segmentation
The market is primarily segmented based on product, application, end-use, and region.
By Product

By Application

By End-Use

By Region

Instruments
Dialysis Devices

Hemodialysis Devices
Peritoneal Dialysis Devices

Endoscopes

Laparoscopes
Ureteroscopes
Nephroscopes
Resectoscopes
Cystoscopes

Laser & Lithotripsy Devices
Endovision & Imaging Devices
Robotic Systems
Insufflators
Endoscopy Fluid Management Systems
Urodynamic Systems
Consumables & Accessories

Dialysis Consumables
Catheters
Guidewires
Retrieval Devices & Extractors
Surgical Dissectors, Forceps, & Needle Holders
Dilator Sets & Urethral Access Sheaths
Stents
Biopsy Devices
Tubes & Distal Attachments
Drainage Bags
Other Consumables & Accessories

Urolithiasis
Urological Cancer & BPH
Bladder Disorders
Kidney Diseases
Others

Hospitals
Clinics
Ambulatory Surgical Centers
Others

North America (U.S., Canada)
Europe (France, Germany, UK, Italy, Netherlands, Spain, Russia)
Asia Pacific (Japan, China, India, Malaysia, Indonesia. South Korea)
Latin America (Brazil, Mexico, Argentina)
Middle East & Africa (Saudi Arabia, UAE, Israel, South Africa)
Know more about this report: Request for sample pages
Kidney Disease segment is expected to witness fastest growth
The rising prevalence of kidney diseases, as well as the medical complications that accompany them, is increasing the need for urological interventions to supervise them, propelling the market for nephrology and urology devices. Some other key factor continuing to support market growth is the growing geriatric population, as seniors are more vulnerable to chronic conditions such as diabetes and high blood pressure, which are the primary causes of kidney disorders (CKD and ESRD).
End-stage renal disease (ESRD) impacts more than 500,000 people in the United States each year, according to a National Institutes of Health study published in September 2021. The occurrence of CKD increases with age, with people aged 60 and up have experienced the most rapid progression.
The regularity is 6.0% among people aged 18 to 44 and 38.1% among people aged 65 and older. As a result, a rising awareness, as well as government assistance through compensation and technology design to establish a low-cost and effective treatment, are some of the factors expected to propel the market over the forecast period.
Consumables and accessories segment accounted for the highest market share in 2021
Because of the rising popularity of urologic conditions, medical devices companies are expanding their production capabilities to produce safe and effective urological devices. The disorder is a common but serious urinary disease in which a patient loses control of their urine. The market is growing due to a rise in the use of minimally invasive procedures and a rise in the number of people who suffer from urinary tract pathological conditions.
Manufacturers are developing elevated urology equipment for the management and therapy of urological conditions. In addition to older adults, women are commonly affected by urinary incontinence. According to data published by urinaryincontinence.com, one in every three women in the United States suffers from a certain shape of urinary incontinence.
Thus, growth in the population of people suffering from urology disorders including urological melanoma, kidney blockage, ovarian cancer, and so on is propelling the growth of nephrology and urology devices such as nephrology catheters, stents, nephrology guidewires, sewage bags, and so on.
The demand in North America is expected to witness significant growth
The rising prevalence of kidney disease in North America is predicted to boost demand for diagnostic and therapeutic interventions, catapulting the market for nephrology and urology devices. In line with this, rising healthcare costs have speeded up healthcare costs for physician discussion and specialty clinics, which is expected to boost market growth. Medical insurance developments in the region and personal insurance companies are also anticipated to play an important role in driving the growth of the global market.
Asia Pacific region is anticipated to grow significantly due to a variety of factors, including increased awareness of kidney and urinary illnesses, increased medical expenditure stages, and improved healthcare facilities. The rise in the prevalence of nerve damage, as well as urinary tract infection (UTI), is going to drive the Asia Pacific market. UTI represents one of the most common forms of infection in this region.
Other factors that contribute to the expanding demand for these nephrology and urology devices include the urgent need for the creation of new systems as well as the replacement and upgrade of existing medical facilities. The African-Middle Eastern ethnic background is the most particularly susceptible to CKD among populations. Socio-economic status factors including income and the availability of modern facilities, have resulted in significant changes in people's lifestyles, supposed to lead to lifestyle-related diseases like obesity, melanoma, and heart disease.
Competitive Insight
Some of the major players operating in the global market include Asahi Kasei Corp., Amsino International, Inc., Awak Technologies, Baxter International Inc., B Braun Group, Becton, Dickinson and Company, Cook Group Incorporated, Cardinal Health Incorporation, Dornier MedTech, EndoMed Systems GmbH, Fresenius Medical Care AG & Co. KGaA, Maxer Endoscopy GmbH, Medtronic Plc, Nikkiso Co. Ltd., NxStage Medical Inc., Nipro Corporation, Olympus Corporation, Richard Wolf GmbH, Rockwell Medical Technologies, Inc, Terumo Corporation, and Well Lead Medical Co., Ltd.
Recent Developments
In May 2022, Auris Health, declared that the FDA has granted 510(k) clearance for its MONARCH System for endourological processes. With this approval, MONARCH becomes the first and sole multi-specialty, flexible robotic remedy for use in colonoscopy and urology. It is intended to allow urologists to reach and visualize areas of the kidney with greater precision and control.
In September 2021, UroCure, the maker of the ArcTV sling therapies for women's stress urinary disorder, and LiNA Medical USA, a company that specializes in minimally invasive medical equipment for urology, announced corporate strategy members of the distribution partnership. This combined allocation and design and development collaboration combine the UroCure ArcTV sling and their continuing to expand women's reproductive health portfolio to LiNA's US regional sales pressure and devices workable alternative offering.
Nephrology and Urology Devices Market Report Scope
| | |
| --- | --- |
| Report Attributes | Details |
| Market size value in 2021 | USD 5.21 billion |
| Revenue forecast in 2030 | USD 9.33 billion |
| CAGR | 6.7% from 2022 - 2030 |
| Base year | 2021 |
| Historical data | 2018 - 2020 |
| Forecast period | 2022 - 2030 |
| Quantitative units | Revenue in USD billion and CAGR from 2022 to 2030 |
| Segments Covered | By Product, By Application, By End-Use, By Region |
| Regional scope | North America, Europe, Asia Pacific, Latin America; Middle East & Africa |
| Key Companies | Asahi Kasei Corp., Amsino International, Inc., Awak Technologies, Baxter International Inc., B Braun Group, Becton, Dickinson and Company, Cook Group Incorporated, Cardinal Health Incorporation, Dornier MedTech, EndoMed Systems GmbH, Fresenius Medical Care AG & Co. KGaA, Maxer Endoscopy GmbH, Medtronic Plc, Nikkiso Co. Ltd., NxStage Medical Inc., Nipro Corporation, Olympus Corporation, Richard Wolf GmbH, Rockwell Medical Technologies, Inc, Terumo Corporation, and Well Lead Medical Co., Ltd. |