The global retail POS terminals market was valued at USD 18,735 million in 2017 and is anticipated to grow at a CAGR of 14.3% during the forecast period. POS terminals are a combination of hardware and software components for processing of card payments. Other functionalities offered by POS terminals in the retail industry include customer data management, inventory management, bill processing, loyalty programs, and sales analysis. POS terminals increase overall efficiency in a retail store through efficient management of operations, and streamlining workflow. POS terminals are being equipped with technology to capture electronic signature to enable paper free transactions through digital receipts. The increasing adoption of mobile POS terminals by small and medium-sized businesses supports the growth of this market.
The retail industry is increasingly adopting POS terminals. Growing demand for digital payments coupled with increasing government support to promote cashless transactions through debit and credit cards primarily drives the market growth. The trend of self-checkout kiosks is also gaining momentum owing to decreased waiting time, and increased efficiency. The rising demand for SaaS and cloud based solutions is expected to boost the retail POS terminals market growth. However, security issues and risks of identity theft limit the growth of the market.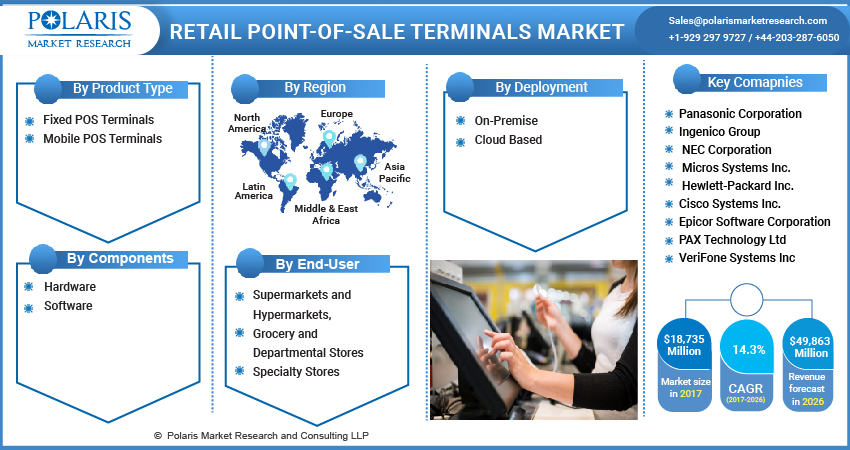 Segment Analysis
The global retail POS terminals market is segmented on the basis of product type, components, deployment models, and region. Based on the type of product, the market is segmented into fixed POS terminals, and mobile POS terminals. The components segment is categorized into hardware, and software. On the basis of deployment model, the market is segmented into on-premise, and cloud-based. The end-users of the market include large supermarkets and hypermarkets, grocery and departmental stores, specialty stores, and others. This report comprises a detailed geographic distribution of the market across North America, Europe, APAC and South America, and MEA. North America is further segmented into U.S., Canada, and Mexico. Europe is divided into Germany, UK, Italy, France, and Rest of Europe. Asia-Pacific is bifurcated into China, India, Japan, and Rest of Asia-pacific. North America accounted for the largest share in the global retail POS terminals market in 2017.
Competitive Landscape
The vendors in the market offer a wide range of products and services to help consumers offer enhanced customer services and maximize profits. In addition, the leading players in the market are acquiring and collaborating with top companies in the market to enhance their offerings in the market and expand their customer base. For instance, in June 2017, Posbank Co., Ltd. introduced addition of POS terminals to its range of the APEXA series, APEXA PRIME and APEXA GW. The APEXA GW is developed for the retail and hospitality industries. It offers enhanced connectivity, improved performance, customer management, employee management. It can also be transformed into a self-service kiosk. In July 2016, Casio America, launched its Android point of sale (POS) product, the V-R200, for the U.S. and Canadian markets. This product is developed for quick service, cafeteria, and retail operations, and offers features such as historical reporting, loyalty programs, and customer data management. In January 2017, NCR Corporation announced the launch of RealPOS 82XRT point-of-sale (POS) terminal with improved processing power, and scalability. This terminal will allow retailers to reduce waiting time, while promoting sales and customer experience. Other companies in the market include Panasonic Corporation, Ingenico Group, NEC Corporation, Micros Systems Inc., Hewlett-Packard Inc., Cisco Systems Inc., Epicor Software Corporation, PAX Technology Ltd, and VeriFone Systems Inc. among others.