The global third party logistics market size was valued at USD 764.81 billion in 2018 and is anticipated to grow at a CAGR of 7.4% during forecast period. The outsourcing of some or all of a retailer's logistics and supply chain to another company is known as third party logistics or 3PL. Once this aspect is looked into, the company is hereby enabled to focus on other important tasks of business development. The development of the modern-day supply chain and its enormous complexity gives rise to a smoother and more efficient logistics principle. Third party logistics or 3PL enables small businesses who do not own their independent logistics system to oversee supply chain of a bigger scale. 3PL oversees independently stock control, warehousing, IT infrastructure and delivery solutions. 3 PL eliminates enormous scale expense, while likewise expanding effectiveness.
The rise in worldwide trading activities as a result of massive globalization serves as a strong driver to market development. The market is propelled by need of manufacturers and retailers who feel the importance elsewhere in core competencies and would rather believe in it. This leads to an overall rise in e-commerce business and subsequently influences the market. However, reluctance of companies and organizations to rely on independent companies to settle with logistics operations may hamper market growth. The use of digital technology to digitize the process is expected to drive market growth during forecast period.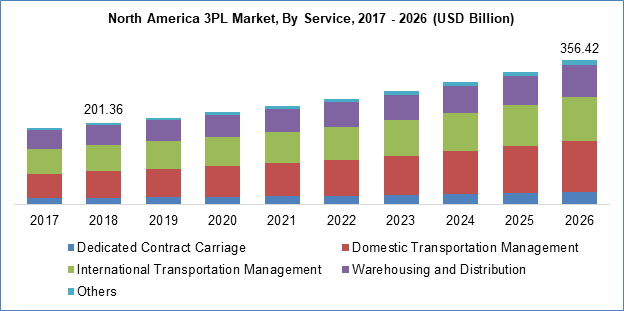 Know more about this report: request for sample pages
The manufacturers and end-user industries in emerging countries come up short on addressing logistics challenge. This has provided an impetus to 3PL growth. Furthermore, the key sellers are receiving cloud-based Customer Relationship Management (CRM) answers for improving the shipper-merchant relationship and decrease the production network complexities by giving expanded perceivability all the while. Nonetheless, the monetary downturn is hosting the enthusiasm of 3PL suppliers in making capital ventures.
Also, the industry development is empowering the cargo representatives to incorporate cargo business and esteem added administrations to their administration contributions. The expanded requirement for cargo and transportation exercises to agree to the administration guidelines has empowered key players to upgrade their inventory network exercises for improving administrations and expenses. A few end use ventures have executed the 3PL plan of action so as to use their unused distribution center space and assets.
The development of big data and availability of industry explicit logistics services are expected to be key driving components boosting business developments. Absence of vital internal control has given rise to outsourcing of these services by middle market people to overcome logistics challenge.
Variety in transportation capacities and increase in shipping demand have empowered service providers to enhance their supply chain activities. The third-party logistics market is expected to advance as service providers are moving towards computerized cargo installment and review administrations to diminish costs. The Suppliers are gaining upper hand by diminishing CAPEX, relieving risks, overseeing stock and concentrating on chief industry discipline.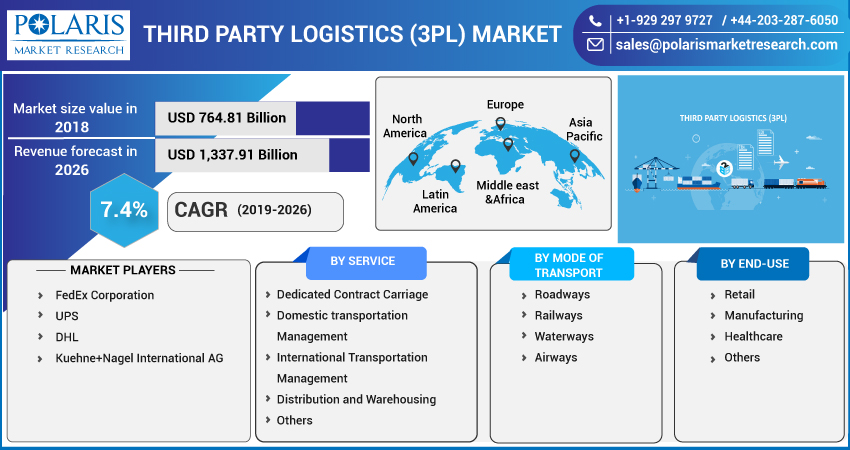 Know more about this report: request for sample pages
Third Party Logistics Market Scope
By Service

By Mode of Transport

By End-User

By Region

Dedicated Contract Carriage
Domestic transportation Management
International Transportation Management
Distribution and Warehousing
Others

Roadways
Railways
Waterways
Airways

Retail
Manufacturing
Healthcare
Others

North America (U.S., Canada)
Europe (UK, France, Germany, Italy)
Asia Pacific (India, China, Japan)
Latin America (Mexico, Brazil)
Middle East & Africa
Know more about this report: request for sample pages
Service Outlook
The third party logistics market is segmented on the basis of service, mode of transport, end-user and geography. Based on service, the market is classified into Dedicated Contract Carriage, Domestic Transportation Management, International Transportation Management, Warehousing and Distribution and others. The International Transportation Management segment accounted for the highest revenue share of the global market in 2018 owing to rising international trades, need for increased efficiency in logistics and transportation activities and staggering growth of e-commerce.
Domestic Transportation Management (DTM) seized a market share of over 35% in 2018. Globalization has increased international and domestic trades resulting in demanding increase in efficiency in logistics and transportation activities and effect timely delivery.
The international transportation management services increased in effective growth due to an increase in supply chain management and frenzied global economic activity. Furthermore, trade liberalization policies have propelled international trade thus making these services all the more demanding in question.
End-User Outlook
Manufacturing sector registered a highest revenue in 2018 in the 3PL market. This growth was majorly due to the increasing focus on manufacturing activities in countries such as China, India, Mexico, and U.S., thus companies outsourcing the logistics activities. This push was majorly due to economic and regulatory reforms by the governments of these countries.
Retail sector on the other hand is anticipated to grow at the highest rates. This can be majorly seen in the North American and the Asia Pacific region where major retailers such as Amazon, Flipkart and Alibaba are getting into the logistics business with advanced technological solutions to dispatch, track and deliver the goods. These companies are using different analytical solutions which are data driven to control the inventory movement along with the fleet management. Traditional logistic companies are now following the trend in the market, thus making the market more competitive in the developed and developing economies.
Mode of Transport Outlook
Roadways mode of transport was one of the highest revenue segments in 2018. This was majorly due to a great connectivity by roads among all the developed nations and increasing road connectivity in the developing countries. Majority of the tier2 and tier3 cities in many of the countries are well connected by roads, thus making it easier for the logistics companies to deliver and pick up the shipments. This trend is expected to continue during the forecast period due to advancements in the road transportation systems and betterment of roadways in many countries of the world.
Air transport and railways showed a great traction in 2018 however the trend lowered during the start of 2019. According to IATA, the global air freight demand which is measured in freight ton kilometers (FTKs) fell 4.7% in 2019, however it is expected that the trend would rise positively in the North American region due to good domestic economic performance. Waterways segment on the other hand are expected to continue their growth due to its low costs and capacity to transport large amount of cargos across countries.
Regional Outlook
Among regions, Asia Pacific translated into highest growth for the market because of multifarious demand form manufacturing and retail sectors in the region. This region accounted for more than 32% market share in 2018 and is anticipated to continue its growth during the forecast period. The vendors in this market are introducing new products in the market to meet a demanding customer need. The market leaders are merging hands with global companies to diversify their offerings and to broaden their customer base. The market is highly competitive with presence of a growing number of small and large vendors.
North America is expected to continue its growth which is being pushed by the new economic policies of the current government, better rail/road/sea and air infrastructure and major logistics companies which are based in this region focusing on technological advancements. Increasing investments in this market from both traditional logistics and new e-commerce companies is expected to push the market.
Competitive Landscape
Major players in the market such as FedEx Corporation, UPS, DHL, Kuehne+Nagel International AG are already driving the global markets. These companies provide technologically advanced logistics services such as real-time tracking, fleet management, online documentation, shipment tracking, and real-time status of the fleet and shipment. These features re helping the companies to attract more shippers to utilize the 3PL services. Along with these companies, many e-commerce majors such as Alibaba, Amazon and Flipkart have already invested in logistics businesses. For instance, Amazon has its own delivery services, Alibaba has its stakes in YTO Express Singapore Post and ZTO Express. Similarly, Flipkart has minority stakes in Delhivery, which is a 3PL service provider in India.