The global animal feed micronutrient market was valued at USD 1.58 million in 2021 and is expected to grow at a CAGR of 6.4% during the forecast period. The market demand for meat and dairy products is rising at a rapid rate. Hence, the use of feed micronutrients has increased to improve animal health and production.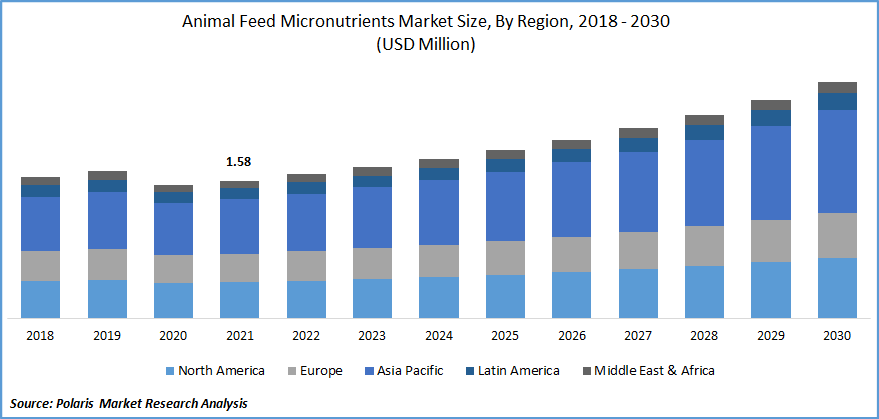 Know more about this report: Request for sample pages
Dietary supplementation with feed micronutrients including zinc, iron, and copper can enhance immunological function, ovulation, neonatal survival and growth, fetal growth, meat, and feed efficiency by regulating important metabolic pathways and gene expression. The amount of minerals required is determined by the animal's age, weight, physiological state, species, disease, and kind and level of production.
For example, sheep require a different type of care than cattle. Cu levels exceeding 25 mg/kg in sheep are termed hazardous, while cattle do not reach toxic levels until 400 mg/kg are present in the diet. Copper (Cu) toxicity in sheep is severe, so no copper supplementation is necessary if sufficient amounts of copper are present in the fodder. These factors are anticipated to drive the growth of the global animal feed micronutrient market.
After the outbreak, COVID-19 majority of the population started consuming healthy micronutrient feed products to boost their immunity. This factor is expected to have a positive impact on the revenue growth of the animal feed micronutrient market. The outbreak of COVID-19 has impacted the production, global supply chain activities of animal feeds, and the usage of feed micronutrients.
However, the major factor that affected the livestock feed micronutrient market during the COVID outbreak was global supply chain disruption. China is a major producer and supplier of animal feed micronutrients, and it had considerable stockpiles of the substance when the COVID-19 problem arose.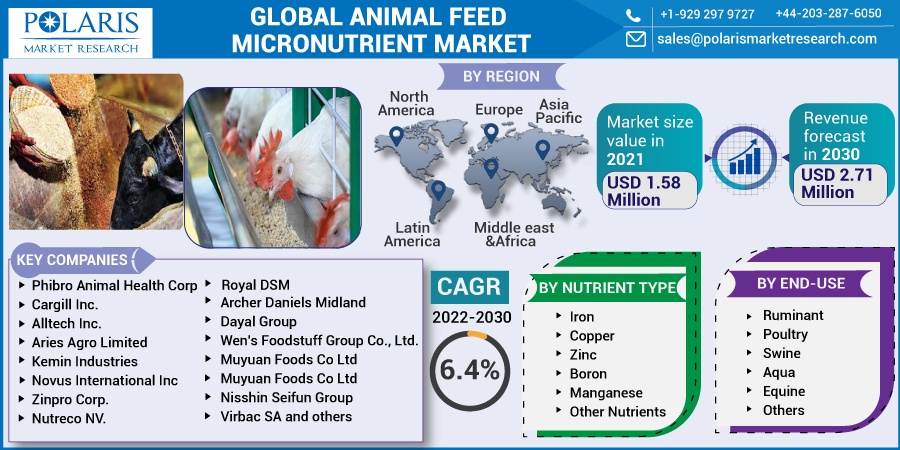 Know more about this report: Request for sample pages
Industry Dynamics
Growth Drivers
The consumption of meat and dairy products is rising at a rapid rate all over the world. Global milk production increased to 843 million tons in 2018. India leads the world in milk production with 22 percent, followed by the United States of America, Pakistan, China, and Brazil. So as to raise the production percentage, dairy and poultry farmers are adopting micronutrient-based animal feed. And this factor is anticipated to augment the revenue growth of the animal feed micronutrient market.
The governments of various countries are providing subsidies to dairy and poultry farmers. Moreover, governments are launching programs to boost the production of these sectors. Since 2014, the European Commission has funded many new initiatives throughout Europe and around the world to promote the consumption of meat, eggs, and dairy products. Favorable government policies and initiatives are anticipated to have a positive impact on the growth of the animal feed micronutrient market.
The use of vitamins and micronutrients for the activation of key enzymes and hormones, which are necessary for livestock metabolic processes, has increased. These nutrients also aid in disease prevention and treatment, as well as improving animal digestibility. Additionally, crucial benefits like skeletal growth, optimal health, immunity, etc., are associated with the use of these micronutrients. All of these factors are expected to drive the micronutrient market growth.
Also, increased research and development activities by key companies so as to develop enhanced products is anticipated to drive the growth of this micronutrient market in the upcoming years. For example, Kemin Industries announced the launch of KemTRACE Chromium-OR, an organic-compliant feed component for use in horse, cow, swine, and poultry diets, in February 2021. The product comes in two concentrations: 0.04 percent for use in complete meals and 0.4 percent for use as a premix before adding to complete diets.
Report Segmentation
The market is primarily segmented based on nutrient type, end-use and region.
By Nutrient Type

By End-Use

By Region

Iron
Copper
Zinc
Boron
Manganese
Other Nutrients

Ruminant
Poultry
Swine
Aqua
Equine
Others

North America (U.S., Canada)
Europe (France, Germany, UK, Italy, Netherlands, Spain, Russia)
Asia Pacific (Japan, China, India, Malaysia, Indonesia, South Korea)
Latin America (Brazil, Mexico, Argentina)
Middle East & Africa (Saudi Arabia, UAE, Israel, South Africa)
Know more about this report: Request for sample pages
The iron market segment is estimated to garner the largest revenue share
The prevalence of anemia among domestic animals is increasing across the globe. Iron deficiency anemia in dogs and cats usually develops as a result of persistent external blood loss and does not manifest until tissue iron stores have been depleted. The underlying condition that causes blood loss is addressed, and iron stores are restored. As per research and study and article published in Academic Journals, only 196 of the 437 cattle evaluated exhibited anemia, resulting in an overall prevalence rate of 44.85 percent.
The manganese segment is anticipated to grow at a high CAGR during the forecast period. It plays an important function in animal fertility and market growth. The market demand for manganese (mg) is increasing in the poultry sector as it is important in the diet of chickens for eggshell creation and bone development, nutrition absorption, wound healing, and perosis prevention. These factors are contributing to the market growth of this particular segment.
The poultry segment estimated to account largest market share over the forecast period.
The poultry segment is estimated to account for the largest share over the forecast period. The consumption of chicken and eggs has increased in recent years, and this trend is anticipated to grow in the years to come. As per reports, in 2020, net egg production in Canada increased by 2.1 percent. Moreover, the sales of poultry meat held steady at activities USD 3.2 billion in 2020. Micronutrients are extremely crucial for the growth of layers and broilers. These aid in improved reproduction, health, and general performance.
The swine segment is anticipated to grow at a high CAGR in the years to come. As per the report published by the USDA Foreign Agricultural Service In 2021, pork was the most consumed meat-type across the globe. Feed is one of the most significant components in the healthy raising of pigs, accounting for around 60% to 75% of the overall incurred cost. As a result, a specific emphasis is placed on delivering critical nutrients to pigs, and these factors are anticipated to have a positive impact on the micronutrient market growth of this segment.
Asia Pacific is estimated to capture the highest revenue share
A large number of dairy, poultry, & swine farms are present in countries like China and India. China, which produced over 45 million metric tons of pork in 2021, was the world's leading pork producer. According to the National Dairy Development Board, the population of cows in India was recorded at 192.5 million in 2020. Also, over 295 thousand metric tons of pork were consumed alone by India in 2021. Moreover, due to population growth in this region, the market demand for dairy and meat products has increased in recent years.
Over the forecast period, the North American market is expected to grow at a high CAGR. According to the ACSPA, nearly 3 million animals from the shelter are adopted in the United States each year. As per the American Pet Products Association, around 78 million dogs and 85 million cats in the United States. This has resulted in a rise in spending on animal care and animal feed micronutrients. Also, a large percent of the population is aware of the benefits associated with the addition of micronutrients in animal feed.
Competitive Insight
Some of the major players operating in the global market include Alltech Inc., Archer Daniels, Aries Agro, Cargill, Kemin Industries, Muyuan Foods, Nisshin Seifun, Novus International, Nutreco NV, Phibro Animal Health, Royal Dsm, Sico Fertilizers, Virbac, Wen's Foodstuff, Zinpro Corp and others.
Recent Developments
Marel purchased Wenger Manufacturing, a pet food product, plant-based protein, & aqua feed equipment manufacturer, in April 2022.
In March 2022, Jiangxi Zhengbang announced sell eight of its animal feed units to Beijing Dabeinong.
Animal Feed Micronutrient Market Report Scope
| | |
| --- | --- |
| Report Attributes | Details |
| Market size value in 2021 | USD 1.58 million |
| Revenue forecast in 2030 | USD 2.71 million |
| CAGR | 6.4% from 2022 - 2030 |
| Base year | 2021 |
| Historical data | 2018 - 2020 |
| Forecast period | 2022 - 2030 |
| Quantitative units | Revenue in USD million and CAGR from 2022 to 2030 |
| Segments covered | By Nutrient type, By End-use, By Region |
| Regional scope | North America, Europe, Asia Pacific, Latin America; Middle East & Africa |
| Key companies | Phibro Animal Health Corp, Cargill Inc., Alltech Inc., Aries Agro Limited, Kemin Industries, Novus International Inc, Zinpro Corp., Nutreco NV., Royal DSM, Archer Daniels Midland, Dayal Group, Wen's Foodstuff Group Co., Ltd., Muyuan Foods Co Ltd, Muyuan Foods Co Ltd, Nisshin Seifun Group, Virbac SA and others |