The global diverticulitis disease market was valued at USD 1.56 billion in 2022 and is expected to grow at a CAGR of 8.91% during the forecast period. This market is growing as a result of rising markets and an increase in the prevalence of gastrointestinal diseases worldwide. Diverticular disease of the colon is one of the most common diseases in western civilization and is also one of the main causes of hospital admissions and outpatient visits.

Know more about this report: Request for sample pages
Diverticulosis affects 10% of adults over 40 and 50% of people over 60 in Western societies, where it is particularly prevalent. Diverticulosis affects practically everyone over the age of 80 and its prevalence rises with ageing. In the world, 1 in 6 individuals will be 60 years of age or older by 2030, according to the WHO estimate from 2022. By this point, there will be 1.4 billion people over the age of 60, up from 1 billion in 2020. The number of persons in the globe who are 60 years or older will double by 2050. Between 2020 and 2050, the number of people 80 or older is projected to treble, reaching 426 million. As a result, the market is projected to rise as a result of the population's increasing age.
Additionally, the market has been significantly influenced by the rising demand caused by the incidence of obesity, which also includes the expanding population. As a result, these additional elements improve treatment and provide opportunities for market players to develop new products.
The COVID-19 pandemic has had a negligible effect on the market and medical infrastructure. Early on in the COVID-19 outbreak, patients put off getting the essential diverticulitis therapy, which made their condition worse and increased their mortality. Patients with severe illnesses who needed emergency surgery during the initial surge stayed longer than expected. Re-admission to the hospital and the requirement for urgent or emergency surgery rose for patients whose scheduled procedures were postponed. The aforementioned remarks therefore had an effect on the market, which is predicted to expand over the course of the forecast period.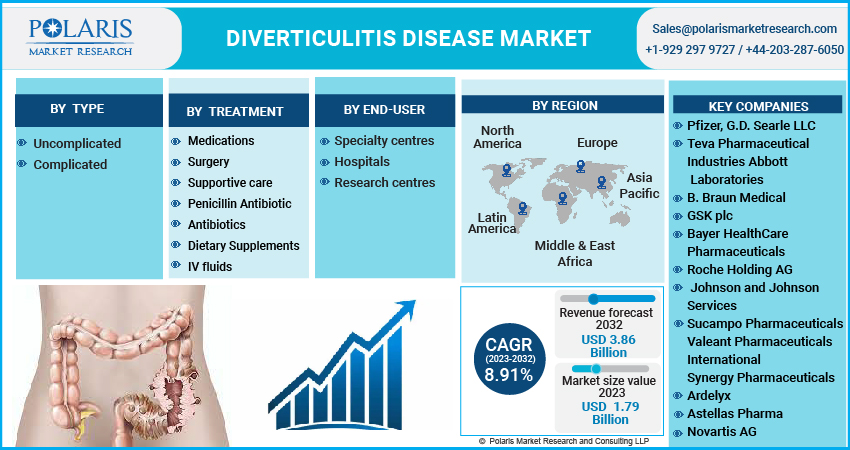 Know more about this report: Request for sample pages
Industry Dynamics
Growth Drivers
The increased sedentary lifestyle adaptation and significant gastrointestinal growth form the basis of the global market study. Launching new items has always been seen as a key element in expanding opportunities on a worldwide scale. As a result, it aids in the growth of the expanded items. Additionally, new recommendations for managing simple acute diverticulitis are anticipated to fuel diverticulitis disease market expansion. According to recent recommendations made by groups all over the world, including the American Society of Colorectal Surgeons, no antibiotic therapy is now thought to be a reliable method for treating uncomplicated acute diverticulitis.
For instance, according to the research by Laura Mora-López research paper claims that in recent years, it has not been demonstrated that antibiotics are beneficial in the treatment of simple acute diverticulitis in hospitalised patients. Furthermore, uncomplicated acute diverticulitis has been successfully treated as an outpatient procedure. Treatment for moderate acute diverticulitis without antibiotics is safe, effective, and comparable to current standard care.
Report Segmentation
The market is primarily segmented based on type, treatment, end-user and region.
By Type

By Treatment

By End-User

By Region

Uncomplicated

Complicated

Medications

Surgery

Supportive care

Penicillin Antibiotic

Antibiotics

Dietary Supplements

IV fluids

Specialty centres

Hospitals

Research centres

North America (U.S., Canada)

Europe (France, Germany, UK, Italy, Netherlands, Spain, Russia)

Asia Pacific (Japan, China, India, Malaysia, Indonesia. South Korea)

Latin America (Brazil, Mexico, Argentina)

Middle East & Africa (Saudi Arabia, UAE, Israel, South Africa)
Know more about this report: Request for sample pages
Un-complicated is predicted to dominate the industry's market segment.
In 2021, Un-complicated will dominate the market. The primary growth of the market is due to the continuous research advancement on antibiotics treatment for un-complicated diverticulitis. For instance, recent publication has indicated that, non-antibiotic therapy of acute un-complicated diverticulitis may be a practical & safe approach, as per Dulitha Kumarasinghe research report released, in 2022. It is still challenging to locate these patients, though. White cell count, C-reactive protein, & bilirubin can distinguish between simple & complicated diverticulitis, according to the paper's conclusion.
Another element contributing to the market's expansion is simple diverticulitis, the most common acute complication of diverticular disease. Additionally, it is believed that blockage and inflammation of a colonic diverticulum are the primary causes of acute simple diverticulitis, which affects roughly 4-5% of people with diverticulosis. In addition, 13.3-23.4% of persons with diverticulitis experience recurrence. In contrast, past research predicted a recurrence rate of between 25 and 45 percent. Less than 6% of patients who experience recurrence also experience problems or require urgent surgical intervention.
Medication sector will dominate the market in 2022
Medication will dominate the market in 2022, accounting for significant market share. The category benefits because antibiotics are used to treat infections that might develop in acute diverticulitis, which is the main factor driving market growth. For instance, antibiotic treatment targeted the common intestinal bacteria with coverage for Gram-negative and anaerobes. Oral ciprofloxacin and metronidazole, or amoxicillin/clavulanate, are common outpatient regimens. Trimethoprim-sulfamethoxazole (Bactrim), Ciprofloxacin (Cipro), and Clavulanic acid (Augmentin) are among other antibiotics used to treat acute diverticulitis.
As a result, the need for medications to treat diverticulitis disease has increased. The market segment is therefore anticipated to hold the greatest market share over the projection period based on the aforementioned assertions.
Hospitals organizations sector will dominate the market in 2022
Hospitals contributed the largest revenue share to the market in 2022. The main factor boosting the market is the availability of professionals in hospitals who can help people choose pertinent tests. The American Society of Colon and Rectal Surgeons recommends hospitalization for patients who are unable to accept oral intake, have frequent vomiting, have peritonitis symptoms, have impaired immune systems, are elderly, or are excessively vomiting. The incidence of the target disease is rising, there are numerous testing options available, and new tests are being developed for more accurate and effective patient screening.
Hospitals also regularly offer services for both straightforward and complex diseases, which improves and enriches the operation of many other parts of the healthcare system. A new vision for hospitals is currently being driven by external forces, flaws in health systems, and problems with the hospital industry globally.
The demand in North America is expected to witness significant growth during projected timeframe
In 2021, North America will generate majority of total revenue. The market is anticipated to benefit from factors such as the rising senior population, rising rates of smoking and obesity, rising demand for technologically improved treatments, and increased public awareness of health issues in the area over the forecast period. For instance, the two most frequent causes of obesity are overeating and inactivity. Genetics, metabolism, environment, behavior, and culture are a few key elements that affect obesity. The adult obesity rate in the United States is currently 42.4%, which is the first time the national rate has above the 40 percent threshold and further supports the obesity issue in the nation. Black women who are non-Hispanic have the highest obesity rates in America (59%).
Additionally, the research report by Alexander T. Hawkins, published in 2020, claims that diverticulitis accounts for an estimated 200,000 inpatient hospital stays and 371,000 emergency department visits annually in the United States, costing between 2.1 and 2.6 billion dollars. Approximately 71,000 hospital admissions a year are due to diverticular hemorrhage. The above observations lead to the conclusion that the North American area will likely hold the largest market share during the projection period.
Competitive Insight
Some of the major players operating in the global market include Pfizer, G.D. Searle, Teva Pharmaceutical, Abbott Laboratories, Braun Medical, GSK, Bayer HealthCare, Roche Holding, Johnson and Johnson, Sucampo Pharmaceuticals, Valeant Pharmaceuticals, Synergy Pharmaceuticals, Ardelyx, Astellas Pharma, Novartis, Hikma Pharmaceuticals & Baxter International.
Recent Developments
In January 2022, two new clinical guidelines from the ACP on the diagnosis and treatment of diverticulitis have been released. The majority of patients with simple diseases can be treated in outpatient settings, and some patients can even be treated without antibiotics at first, according to guidelines. If a patient has complicated disease and hasn't had a colonoscopy recently, they should be referred for one after their initial episode.
Diverticular Disease Market Report Scope
| | |
| --- | --- |
| Report Attributes | Details |
| Market size value in 2023 | USD 1.79 billion |
| Revenue forecast in 2032 | USD 3.86 billion |
| CAGR | 8.91% from 2023 - 2032 |
| Base year | 2021 |
| Historical data | 2019 - 2021 |
| Forecast period | 2023 - 2032 |
| Quantitative units | Revenue in USD billion and CAGR from 2023 to 2032 |
| Segments covered | By Type, By Treatment, By End-Use, By Region |
| Regional scope | North America, Europe, Asia Pacific, Latin America; Middle East & Africa |
| Key companies | Pfizer, G.D. Searle LLC, Teva Pharmaceutical Industries Abbott Laboratories, B. Braun Medical, GSK plc, Bayer HealthCare Pharmaceuticals, Roche Holding AG, Johnson and Johnson Services, Sucampo Pharmaceuticals, Valeant Pharmaceuticals International, Synergy Pharmaceuticals, Ardelyx, Astellas Pharma, Novartis AG, Hikma Pharmaceuticals and Baxter International. |