The global drilling fluids and chemicals market is anticipated to grow at a CAGR of 5.0% between 2018 to 2026.
Recovery in drilling operations after the steep downturn in 2015 and 2016 owing to crashing of the oil prices is the major factor that is driving demand for drilling chemicals. Even though the rebound in drilling operations and recovery in demand for these products are getting stronger it is not anticipated to touch peak levels by 2021 and only after that period till 2026 the market is projected to grow significantly faster. Crude oil prices are expected to remain considerably below the water marks experienced in the past ten years limiting any further advances. Increasing use of horizontal drilling activity especially in the U.S. and Middle East countries is yet another driving factor for these products. Exploration and drilling of unconventional wells along with increasing emphasis on horizontal drilling where requirement of drilling fluids are significantly high owing to the addition of lateral lengths in the wellbore compared to for conventional wells or vertical drilling processes.
Moreover, with increasing complexity for oil exploration, as operators examine the limits of this technology to recover more and more crude for a single well, lateral length of the well increases making additional use of drilling fluids. Depletion of easy oil reserves, it is projected that the proportion of horizontal wells and their average total depth will continue to increase over the forecast period, hence boosting demand for these products. In consequence of the constraints owing to the current benchmark price era, operators have been dealing with several economical restrictions that substantially limit the potential profitability mainly in some certain plays. The E&P companies are facing breakeven cost, which only provide them with the capacity to pursue reserves in the most economical drilling opportunities. The operators seek out the plays that have higher geological advantages or for the other cost saving opportunities such as pre-existing infrastructure.
Drilling Fluids and Chemicals Market Share By Product Type, 2017-2026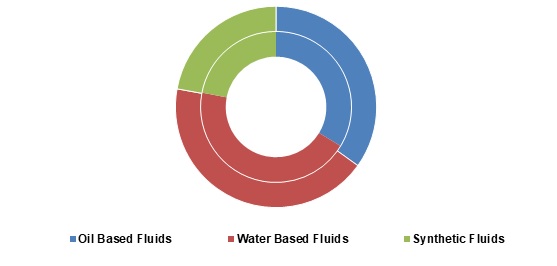 Know more about this report: request for sample pages
Segment Analysis:
The global drilling fluids and chemicals industry is segmented into product types, additive types and region. Product segment is further segmented into oil based drilling fluids, water based fluids and synthetic fluids. Additive segment is further subdivided into polymer viscosifiers, polymer viscosifiers, barite, bentonite, lost circulation materials, shale inhibitors and others. Owing to considerable technological progression in formulation development, drillers have been favoring for some specific ones since the past five to six years. Water based drilling fluids and chemicals were the largest product experiencing highest demand owing to their cheaper cost and being environmental friendly nature.
Moreover, the growing popularity of horizontal drilling and increasing exploration and production from unconventional reserves continue to increase complexity of wells and have created challenging conditions for drilling operations. Owing to this, drillers favor for high value additives that are also multifunctional and are suitable for application in these complex drilling environments. As low cost and cleaner nature of water based fluids was also backed by the dip in crude prices. However, constraints of lower benchmark crude oil price market are not anticipated to put off a shift to the higher value or costly additives in drilling fluids.
Regional Segments:
North America was the leading regional market in 2017. The upstream industry in North America, especially in the U.S. is anticipated to experience healthy growth the next few years overcoming the price declines. The increase in unconventional drilling in the U.S. is the primary development in the global oil industry, successful of altering balance of demand and supply at the global scale and eventually contributing to the collapse and control over oil prices in the recent past. Simultaneously, increase in drilling operations in unconventional hydrocarbon reserves have be the primary reason dramatically changing the oilfield chemicals market, as higher complexity level and increased costs that are associated with each well drilled have eventually led to rapid growth in demand for these products in the region.
Asia Pacific will emerge as one of the potential areas of investment by the initial period of 2021, owing to development of new shale gas wells which are expected to get ready for drilling by that period.
Competitive Analysis:
Some of the leading industry participants currently operating in the industry include Clariant, Solvay, NALCO, Croda International Plc, Baker Hughes, Kemira, Halliburton, Schlumberger Limited, Stepan Company, Akzo Nobel N.V., The Lubrizol Corporation, BASF SE and Dow Chemical Company.