The global guns and accessories market was valued at USD 5.76 billion in 2022 and is expected to grow at a CAGR of 7.5% during the forecast period. Guns come in a variety of forms, including rifles, handguns, shotguns, machine guns, and submachine guns. Any portable barreled weapon with the ability to release a shot, projectile, or bullet due to explosive action is considered a gun. These weapons are employed in a variety of situations, such as self-defense, law enforcement, hunting, and sporting activities. Each rifle comes with a variety of add-ons, including grips, magazines, slides or cylinders, kits and parts, and barrels. The rise in terrorism, international hostilities, and political turmoil have all fueled a rise in the market for guns and related accessories in several nations.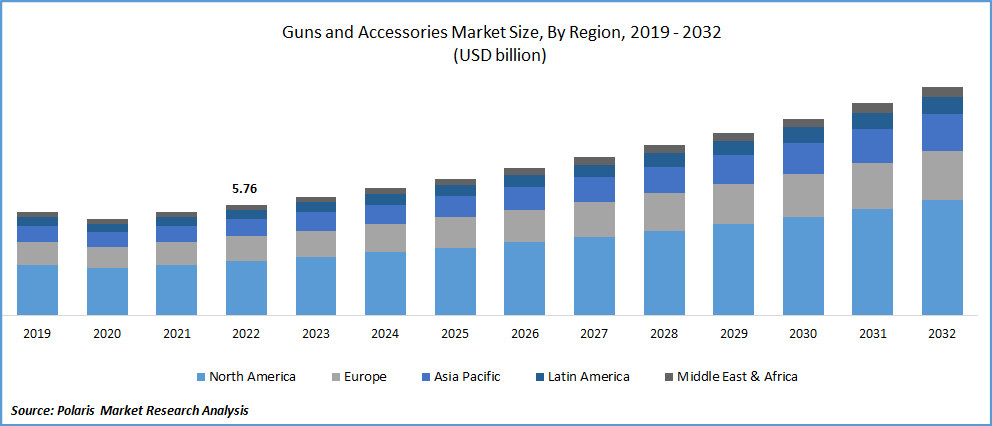 Know more about this report: Request for sample pages
The growth of the guns and accessories market will also be aided by rising defense spending, the purchase of cutting-edge weapons, and military modernization initiatives in several nations. According to the Stockholm International Peace Research Institute (Sipri.Org), to achieve $2113 billion in 2021, the total global military spending increased by 0.7% in real terms. United States, China, India, the U.k., and Russia were the top five spenders in 2021, accounting for 62% of total spending. An abrupt economic recovery in 2021 caused the global military burden—military spending as a proportion of global GDP—to decrease by 0.1 percentage points, from 2.3% in 2020 to 2.24% in 2021.
In addition, the development of the market will be directly affected by rising geopolitical volatility, border conflicts, and rising demand for guns for civilian usage.
The COVID-19 pandemic is expected to alter the market dynamics that were initially anticipated for the ensuing years. In the years following the epidemic, it is anticipated that the global defense budget will be drastically reduced. These are anticipated from the top defense-spending nations, including the United States, the United Kingdom, France, Germany, Australia, and others. As a result, corporations are eager to grow their operations in the commercial gun and accessory sector.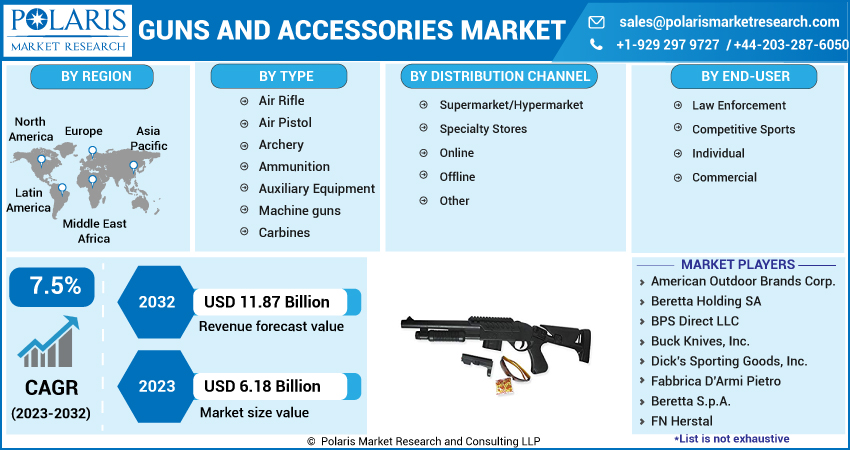 Know more about this report: Request for sample pages
Industry Dynamics
Growth Drivers
Market expansion will be fueled by rising consumer demand for guns & accessories for uses including hunting, sporting clays, self-defense, and others. The market is growing as a result of an increase in shooting programs, & personal security issues. Young competitors are being prepared for major international contests like the Olympics, the World Shooting Championships, and other events by organizations like the USA Shooting, 4 H Shooting Sports, & Civilian Marksmanship Programs.
Further, a growing trend in bolt action rifle development is the creation of hybrid rifles. For instance, in December 2022, Season of the Seraph, the most recent Destiny 2 season, would unveil a brand-new hybrid sniper gun known as Revision Zero. This weapon combines the best features of both a pulse rifle and a sniper rifle, giving gamers the combination of the two. Revision Zero might also be a sniper rifle and a scout rifle. Even so, Revision Zero would be a first in gameplay for Destiny.
Players have been begging for this kind of constant innovation in a shooter that often keeps it safe every season. Rising rates of mass shootings, particularly in the US, have led to an increase in civilian gun purchases for personal protection. 417 mass shooting incidents have been placed in the US by the end of 2019, which led to fear psychosis among the populace. As a result, the market is expanding due to the rising demand for handguns for hunting and personal defense.
Report Segmentation
The market is primarily segmented based on type, distribution channel, end-user, and region.
By Type

By Distribution Channel

By End-user

By Region

Air Rifle

Air Pistol

Archery

Ammunition

Auxiliary Equipment

Machine guns

Carbines

Others

Supermarket/Hypermarket

Specialty Stores

Online

Offline

Other

Law Enforcement

Competitive Sports

Individual

Commercial

North America (U.S., Canada)

Europe (France, Germany, UK, Italy, Netherlands, Spain, Russia)

Asia Pacific (Japan, China, India, Malaysia, Indonesia, South Korea)

Latin America (Brazil, Mexico, Argentina)

Middle East & Africa (Saudi Arabia, UAE, Israel, South Africa)
Know more about this report: Request for sample pages
The air rifle segment is expected to witness the fastest growth over the forecast period
The air rifle is growing with the fastest CAGR owing to its adoption for various activities due to its benefits. Gun accessories are tools or additions that help a gun perform better or function more precisely. They can be less obvious upgrades like compensators and infrared sensors as well as more prominent ones like sights, optics, and silencers. A weapon that uses compressed air as a propellant is known as an air rifle. It works by using the force of pressurized air that is produced by an engine and sent into a chamber, into which it is rifled into elevated projectiles. Pellet guns, usually known as BB guns since they fire plastic pellets dubbed BBs, are the most popular kind of air rifles.
Depending on the demands and preferences of the shooter, shooting accessories have varying degrees of relevance. Some shooters might discover that to increase their accuracy at farther ranges, they need to modify their sights. Others might discover that equipping their gun with a compensator makes it easier for them to shoot quickly while maintaining accuracy.
The specialty stores segment accounted for the highest market share in 2022
Specialty stores mostly concentrate on selling a specific brand or a specific category of goods. Special deals, promotions, and discounts are something else specialty shops provide their clients. Specialty shops have the advantage of being able to give clients comprehensive information about the product of their choice. As a result, specialty stores are very important since they provide access to specialized hunting gear & accessories for people all over the world. As a result, the segment produced significant revenue.
Over the forecast period, the online segment is anticipated to experience a considerable CAGR. The primary benefit of indirect distribution to the customer is convenience and quickness. To boost customer happiness, the online segment is organizing how it responds to client inquiries. The increase in demand for hunting gear and accessories through online distribution channels is to reason for the segment rise. As a result, throughout the projection period, the category is likely to develop at a notable CAGR.
The demand in North America is expected to witness significant growth
The demand for shooting and gun accessories in North America is expected to increase because of the expanding target population and the expanding sports and hunting industry. Additionally, it is anticipated that it will dominate due to the rising defense and military expenditure in the region. As per the SIPRI Organization, US military expenditures totaled $801 billion in 2021, a 1.4% decrease from 2020. The cost of the US military declined marginally from 3.7% of GDP in 2020 to 3.5% in 2021. Between 2012 and 2021, US spending for military research and development (R&D) increased by 24%, while spending for weapons purchases decreased by 6.4%.
The rise in R&D spending from 2012 to 21 implies that the US is placing more emphasis on next-generation technology. However, the market is developing in the region.
Europe is growing prominently. Growth in this area is predicted to be fueled by increasing demand in the target market and rising spending on guns and accessories. According to the SIPRI, to reach $65.9 billion in 2021, Russia's military spending climbed by 2.9% at a time when it was bolstering its forces near the Ukrainian border. In 2021, Russia's military expenditures hit 4.1% of GDP, marking the third year in a row of rise. However, because of China's stricter gun control rules, Europe is anticipated to face intense competition from the South Korean market.
Further, in Asia Pacific nations, defense contract expansion, military modernization initiatives, and industrial sector expansion will all contribute to the market's expansion. As per the Stockholm International Peace Research Institute Organization, China, the second-largest consumer in the world, increased its military spending by 4.7% in 2021 to an anticipated $293 billion. India ranks third in the world for military spending at $76.6 billion. This increased by 0.9% from 2020 and by 33% from 2012. 64% of capital expenditures in the military budget for 2021 were set aside for purchases of locally produced guns to support the domestic arms sector.
Therefore, the market is rapidly growing in the Asia-pacific region owing to border conflicts as well as its countries' rising military spending which is bolstering the demand for guns and their accessories.
Competitive Insight
Some of the major players operating in the global guns and accessories market include American Outdoor Brands, Beretta Holding, BPS Direct, Buck Knives, Dick's Sporting Goods, Fabbrica D'Armi Pietro Beretta, FN Herstal, Heckler & Koch, SPYPOINT, Spyderco, Sturm Ruger, Taurus International Manufacturing, Under Armour, Vista Outdoor, and Weihrauch & Weihrauch Sports.
Recent Developments
In August 2022, RUAG Ammotec Group was fully acquired by Beretta Holding. The acquisition brought 2,700 new employees and 16 businesses from 12 different nations to Beretta Holding Group. With the acquisition, Beretta Holding will have access to the broadest selection of premium goods, which will comprise electro-optics, small guns, ammunition, and clothes.
Guns and Accessories Market Report Scope
| | |
| --- | --- |
| Report Attributes | Details |
| Market size value in 2023 | USD 6.18 billion |
| Revenue forecast in 2032 | USD 11.87 billion |
| CAGR | 7.5% from 2023 - 2032 |
| Base year | 2022 |
| Historical data | 2019 – 2021 |
| Forecast period | 2023 - 2032 |
| Quantitative units | Revenue in USD billion and CAGR from 2023 to 2032 |
| Segments Covered | By Type, By End-User, By Distribution Channel, By Region |
| Regional scope | North America, Europe, Asia Pacific, Latin America; Middle East & Africa |
| Key Companies | American Outdoor Brands Corp., Beretta Holding SA, BPS Direct LLC, Buck Knives, Inc., Dick's Sporting Goods, Inc., Fabbrica D'Armi Pietro Beretta S.p.A., FN Herstal, Heckler & Koch, SPYPOINT, Spyderco, Inc., Sturm Ruger, and Co. Inc., Taurus International Manufacturing, Inc., Under Armour, Inc., Vista Outdoor Inc., and Weihrauch & Weihrauch Sports GmbH & Co. KG |