The global laboratory filtration market was valued at USD 3.68 billion in 2021 and is expected to grow at a CAGR of 7.9% during the forecast period. The key factors, such as the growing need for higher separation products, rising demand for hygiene products during a pandemic, and sustained growth in the pharmaceutical business, are driving the market growth during the forecast period.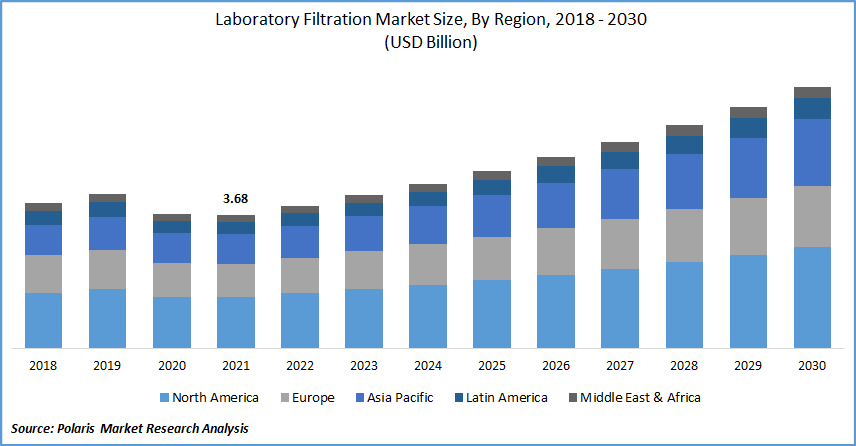 Know more about this report: request for sample pages
Laboratory separation is frequently utilized in the pharmaceutical sector to ensure purity and sterility for drug discovery, development, and manufacture; microbial analysis and removal; water purification; and life sciences research. It is also widely used in the food and beverage industries to clear liquids and separate liquids from solids. As a result, the food & beverage industry's continual growth is a crucial growth-inducing driver. Aside from that, prominent manufacturers provide cost-effective and simple separation options to the research community and laboratories to maximize efficiency.
Further, the growing need for higher separation products during the downstream processes, the emergence of complex separation methods for ultra-purification, and the increasing use of analytical equipment are projected to drive laboratory filtration market expansion. Ashless filter papers and qualitative filter papers are available from companies such as Macherey-Nagel, and GE Healthcare and are specifically developed for general laboratory filtering and quantitative routine analytical operations.
In addition, the COVID-19 epidemic is expected to boost the growth of the worldwide laboratory filtration market. To perform research spanning from virus identification to vaccine manufacture, researchers use several laboratory materials, including filters. An increasing number of enterprises seeking workplace health and safety regulations favorably boost the laboratory filtration market growth.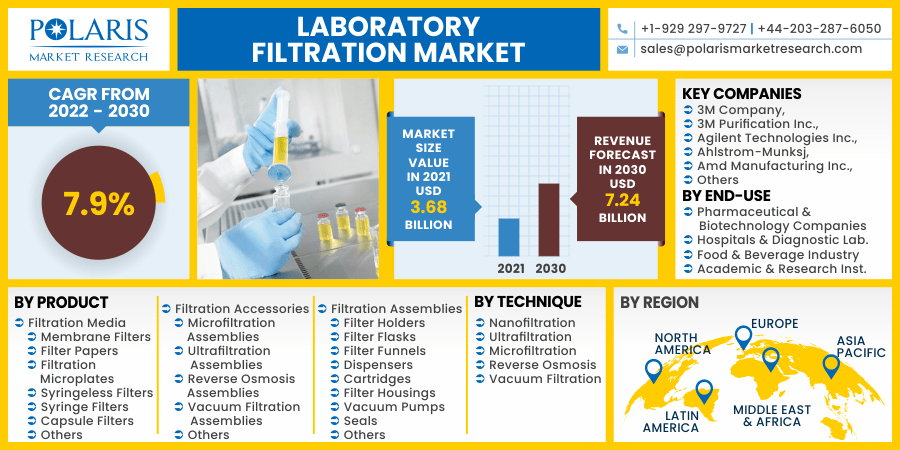 Know more about this report: request for sample pages
Industry Dynamics
Growth Drivers
R&D spending in the pharmaceutical & biotechnology industries and rising demand for laboratory membrane filtration due to its various benefits such as fewer production expenses, high flexibility, and high product quality. Besides, pharmaceutical and biotechnology businesses use laboratory separation products for the development of new medications. The importance of biotechnology-based medications is likely to rise. Pharmaceutical companies invest in research & development in order to bring high-quality, innovative goods to market.
The tendency implies that major pharmaceutical companies are enhancing their R&D efficiencies by investing heavily in R&D in the long term to see a return on investment and collaborate on R&D. Moreover, as per the Congressional Budget Office (CBO), the pharmaceutical sector spent USD 83 billion on research and development in 2019. Inflation-adjusted value is around ten times the industry spent every year in the 1980s.
Compared to the preceding decade, the number of new pharmaceuticals permitted for sale increased by 60% between 2010 and 2019, reaching a high of 59 new drugs approved in 2018. The average cost of R&D for a new medicine range from less than $1 billion to more than $2 billion. These expenses cover respectively laboratory research and clinical tests for effective new pharmaceuticals, as well as expenses for drugs that struggle to progress beyond the laboratory-development stage, enter clinical studies, and yet underperform or are forced to withdraw by the drugmaker for commercial reasons, or not being accepted in the United States. Thus, the high R&D investment and laboratory membrane filtration benefits boost market growth during the forecast period.
Report Segmentation
The market is primarily segmented based on product, technique, end-use, and region.
By Product

By Technique

By End-Use

By Region

Filtration Media

Membrane Filters
Filter Papers
Filtration Microplates
Syringeless Filters
Syringe Filters
Capsule Filters
Others

Filtration Accessories

Microfiltration Assemblies
Ultrafiltration Assemblies
Reverse Osmosis Assemblies
Vacuum Filtration Assemblies
Others

Filtration Assemblies

Filter Holders
Filter Flasks
Filter Funnels
Dispensers
Cartridges
Filter Housings
Vacuum Pumps
Seals
Others

Nanofiltration
Ultrafiltration
Microfiltration
Reverse Osmosis
Vacuum Filtration

Pharmaceutical & Biotechnology Companies
Hospitals & Diagnostic Laboratories
Food & Beverage Industry
Academic & Research Institutions

North America (U.S., Canada)
Europe (France, Germany, UK, Italy, Netherlands, Spain, Austria)
Asia Pacific (Japan, China, India, Malaysia, Indonesia. South Korea)
Latin America (Brazil, Mexico, Argentina)
Middle East & Africa (Saudi Arabia, UAE, Israel, South Africa)
Know more about this report: request for sample pages
Insight by Technique
Based on the technique segment, the laboratory microfiltration segment was the most significant revenue contributor in the global market in 2021 and is expected to retain its dominance in the foreseen period. The segment has emerged as the largest laboratory filtration market since it is widely employed in many sectors for cold sterilization of API and enzymes and the segregation of solid-liquid phases. High thermal stability is the primary reason behind the segment's demand in the examined market. It has a high partition ability and does not need additional solvents, making the technology simple to use and apply.
Geographic Overview
In terms of geography, North America had the highest share in 2021. Establishment of cutting-edge laboratories and government support in fundamental research. In addition, the U.S. is the world leader in pharmaceutical research and development. North America is the biggest market for laboratory separation equipment due to the presence of R&D bases of major pharmaceutical and biotech businesses and considerable research and academic institutes that are essential users of separation equipment.
Moreover, APAC is anticipated to register high CAGR in the global market. Japan and India are expected to have considerable growth due to the developing pharmaceutical industry, an increasing number of enterprises establishing operating facilities in the region, and higher awareness and acceptance of innovative separation technology. The region is being propelled forward by causes such as the increased emphasis of the healthcare and food & beverage industries on enhancing the grade of their products and examination output.
Competitive Insight
Some of the major players operating in the global market include 3M Purification Inc., Advantec Toyo Roshi Kaisha, Ltd., Agilent Technologies Inc., Ahlstrom-Munksj, Amd Manufacturing Inc., Cantel Medical Corporation, Cole-Parmer Instrument Company LLC, Danaher Corporation, GE Healthcare, GVS S.p.A, Hawach Scientific Co. Ltd., Macherey-Nagel GmbH & Co. KG., Merck KGaA, Merck Millipore, Sartorius Group, Sigma-Aldrich, Sterlitech Corporation, Thermo Fisher Scientific, Inc., and Veolia Water Technologies.
Laboratory Filtration Market Report Scope
| | |
| --- | --- |
| Report Attributes | Details |
| Market size value in 2021 | USD 3.68 billion |
| Revenue forecast in 2030 | USD 7.24 billion |
| CAGR | 7.9% from 2022 - 2030 |
| Base year | 2021 |
| Historical data | 2018 - 2020 |
| Forecast period | 2022 - 2030 |
| Quantitative units | Revenue in USD million/billion and CAGR from 2022 to 2030 |
| Segments covered | By Product, By Technique, By End-Use, By Region |
| Regional scope | North America, Europe, Asia Pacific, Latin America, Middle East & Africa |
| Key companies | 3M Company, 3M Purification Inc., Advantec Toyo Roshi Kaisha, Ltd., Agilent Technologies Inc., Ahlstrom-Munksj, Amd Manufacturing Inc., Cantel Medical Corporation, Cole-Parmer Instrument Company LLC, Danaher Corporation, GE Healthcare, GVS S.p.A, Hawach Scientific Co. Ltd., Macherey-Nagel GmbH & Co. KG., Merck KGaA, Merck Millipore, Sartorius Group, Sigma-Aldrich, Sterlitech Corporation, Thermo Fisher Scientific, Inc., and Veolia Water Technologies. |