The global allantoin market was valued at USD 532.2 million in 2021 and is expected to grow at a CAGR of 5.2% during the forecast period. Allantoin extract for skincare products has been used for ages because of its soothing and therapeutic characteristics. The use of its extract in skin care products has increased as people become more aware of the importance of preserving their skin from pollution and UV rays.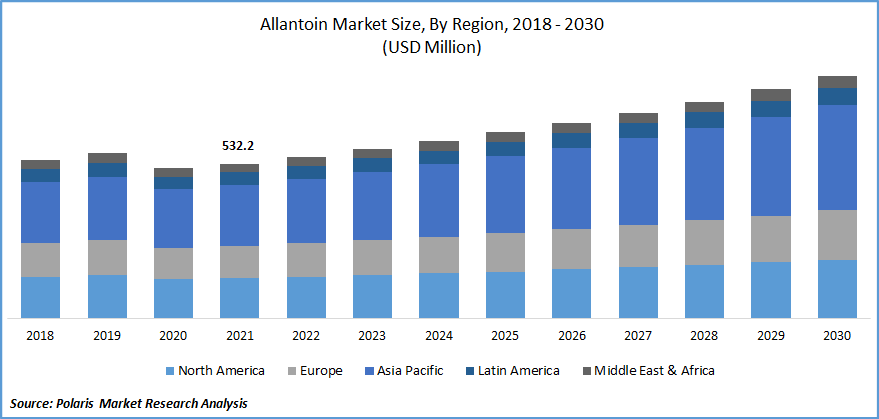 Know more about this report: Request for sample pages
The comfrey root produces allantoin, which is widely manufactured. It's used in a variety of treatments for burns, dermatitis, infections, acne, and impetigo. External scar and keloid therapies, as well as sensitive skin moisturizers and hand sanitizers. It is carcinogenic and should be avoided during pregnancy and breastfeeding.
The growing desire among consumers for all-natural foods and over-the-counter products has fueled interest in herbs for skincare. There is a scarcity of data from human clinical trials to back up their efficacy, and the intense treatment used to prepare them for use in cosmeceuticals often compromises the extract's therapeutic properties.
The global COVID-19 outbreak has had a significant impact on the global allantoin market. The global economic downturn caused by the epidemic has resulted in a reduction in the disposable income of consumers. As a result, there has been a major decline in demand for personal care items and cosmetics, which has had a big influence on its demand.
Manufacturers were obliged to reduce their capacity due to a reduction in labor and a disrupted supply chain as a result of the nationwide lockdown and transportation restrictions. These factors had a significant impact on the worldwide allantoin market's growth.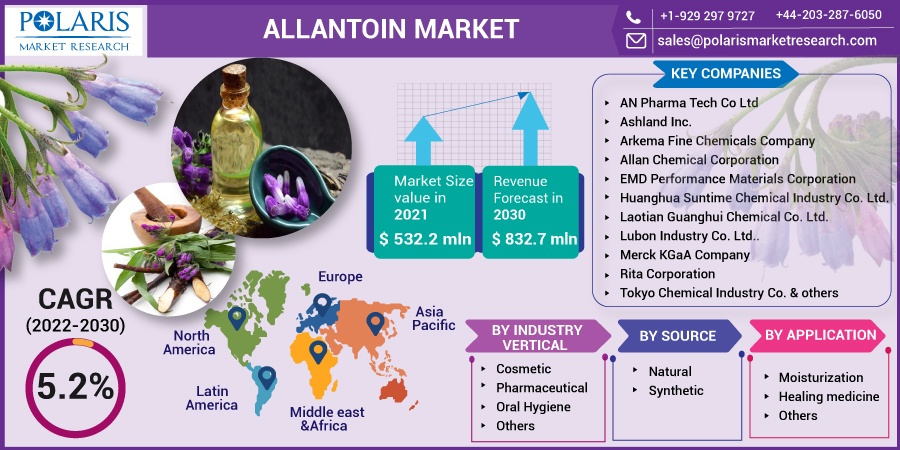 Know more about this report: Request for sample pages
Industry Dynamics
Growth Drivers
Increasingly rapid urbanization has led to a rising disposable income, which is progressively raising the standard of living. It has resulted in a significant increase in the use of personal care products, contributing significantly to the global development of the market. Cleansers, face creams, lotions, and products for different skincare procedures are the most common end-users in the personal grooming section, which includes shampoos, face creams, moisturizers, and items for numerous skin care treatments.
Grooming has become a major component in the lives of men and women due to their hectic schedules and lifestyles, and as a result, personal care products such as shampoos, toothbrushes, conditioners, and mouthwash containing extracts for skincare are in high market demand.
Its extract for skincare products aids in the removal of dead skin cells and increases the skin's water content. They are also used in a variety of therapeutic formulations due to their proliferation properties. Several businesses have expanded their study into allantoin's medical characteristics, which has aided the global allantoin market growth.
Report Segmentation
The market is primarily segmented based on industry verticals, application, source, and region.
By Industry Vertical

By Source

By Application

By Region

Cosmetic
Pharmaceutical
Oral Hygiene
Others

Moisturization
Healing medicine
Others

North America (U.S., Canada)
Europe (France, Germany, UK, Italy, Netherlands, Spain, Russia)
Asia Pacific (Japan, China, India, Malaysia, Indonesia. South Korea)
Latin America (Brazil, Mexico, Argentina)
Middle East & Africa (Saudi Arabia, UAE, Israel, South Africa)
Know more about this report: Request for sample pages
Cosmetic segments are the fastest growth during the forecast period
Allantoin is a skin enhancer and a skin protectant. Allantoin ascorbate, biotin, galacturonic acid, panthenol, and allantoin poly-galacturonic acid are complexion compounds. According to Food and Drug Administration, as part of the Voluntary Cosmetic Ingredient Reporting Program, it may be found in over 1370 cosmetic products. The Ministry of Health, Labor, and Welfare of Japan has approved it for use in cosmetology as a medicinal component.
Also, due to the cell proliferation capabilities, they are widely utilized in a variety of external creams and lotions for the healing process. It is used to treat a wide variety of skin conditions, including eczema and psoriasis. The segment's rapid rise can be attributable to the rising market demand for the product in cosmetic manufacturing because of its amazing features, such as the desquamation of dead skin cells and increased skin moisture content.
Pharmaceuticals accounted for the second-largest market share in 2021
Allantoin has been shown to have several properties that are expected to assist in the conversion of inflammatory to a cell proliferation state in a wound, including antioxidant and anti-inflammatory properties, specific antimicrobial effects, and keratolytic activity that helps promote wound healing.
The market growth is predicted to be driven by allantoin's expanding application scope in pharmaceuticals. Because it has outstanding cell proliferation properties, its market potential is predicted to grow throughout the projection period.
Pharmaceutical companies are expanding their capacity to develop medications around the world as the world's population grows and the number of weather-related skin illnesses rises. In the pharmaceutical industry, allantoin is employed as an anti-inflammatory agent. It's in athletic lotions and sprays because it can help minimize swelling from injuries.
They aid in the development of normal tissues by increasing cell proliferation. In a mouse study, allantoin was shown to reduce scar formation by inhibiting epidural fibrosis. It appears to diminish hyperkeratotic changes, erythema, invasion, and the subjective symptoms of stinging and stinging in psoriasis patients.
Healing Medicines Segment to Record significant CAGR growth
Due to the cell proliferation capabilities, allantoin is frequently utilized in a variety of topical creams and lotions for wound healing. It is used to treat a variety of skin conditions, including psoriasis and eczema.
The segment's rapid rise can be attributable to the rising market demand for the product in cosmetics manufacturing because of its excellent features, such as the desquamation of dead skin cells and increased skin moisture content. It is an active ingredient in oral hygiene products that prevents heat blisters and periodontitis by preserving the mucous membrane in the mouth.
The demand in Asia-Pacific is expected to witness significant growth
The market demand for the product is rising in the regions due to the rapid industrialization and expanding end-use industries. Positive pharmaceutical and cosmetic industry growth indicators in India and China, owing to improving consumer dynamics, would considerably support regional growth in the next years.
The rise of the cosmetic and pharmaceutical industries, notably in China and India, is likely to boost the allantoin market throughout the forecast period, owing to rising urbanization and population increase. Furthermore, increased sales of cosmetics, personal care, and pharmaceutical products are being driven by a positive in the country's GDP, a rise in the middle-class population, and consumers' consumer spending in these countries.
The market demand for allantoin powders is being driven by rising medical, cosmetic, and personal care product usage. Prominent regulatory authorities such as the US FDA and the European Commission are expected to increase support for the use of allantoin in the manufacturing of pharmaceutical products, which is expected to drive market demand.
Additionally, due to rising consumer expenditure on personal care items such as skin care creams, eye drops, and nutraceutical ingredients, the Middle East and Africa, and Latin America may see significant gains throughout the projection period.
In North America, consumer awareness of products is quickly increasing, as is customer concern about personnel care. The market demand for allantoin extract for skincare products in the Middle East is always rising, owing to high consumer spending on cosmetics. Allantoin Extract for Skincare Products is influenced by the pharmaceutical and cosmetic industries.
Competitive Insight
Some of the major players operating in the global aerosol propellants market are AN Pharma Tech Co Ltd, Ashland Inc., Arkema Fine Chemicals Company, Allan Chemical Corporation, Biosynth Carbosynth Corporation, Clariant AG, EMD Performance Materials Corporation, Huanghua Suntime Chemical Industry Co. Ltd., Laotian Guanghui Chemical Co. Ltd., Lubon Industry Co. Ltd.., Merck KGaA Company, Rita Corporation, Tokyo Chemical Industry Co. Weifang Hongyuan Chemical Co, and Zhanhua Jinyuan Lide Biotechnology Co. Ltd.
Recent Developments
In March 2022, Hims & Hers announced the launch of several skin care products. Men and women expected to benefit from SPF, while Hers will benefit from these products.
In September 2020, Toyochem developed a new product of bio-degradable pressure-sensitive adhesives. The newly created product, which is marketed under the Cyabine line of polyurethane PSAs.
Allantoin Market Report Scope
| | |
| --- | --- |
| Report Attributes | Details |
| Market size value in 2021 | USD 532.2 million |
| Revenue forecast in 2030 | USD 832.7 million |
| CAGR | 5.2% from 2022 - 2030 |
| Base year | 2021 |
| Historical data | 2018 - 2020 |
| Forecast period | 2022 - 2030 |
| Quantitative units | Revenue in USD million and CAGR from 2022 to 2030 |
| Segments covered | By Industry, By Application, By Source, By Region |
| Regional scope | North America, Europe, Asia Pacific, Latin America; Middle East & Africa |
| Key companies | AN Pharma Tech Co Ltd, Ashland Inc., Arkema Fine Chemicals Company, Allan Chemical Corporation, EMD Performance Materials Corporation, Huanghua Suntime Chemical Industry Co. Ltd., Laotian Guanghui Chemical Co. Ltd., Lubon Industry Co. Ltd.., Merck KGaA Company, Rita Corporation, Tokyo Chemical Industry Co. Weifang Hongyuan Chemical Co, and Zhanhua Jinyuan Lide Biotechnology Co. Ltd. |