The global bone and joint health supplements market was valued at USD 2.16 billion in 2021 and is expected to grow at a CAGR of 7.1% during the forecast period. The global market is expected to expand as a result of the increased demand for nutritional supplements, including vitamin D, calcium, and others. Numerous developments in the nutritional supplement sector have fueled the need for bone and joint health supplements, and producers have been exploring the multifunctional capabilities of these products.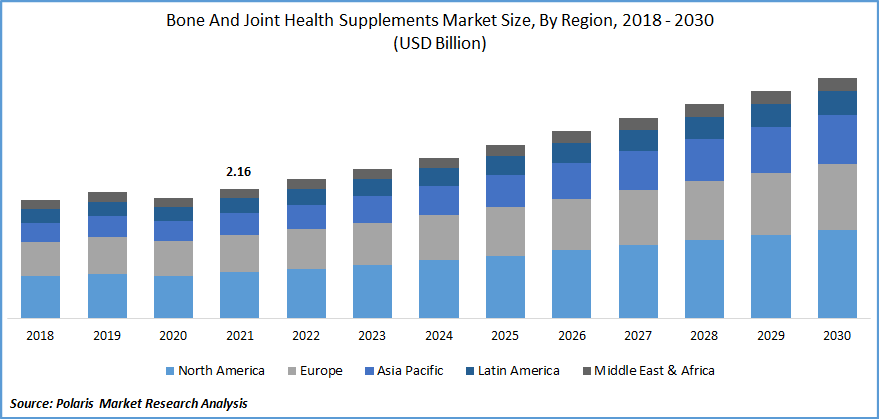 Know more about this report: Request for sample pages
Nutrients for bone and joint health aid in building bones by supplying the right quantity of concentration of minerals like calcium and others to the target area. Glucosamine, chondroitin, silicon, and omega-3 fatty acids are a few of the substances that are majorly present in these supplements, among others.
Degenerative arthritis or degenerative joint disease are other names for osteoarthritis. As it is frequently brought on by the wear and tear on a joint over a lifetime, it is the most prevalent type of arthritis. For the prevention and treatment of arthritis pain, joint supplements such as glucosamine and chondroitin are used. In order to prevent and lessen the impact of such disorders, it is therefore recommended to take nutritional products for bone and joint health.
Long-term use of low-nutrient foods causes a deficiency in calcium, vitamin D, and other necessary nutrients, which further contributes to the development of illnesses associated with the bones. The use of products for bone and joint health has expanded as a result of technological improvements in numerous industries.
Since diet and health are closely related, more people are choosing better supplement alternatives. Rising disposable income in countries of Asia, Latin America, and Africa have made it possible for consumers to spend more on food, dietary, and nutritional supplement. Globally, an aging population in parts of Europe and other areas is probably raising awareness of nutritional deficiencies, which is driving demand for the product.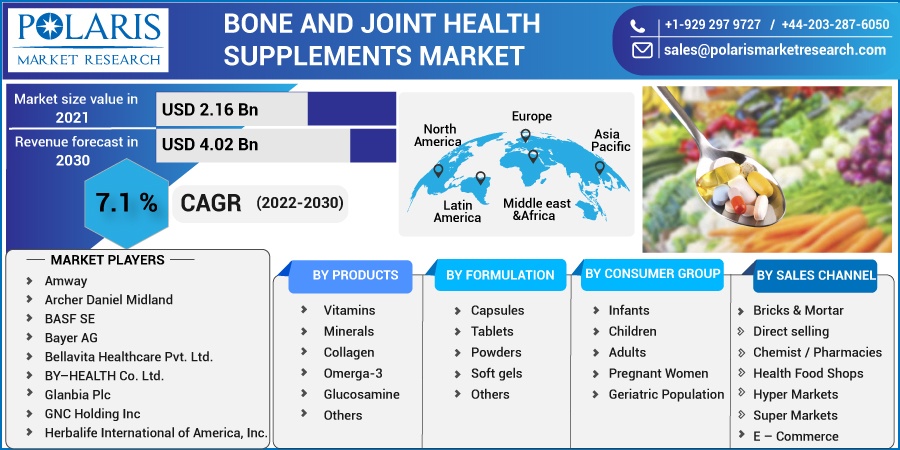 Know more about this report: Request for sample pages
Industry Dynamics
Growth Drivers
Increasing geriatric populations, awareness of micronutrient deficiencies, and the growing orthopedic diseases are factors responsible for market growth. The market players increased attention to the development of joint health supplements with various formulations.
The bone and joint health supplements market is anticipated to be driven by novel approaches to joint and bone health using collagen and botanical formulations. Asians are becoming much more aware of the need for collagen for bone health, which presents a chance for the players to increase their market share in the region.
The COVID-19 outbreak fuel the overall supplement market as people are aware of the role and nutritional benefits of having a strong immune system to protect against the disease. As a result, the demand for such supplements boosted the market growth. Nutraceutical products with immunity-boosting ingredients like calcium, collagen, and vitamins were in greater demand during the peak pandemic period.
Report Segmentation
The market is primarily segmented based on raw material, product type, by formulation, by consumer group, by sales channel and region.
By Product

By Formulation

By Consumer Group

By Sales Channel

By Region

Vitamins
Minerals
Collagen
Omerga-3
Glucosamine
Others

Capsules
Tablets
Powders
Soft gels
Others

Infants
Children
Adults
Pregnant Women
Geriatric Population

Bricks & Mortar

Direct selling
Chemist / Pharmacies
Health Food Shops
Hyper Markets
Super Markets

E – Commerce

North America (U.S., Canada)
Europe (France, Germany, UK, Italy, Netherlands, Spain, Russia)
Asia Pacific (Japan, China, India, Malaysia, Indonesia, South Korea)
Latin America (Brazil, Mexico, Argentina)
Middle East & Africa (Saudi Arabia, UAE, Israel, South Africa)
Know more about this report: Request for sample pages
The vitamins segment accounted for the largest share in 2021
In 2021, the market was led by the vitamin segment. This is due to the increased popularity of active lives, rising life expectancy, and expanding adoption of proper lifestyles. The growing use of vitamin D supplements to lower the risk of bone fracture is another factor driving market expansion.
Vitamin K is connected to bone density and, consequently is proven to be useful for bone wellbeing. The category is anticipated to be driven by consumers with osteoporosis who use it to lower their risk of fracture during the forecast period. The mineral market is anticipated to grow at a profitable rate as more individuals turn to dietary supplements for minerals to treat conditions like osteoporosis and osteoarthritis.
With the largest revenue share, the capsule segment dominated the market
The capsule segment has dominated the sector with the highest revenue share. The bioavailability of active substances has increased as a result of the availability of numerous product types in different encapsulation materials.
Extended-release capsules for vitamins and minerals, multi-layered or multi membrane encapsulations, and omega-3 fatty acids are a few of the items currently offered in capsule formulations, which have contributed to the industry's expansion.
The powder formulation segment is expected to grow faster. Due to the ease of consumption, powder formulations have boosted the market and are used more frequently than soft chews and soft gels.
The geriatric population segment accounted for the majority of the share in 2021
The geriatric population is held the most revenue share. As the prevalence of bone problems increases with aging, the geriatric population consumes the majority of bone and joint health supplements. The most prevalent disease in older people is osteoporosis.
The aging population majorly depends on tailored dietary consumption patterns and habitual food choices. Over time, the aging population in various nations has increased the need for age-friendly dietary choices with improved nutritional content to maintain their general imminity. This has resulted in a rise in demand for bone and joint health supplements, which further supports market expansion.
Due to growing worries about bone health and mobility, consumers are more aware of proper aging and disease prevention. As a result of this, there is an increased need for supplemental nutrition products that meet the dietary requirements of aging consumers.
Additionally, adults are using a variety of supplements to preserve their bone health as the trend toward a well and active lifestyle change. Due to growing awareness of nutritional supplements, the adult sector is predicted to increase at the quickest rate over the period.
The bricks and mortar segment had the biggest revenue share in 2021.
In 2021, the bricks and mortar segment had the highest revenue share. One of the main drivers of the segment's growth is the increase in the number of retail establishments offering a wide range of product types from various companies that sell supplements for bone and joint health. The e-commerce segment is expected to develop at the quickest rate. The online sales channel has expanded significantly throughout COVID-19 and also expanded its geographical reach.
The market's growth is being positively impacted by the collaboration of market participants and e-commerce platforms to make their product kinds available online. Furthermore, the market is expected to grow throughout the period due to the shift in customer preferences toward online shopping. To satisfy consumer demand, businesses are also investing in the opening of stores or shops, which is fueling the expansion of the industry.
In 2021, North America accounted for the fastest growth with the largest revenue share.
The majority of industry revenue came from North America. Some of the reasons propelling the market growth include the rising geriatric population and the number of people experiencing joint discomfort. In North America, the cost of medical is increasing daily with the aging population, improved medical facilities, advanced technology, and increased insurance coverage. These factors are fueling the region's market for dietary supplements for bone and joint health.
Furthermore, with growing concern for people's wellbeing combined with nutritional deficiencies, the Asia Pacific is also anticipated to experience fastest growth over the projected period. The demand for various supplements promoting bone and joint health has increased due to the rising incidence of osteoporosis and vitamin D insufficiency.
Additionally, customers are more likely to spend on certain supplements when their disposable income rises, which will help the market growth. Additionally, companies have adopted different strategies that support industry expansion in Asia Pacific and are promoting regional growth.
Competitive Insight
Some of the major players operating in the global bone and joint health supplements market include Amway, Archer Daniel Midland, BASF SE, Bayer AG, Bellavita Healthcare Pvt. Ltd., BY–HEALTH Co. Ltd., Glanbia Plc, GNC Holding Inc, Herbalife International of America, Inc., Life Extension, Love Life Supplements, Nature's Sunshine Products Inc., Nutravita, Nutramax Laboratories Consumer Care, Inc., Millennium Herbal Care, Pfizer, Pure Encapsulations, LLC, Procter & Gamble, Reckitt Benckiser, Simply Supplements, Vita Life Sciences Ltd., Vitaco, and Vitawin.
Recent Developments
May 2022: FruiteX-B®, a joint health product from FutureCeuticals, Inc., has been developing commercially available in the European Union (EU) through the firm's distributor there, Vaneeghen.
July 2021: A new joint health supplement from 24hr Supplement has been launched, which contains nine substances shown in studies to reduce pain while enhancing flexibility and cushion in the knees, ankles, hips, shoulders, wrists, and elbows.
Bone And Joint Health Supplements Market Report Scope
| | |
| --- | --- |
| Report Attributes | Details |
| Market size value in 2021 | USD 2.16 billion |
| Revenue forecast in 2030 | USD 4.02 billion |
| CAGR | 7.1% from 2022 - 2030 |
| Base year | 2021 |
| Historical data | 2018 - 2020 |
| Forecast period | 2022 - 2030 |
| Quantitative units | Revenue in USD billion and CAGR from 2022 to 2030 |
| Segments covered | By Product, By Formulation, By Consumer Group Outlook, Sales Channel , and By Region |
| Regional scope | North America, Europe, Asia Pacific, Latin America; Middle East & Africa |
| Key companies | Amway, Archer Daniel Midland, BASF SE, Bayer AG, Bellavita Healthcare Pvt. Ltd., BY–HEALTH Co. Ltd., Glanbia Plc, GNC Holding Inc, Herbalife International of America, Inc., Life Extension, Love Life Supplements, Nature's Sunshine Products Inc., Nutravita, Nutramax Laboratories Consumer Care, Inc., Millennium Herbal Care, Pfizer, Pure Encapsulations, LLC, Procter & Gamble, Reckitt Benckiser, Simply Supplements, Vita Life Sciences Ltd., Vitaco, and Vitawin |