The global controlled release fertilizer market was valued at USD 2.35 billion in 2021 and is expected to grow at a CAGR 6.5% during the forecast period. A controlled release fertilizer is a powdered fertilizer that gradually releases nutrients into the soil. This type of fertilizer is also commonly known as delayed-release fertilizer, controlled-availability fertilizer, and metered-release fertilizer.

Know more about this report: Request for sample pages
The controlled release fertilizers offer certain benefits, such as a decline in application costs in comparison with water-soluble fertilizers and ease of use with the potential to reduce the impact of environmental issues. Product innovation and the modernization of agriculture are the key factors that drive industry growth. However, high handling & storing costs and lack of knowledge among farmers are factors that are expected to hinder the industry growth.
Controlled release fertilizers contain all the macro and micronutrients required and are easily absorbed by plants owing to the fertilizer's liquid physical state. Hence, controlled release fertilizer can deliver the required nutrients more efficiently, providing almost instant results. These fertilizers are also less bulky than granular ones and can be easily stored and applied to the field through a piping network.
The COVID-19 outbreak negatively impacted the growth of the global market. The imposition of lockdowns across the world caused disruptions in supply chain and distribution networks. The industry growth was hampered due to reduced demand, shortage of supplies, and travel restrictions. Operational challenges and limited manufacturing activities worldwide further influenced the industry during the pandemic.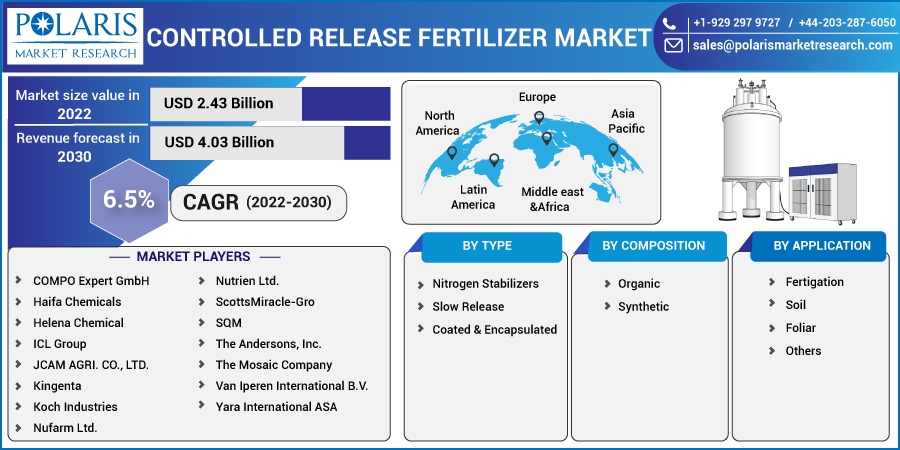 Know more about this report: Request for sample pages
Industry Dynamics
Growth Drivers
The growth of the global controlled-release fertilizer market is primarily driven by the increasing demand for fertilizers. Growth in population and the rise in urbanization have increased the demand for high-quality agricultural produce. The rise in demand for organic food products owing to increasing health concerns has boosted the growth of the industry.
In order to increase farm yields while maintaining product quality, farmers today are demanding fertilizers that can provide maximum nutrition to crops within a minimum time. Farming processes and methods are being improved to achieve superior crop production. Government support, technological advancements, rise in R&D investment further accelerate the demand for controlled release fertilizer.
The emerging economies of Asia Pacific, Africa, and Latin America provide immense opportunities for the growth of controlled fertilizers. Numerous governments have emphasized increasing crop yield per farm area and adopting high-yielding and sustainable agriculture practices to make their country self-sufficient in terms of food grain produced.
Numerous transfer-of-technologies have been undertaken from the west, and new fertilizer production sites have been commissioned. Governments offer incentives to the farmers to use chemical fertilizers by offering them fertilizers at a subsidized rate.
Report Segmentation
The market is primarily segmented based on type, composition, application, and region.
By Type

By Composition

By Application

By Region

Nitrogen Stabilizers
Slow Release
Coated & Encapsulated

Fertigation
Soil
Foliar
Others

North America (U.S., Canada)
Europe (France, Germany, UK, Italy, Netherlands, Spain, Russia)
Asia Pacific (Japan, China, India, Malaysia, Indonesia. South Korea)
Latin America (Brazil, Mexico, Argentina)
Middle East & Africa (Saudi Arabia, UAE, Israel, South Africa)
Know more about this report: Request for sample pages
Nitrogen stabilizers type is expected to be the fastest growing segment
Among these types, the market for the nitrogen stabilizers segment is expected to be the fastest-growing segment during the forecast period. Nitrogen is required by plants to stimulate and promote tip growth, to produce the pigment chlorophyll, which gives the plant its green color, and to carry out the repair of damaged plant tissue. Hence, fertilizers having a major share of nitrogen in their composition are used to fulfill the nitrogen requirement of the soil for farming.
Plants cannot accept nitrogen directly in its elemental form and instead absorb it from nitrogen-containing compounds like ammonium (NH4+) and nitrate (NO3). Thus, fertilizers containing ammonium and nitrate compounds in maximum amounts are the most effective.
The most suitable time for the application of nitrogen fertilizer is just before or during the sowing process so that new developing plants can utilize the nitrogen for faster and healthy growth. These fertilizers are manufactured from raw materials like ammonia gas or nitric acid, which in turn are synthesized from the basic elements oxygen, nitrogen, and hydrogen.
Synthetic fertilizers accounted for the largest revenue share
Among these, synthetic fertilizers are expected to be the largest segment in the controlled-release fertilizer industry. Synthetic fertilizers are manmade inorganic compounds that are extracted from minerals or produced industrially. A majority are derived from by-products of the petroleum refining industry. These fertilizers largely contain NPK elements in precise quantities and are used to fulfill the deficit of these elements in the soil.
These fertilizers have the advantage of quick results as the fertilizer starts releasing nutrients to the soil instantly after application. Synthetic fertilizers increase farm productivity and assist in producing high-quality agricultural crops.
However, environmentalists and farm scientists suggest that such synthetic fertilizers harm the soil in the long run by turning it acidic in nature and killing the soil ecosystem. Various varieties, like slow release and controlled release, have been developed for solid granular fertilizers. Urea is one of the leading types of synthetic fertilizers in the industry. Recently in India, the government has made it mandatory to produce 'Neem-coated' urea to prohibit black marketing of the fertilizer and to increase fertilizer effectiveness.
Fertigation segment accounted for the largest revenue share
The fertigation segment is expected to account for the largest share during the forecast period. In the fertigation method, fertilizers are applied to the standing crop by means of drip irrigation or a spray/sprinkler. Drip irrigation is recommended over the sprinkler method to avoid damage to crop leaves due to excessive concentration of elements in the fertilizer solution. All types of fertilizers, organic and inorganic, solid state and liquid state, can be applied by this method.
Asia Pacific region will lead the global market by 2030
Asia Pacific region is expected to account for a larger share in the controlled release fertilizer market. The increasing initiatives towards agriculture by governments across the Asia Pacific region have led to growth in the industry. Growth in population, urbanization and rising requirement for higher agricultural output further support the market growth in the region. Consumers are increasingly turning toward organic food products leading to greater demand for controlled fertilizer. Improving farming processes and methods, rise in R&D investment, and technological advancements further accelerate the market growth.
Competitive Insight
Some of the major players operating in the global controlled release fertilizer market include COMPO Expert GmbH, Haifa Chemicals, Helena Chemical, ICL Group, JCAM AGRI. CO., LTD, Koch Industries, Kingenta, Koch Industries, Nufarm Ltd, Nutrien Ltd, ScottsMiracle-Gro, SQM, The Andersons, Inc, The Mosaic Company, Van Iperen International B.V, and Yara International ASA.
These leading market players operating in the global controlled release fertilizer market are investing in material advancement, technological innovation, and research and development to introduce new products in the market for improved agricultural produce. Acquisitions, collaborations, and mergers further assist these companies in serving wider customer base and strengthening geographic presence.
Recent Developments
In June 2022, The Mosaic Company and BioConsortia entered into a collaboration to supply BioConsortia's recent microbial biostimulant in Asia.
In July 2020, Yara International ASA entered into an agreement with FBSciences Inc. for expanding the latter product portfolio of calcium nitrate products.
Controlled Release Fertilizer Market Report Scope
| | |
| --- | --- |
| Report Attributes | Details |
| Market size value in 2022 | USD 2.43 billion |
| Revenue forecast in 2030 | USD 4.03 billion |
| CAGR | 6.5% from 2022 - 2030 |
| Base year | 2021 |
| Historical data | 2018 - 2020 |
| Forecast period | 2022 - 2030 |
| Quantitative units | Revenue in USD billion and CAGR from 2022 to 2030 |
| Segments covered | By Type, By Composition, By Application, By Region |
| Regional scope | North America, Europe, Asia Pacific, Latin America; Middle East & Africa |
| Key companies | COMPO Expert GmbH, Haifa Chemicals, Helena Chemical, ICL Group, JCAM AGRI. CO., LTD., Kingenta, Koch Industries, Nufarm Ltd., Nutrien Ltd., ScottsMiracle-Gro, SQM, The Andersons, Inc., The Mosaic Company, Van Iperen International B.V., and Yara International ASA |