The global cryogenic pump market was valued at USD 1.20 billion in 2021 and is expected to grow at a CAGR of 4.6% during the forecast period. A surge in demand for industrial and cryo gases, especially from power generation and steel production applications, boosts the market's growth. Moreover, an increase in demand from developing countries, such as China and India, due to rapid urbanization and a rise in demand for electricity drives the cryogenic pumps market growth.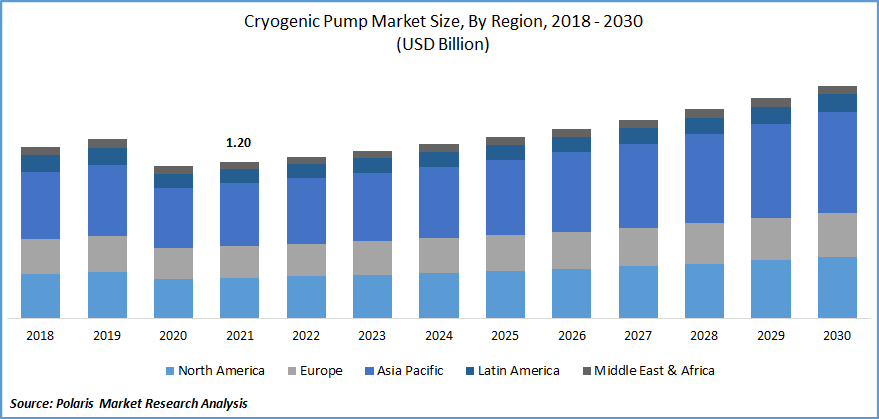 Know more about this report: Request for sample pages
A cryogenic type is also called a cryopump. It is a vacuum product capable of trapping gases by compressing them on a cold harness. The effectiveness of a cryogenic type depends on the boiling and freezing points of the gas relative to the cryogenic pump's temperature.
Cryogenic pumps are used across various applications for the management and transfer of cryogenic fluids such as argon, hydrogen, nitrogen, oxygen, and other liquefied hydrocarbons. In addition, the growth of liquid gas-related industries is associated with increased R&D of different pump solutions to meet the requirements of new and updated applications.
Healthcare industry possesses high growth potential in the global market, owing to an increase in demand for efficient transportation of medical gases over long distances and a rise in investments in the advancements of healthcare devices & equipment. Furtherly, the increase in prices of gases stored in cylinders and the rise in government investments is another key factor that accelerates the demand for cryogenic pumps in the healthcare industry.
The COVID-19 pandemic influenced the global cryogenic pumps market and its associated opportunities owing to the reduced supply of crude oil and weakened economic situations. Further, due to travel barriers, there was a disruption in the supply chain of goods and services. Moreover, owing to the lockdown worldwide, the manufacturing of these cryogenic types also declined, resulting in the negative impact of COVID-19 on the cryogenic pumps market.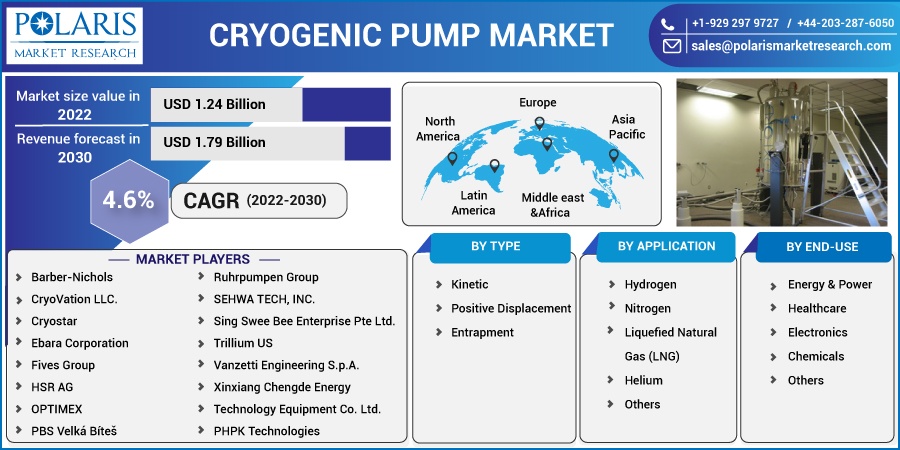 Know more about this report: Request for sample pages
Industry Dynamics
Growth Drivers
The growth of the global cryogenic pump market is primarily driven by rising efficiencies for gas-based power generation, as reduced fuel is required to produce greater power while decreasing emissions of greenhouse gases. Moreover, government initiatives across the globe encourage gas-based power generation by considering environmental concerns and also spur cryogenic pumps market growth.
In addition, increased demand for liquefied natural gas (LNG) will also boost the growth of the cryogenic pump market. Natural gas is widely preferred as an efficient fuel across several domestic applications. Along with energy efficiency investments and renewable energy technologies, natural gas delivers a domestic source of cost-effective and clean energy. It is a clean fuel used in heaters for residential and commercial applications.
Moreover, an increase in consumer awareness and a rise in investments from governments in the extraction of natural gas for domestic utilization are some major aspects that boost the demand for natural gas. The growth of the global cryogenic pumps market is parallel with the growth in demand for the liquefaction of gases for several purposes, such as transportation, power plants, and medical gas supply.
Report Segmentation
The market is primarily segmented by type, application, end-use, and region.
By Type

By Application

By End-Use

By Region

Kinetic
Positive Displacement
Entrapment

Hydrogen
Nitrogen
Liquefied Natural Gas (LNG)
Helium
Others

Energy & Power
Healthcare
Electronics
Chemicals
Others

North America (U.S., Canada)
Europe (France, Germany, UK, Italy, Netherlands, Spain, Russia)
Asia Pacific (Japan, China, India, Malaysia, Indonesia. South Korea)
Latin America (Brazil, Mexico, Argentina)
Middle East & Africa (Saudi Arabia, UAE, Israel, South Africa)
Know more about this report: Request for sample pages
Kinetic pumps segment is expected to hold a significant share in 2021
By type, the market is segmented into kinetic pumps, positive displacement pumps, and entrapment pumps. The kinetic segment is expected to hold a significant share during forecast period. In kinetic types6, energy is added at regular intervals to raise the liquid's pace within the product. The liquid discharged from the kinetic types is of greater value than within the product. Centrifugal and regenerative are two kinds of kinetic types.
Approximately 95% of all installations are done by a centrifugal type, owing to their low cost and less maintenance. The kinetic segment is projected to witness a steady growth rate during the forecast period owing to the rapid increase in the demand for kinetic types from the energy & power industry.
Liquefied Natural Gas (LNG) application is expected to be the highest-growing segment
By application, the market is segmented into hydrogen, nitrogen, liquefied natural gas (LNG), helium, and others. Liquefied natural gas (LNG) is expected to be the highest-growing segment during the forecast period.
Cryogenic pumps are used for transfer in fuel gas systems, LNG or CNG stations, vehicle loading & trailer off-loading, bulk transfer, and bunkering. Some end-user industries employing these gases include construction & mining equipment, locomotives, and marine vessels. Liquid oxygen pumps are designed with extreme care, as liquid oxygen is not compatible with all components of the machines.
In addition, LNG has a wide range of industrial and energy-related applications, which is expected to fuel its demand in the upcoming period. These factors altogether accelerate the growth of the market for the transfer and exchange of various gases for different applications.
Energy and power segment accounted for a significant market share
By end-use, the market is categorized into energy & power, healthcare, electronics, chemicals, and others. The energy & power segment is expected to account for a significant share during the forecast period.
Electricity industry is abolishing the use of some of coal-fired power generators due to ecological concerns. It is converting the remaining to run on natural gas, owing to the lower cost of natural gas and the implementation of stringent environmental regulations.
Moreover, an increase in gas-based electricity generation drives the demand for the pumps, as they are utilized in transferring or exchanging natural gas. The traps gases & vapors by condensing them on the cold surface.
Intermittent supply has become a problem in the renewable power market. As sun and wind are fickle forces, thus energy produced from their supply can be less when demand is at peaks and can be more when the demand is low. As a result, excess electricity generated through wind farms is wasted when the demand is low.
Cryogenic energy storage is now being utilized to save this energy for later use. Grid energy storage involves using cheaper electricity to cool air from atmospheric temperature to the point it liquefies using Claude cycle.
The liquid air is then stored in a big vacuum flask. At times of high electricity demand, the liquid air saved is transferred through a cryogenic pump at high pressure into heat exchanger. Hot water produced from industrial heat sources or air from atmosphere is utilized to heat the liquid and turn it into gas. The massive increase in pressure and volume is then utilized to drive turbine that generates electricity.
Asia Pacific region will lead the global cryogenic pumps market by 2030
The Asia Pacific region is expected to account for a larger share of the cryogenic pump market. An increase in investment in the infrastructure sector and growth in focus toward renewable-based electricity generation is expected to provide substantial growth opportunities to the cryogenic pump market in Asia-Pacific.
The demand for storing and shipping LNG is rising from energy-famished economies such as India, China, Japan, and other Asian countries, which drives the growth in the Asia-Pacific.
Competitive Insight
Some of the major players operating in the global market include Barber-Nichols, CryoVation LLC., Cryostar, Ebara Corporation, Fives Group, HSR AG, OPTIMEX, PBS Velká Bíteš, PHPK Technologies, Ruhrpumpen Group, SEHWA TECH, INC., Sing Swee Bee Enterprise Pte Ltd., Trillium US, Vanzetti Engineering S.p.A., and Xinxiang Chengde Energy Technology Equipment Co.,Ltd.
Recent Developments
In May 2022, Venture Orbital Systems and Fives Group agreed to assess the Navier Mk2 engine used on their orbital launcher.
In January 2022, Cryostar partnered with NeoVP and received two orders for vertical pump solutions for China market.
Cryogenic Pump Market Report Scope
| | |
| --- | --- |
| Report Attributes | Details |
| Market size value in 2022 | USD 1.24 billion |
| Revenue forecast in 2030 | USD 1.79 billion |
| CAGR | 4.6% from 2022 - 2030 |
| Base year | 2021 |
| Historical data | 2018 - 2020 |
| Forecast period | 2022 - 2030 |
| Quantitative units | Revenue in USD billion and CAGR from 2022 to 2030 |
| Segments Covered | By Type, By Application, By End-Use Industry, By Region |
| Regional scope | North America, Europe, Asia Pacific, Latin America; Middle East & Africa |
| Key Companies | Barber-Nichols, CryoVation LLC., Cryostar, Ebara Corporation, Fives Group, HSR AG, OPTIMEX, PBS Velká Bíteš, PHPK Technologies, Ruhrpumpen Group, SEHWA TECH, INC., Sing Swee Bee Enterprise Pte Ltd., Trillium US, Vanzetti Engineering S.p.A., and Xinxiang Chengde Energy Technology Equipment Co. Ltd. |