The global eco fiber market was valued at USD 43.06 billion in 2022 and is expected to grow at a CAGR of 7.4% during the forecast period. The ongoing development of high-quality advanced fabrics, rise in consumer disposable & inessential income and the rapid growth of fashion market are the utmost factors driving the textile industries over the globe.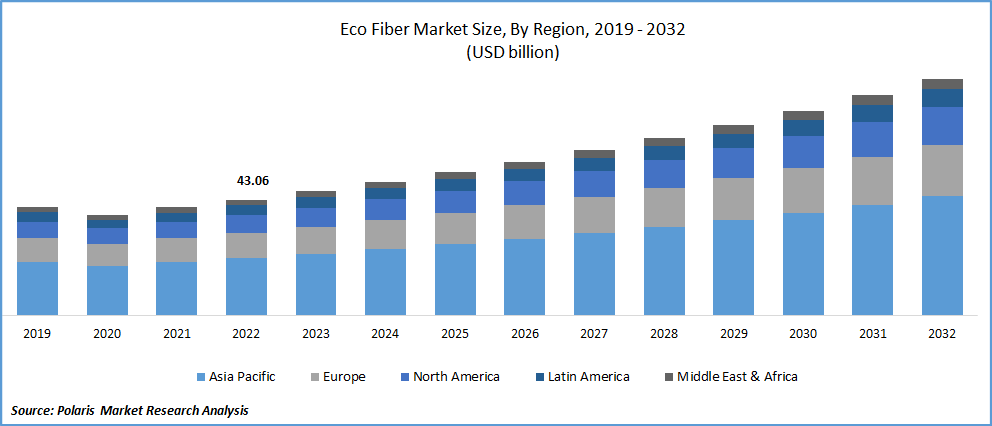 Know more about this report: Request for sample pages
Furthermore, the government formulated environmental directives the encourage the manufacturers of garments to adopt environment-friendly methods and practices and continuously growing implementation on new sustainable product developed by key market companies all over the world, is another factor expected to boost the demand and growth of the eco fiber market over the next coming years.
Moreover, the popularity of eco fiber is increasing in designer garments & apparel as eco fiber textile is offering hypoallergenic, antimicrobial, UV resistant, insulating, highly breathable, and absorbent characteristic with the help of technological Growth. Thus, the demand for eco fiber across the globe is gaining high adherence and many market competitors are focusing on development and introduction to advanced eco-Friendly fiber to cater the growing consumer requirements.
In March 2022, The Grasim Industries partnered with the "Renewcell signed supply agreement for providing the high-quality LIVA REVIVA fibers. World's largest cellulosic fiber producers are planning a indelible alliance for man-made cellulosic fiber production.
The wave in deadly coronavirus stemmed months of lockdowns, Shortage of labour, temporary shut downs affecting high disturbances in global supply chain, which results a drop in demand of eco fiber from several applications. Although, increase in demand of medical supplies & nutrition is directing to the expansion of market throughout the pandemic period and a swift recovery of various sectors such as agriculture, automotive and textile sectors.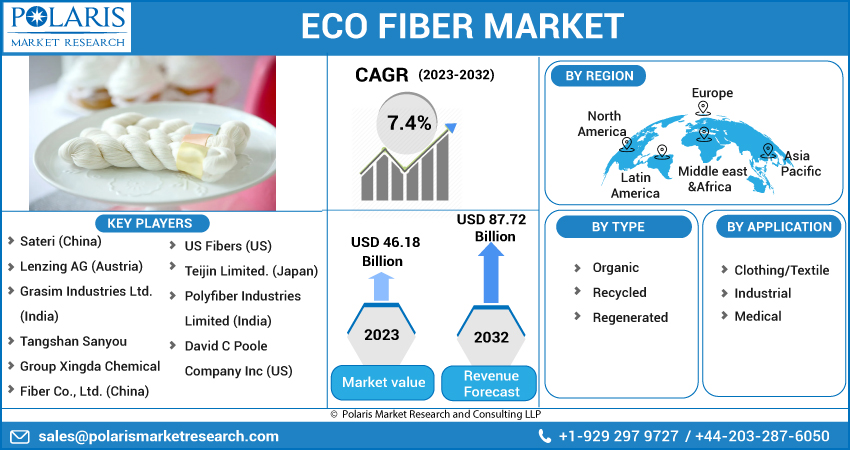 Know more about this report: Request for sample pages
Industry Dynamics
Growth Drivers
In recent years, sustainable clothing has undergone a revolution due to a growing awareness of ethically produced fabrics. Manufacturers increasingly prefer organic cotton because its production does not pollute surface water, soil, or air. In addition, over the course of the past few years, there has been a significant rise in demand for organic eco-fiber as a result of growing concerns regarding the negative effects that synthetic fibers have on the environment.
During the manufacturing process of fabrics, cellulose fibers are highly used fibers in the category of MMCF's with a share of 6% recycled MMCF's, the amount of pollutants and greenhouse gases released is significantly less than synthetic fibers. MMCF's are majorly used in various types of clothing such as home furnishing, protective clothing and fashion clothing with benefits of being textured shiny smooth, and breathable and it also prevents skin problems caused by toxic chemical fibers which are unhealthy to wear.
Additionally, eco-friendly fibers are rapidly gaining popularity in designer clothing. Eco fiber textiles, which are hypoallergenic, antimicrobial, insulating, UV-resistant, highly breathable, and absorbent, are expected to gain prominence in the clothing industry as a result of ongoing development.
Report Segmentation
The market is primarily segmented based on type, application, and region.
By Type

By Application

By Region

Organic

Recycled

Regenerated

Clothing/Textile

Industrial

Medical

North America (U.S., Canada)

Europe (France, Germany, UK, Italy, Netherlands, Spain, Russia)

Asia Pacific (Japan, China, India, Malaysia, Indonesia, South Korea)

Latin America (Brazil, Mexico, Argentina)

Middle East & Africa (Saudi Arabia, UAE, Israel, South Africa)
Know more about this report: Request for sample pages
The regenerated fiber segment is expected to exhibit fastest growth rate
The continuous rise in demand for environment-friendly goods that leads to sustainability is escalating the regenerated fiber growth throughout the forecasted period. An optimal substitute for synthetic fibers, regenerated fibers are forecasted to see rapid growth during the anticipated period as it offers definite magnificent qualities like good absorbency, luster, ease of dyeing, good drape and high wet tenacity.
Growing organic eco fibers in a controlled manner and taking care of using a negligible number of herbicides, chemicals and pesticides and significant monitoring of the growing conditions of organic eco fiber by certified auditing agencies across the world. Organic cotton has a high attribute and it has become the most commonly used eco fiber in various final-use industries.
Industrial segment is likely to account for a considerable market share
Eco fibers have multiple applications in industrial segment such as ropes, shoes, automotive parts, solar panels, labels & fire-resistant clothing and while taking about the predominant eco fibers used in industrial sectors are recycled polyester, lyocell, viscose, and organic cotton. Eco fiber has paved the way in industrial constructions of dams, house structure, tunnels etc. The usage rate of eco fibers is increasing by military and civilians as eco fiber provides a variety of fire-resistant protective clothing which is further used in flame-resistant suits, gloves, and more items. As the end users of organic cotton fibers are industrial segment it drives the fast growth of eco fibers market.
Furthermore, with the development of lifestyle and rising disposable consumer income, the textile and apparel application segment is gaining market attention, as the rise in consumer income results to the high demand of casual wears, formal wears and fashionable clothing between all age groups. Another appreciable driving factor of textile and apparel segment is the increase in the use of trending and luxury fashionable clothes. In the textile segment it covers all age groups from infants to old one's cause of a large variety of fashionable clothing.
Asia Pacific region is expected to witness highest demand over the study period
The eco fibers market is enlarging its roots in various Asian countries as the awareness of environmentally friendly raw materials is rising to contribute to sustainable development in countries such as India, Japan, China, and other APACs. Furthermore, Asia pacific has dominated in the past years by occupying large market shares, increasing population and preferences for smooth textured fabric, recycling fashion and organic clothing with an environment friendly manufacturing and no co2 emission during the process.
North American industry will get rapid growth in the anticipated period and it will help the whole market to grow positively. North America is getting a huge demand for environment-friendly solutions for everything including eco-friendly fibers and going for sustained things for future livelihood. They are demanding the textile for filtration and separation application and protective clothing. It will boost the market growth and definitely will affect the market positively.
Competitive Insight
Some of the major players operating in the global eco fiber market include Sateri, Lenzing AG, Grasim Industries; Tangshan Sanyou Xingda Chemical Fiber, US Fibers, Teijin Limited., Polyfiber Industries, Foss Performance Materials, Shanghai Tenbro Bamboo Textile, Pilipinas Ecofiber Corporation, Wellman Advanced Materials, and Enkev.
Recent Developments
In April 2022, A magnificent performance environment-friendly staple polyester nanofiber has created by The Teijin to fortify the rubber used in various products like hoses, belts and tires. With guidance of an initiative THINK ECO launched by Teijin frontier company, they are endeavoring to enhance their environmental worth and practicality, consist of developing greener & eco-friendly material and varying product application from industrial materials to clothing.

In March 2022, the world's largest lyocell production plant containing a production magnitude of 100,000 tons is announced by Lenzing AG in Thailand to cater continuously rising demand for TENCEL branded lyocell fibers.
Eco fiber Market Report Scope
| | |
| --- | --- |
| Report Attributes | Details |
| Market size value in 2023 | USD 46.18 billion |
| Revenue forecast in 2032 | USD 87.72 billion |
| CAGR | 7.4% from 2023 – 2032 |
| Base year | 2022 |
| Historical data | 2019 – 2021 |
| Forecast period | 2023 – 2032 |
| Quantitative units | Revenue in USD billion and CAGR from 2023 to 2032 |
| Segments covered | by Type, by Application, by Region |
| Regional scope | North America, Europe, Asia Pacific, Latin America; Middle East & Africa |
| Key companies | Sateri (China), Lenzing AG (Austria); Grasim Industries Ltd. (India); Tangshan Sanyou Group Xingda Chemical Fiber Co., Ltd. (China), US Fibers (US), Teijin Limited. (Japan), Polyfiber Industries Limited (India), David C Poole Company Inc (US). |