The global ecotoxicological studies market was valued at USD 976.9 million in 2020 and is expected to grow at a CAGR of 3.7% during the forecast period. The market is driven by the growing pharma and biopharma industries, stringent regulatory guidelines in the developed economies, supportive government funding, and growing importance to assess the effects of chemicals such as synthetic hormones and pharmaceutical products.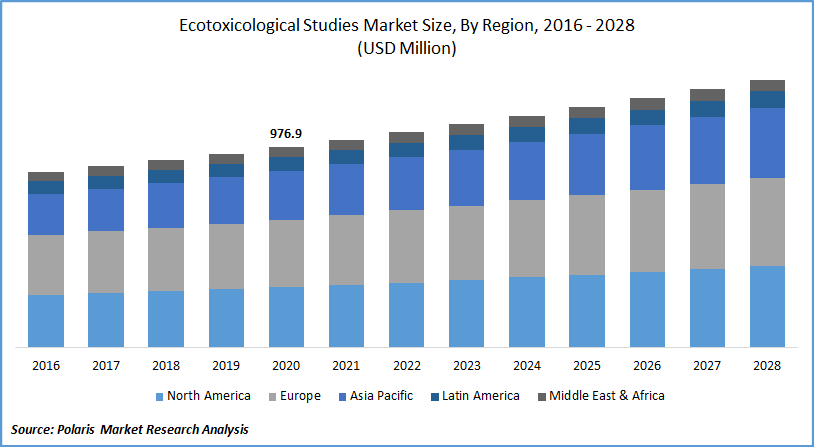 Know more about this report: request for sample pages
The market demand for ecotoxicological studies is growing due to an increase in the number of drugs released into the natural habitat and increasing biopharmaceutical companies, posing a greater threat to the water bodies. Toxic chemicals pose a risk of causing the extinction of animals and their food supplies, resulting in a shift in the environment.
Another factor driving the ecotoxicological studies market growth is the rising health risk associated with human and animal consumption of poisoned animals or plants. Chemicals can also prevent the germination of seeds from a variety of plant species, which can influence the entire plant family. Moreover, over the forecast era, technological innovation and growing concern for biodiversity protection are expected to generate potential opportunities for ecotoxicological studies.
Industry Dynamics
Growth Drivers
In recent years there is an increase in awareness about environmental protection globally. Many countries such as the U.S. and European countries have imposed stringent regulatory requirements to dispose of pollutants. All these factors are expected to drive the growth of the global market.
There is an increasing pharmaceutical activity with many new drugs in various stages of development. It is estimated that nearly 10,0000 chemicals are used in drug development, and the waste that emerges during the production of drugs must be disposed of in an environment-friendly manner. Generally, wastes will be disposed into the aquatic environment or dumped inside the ground, affecting aquatic life or the underground water.
Some compounds used in chemotherapy drugs are radioactive in nature. There are specific compounding agents used in the drug industry that are corrosive such as glacial acetic and carbolic acids having pH less than 2, and some compounds are basic in nature with pH over 12.5.
The improper disposal will pose a significant challenge to the environment. The use of eco-toxicological studies will help identify hazardous chemicals in the waste, which will help the pharmaceutical companies design waste disposal management.
The increase in awareness of the environment has resulted in various companies offering ecotoxicology services across the globe. Some of the ecotoxicology services include aqua-toxicology, including analytics, chemical and effluent testing, aquatic and sediment testing, and temperate and tropical ecosystems assessments.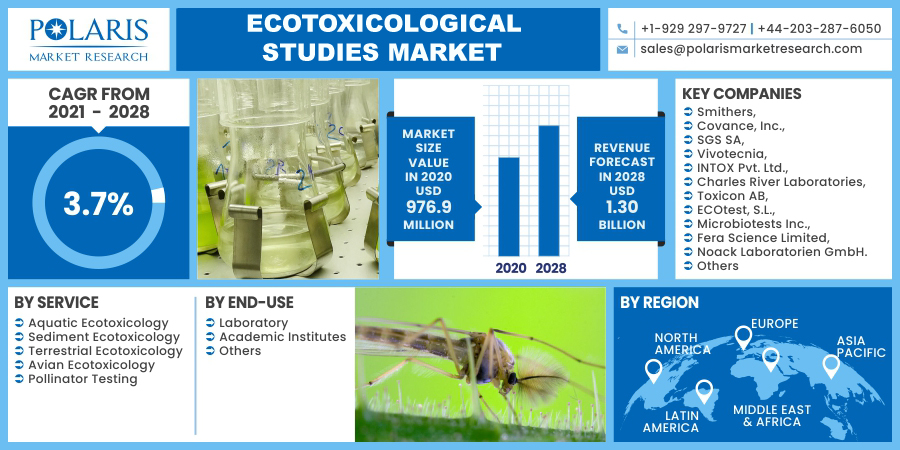 Know more about this report: request for sample pages
Ecotoxicological Studies Market Research Scope
The market is primarily segmented on the basis of service, end-use, and region.
By Service

By End-Use

By Region

Aquatic Ecotoxicology
Sediment Ecotoxicology
Terrestrial Ecotoxicology
Avian Ecotoxicology
Pollinator Testing

Laboratory
Academic Institutes
Others

North America (U.S., Canada)
Europe (France, Germany, Italy, Spain, UK, Netherlands, Austria)
Asia Pacific (China, India, Indonesia, Japan, Malaysia, South Korea)
Latin America (Argentina, Brazil, Mexico)
Middle East & Africa (Israel, Saudi Arabia, South Africa, UAE)
Know more about this report: request for sample pages
Insight by Service
The aquatic ecotoxicology segment generated the highest revenue in 2020 and is expected to maintain its dominance during the forecast period. The threat to the aquatic ecosystem is growing as the number of pharma and biopharma companies grows, disrupting multiple food chains and ecosystems. As a result, a large number of aquatic ecotoxicological studies are being conducted, which is helping to expand the segment growth in the ecotoxicological studies industry.
The sediment ecotoxicology market segment is expected to grow at the fastest rate during the forecast period, as pharmaceutical companies perform large-scale sediment ecotoxicological studies. Sediments have the ability to adsorb persistent contaminants, making them a long-term pollutant in surface water.
Geographic Overview
Europe ecotoxicological studies are expected to be the biggest market for the global market. The testing data is needed to meet the need for documentation due to strict regulations in the region, which is expected to drive the ecotoxicological studies market. Furthermore, the increasing number of players providing these services is expected to boost the market growth.
In addition, regulatory bodies like Registration, Evaluation, Authorization, and Restriction of Chemicals (REACH); and the European Centre for Ecotoxicology and Toxicology of Chemicals (ECETOC) Polymers Task Force played a significant role in implementing the chemical disposal guidelines in Europe.
The Asia Pacific ecotoxicological studies industry is expected to be the fastest-growing in the global market during the forecast period. The market growth for ecotoxicological studies is expected to be fueled by increased pharma and biopharma firms, low-cost service providers, and strengthened regulatory frameworks.
Furthermore, previously there was not much awareness about chemical waste disposal, and many companies were flouting the norms. Still, in recent years governments in this region are increasingly promoting environment-friendly practices. They have introduced new regulatory guidelines, which will help the ecotoxicological studies market flourish.
Competitive Insight
Organizations in ecotoxicological studies are looking at partnerships and growth as key strategies for surviving in the current challenging environment and gaining a larger market share. For instance, in August 2019, AIIMS launched a first-of-its-kind clinical ecotoxicology office in Delhi to investigate the growing number of illnesses caused by natural poisons and contaminated water, food, and air.
Key companies operating in the ecotoxicological studies industry offer a broad range of services pertaining to the market to maintain the competitive edge. For instance, Smithers offers a complete suite of ecotoxicological services in various fields including, aquatic ecotoxicology, sediment toxicity, terrestrial ecotoxicology, avian ecotoxicology testing, and pollinator studies.
Governments across the globe have introduced stringent market guidelines for companies on chemical waste disposal, which has resulted in many companies taking ecotoxicological services. The increasing need has resulted in many pharma companies and CROs offering ecotoxicological studies services for their customers across the globe.
Some of the major players operating in the market for ecotoxicological studies include Smithers, Covance, Inc., SGS SA, Vivotecnia, INTOX Pvt. Ltd., Charles River Laboratories, Toxicon AB, ECOtest, S.L., Microbiotests Inc., Fera Science Limited, Eurofins Agroscience Services Group, and Noack Laboratorien GmbH.
Report Scope
| | |
| --- | --- |
| Report Attributes | Details |
| Market size value in 2020 | USD 976.9 million |
| Revenue forecast in 2028 | USD 1.30 billion |
| CAGR | 3.7% from 2021 - 2028 |
| Base year | 2020 |
| Historical data | 2016 - 2019 |
| Forecast period | 2021 - 2028 |
| Quantitative units | Revenue in USD million/billion and CAGR from 2021 to 2028 |
| Segments covered | By Service, By End-Use, By Region |
| Regional scope | North America Europe Asia Pacific Latin America; Middle East & Africa |
| Key Companies | Smithers, Covance, Inc., SGS SA, Vivotecnia, INTOX Pvt. Ltd., Charles River Laboratories, Toxicon AB, ECOtest, S.L., Microbiotests Inc., Fera Science Limited, Eurofins Agroscience Services Group, and Noack Laboratorien GmbH. |