The global electrosurgical devices market was valued at USD 6.57 billion in 2020 and is expected to grow at a CAGR of 5.5% during the forecast period. Upsurge in the incidence of chronic disease and advancements in technology are expected to expand the market during the forecast period 2021-2028. The rising demand for electrosurgical devices is largely due to the increasing adoption of the devices in emerging markets.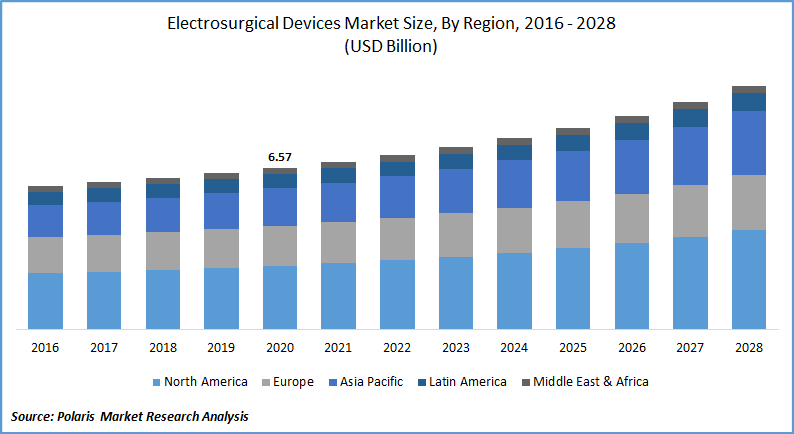 Know more about this report: request for sample pages
The government has increased investment for research and innovation of target-specific surgical devices is anticipated to propel the industry forward. The devices have become more common as a result of the growing demand for better healthcare infrastructure. The industry is expected to expand as major players increase their expenditures in the production of technically advanced electrosurgical devices.
Key players in the global market should foresee significant growth opportunities as the use of minimally invasive techniques in cosmetology surgeries increases. Traditional open surgery has given way to the use of less invasive techniques.
Neck lifts, chin surgeries, forehead lifts, and liposuction have all been performed using these devices. Furthermore, the elderly population is projected to increase demand for electrosurgical instruments. According to the United States Census Bureau, the aged population in the country is projected to hit 77 million, by 2034.
Industry Dynamics
Growth Drivers
Increasing adoption of electrosurgical devices owing to an increasing number of minimally invasive surgeries along with the increase in various cardiovascular, cancer, and neurology disorders will drive the growth of the global market during the forecast period. These devices are used in various kinds of surgeries in the area of cardiovascular diseases, oncology, urology, gynecology, cosmetic surgery, and others.
Globally, the incidence of cardiovascular diseases has increased from nearly 270 million in 1990 to more than 500 million, in 2019. Cardiovascular diseases are the leading cause of death globally with nearly 18 million deaths each year. Yearly, more than 18 million cancers are being diagnosed globally and by 2040, it is estimated that 28 million new cancer cases will be diagnosed every year.
Cosmetic surgeries are gaining popularity in the past few decades and minimally invasive procedures account for more than 23% of cosmetic surgeries. The increase in surgeries owing to increasing disease prevalence will significantly boost the global market.
Many new products have been launched in the global market to meet the demands of the healthcare sector. In May 2019, Olympus launched ESG-150 Electrosurgery Generator (ESG-150) after receiving approval from US regulatory approval from FDA.
ESG-150 Electrosurgery Generator (ESG-150) will power endoscopic devices by supplying high-frequency electrical current and the new system has improved patient safety and ease of use. During the same period, the company also received an FDA nod for its latest generation ESG-300 Electrosurgery Generator that is specifically designed for the treatment of gastrointestinal and pulmonary related problems.
In early 2020, Olympus and Ethicon, Inc. signed an agreement for the VERSAPOINT Electrosurgery system developed by Ethicon. Under this agreement, Olympus will acquire commercial rights related to the VERSAPOINT Electrosurgery system. This will allow Olympus to expand its gynecology portfolio in minimally invasive surgeries.
COVID-19 pandemic has resulted in the postponement of non-emergency procedures such as cosmetic surgery and some other minimally invasive procedures which are expected to hamper the global market for electrosurgical devices to an extent.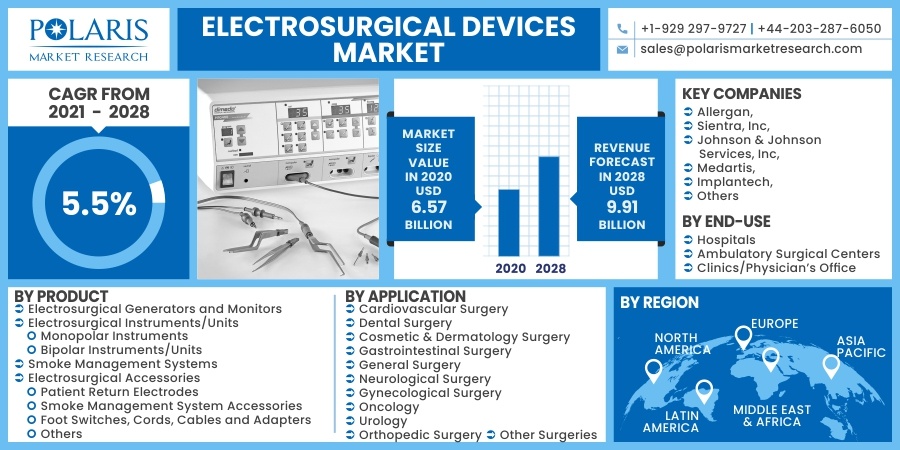 Know more about this report: request for sample pages
Electrosurgical Devices Market Research Scope
The market is primarily segmented on the basis of product, application, end-use, and region.
By Product

By Application

By End-Use

By Region

Electrosurgical Generators and Monitors
Electrosurgical Instruments/Units

Monopolar Instruments

Contact Monopolar Instruments

Electrosurgical Electrodes
Electrosurgical Pencils
Suction Coagulators and Irrigation Devices
Others

Non-Contact (Plasma) Monopolar Instruments

Argon Based Systems
Helium Based Systems

Bipolar Instruments/Units

Vessel Sealing Devices
Bipolar Forceps

Smoke Management Systems
Electrosurgical Accessories

Patient Return Electrodes
Smoke Management System Accessories
Foot Switches, Cords, Cables and Adapters
Others

Cardiovascular Surgery
Dental Surgery
Cosmetic & Dermatology Surgery
Gastrointestinal Surgery
General Surgery
Neurological Surgery
Gynecological Surgery
Oncology
Urology
Orthopedic Surgery
Other Surgeries

Hospitals
Ambulatory Surgical Centers
Clinics/Physician's Office

North America (U.S., Canada)
Europe (France, Germany, Italy, Spain, UK, Netherlands, Austria)
Asia Pacific (China, India, Japan, Malaysia, Indonesia, South Korea)
Latin America (Argentina, Brazil, Mexico)
Middle East & Africa (Israel, Saudi Arabia, South Africa, UAE)
Know more about this report: request for sample pages
Insight by Product
The electrosurgical instruments/units segment generated the highest revenue in 2020 and is expected to have high growth during the forecast period. The segment is further categorized into monopolar and bipolar instruments.
Among these, bipolar instruments generated the highest revenue in 2020 with a significant market share. Vessel sealing devices and bipolar forceps are further categorizations under bipolar instruments, of which vessel sealing devices occupied a maximum share in 2020.
The monopolar instruments segment is further divided into contact and non-contact monopolar instruments; wherein the non-contact monopolar devices market is anticipated to have a high growth rate during the forecast period.
Argon-based systems and helium-based systems are further segmentation of non-contact monopolar instruments, of which the argon-based systems market segment is projected to grow at a significant rate over the forecast period.
Insight by Application
Among various applications, oncology generated the highest revenue share in 2020 and is expected to grow at a substantial rate during the forecast period. The market is expanding as more cancer patients prefer minimally invasive surgery and robotic surgeries for therapy.
Geographic Overview
North America market is expected to be the biggest contributor in terms of revenue in the global market during the forecast period owing to its modern healthcare facility, increasing adoption of new technologies in minimally invasive surgeries, and increased disease burden. In the U.S., more than 18 million people undergo minimally invasive cosmetic procedures every year.
Asia Pacific will be the fastest-growing region in the market during the forecast period owing to increasing awareness of modern medical technologies, and the presence of a huge population with various medical disorders. More than 1.2 million cancer cases are diagnosed every year in India and the annual number of cardiovascular-related deaths is expected to increase to 4.77 million, in 2020. While in China nearly 4 million deaths are caused to cardiovascular diseases.
Competitive Insight
Major players in the electrosurgical devices market are developing new electrosurgical devices and launching innovative products periodically to fulfill the increase in demand for minimally invasive procedures. Companies are also looking to increase their global presence through strategic acquisitions and by investing more in research and development.
Some of the major players operating in the market for electrosurgical devices include Medtronic Plc, CONMED Corporation, Apyx Medical Corporation, B. Braun Melsungen AG, Johnson & Johnson (Ethicon), Bowa Electronic GmbH & Co. KG, Smith & Nephew PLC, Olympus Corporation, Utah Medical Products Inc., Boston Scientific Corporation, Applied Medical Resources Corporation, Karl Storz SE & Co. KG, Erbe Electromedizin GmbH, Cooper Companies, Inc., Arthrex Inc., KLS Martin Group, Richard Wolf GmbH, and Stryker Corporation.