The global firefighting foam market was valued at USD 755.7 million in 2021 and is expected to grow at a CAGR of 3.9% during the forecast period. Firefighting foam is used to separate fuel from oxygen supply to suppress and contain fires. It also prevents the release of flammable vapors. These comprise stabilizers, organic solvents, surfactants, and corrosion inhibitors.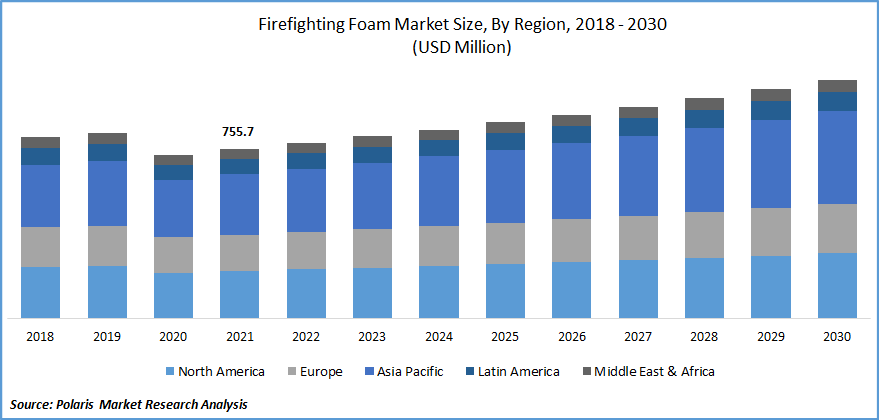 Know more about this report: Request for sample pages
Fluorine-free firefighting products are biodegradable and have the lowest impact on the environment. Fluorine-free types are synthetic-based products, which are blended surfactants. Polysaccharides are also used as a blend for producing fluorine-free firefighting solutions. Strategic Environmental Research and Development Program and the Environmental Security Technology Certification Program of the U.S. Department of Defense are investing in the R&D of fluorine-free alternatives for AFFF and AR-AFFF.
Many companies such as Orchidee Fire, Dafo Fomtec AB, and others are offering fluorine-free firefighting products that are majorly used for training and fire drills currently. Advancements in these products offer great potential for market growth.
The aviation industry carries out maintenance, repair, and overhaul (MRO) activities to check for any sort of damage, leakage, or potential technical problem. The fuel that is used in aviation is generally less flammable, but in events of fire breakout during flights or on crash landing, these are used to extinguish the fire. There are several categories in airports and aircraft depending on the risk of fire in aircraft and airfields.
Accordingly, they are used for fire extinguishing purposes. For example, for category 8, 9, and 10 airports AFFF with 3% concentrate is used as it offers low burn-back during safety and rescue operations. However, the presence of per- and polyfluoroalkyl substances (PFASs) in the products (AFFF, AR-AFFF) hampers the market growth owing to their hazardous effects on the environment.
The COVID-19 outbreak has negatively impacted the firefighting foam market on account of interrupted supply chains and operational restrictions. The introduction of lockdown caused transportation delays and the availability of a reduced workforce. The oil and gas sector has been severely affected by the pandemic and has postponed exploration activities. Various government regulations have resulted in disrupted manufacturing activities leading to reduced demand for the market from the aviation, mining, and marine sectors.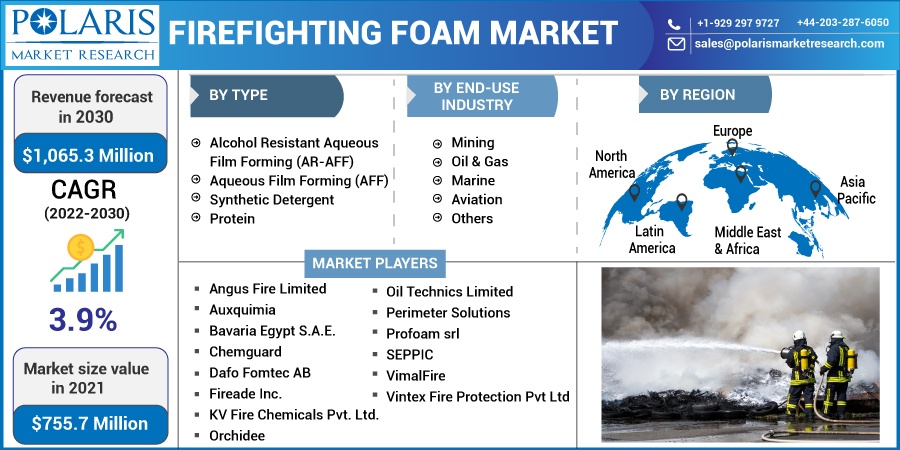 Know more about this report: Request for sample pages
Industry Dynamics
Growth Drivers
The increasing number of cases of fire-related accidents and increasing safety concerns drive the growth of the firefighting foam market. The introduction of stringent safety regulations has resulted in greater demand for firefighting products. Technological advancements associated with materials and greater adoption of environmentally friendly products have increased the application of the market.
Growth in industrialization and urbanization across the globe, strengthening the oil & gas industry, and greater application in the aviation sector have led to the strengthening of the firefighting foam market. Technological advancements, new product launches, and greater adoption of green and sustainable firefighting products are factors expected to offer growth opportunities during the forecast period.
Report Segmentation
The market is primarily segmented based on type, end-use industry, and region.
By Type

By End-Use Industry

By Region

Alcohol Resistant Aqueous Film Forming (AR-AFF)
Aqueous Film Forming (AFF)
Synthetic Detergent
Protein
Others

Mining
Oil & Gas
Marine
Aviation
Others

North America (U.S., Canada)
Europe (France, Germany, UK, Italy, Netherlands, Spain, Russia)
Asia Pacific (Japan, China, India, Malaysia, Indonesia. South Korea)
Latin America (Brazil, Mexico, Argentina)
Middle East & Africa (Saudi Arabia, UAE, Israel, South Africa)
Know more about this report: Request for sample pages
Aqueous Film Forming (AFF) accounted for a significant share in 2021
Aqueous Film Forming (AFF) are concentrates manufactured from synthetic materials. The materials can be synthetic agents, solvents, fluorochemical surfactants, a small number of salts, and stabilizers for slow drainage and fire resistance. When AFFF is used on flammable liquid, it forms an aqueous film over it that drains down from foam. It is suitable for use in a premix state and also suitable when used with dry chemical extinguishing agents.
AFFF is a fire suppressant used to extinguish flammable liquid fires, such as fuel fires. It can be used in both class A and class B fire cases. In addition, when the foam is used, it provides quick and effective sealing over the flammable liquid offering quicker results comparatively.
However, Per and poly-fluoroalkyl substances (PFAS), Perfluoro-octane sulfonate (PFOS), and Perfluorooctanoic acid (PFOA) present in AFFF are hazardous to the environment as they do not break down easily owing to stable chemical structure. The harmful effects of AFFF have led to the formation of several strict rules and a ban on the use of PFAS, PFOA, and PFOS-based AFFF, which hampers market growth.
Oil & Gas segment accounted for a major share in 2021
The oil & gas segment dominated the global firefighting foam market in 2021 owing to the economic growth in developing countries, rising industrialization, and growing oil and gas production activities. Increasing demand for natural gas to meet energy demands drives the growth of this segment.
Oil and gas exploration, drilling, refining, conversion/processing, storage, transmission, and distribution activities involve the use of chemicals and flammable gases. Increasing focus on fire prevention and subsequent activities to be carried out during a fire outbreak has increased the demand for firefighting foam.
Firefighting foam is widely used in this market to prevent fire outbreaks owing to the involvement of flammable materials. Stringent rules & regulations mandated by the market for enhanced fire safety support the growth of this segment.
Asia-Pacific is expected to grow at a significant rate during the forecast period
Asia-Pacific is expected to grow at a significant rate during the forecast period. Industrial growth in countries such as China, India, and Japan, increasing incidences of fire, and greater infrastructure development support the growth in the region. The strengthening oil and gas sector in Asia-pacific has further accelerated the demand for firefighting foam. Growing research and development activities and increasing application in mining and aviation industries further support the market growth.
China, South Korea, Australia, and Japan regulate the use of fluorine-based firefighting foam and have restricted the manufacture, import, export, and application of such products. The rise in awareness in these countries regarding drinking water contamination and adverse effects on the environment has led to stringent rules and regulations, which hampers industry growth.
However, countries such as India and Thailand have no such regulations on the use of fluorine-based firefighting foams hence driving the demand for such products in the region. Meanwhile, R&D activities for an alternative to fluorine-based firefighting products offer a lucrative opportunity for market growth.
Competitive Insight
The major players in the firefighting foam market are Angus Fire Limited, Auxquimia, Bavaria Egypt S.A.E., Buckeye Fire Equipment Company, Chemguard, Dafo Fomtec AB, Fireade Inc., Johnson Controls International PLC., KV Fire Chemicals Pvt. Ltd., Orchidee, Oil Technics (Fire Fighting Foam Products) Limited, Perimeter Solutions, Profoam srl, SEPPIC, VimalFire, and Vintex Fire Protection Pvt Ltd.
Leading market players are introducing new products and entering into new partnerships to strengthen their market position. Expansion into emerging economies enables these companies to expand their customer base and cater to the growing consumer demands.
Recent Developments
In June 2022, Perimeter Solutions introduced SOLBERG VERSAGARD 1x3 Multipurpose Fluorine-Free Foam Concentrate. The new product is based on alcohol-resistant, fluorine-free pseudoplastic foam technology. It is non-persistent and siloxane-free. The concentrate is developed for industrial emergency response and the oil & gas sector to manage Class B and deep-seated Class A Fires.
In June 2022, Evonik introduced POLYVEST eCO, a new range of sustainable liquid polybutadienes, which can be used as a liquid rubber additive in tire production. The product launch is aimed at catering to the growing needs of sustainable markets. The new range of products exhibits physiochemical properties similar to fossil-based products.
In January 2020, Clean Production Action introduced GreenScreen Certified Firefighting Foam. The product is labeled per-and polyfluoroalkyl substances (PFAS) free. The use of PFAS in firefighting products causes environmental damage and contaminates drinking water. The product is aimed at offering a safe solution to address environmental and health criteria.
Firefighting Foam Market Report Scope
| | |
| --- | --- |
| Report Attributes | Details |
| Market size value in 2021 | USD 755.7 million |
| Revenue forecast in 2030 | USD 1,065.3 million |
| CAGR | 3.9% from 2022 - 2030 |
| Base year | 2021 |
| Historical data | 2018 - 2020 |
| Forecast period | 2022 - 2030 |
| Quantitative units | Revenue in USD million/billion and CAGR from 2022 to 2030 |
| Segments covered | By Type, By End-Use Industry, By Region |
| Regional scope | North America, Europe, Asia Pacific, Latin America; Middle East & Africa |
| Key companies | Angus Fire Limited, Auxquimia, Bavaria Egypt S.A.E., Buckeye Fire Equipment Company, Chemguard, Dafo Fomtec AB, Fireade Inc., Johnson Controls International PLC., KV Fire Chemicals Pvt. Ltd., Orchidee, Oil Technics Limited, Perimeter Solutions, Profoam srl, SEPPIC, VimalFire, Vintex Fire Protection Pvt Ltd |