The global antithrombotic drugs market was valued at USD 48.50 billion in 2022 and is expected to grow at a CAGR of 8.1% during the forecast period. Antiplatelet medicine is a prescription medication that lowers blood aggregation and prevents the development of thrombi. Since these medications slow down the process of blood clot formation, thrombin generation is accelerated, stabilizing the conversion of fibrinogen to fibrin and dissolving blood clots.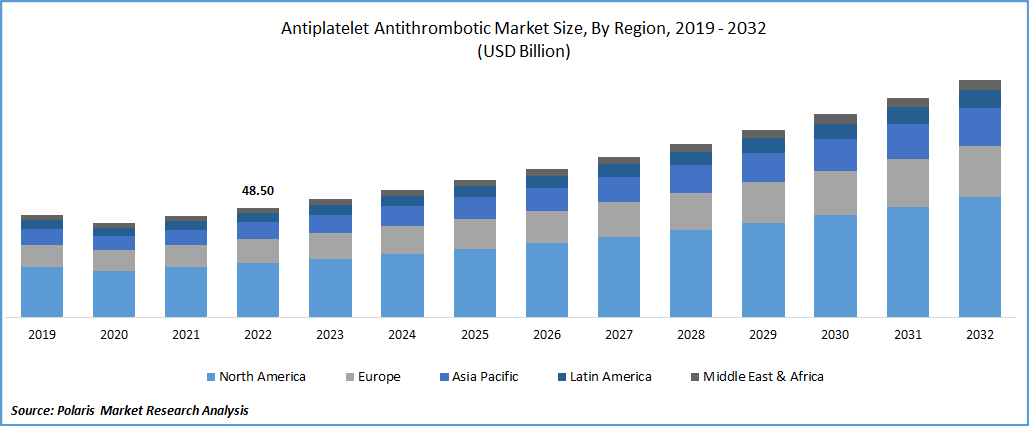 Know more about this report: Request for sample pages
During the forecast period, it is anticipated that the worldwide antiplatelet market will expand quickly. The prevalence of antithrombotic/anticoagulant medications, an aging population, an increase in thrombotic events, and recent advancements in pharmaceuticals are some of the main factors driving the antiplatelet industry.
A medication that inhibits the growth of blood clots is known as an antithrombotic agent. Antithrombotics may be used therapeutically to cure or prevent a potentially harmful blood clot (primary prevention, secondary prevention) (Acute thrombus).
A medication called antithrombotic aid in reducing thrombus development. Different antithrombotics, such as antiplatelet medications, anticoagulants, and thrombolytic medications, have an impact on various blood clotting mechanisms. Its primary use is to address the body's irregular blood flow.
Anticoagulants work by interfering with the various blood coagulation pathways, making them closely related to antiplatelet medications and thrombolytic treatments. Anticoagulants specifically control the coagulation cascade that develops from the initial platelet thrombus. Moving forward, the industry is anticipated to be driven by busy lifestyles, technology, and faster economic growth. Pricing pressures and antithrombotic drug side effects are two factors that may prevent the market for these medications from expanding in the future.
Antiplatelet medications lower the risk of atherosclerotic cardiovascular events and associate unfavorable prognostic effects through secondary prevention. For instance, 6.199.9 thousand persons in Germany had diabetes in 2021, according to information from the International Diabetes Federation's 10th edition of 2021. Thus, as more and more people with diabetes are at high risk of cardiovascular disease development, there will likely be an increase in the need for antithrombotic medications, which will drive market expansion.
Due to its alleged role in preventing COVID-19-related occurrences, the COVID-19 pandemic had a favorable effect on the market for antiplatelet medications globally. For instance, in February 2021, the National Center for Biotechnology Information reported that anticoagulants might help treat COVID-19 by lowering the burden of thrombotic disease and the hyperactivity of coagulation. They may also have positive anti-inflammatory effects against sepsis and the emergence of acute respiratory distress syndrome. The clinical setting and the COVID-19 severity serve as the primary determinants of the indications for antiplatelet and anticoagulants.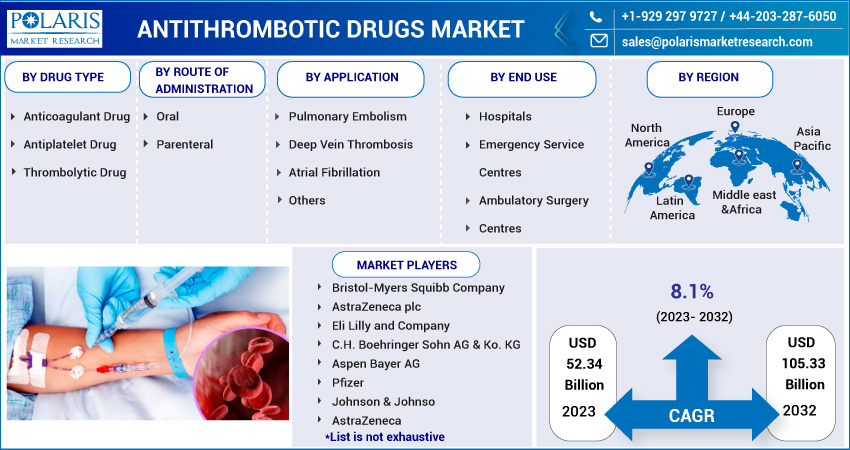 Know more about this report: Request for sample pages
Industry Dynamics
Growth Drivers
The market for anti-thrombotic medications has expanded as a result of most countries' ageing population profiles. According to projections based on data from the Population Reference Bureau, the number of people over 65 increased globally from under 450 million to 601 million between 2014 and 2017, a 33% rise. Throughout the duration of the projection, this tendency is anticipated to persist. In Japan, it is anticipated that the proportion of seniors will increase from 24% in 2012 to 40% in 2050.
The number of people with cardiovascular diseases has increased as a result of the aging population, which is a major cause of early death. More than 1.8 million people died from cardiovascular illnesses in South Asia, including India, in 2013. As a result, there is no more need for antithrombotic medications.
Growth in the business will be fueled by the rising incidence of chronic diseases like cancer, hypertension, and heart-related ailments. The number one killer in the world, cardiovascular diseases (CVDs), claim the lives of 17.9 million people annually. More than four out of every five CVD deaths are attributable to strokes and heart attacks, with one-third of those deaths occurring before the age of 70.
Additionally, the market for antithrombotic medications will grow as a result of an increase in government measures to raise awareness. Along with this, favorable reimbursement policies and sedentary lifestyles of people would boost the market's development rate. The increasing cost of healthcare, which aids in developing its infrastructure, is a crucial element affecting the market growth rate for antithrombotic medication.
Report Segmentation
The market is primarily segmented based on Drug Type, Route of Administration, Application, End User, and Geography.
By Drug Type

By Route of Administration

By Application

By End User

Geography

Anticoagulant Drug

Antiplatelet Drug

Thrombolytic Drug

Pulmonary Embolism

Deep Vein Thrombosis

Atrial Fibrillation

Others

Hospitals

Emergency Service

Centres

Ambulatory Surgery Centres

Others

North America (Canada, United States, Mexico)

Europe (Spain, Germany, France, United Kingdom, Italy, Rest of Europe)

Asia-Pacific (China, Australia, India, South Korea, Japan, Rest of Asia-Pacific)

Middle East and Africa (GCC, South Africa, Rest of Middle East and Africa)
Know more about this report: Request for sample pages
Antiplatelet

drugs segment dominated the market in 2022
Antiplatelet drugs segment dominated the market in 2022. These medications avoid the clotting of platelets and their clumping together. A number of these drugs work on proteins and receptors to have this effect by causing cells to bind in response to chemical signals. In order to treat acute ischemic syndromes and avoid their recurrence, antiplatelet medications are utilized as first-line antithrombotic therapy.
For instance, aspirin prevents the chemical thromboxane from causing blood to clot. The medication is marketed under a number of trade names, including Ecotrin, Aspir, Bayer, and Easprin. People having a heart attack are frequently given aspirin because it can quickly and efficiently decrease platelet activity and blood clot development, maintaining some degree of blood flow.
Anticoagulant and Thrombolytic drugs is expected to

grow at high CAGR over the forecast period
Anticoagulants work by interfering with several blood coagulation pathways, making them closely connected to antiplatelet medications and thrombolytic therapies. Anticoagulants specifically control the coagulation cascade that develops from the initial platelet thrombus which drives market growth.
Thrombolytic medications work to dissolve blood clots that have already formed. In medicine, a " thrombolysis " technique uses thrombolytic medication to dissolve blood clots. They reduce the harm of a blood artery blockage or also may cause occlusion. This expands the market growth.
Oral route of administration segment held the largest market share in 2022
As the most often prescribed oral anticoagulant, warfarin, is plagued by drug and food-drug interactions and restricted to the hospital setting, oral antiplatelet medications represent a significant market expansion that offers the majority of long-term preventive prescriptions.
North America to dominate the

market during the forecast period
On a global scale, North America dominates the market for antiplatelet medications. Due to the expanding presence of major firms there and the rising sums spent on antiplatelet medication development studies, the region accounts for a sizeable portion of the sector. Additionally, the region's high rate of myocardial infarction and ischemic stroke patients are contributing to the industry's expansion.
Every year, around 800,000 people in the United States experience a stroke, with ischemic strokes making up 87% of those cases. Consequently, there is a greater need for antiplatelet medications as a result of these disorders' rising prevalence.
In the projected period of 2022–2029, Asia–Pacific is anticipated to expand at the quickest rate due to the region's rapidly increasing senior population. The growth rate of the market in this region will also be boosted by the expansion of the healthcare infrastructure and growing government initiatives.
Competitive Insight
The market for antithrombotic medications is quite competitive, with several local or regional players. Some of the key players operating in the market include Daiichi Sankyo Company, Eli Lilly and Company, Bristol-Myers Squibb Company, C.H. Boehringer Sohn AG & Ko. KG and Aspen Bayer AG, Pfizer, AstraZeneca plc, Johnson & Johnson. AstraZeneca, Otsuka Pharmaceutical, Portola Pharmaceutical Inc., Yuyu Pharma Inc., Limited, Glenmark Pharmaceuticals Limited, China National Pharmaceutical Group Corp, Novartis, Acetlion Pharmaceuticals, Generium Holdings among the others.
Recent Developments
In February 2022, the US Food and Drug Administration approved Bayer's oral Factor Xia inhibitor Asundexian, which was undergoing a phase II trial, Fast Track designation as an anticoagulant for the treatment of arterial and venous thrombosis.
Antithrombotic Drugs Market Report Scope
| | |
| --- | --- |
| Report Attributes | Details |
| Market size value in 2023 | USD 52.34 billion |
| Revenue forecast in 2032 | USD 105.33 billion |
| CAGR | 8.1% from 2023 - 2032 |
| Base year | 2022 |
| Historical data | 2019 - 2021 |
| Forecast period | 2023 - 2032 |
| Quantitative units | Revenue in USD billion and CAGR from 2023 to 2032 |
| Segments Covered | By Drug Type, By Route of Administration, By Application, By End User, Geography |
| Regional scope | Asia Pacific, Europe North America, Latin America; Africa and Middle East |
| Key Companies | Bristol-Myers Squibb Company, AstraZeneca plc, Eli Lilly and Company, C.H. Boehringer Sohn AG & Ko. KG and Aspen Bayer AG, Pfizer, Johnson & Johnson. AstraZeneca, Otsuka Pharmaceutical, Portola Pharmaceutical Inc., Yuyu Pharma Inc., Daiichi Sankyo Company, Limited, Glenmark Pharmaceuticals Limited, China National Pharmaceutical Group Corp, Novartis, Acetlion Pharmaceuticals, Generium Holdings among the others. |