The global liquefied petroleum gas market is valued at USD 101.73 billion in 2021 and is projected to grow at a CAGR of 4.2% during the forecast period. A significant portion of GDP is spent by developing countries on expanding gas pipeline infrastructure. Increasing energy demand due to cheaper and more reliable fuel options makes the market outlook look optimistic in the near future.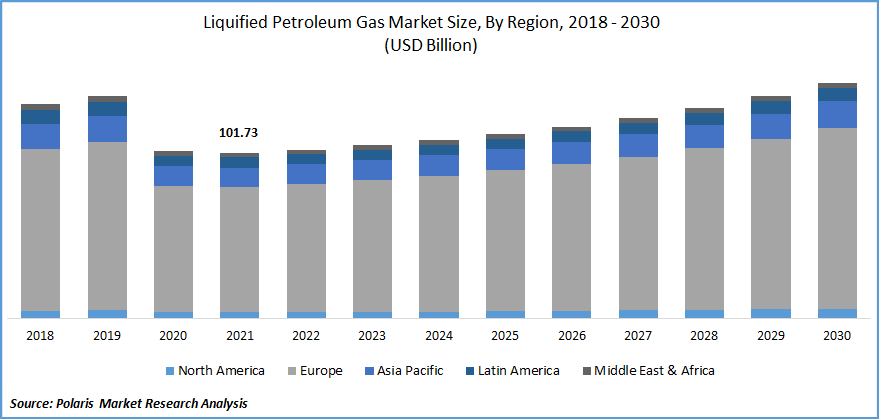 Know more about this report: Request for sample pages
The overall increase in LPG consumption recorded in 2021 is 7.7%, with a cumulative increase of 5.4% for the period from 20 April to 21 February. As of February 2021, among the five regions, North America has the highest share of its LPG sales at 31.8%.
The United States produced about 234,000 tons of LPG from natural gas and 10,000 tons of LPG from refineries in 2018, averaging about 91.4 billion cubic feet per day, suggesting that natural gas is the dominant source of LPG production. Increasing acceptance levels of clean and green energy sources in both developed and developing countries, and rural populations replacing LPG with traditional cooking fuels such as kerosene, wood, and coal.
Increasing demand for LPG as vehicle exhaust will boost the growth of the liquefied petroleum gas (LPG) market during the forecast period. Meanwhile, cost efficiency, fuel efficiency, emission control, trade procurement and expansion, and increased R & D activity associated with store allocations will further contribute by creating significant opportunities to the market.
LPG consumption saw a tremendous decline in the first half of 2020 as the COVID-19 pandemic continues to hinder the growth of industrial sectors around the world. Strict blockage regulations are imposed in some countries, and the demand for LPG is increasing. Petroleum as fuel is steadily declining.
Today, some market players are expected to explore opportunities beyond traditional markets to meet LNG demand in these regions. For example, as the outbreak of COVID-19 continued to reduce demand for liquefied natural gas in Europe, Russia's largest petrochemical company, Sibur, seized the opportunity to enter new markets by supplying liquefied natural gas to India.
Demand from the European Union countries may continue to be sluggish, but LNG demand from the housing and household sectors may increase in all Asia-Pacific countries despite the COVID-19 event. In addition, LNG is considered a necessity and is expected to remain firm in the future. The market is far from expected growth in 2020, but may be showing signs of recovery as of the fourth quarter of 2020. The automotive sector is expected to offer many opportunities for players involved in the market in the non-COVID-19 era.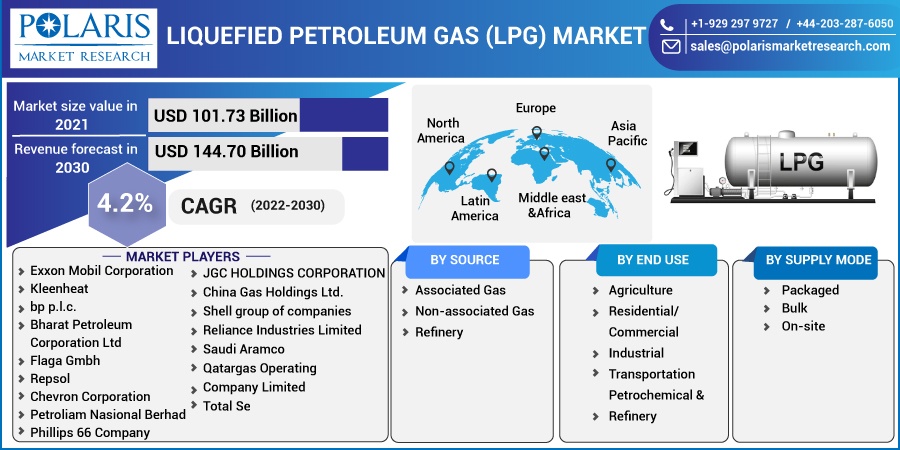 Know more about this report: Request for sample pages
Industry Dynamics
Growth Drivers
An increase in the world population will lead to a global increase in energy consumption. This, coupled with the growing development of infrastructure around the world, represents one of the key factors that have a positive impact on the market.
In current scenario, LPG is increasingly being used in a variety of agricultural, commercial, horticultural, industrial, and manufacturing applications as awareness of potential environmental and health benefits continues to grow. However, this is due to numerous benefits such as convenience, non-toxicity, non-poisonous, and low cost. Due to these assets in contrast to other types of fuels, the global market for LPG shows consistent growth.
As per the World Energy Council (WEC), the U.S has a total of 1,161 tcf of un-conventional gas, while China has 1,115 tcf of un-conventional gas. The U.S was the top producing country in the gas production. Some of the factors behind the growing demand for LPG are the increased consumption of LPG and the large quasi-urban and rural populations in Africa, Latin America, and the Asia Pacific. Locals in these areas use this product as fuel for cooking.
In India, for example, almost 80% of all house related energy needs depend on liquefied petroleum gas as fuel for cooking. To government scheme like (PMUY), streamline subscription processes and payments, supply cylinders, and reduce reliance on traditionally used dangerous cooking fuels such as firewood and charcoal. Initiatives such as subsidies are increasing the acceptance of gas mixtures.
Report Segmentation
The market is primarily segmented based on Source, End Use, Supply Mode, and Regions.
By Source

By End Use

By Supply Mode

By Region

Associated Gas
Non-associated Gas
Refinery

Agriculture
Residential/Commercial
Industrial
Transportation
Petrochemical & Refinery
Others

North America (U.S., Canada)
Europe (France, Germany, UK, Italy, Netherlands, Spain, Russia)
Asia Pacific (Japan, China, India, Malaysia, Indonesia, South Korea)
Latin America (Brazil, Mexico, Argentina)
Middle East & Africa (Saudi Arabia, UAE, Israel, South Africa)
Know more about this report: Request for sample pages
Liquefied Petroleum Gas Market, By Source
By source, the non-associated gas accounted for the largest revenue share due to increased production of LPG from un-related gas wells. In addition, increasing demand of the LPG from several industrial applications is expected to drive market growth. Fuel sources change by region. For case, most gas generation in North America comes basically from natural gas processing provisioning, but the Asia-Pacific region depends on refineries for its gas generation. Refineries are one of the foremost imperative sources of different gasses around the world.
The residential and commercial segments captured a prominent market share
The commercial and residential segments accounted for a largest revenue share. Promising government subsidies and initiatives to support products as the primary alternative to traditional fuels such as wood and coal are key factors contributing to the growth of this segment. It is also used as a raw material in the chemical and allied industries to produce plastics.
Asia Pacific region acquires the largest revenue share in 2021
The Asia Pacific region is the largest market for LPG due to the widespread acceptance of LPG as the primary fuel for home cooking and hot water supply. LPG is plentiful and forecasts predict low prices for a long time, except for major political turmoil.
The chemical sector has grown tremendously in the region in recent years, using this gas as the main raw material for the synthesis of various chemicals and plastics. The autogas (LP gas as fuel) market is developing rapidly in the Asia Pacific region. The government has demonstrated a strong and long-term political commitment to promoting LNG as a transportation fuel. This factor is also driving the market.
Europe is the second most important market and continues to be one of the regional powers of LNG. LPG is driven by the government's initiative to reduce carbon emissions and the European Union's goal of becoming carbon-neutral by 2050 in the region's construction, food, and beverage, manufacturing, housing, agriculture, and transportation industries.
GCC countries are mega contributors to LPG market share in the Middle East and Africa. As a result, the utilization of gasoline in vehicles is common in the region. Middle East Expected to Grow on LPG as Gasoline Leads to CO2 Emissions.
On the other hand, although Africa has a small market share, the region is primarily under development and is expected to grow in commercial/residential applications. Latin America is also a strong growth region due to increased investment in alternative fuels. The rapid increase in global energy demand and the construction of new facilities to respond to the sudden population explosion and rapid urbanization are expected to support the growth of the global market.
Competitive Insight
Some of the dominant players operating in the global market include Exxon Mobil Corporation, Kleenheat, bp p.l.c., Bharat Petroleum Corporation Limited, Flaga Gmbh, Repsol, Chevron Corporation, Petroliam Nasional Berhad (PETRONAS), Phillips 66 Company, JGC HOLDINGS CORPORATION, China Gas Holdings Ltd., Shell group of companies, Reliance Industries Limited, Saudi Aramco, Qatargas Operating Company Limited, Total Se, and Others.
Recent Developments
In April 2022, Publicize by JGC Holdings Corporation that they undersigned a contract with KBR Inc. on the ammonia mass production business. Under the condition of the agreement, the Hijima Group will have ingress to KBR's EPC scheme for ammonia production plants from the concept stage.
In March 2021, Total Oil India Private Ltd. begins the latest LPG cutting gas product precisely designed for the metal cutting business. This product is manufactured at a total LPG factory in Bangalore, Namakkal, and Madurantacam. The launch of this product expands the company's product portfolio.
On May 13, 2020, A modern LNG processing unit was initiated by Royal Dutch Shell plc in Nigeria. Once the facility start operation, this will adjoin approximately 8 million tonnes to the Bonny Island facility's present-day efficiency of approximately 30 million tonnes yearly. This is a joint venture of NLNG owned by Nigerian National Petroleum Corporation (NNPC-49%), Royal Dutch Shell plc (25.6%), Total (15%), and ENI (10.4%).
Liquefied Petroleum Gas Market Report Scope
| | |
| --- | --- |
| Report Attributes | Details |
| Market size value in 2021 | USD 101.73 billion |
| Revenue forecast in 2030 | USD 144.70 billion |
| CAGR | 4.2% from 2022 - 2030 |
| Base year | 2021 |
| Historical data | 2018 - 2020 |
| Forecast period | 2022 - 2030 |
| Quantitative units | Revenue in USD million/billion and CAGR from 2022 to 2030 |
| Segments covered | By Source, By End-Use, By Supply Mode, and By Region |
| Regional scope | North America, Europe, Asia Pacific, Latin America; Middle East & Africa |
| Key companies | Exxon Mobil Corporation, Kleenheat, bp p.l.c., Bharat Petroleum Corporation Limited, Flaga Gmbh, Repsol, Chevron Corporation, Petroliam Nasional Berhad (PETRONAS), Phillips 66 Company, JGC HOLDINGS CORPORATION, China Gas Holdings Ltd., Shell group of companies, Reliance Industries Limited, Saudi Aramco, Qatargas Operating Company Limited, Total Se, and Others. |