The global natural antioxidants market is valued at USD 1.02 billion in 2021 and is expected to grow at a CAGR of 6.9% during the forecast period. Natural antioxidants are fundamentally phenolics found in trees/plants, such as fruits, nuts, vegetables, roots, seeds, leaves and barks. An antioxidant is an element that slower or prevent the harm caused due to the oxidation/decomposition process. Products demand with longer shelf life, utilization of processed food, sharp urbanization, and rising per capita income are crucial factors accountable for lucrative the growth of the global natural antioxidants market.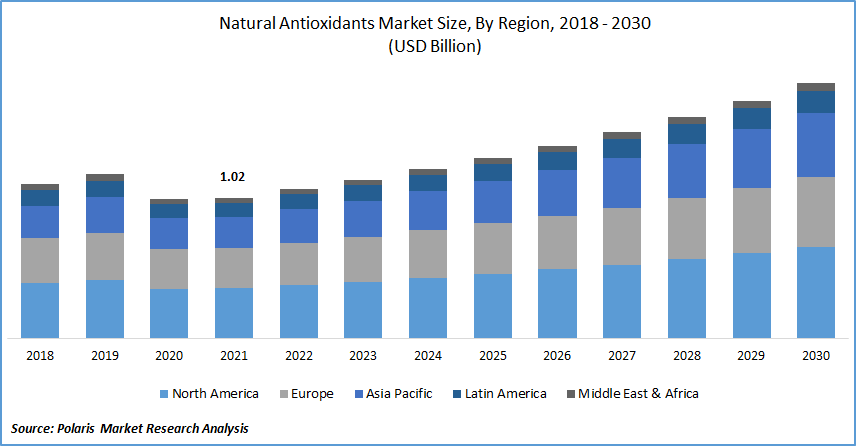 Know more about this report: Request for sample pages
Natural antioxidants namely vitamin C and E, carotenoids, and polyphenols are broadly used in pharmaceutical add-ons. Expanding end users' expenditure on wellness combined with commending government schemes is subjected to elevating the demand for natural antioxidants. The medicament sector is forecasted to dominate the natural antioxidants market share of the global market by 2030, while in contrast, the food category is assured to exhibit swift growth over the projection period.
The rising demand for anti-aging products amidst consumers has cautiously give rise in the application of these natural antioxidants compounds in multitudinous cosmetic products straightaway. These products shield the human body cells averse of provocative and aging impairment, antioxidants are engulfed in distinct personal care products, such as moisturizers, body lotions, creams, shampoos, conditioners, and others.
Some of the frequent natural antioxidant substances used in cosmetics are vitamin C, E, butylated hydroxyanisole, and others. According to the Ministry of Foreign Affairs, Europe, the natural cosmetics product market estimated USD XX billion in 2021 and is rising with an average of X% Y-O-Y progress. On top of, the growing demand for cosmetic products based on natural antioxidants and composed with healthy nutrients & necessary minerals in the Middle East and Asia boost the market growth.
The COVID-19 pandemic outbreak has strike tremendously hard on the global economy and natural antioxidant sector. The international food and beverage trade has seen major up and downs in its biz during this pandemic. Due to the lockdown's strict rule of social distancing, and unnecessary utility trade was closed, also many manufacturing industries stay shut for big span of time.
The business supply chain system was also affected due to the enforcement of trade (domestic/international) blockage and limited public mobility Thunder the growth of natural antioxidants market. Majority of exports and imports from China isolated as it was the center for the COVID virus eruption. This affected the natural antioxidant market skeptically as it was a salient ingredients and additive manufacturing nation.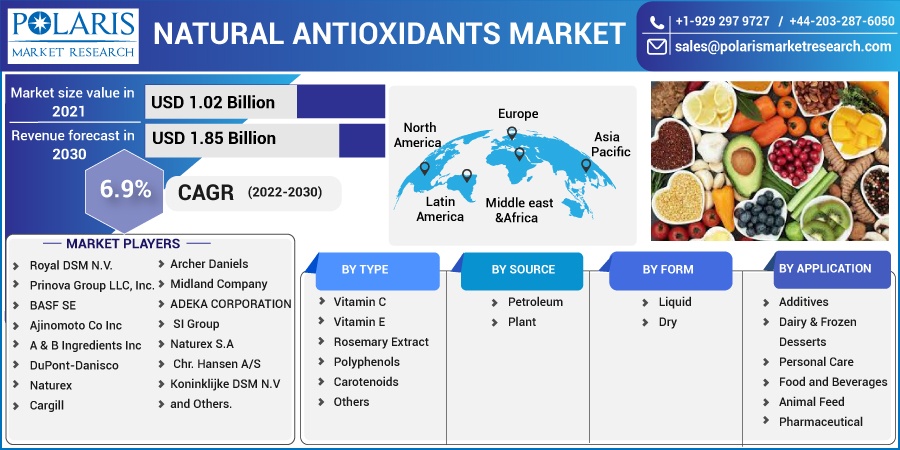 Know more about this report: Request for sample pages
Industry Dynamics
Growth Drivers
Natural antioxidants are sustained to capture impetus in the food and beverage sector and are presently accounted as a vital additive. The growing consumer recognition of the healthy advantages of the natural additive in safeguarding chronic disorders, such as heart problems, and diabetes, has escorted to its vast utilization. The increasing requirements and eating processed edibles, which extensively consist of antioxidant substances, has regulated market growth.
Natural antioxidants prevent oxidation and elongate the shelf-life of the food. The soaring working community and the fast-moving lifestyle of citizens have depended on their life on processed foods. The positive motivation for a fit & fine lifestyle and surge in demand for fortified foods and beverages is the vital factors driving the market growth during the projection period 2022 - 2030.
Report Segmentation
The market is primarily segmented based on by type, source, application, and Regions.
By Type

By Source

By Form

By Application

By Region

·Vitamin C
Vitamin E
Rosemary Extract
Polyphenols
Carotenoids
Others

Additives
Dairy & Frozen Desserts
Personal Care
Food and Beverages
Animal Feed
Pharmaceutical
Others

North America (U.S., Canada)
Europe (France, Germany, UK, Italy, Netherlands, Spain, Russia)
Asia Pacific (Japan, China, India, Malaysia, Indonesia. South Korea)
Latin America (Brazil, Mexico, Argentina)
Middle East & Africa (Saudi Arabia, UAE, Israel, South Africa)
Know more about this report: Request for sample pages
Natural Antioxidants, By Type
Growing demand for vitamin C for food, beverages, and additives forecast and amplification opportunities for the fragment to surge in the cosmetics business. the natural antioxidants market is divided into vitamin C, vitamin E, pine, rosemary extract, acerola seed, carotenoids, green tea, and others. Vitamin C is projected to rule in the coming future on account of the category's expanding demand amidst many end-user sectors.
Natural antioxidants are hypoallergenic because of their great prominence in medicine industries, and spreading disease has noticed it a foremost consumer of vitamin C in current times. The advanced extracts can bestow an assiduous dose of cogent natural antioxidants, anthocyanins, and beta-carotene in several food & beverages, and additives applications.
Natural Antioxidants, By Application
The food and beverages industry is projected to occupy a mammoth share in the market during the study period. The natural antioxidants available in fruits, vegetables, and plants assist cure many types of health-related issues, like cardiovascular diseases. In addition, the heightening application of natural antioxidants in animal feed is granting to the market growth.
Natural Antioxidants Market, By Form
The market is segmented into Dry and Liquid. The dry form category dominates the market owing to the natural food antioxidants such as vitamin C and tocopherols are more costly due to their expensive raw material cost compared to synthetic antioxidants such as TBHQ, BHA, and BHT, extract from petroleum products, which amplify the segment's growth.
The Asia Pacific region held the largest revenue share of the market
The Asia Pacific in 2021 leads the prominent natural antioxidants market share. The region is projecting marvelous growth in the market, as this region has a substantial consumer base. The boom in population and rapidly growing economy increase demand in many end-use industries, such as pharmaceutical and packaged food sectors, which are likely to foster market growth.
North America is anticipatory to showcase vibrant growth in the natural antioxidants market. The well-structured food & beverages sector and firm government regulations against packaged food, and fitness-oriented citizens are factors that have set the regional market in positive motion. Manufacturers extemporize and apply advanced technologies for processing natural antioxidants.
Competitive Insight
Some of the key players in the global market include Royal DSM N.V., Prinova Group LLC, Inc., BASF, Ajinomoto Co, A & B Ingredients, DuPont-Danisco, Naturex, Cargill, Archer Daniels Midland, ADEKA CORPORATION, SI Group, Naturex, Chr. Hansen A/S, Koninklijke, and Others.
Recent Developments
In April 2021, Archer Daniels Midland Company initiated a plant-based revolution lab at Singapore's Biopolis research hub. This plant is furnished with modern technology and is potentially viable to produce the development of popular and healthy edible products to suffice APAC region's demand.
In February 2021, SkinCeuticals Texas established a skincare company to inaugurate a new natural antioxidant serum, especially for oily skin. This new product nourishes the global natural antioxidants market-associated skincare product.
In April 2021, Cosphatec GmbH launched an avant-garde, worthwhile natural antioxidant amalgamates Cosphaderm Tapmix.
Natural Antioxidants Market Report Scope
| | |
| --- | --- |
| Report Attributes | Details |
| Market size value in 2021 | USD 1.02 billion |
| Revenue forecast in 2030 | USD 1.85 billion |
| CAGR | 6.9% from 2022 - 2030 |
| Base year | 2021 |
| Historical data | 2018 - 2020 |
| Forecast period | 2022 - 2030 |
| Quantitative units | Revenue in USD billion and CAGR from 2022 to 2030 |
| Segments covered | Type, Source, Application, Form, and Region |
| Regional scope | North America, Europe, Asia Pacific, Latin America; Middle East & Africa |
| Key companies | Royal DSM N.V., Prinova Group LLC, Inc., BASF SE, Ajinomoto Co Inc, A & B Ingredients Inc, DuPont-Danisco, Naturex, Cargill, Archer Daniels Midland Company, ADEKA CORPORATION, SI Group, Naturex S.A, Chr. Hansen A/S, Koninklijke DSM N.V, and Others. |