The global psoriasis drug market was valued at USD 24.84 billion in 2022 and is expected to grow at a CAGR of 9.2% during the forecast period. The primary drivers of market expansion include rising psoriasis disease burden, rising psoriasis medication demand in emerging nations, and rising psoriasis research and pipeline drug development. Novel drug development for oral consumption medicines is rising against hesitant patients to parenteral dosage form via needle. For instance, In Nov 2020, Bristol Myers Squibb introduced Deucravacitinib (BMS-986165) in individuals with psoriatic arthritis was shown to be safe and effective in late-breaking Phase 2 data. It encourages patients who are wary of injectables to use them more effectively.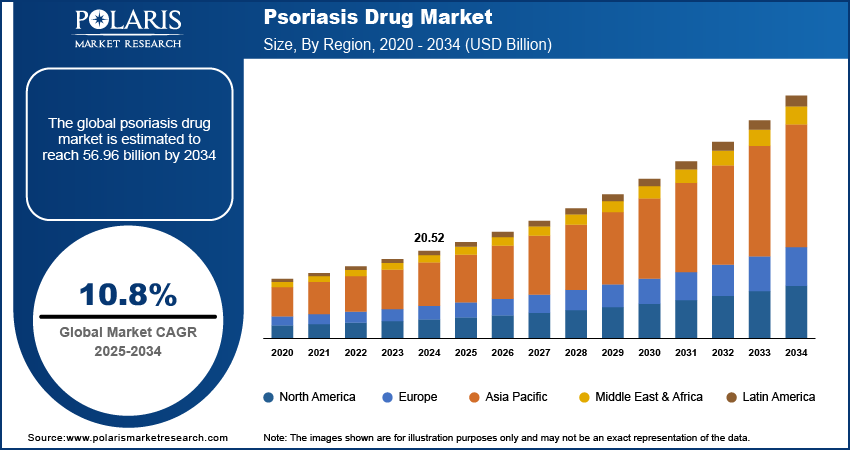 Know more about this report: Request for sample pages
In addition, Key market participants also engage in various strategies, such as product releases, to broaden their product portfolios and obtain an advantage in the market. In December 2021, Amgen manufactured Otezla (apremilast), approved by the US Food and Drug Administration to treat adult patients with plaque psoriasis.
However, the above factors will likely cause the market to develop quickly over the projected period. However, the negative side effects of currently available drugs and the high cost of therapy are anticipated to restrain the market's expansion.
Psoriasis is an autoimmune inflammatory disease that causes by the excess production of skin cells, resulting in an itchy, painful condition with inflammation, red lesions, and plaque development. Psoriasis is a skin disease that commonly affects the knees, elbows, neck, and scalp and causes a rash with itchy, scaly areas. The main contributing cause may be an immune system problem where infection-fighting cells accidentally damage healthy skin cells.
Psoriasis disease is mainly categorized into two types, psoriatic arthritis, and plaque psoriasis. As reported in the study, Celgene Corporation stated that 30% of people are suffering from the inflammation of the joints, known as psoriatic arthritis.
The COVID-19 pandemic initially harmed the expansion of the psoriasis market, mostly because various regulatory authorities recommended that patients getting psoriasis therapy are more likely to contract COVID-19. In March 2020, the International Psoriasis Council (IPC) advised doctors to stop prescribing immunosuppressant drugs or to postpone doing so. However, In September 2020, guidelines were developed in cooperation with the National Psoriasis Foundation by researchers from the Perelman School of Medicine at the University of Pennsylvania and 16 other research institutes from the United States and Canada. The researchers found no proof that conventional treatments for psoriasis and psoriatic arthritis should be discontinued or changed to reduce COVID-19 risks. This approach is also anticipated to stimulate market expansion.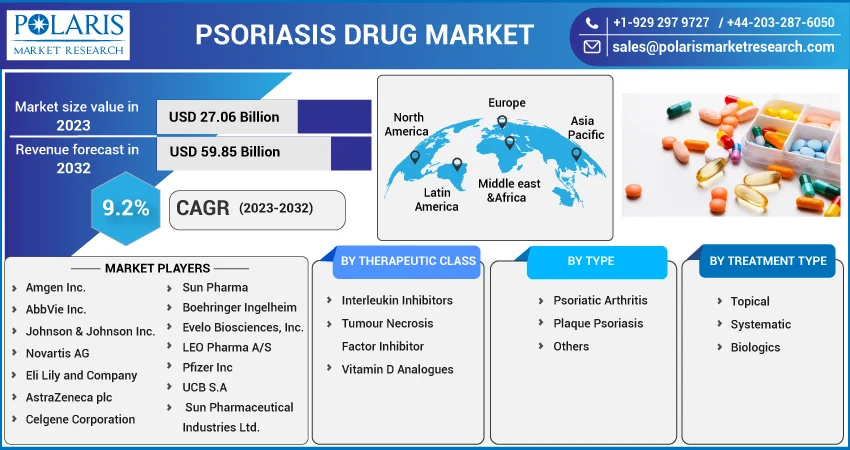 Know more about this report: Request for sample pages

Industry Dynamics
Growth Drivers
The rising prevalence of psoriasis among people of all ages is a major factor driving the growth of the worldwide market for psoriasis medications. Additionally, rising rates of smoking, altered lifestyles, higher alcohol use, and increasing desire for better healthcare would all contribute to the market expansion for psoriasis medications.
Additionally, increased numbers of clinical trials for new drug development, strong and growing R&D funding, government spending on healthcare in both developing and developed economies, unhealthy lifestyles, excessive fat consumption, and inadequate resources for effective treatments all have an impact on the market's growth over the forecast period.
However, the need for a reliable therapy for psoriasis and the adverse effects of medical intervention might hamper the market growth for psoriasis medications in the near future.
Report Segmentation
The market is primarily segmented based on therapeutic class, type, treatment type, and region.
By Therapeutic Class

By Type

By Treatment Type

By Region

Interleukin Inhibitors

Tumour Necrosis Factor Inhibitor

Vitamin D Analogues

Psoriatic Arthritis

Plaque Psoriasis

Others

Topical

Systematic

Biologics

North America (U.S., Canada)

Europe (France, Germany, UK, Italy, Netherlands, Spain, Russia)

Asia Pacific (Japan, China, India, Malaysia, Indonesia, South Korea)

Latin America (Brazil, Mexico, Argentina)

Middle East & Africa (Saudi Arabia, UAE, Israel, South Africa)
Know more about this report: Request for sample pages
The Interleukin Inhibitors segment accounted for the fastest market growth.
The advantages of interleukin inhibitors over other psoriasis medications include their better safety and effectiveness, which probably resulted in more patient acceptance. Primary authorized antibodies that target interleukins include Siliq (brodalumab), Tremfya (guselkumab), Ilumya (tildrakizumab), SKYRIZI (Risankizumab), Taltz (ixekizumab), Cosentyx (Secukinumab), and others.
The regulatory bodies' approval of medications is another factor fueling the expansion of this segment. For instance, In January 2022, AbbVie's interleukin-23 (IL-23) inhibitor SKYRIZI (risankizumab-rzaa) (PsA) was approved by the United States Food and Drug Administration for the treatment of individuals with active psoriatic arthritis, about 30% of those with psoriasis suffer with systemic inflammatory illness, which damages the skin and joints.
Plaque Psoriasis segment dominates the significant market
Plaque psoriasis segment dominated market. It makes up 80–90% of cases, making it the most prevalent type. This segment is expanding as a result of the main companies' increasing production of cutting-edge treatments for the treatment of this particular disease type. For instance, in August 2021, UCB S.A. got approval from the European Commission for Bimzelx for the treatment of mild to severe plaque psoriasis, given a dose of 320mg by subcutaneous injection.
Topical treatment is dominant segment and holding maximum share
The topical treatment segment is projected to hold the maximum shares globally in the psoriasis drug market because patients mostly favor topical treatments. Topical medicines like ointments, creams, lotions, gels, and shampoos. The topical drugs can be applied on the skin and are generally the first line in treating psoriasis. Topical reduces excessive cell production and reduced inflammation.
Biologics segment is projected to dominant in market.
The biologics segment is anticipated to dominate over the projected period as biologics are injected parenterally. Rising the patient's acceptability of injectable medicines and increasing the number of new launches and approval of biologics drive the segment'. For instance, in Dec 2021, AbbVie Inc. got approval from the U.S. Food and Drug Administration for RINVOQ to treat active psoriatic arthritis in adults. Hence, such developments will hike the demand for biologics in the coming years.
North America dominated the global market in 2022
The continuous technological developments, the increasing R&D investments by the major players and government, and an increasing number of key players in this region accelerate the market growth. Also, the rising number of patients suffering from psoriasis in the U.S. would spur the market in North America. For instance, approximately 7.3 million people are suffering from psoriasis, which can be roughly 2% of the total population of the U.S.
Increasing awareness of the use of biological therapies would also spur the psoriasis drugs market in North America. Moreover, the rising geriatric population and increased sedentary lifestyle preference will also affect this industry in the near future.
Competitive Insight
Some major players operating in the global market include Amgen Inc., AbbVie Inc., Johnson & Johnson Inc., Novartis AG, Eli Lily and Company, AstraZeneca plc, Celgene Corporation, Sun Pharma, Boehringer Ingelheim, Evelo Biosciences, Inc., LEO Pharma A/S, Pfizer Inc, UCB S.A, Sun Pharmaceutical Industries Ltd.
Recent Developments
In July 2022, Arcutis Biotherapeutics, Inc got approval from U.S. Food and Drug Administration for New Drug Application for the topical creme ZORYVE (roflumilast) 0.3% to treat plaque psoriasis in 12 years of patient or older.

In May 2022, Dermavant Sciences received approval for VTAMA (tapinarof) 1% cream, an aryl receptor agonist, from U.S. FDA for treating plaque psoriasis in adult patients. It's the first steroid-free topical medication.
Psoriasis Drug Market Report Scope
| | |
| --- | --- |
| Report Attributes | Details |
| Market size value in 2023 | USD 27.06 billion |
| Revenue forecast in 2032 | USD 59.85 billion |
| CAGR | 9.2% from 2023 – 2032 |
| Base year | 2022 |
| Historical data | 2019 – 2021 |
| Forecast period | 2023 – 2032 |
| Quantitative units | Revenue in USD billion and CAGR from 2023 to 2032 |
| Segments Covered | By Therapeutic Class, By Type, By Treatment Type, By Region |
| Regional scope | North America, Europe, Asia Pacific, Latin America; Middle East & Africa |
| Key Companies | Amgen Inc., AbbVie Inc., Johnson & Johnson Inc., Novartis AG, Eli Lily and Company, AstraZeneca plc, Celgene Corporation, Sun Pharma, Boehringer Ingelheim, Evelo Biosciences, Inc., LEO Pharma A/S, Pfizer Inc, UCB S.A, Sun Pharmaceutical Industries Ltd. |