The global microscope market was valued at USD 9.52 billion in 2020 and is estimated to grow at a CAGR of 8.0% during the forecast period. The product is an optical instrument comprising of a single lens or combination of lenses that are utilized for enlarging images of minute objects.
It is widely used to analyze, inspect, measure, and document different types of material samples, and to study diseases at the molecular level and a variety of tissues and cells. It is also used in the fields of pharmacology, nanotechnology, forensic sciences, and by semiconductor and electronics manufacturers.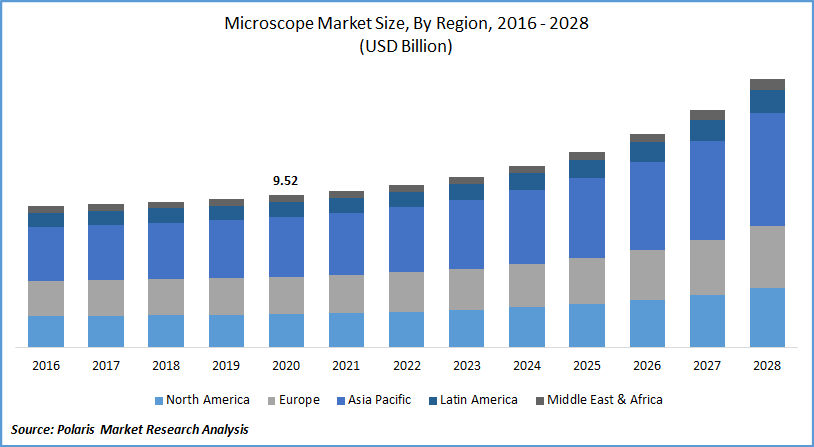 Know more about this report: request for sample pages
The ongoing venture of miniaturization has led to several technological advancements in the field of nanotechnology and semiconductors, which in turn has majorly fueled the growth of the industry. Similarly, advancements in the field of bioengineering, cell biology, biophysics, and pharmacology among others have further augmented the growth of the industry.
The increasing research and development activities in small laboratories and academic institutions, increasing government funding received by academic researchers, and rising collaborations between companies and academic institutions for sharing advanced laboratory equipment have also supplemented the market growth.
The other factors driving the market growth include the production of robust, more accurate, and relatively cheaper instruments, the lightweight and portability of certain products, and the widespread adoption of the product used by manufacturers across various domains.
However, lack of skilled labor to operate complex microscopes, high costs electron microscopes, scanning probe microscopes, high maintenance, and huge capital investments impede the market growth. Emerging markets in developing countries and newer innovative fields of application provide numerous opportunities for growth.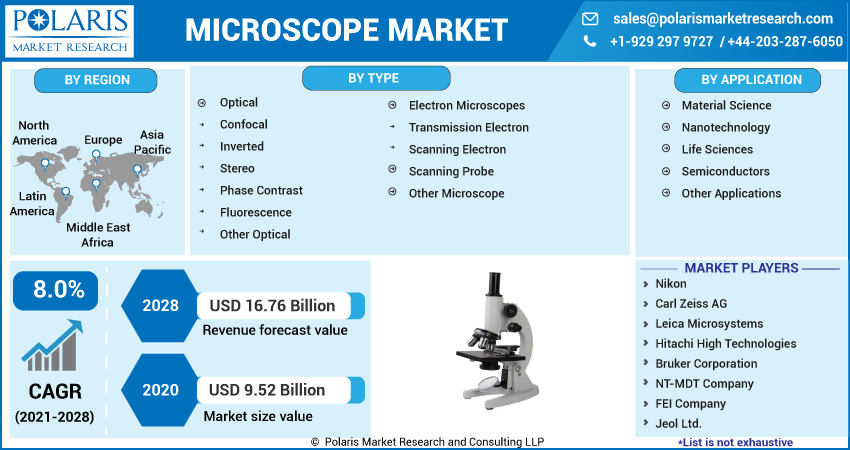 Know more about this report: request for sample pages
Microscope Market Report Scope
By Type

By Application

By Region

Optical

Confocal
Inverted
Stereo
Phase Contrast
Fluorescence
Other Optical

Electron Microscopes

Transmission Electron
Scanning Electron

Scanning Probe
Other Microscope

Material Science
Nanotechnology
Life Sciences
Semiconductors
Other Applications

North America (U.S., Canada)
Europe (Germany, UK, France, Italy, Spain, Belgium, Russia, Netherlands)
Asia-Pacific (China, Japan, India, Australia, Korea, Singapore, Malaysia, Indonesia, Thailand, Philippines)
Latin America (Brazil, Mexico, Argentina)
Middle East & Africa (UAE, Saudi Arabia, South Africa)
Know more about this report: request for sample pages
Segment Analysis
The global market is segmented on the basis of type, application. based on the type, the market is categorized into optical microscopes which are further categorized into inverted, stereomicroscopes, phase contrast, fluorescence, confocal scanning, near field scanning, others.
The electron microscope is further categorized into transmission electron which is further categorized into scanning electron; scanning probe; and others. Based on application, the market is divided into material science, nanotechnology, life sciences, semiconductors, other applications.
Regional Analysis
The report analyzes the global market across North America, Germany, Asia Pacific, Latin America, and Middle East & Africa (MEA). North America is further segmented into U.S., Canada. Europe is divided into Germany, the UK, Russia, Rest of Europe.
Asia Pacific is bifurcated into Japan, China, the Rest of Asia-Pacific, and Latin America is categorized into Brazil, Mexico, and the Rest of Latin America. Middle East & Africa comprise South Africa, Saudi Arabia, the Rest of Middle East & Africa. The Asia Pacific region has accounted for the largest share in the global microscope market in 2020.
Competitive Landscape
The key players of the microscope market include Nikon, Carl Zeiss AG, Leica Microsystems, Hitachi High Technologies, Bruker Corporation, NT-MDT Company, FEI Company, Jeol Ltd., Olympus Corporation, Asylum Research, Omax Corporation, Amscope, Celestron, Motic, and Magnus Analytics. The major players have adopted such as strategies such as new product releases, novel technology development, and collaboration among others to expand their foothold and increase their customer base.