The microscopy market was valued at USD 6.94 billion in 2021 and is expected to grow at a CAGR of 6.1% during the forecast period. Growing funding for life science research studies by the public and private sector is the primary factor stimulating the market's growth. Also, the rising demand for technologically sophisticated magnification equipment in various end-use applications is responsible for the market's growth.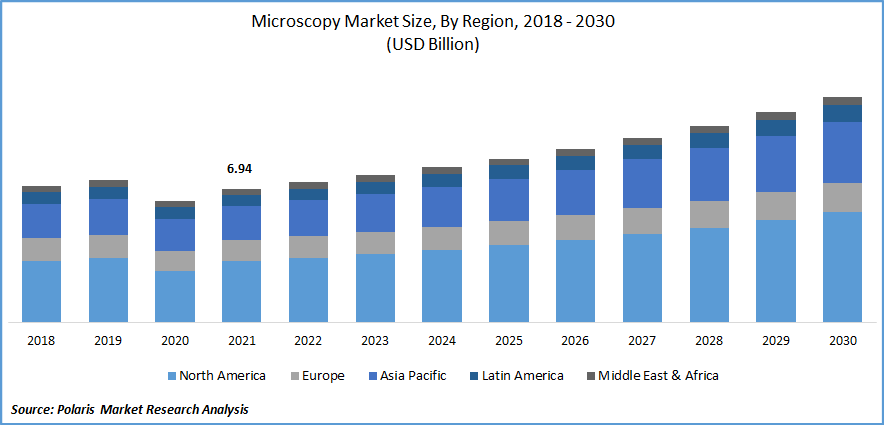 Know more about this report: Request for sample pages
Microscopes are instruments that provide magnified images of small objects allowing the user to observe very precise microstructures in several verticals, such as academic research laboratories and various industries such as electronics, semiconductors, healthcare, food and beverages, chemicals, automotive, aerospace, ceramics, synthetic rubbers, paints and coatings, and others.
Recent developments in microscopy have created a lucrative opportunity in nanophotonic, optogenetics, photochemical catalysis, and superhydrophobic materials, which is expected to influence the market's growth. For instance, the most recent application of optogenetics combined with microscopy examines layers of cultured excitable cells to understand the general biology of action, potential generation, axonal signaling, and synaptic activity.
The Covid-19 pandemic has negatively impacted the market due to the closure of many governments and private academic and research centers. Many institutes were shut down, disrupting the supply chain and ultimately hampering the market during the pandemic. Travel restrictions, factory closures, and reduced operating capacity have negatively impacted the microscope market. Meanwhile, increased life sciences and R&D experimentation have created lucrative opportunities for the market to recover from the impact.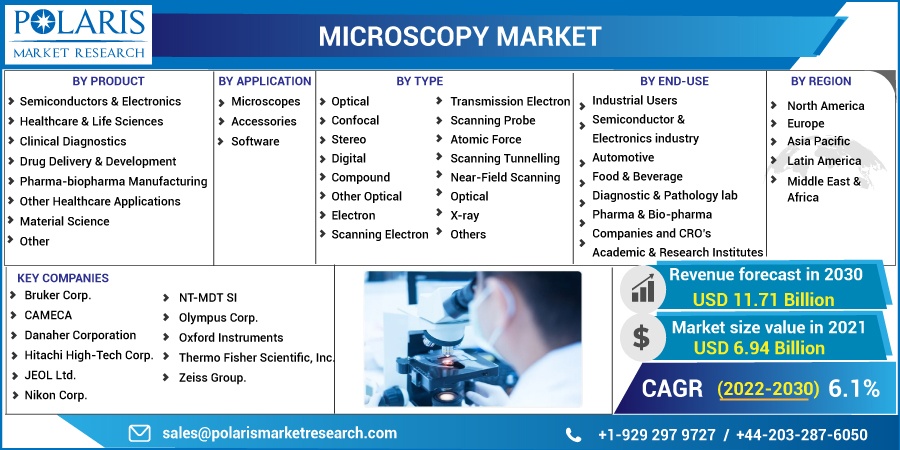 Know more about this report: Request for sample pages
Industry Dynamics
Growth Drivers
The increasing innovation in microscopy techniques, such as 2D or 3D imaging, to analyze different binary fluids and colloidal gels positively impacts market growth. For instance, Scientists of the University of Texas Southwestern (UTSW) and their colleagues in Australia and England invented the optical microscope with multi-angle projection imaging systems, allowing users to obtain 3D image information in a fraction of the time.
Furthermore, the market's growth is attributed to the development of whole-slide scanning systems due to digital microscopy and is set to grow significantly over the forecast period. Samples examined using digital microscopy systems use whole slide scanning systems that provide 3D and 2D images that can be used for quality control and forensic research and development.
Increased product approvals by regulatory authorities have resulted in more product releases, which is anticipated to accelerate the growth of the worldwide microscopy market in the near future. For instance, in May 2018, Tomey USA received the U.S. Food and Drug Administration clearance for its EM-4000 Specular Microscope, which features a Core method to count cells and produce data and images to an EHR server or standalone computer.
Report Segmentation
The market is primarily segmented based on application, product, type, end use, and region.
By Application

By Product

By Type

By End use

By Region

Semiconductors & Electronics
Healthcare & Life Sciences
Clinical Diagnostics
Drug Delivery & Development
Pharma-biopharma Manufacturing
Other Healthcare Applications
Material Science
Other

Microscopes
Accessories
Software

Optical
Confocal
Stereo
Digital
Compound
Other Optical
Electron
Scanning Electron
Transmission Electron
Scanning Probe
Scanning Tunnelling
Near-Field Scanning Optical
X-ray
Others

Industrial Users
Semiconductor & Electronics industry
Automotive
Food & Beverage
Diagnostic & Pathology lab
Pharma & Bio-pharma Companies and CRO's
Academic & Research Institutes
Others

North America (U.S., Canada)
Europe (France, Germany, UK, Italy, Netherlands, Spain, Russia)
Asia Pacific (Japan, China, India, Malaysia, Indonesia, South Korea)
Latin America (Brazil, Mexico, Argentina)
Middle East & Africa (Saudi Arabia, UAE, Israel, South Africa)
Know more about this report: Request for sample pages
Semiconductor & electronics accounted for the largest market share in 2021
Semiconductor & electronics acquired the largest market revenue in 2021. In semiconductors, microscopes are widely utilized to enhance quality control and development. The segment's growth is also attributed to the rising need for nanoelectronics, tiny transistor chips, optoelectronics, and quantum dots.
Healthcare & life science is anticipated to witness the fastest growth over the forecast period. The tools used in life sciences research include digital microscopes, laser microdissection, and compound microscopes. The study of the genetic structure of viruses and bacteria is becoming more popular due to the development of high-magnification microscopes like atomic force and electron microscopy, which is expected to boost the segment's growth.
Electron microscopy dominates the market
The electron microscopy segment dominated the market in 2021. In contrast to optical microscopy, electron microscopy uses an accelerated electron beam as the illumination source. Since electrons have shorter wavelengths than visible light, the resolution of electron microscopes is high. Industry and established research institutes are the only end-users of electron microscopy as the cost of these devices is relatively high compared to optical devices. Collaboration between manufacturers and academic & research institutions is witnessed to drive the growth of the electron microscope.
Moreover, the optical microscopy segment is projected as the second largest market as it is extensively used in microelectronics, nanophysics, biotechnology, pharmaceutic research, mineralogy, and microbiology. It is also used for medical diagnosis; the field being termed histopathology when dealing with tissues or in smear tests on free cells or tissue fragments. This growing application of optical microscopy is expected to drive the market's growth.
Microscopes acquired significant revenue in 2021
Microscopes accounted for the highest share in 2021 as it delivers a detailed image of the substrates. In addition, incorporating AI into the microscope to increase resolution is one of the significant factors ascribed to the segment's growth.
In addition, advances in microscopy to support research activities contribute to increased demand for the product. Growing demand for electron microscopes in semiconductors and microelectronics, increasing demand due to advances in electron microscopes, and the adoption of electron microscopes in healthcare and life sciences are some key factors influencing the segment's growth.
Academic & research institutes accounted for the largest market revenue
The academic and research segment holds a large share of the microscope market. Growth in this segment is due to the increased use of microscopes in R&D activities in the stream of life science, material science, and semiconductors.
Microscopes are widely used in protein analysis, stem cell research, neuroscience, cancer studies, cellular biology studies, nanoelectronics, elemental analysis, miniature transistor chips, and optogenetics. Additionally, the increasing availability of funding and support for life science research is a crucial factor driving the growth of the academic & research segment.
North America dominated the regional market
North America has a massive R&D budget, the availability of advanced microscopy systems offered by market leaders, a strong focus on nanotechnology, and the presence of a large number of important research institutes and universities in the region are the factors contributing to the regional growth.
Moreover, Asia-Pacific is expected to grow fastest due to increased R&D funding for microscopy, increased use of microscopy in life sciences and nanotechnology research, the establishment of collaboration centers for microscopy research, and the availability of low-cost labor for OEMs. These factors are expected to achieve significant growth in the Asia Pacific region.
Competitive Insight
Some of the major players operating in the global market include Bruker Corp., CAMECA, Danaher Corporation, Hitachi High-Tech Corp., JEOL Ltd., Nikon Corp., NT-MDT SI, Olympus Corp., Oxford Instruments (Asylum Corporation), Thermo Fisher Scientific, Inc., and Zeiss Group.
Recent Developments
In December 2021, Nikon Corp., introduced a digital sight 10 microscope camera with crucial properties that acquire both color and monochrome images with a resolution of 6K pixels across a large field of view with single camera.
In November 2020, Olympus Corporation launched the LEXT OLS5100 Laser Microscope offering high levels of accuracy and precision required for sub-micron 3D observation and surface roughness measurement.
In April 2019, Zeiss acquired GOM GmbH for automated 3D coordinate measuring technology.
Microscopy Market Report Scope
| | |
| --- | --- |
| Report Attributes | Details |
| Market size value in 2022 | USD 7.27 billion |
| Revenue forecast in 2030 | USD 11.71 billion |
| CAGR | 6.1% from 2022 – 2030 |
| Base year | 2021 |
| Historical data | 2018 - 2020 |
| Forecast period | 2022 - 2030 |
| Quantitative units | Revenue in USD billion and CAGR from 2022 to 2030 |
| Segments Covered | By Application, By Product, By Type, By End Use, By Region |
| Regional scope | North America, Europe, Asia Pacific, Latin America; Middle East & Africa |
| Key Companies | Bruker Corp., CAMECA, Danaher Corporation, Hitachi High-Tech Corp., JEOL Ltd., Nikon Corp., NT-MDT SI, Olympus Corp., Oxford Instruments (Asylum Corporation), Thermo Fisher Scientific, Inc., Zeiss Group. |