The global mycoplasma testing market was valued at USD 628.2 million in 2019 and is expected to grow at a CAGR of 12.8% during the forecast period. Increasing cases of cell culture contamination, investments in research and development, and the introduction of novel technologies by key market players are the prominent factors responsible for market growth.
To overcome, the shortcomings in the currently employed cell culture systems, innovators in the market have developed more rapid and accurate mycoplasma testing systems. One such system includes Nucleic Acid-based Technology (NAT), introduced by American Type Culture Collection, which allows mycoplasma detection in cell culture within minutes.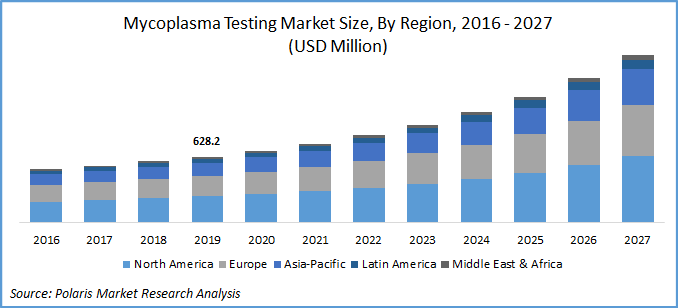 Know more about this report: request for sample pages
Industry Dynamics
Growth Drivers
Increasing research activities in the market by the pharmaceutical companies resulting in the adoption of newer technologies for the drug development processes. Significant investments by key companies have boosted mycoplasma testing market growth. For instance, in 2018, Boehringer announced to invest more than USD 259 million to establish new Biologicals Development Center (BDC) at its R&D site located in Germany. Merck also planned to make investments of USD 16 billion for its research and development activities. Such, huge spending on R&D is projected to scale up to significant developments, boosting the sale of mycoplasma testing products and services.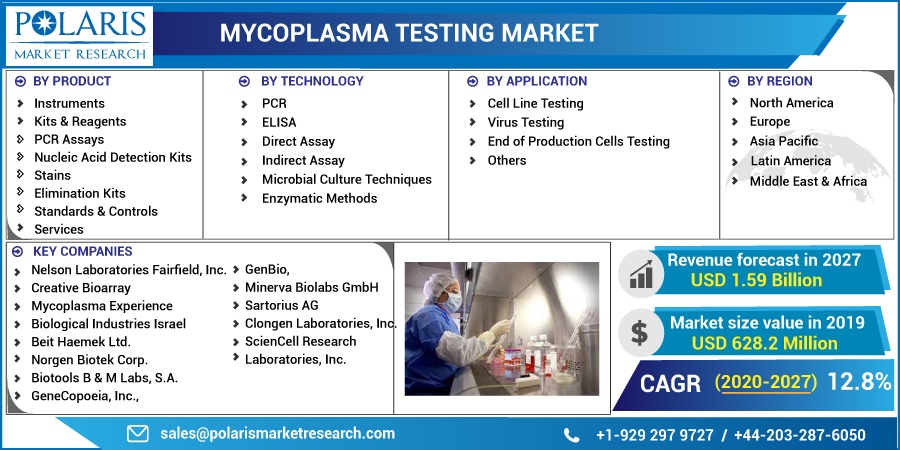 Know more about this report: request for sample pages
Moreover, research activities in the market in both biotechnology and pharma sectors are largely supported by several government organizations. For instance, in April 2019, the Food and Drug Administration (FDA), announced the amendment in regulations pertaining to the testing methods in the mycoplasma contaminations. With such amendments, the stakeholders would employ protective measures for possible mycoplasma contaminations. Thus, an increase in government funding towards research and development activities fostering the uptake in mycoplasma testing products.
Mycoplasma Testing Market Report Scope
The market is primarily segmented on the basis of product, technology, application, end-use, and region.
By Product

By Technology

By Application

By Region

Instruments
Kits & Reagents

PCR Assays
Nucleic Acid Detection Kits
Stains
Elimination Kits
Standards & Controls
Others

Services

PCR
ELISA
Direct Assay
Indirect Assay
Microbial Culture Techniques
Enzymatic Methods

Cell Line Testing
Virus Testing
End of Production Cells Testing
Others

North America (U.S., Canada)
Europe (France, Germany, UK, Italy, Spain, Netherlands, Austria)
Asia Pacific (Japan, China, India, Malaysia, Indonesia, South Korea)
Latin America (Brazil, Mexico, Argentina)
Middle East & Africa (Saudi Arabia, UAE, Israel, South Africa)
Know more about this report: request for sample pages
Insight by Product
On the basis of product, the global mycoplasma testing industry is bifurcated into instruments, reagents, and services. In 2019, the kits segment accounted for the largest revenue share. The continuous use of consumables in mycoplasma detection in research and other applications is primarily responsible for such market segment growth. PCR assays are the most accurate detection techniques, using gel electrophoresis, by verifying different bands of DNA fragments. For instance, Japan-based company, Takara Bio Inc. has introduced PCR mycoplasma sets to contain contamination in the cultured cells from different cell lines.
Instruments market segment expected to register a lucrative growth rate over the study period. The growing availability of automated systems in the market is responsible for such high market segment growth. For instance, Bio-Rad laboratories have developed a PCR-based CFX96 Touch PCR Detection System. This is a flexible PCR kit with advanced optical technology, which can deliver reliable service for both multiplex and singleplex reactions.
Insight by Application
In 2019, the cell line testing market segment accounted for the largest share, owing to the number of research activities in cell culture. Cell line testing is extremely useful in the pharmaceutical industry. The end of production cell testing market segment is projected to exhibit a lucrative market growth over the forecast period.
The growing number of clinical trials in the field of drug discovery and cell harvesting technology is primarily responsible for the growth of mycoplasma testing market. It involves mRNA sequencing, Southern Blotting, and genetic analysis using transgenes. Thereby, quality control measures involved during drug discovery are the major factor inducing such market growth.
Insight by Technology
Based on the technology, the global mycoplasma testing industry is bifurcated into PCR, ELISA, direct assay, indirect assay, microbial culture techniques, and enzymatic methods. In 2019, the PCR market segment accounted for the largest share. PCR enables the detection of a multitude of mycoplasma species with high specificity and efficiency. Its rapid detection ability and user-friendliness are the major advantages offered by such a technique. For instance, LookOut Mycoplasma PCR, developed by Merck, facilitated the detection of Ureaplasma, Acholeplasma, and Mycoplasma contamination in cell cultures.
Direct assays anticipated showcasing significant market growth rate over the study period. Its rapid adoption owing to its high level of certainty is the key reason for mycoplasma testing industry growth. Moreover, the high demand for microbial culture for contaminations and other research activities in the pharmaceutical industry is also favoring the market segment's growth prospects.
Geographic Overview
Geographically, the global mycoplasma testing industry is bifurcated into North America, Asia Pacific, Europe, Latin America, and Middle East & Africa. In 2019, the North America mycoplasma testing industry accounted for the largest revenue share, owing to investments by U.S.-based research institutions and higher healthcare spending to promote research activities in the pharmaceutical space. According to the estimates of the National Science Foundation, in 2019, the research and development activities in the U.S. showed a positive trend.
Asia Pacific mycoplasma testing industry is anticipated to show a lucrative growth rate over the study period. This projected growth is due to a positive funding scenario and significant awareness in countries such as India. The government of India has introduced several strategic initiatives to facilitate research and development activities on a larger scale. Moreover, regulatory policies on the guidelines of biosafety levels are also projected to create opportunities in the long-term.
Competitive Insight
The prominent players operating in the market include Thermo Fisher Scientific, Inc., Bionique Testing Laboratories, Inc., Lonza Group Ltd., Merck KGaA, Roche Diagnostics, Meridian Bioscience, Inc., Charles River Laboratories International, Inc., Savyon Diagnostics, American Type Culture Collection, InvivoGen, PromoCell GmbH.
Few other market players in the industry include Nelson Laboratories Fairfield, Inc., Creative Bioarray, Mycoplasma Experience, Biological Industries Israel Beit Haemek Ltd., Norgen Biotek Corp., Biotools B & M Labs, S.A., GeneCopoeia, Inc., GenBio, Minerva Biolabs GmbH, Sartorius AG, Clongen Laboratories, Inc., and ScienCell Research Laboratories, Inc.