The global periodontal scalers and curettes market was valued at USD 132.1 million in 2020 and is expected to grow at a CAGR of 14.6% during the forecast period. Periodontal scalers and curettes are used by dentists and hygienists for dental scaling procedures. Such treatments include the hardened plaques from dental surfaces and gingival roots.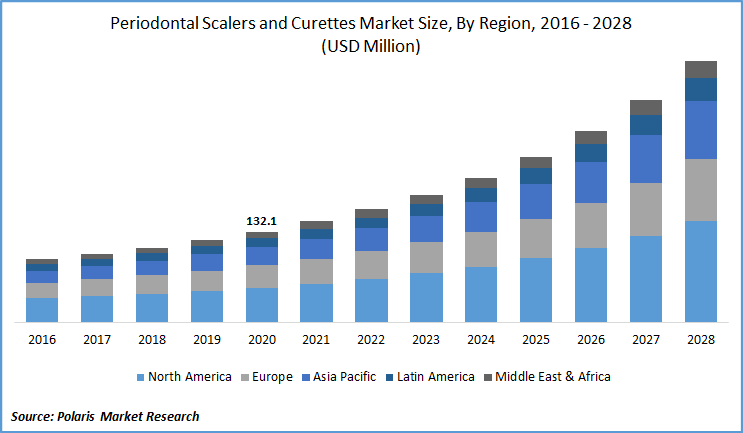 Know more about this report: request for sample pages
These procedures are recommended for patients with mild to moderate levels of gum problems and help to remove unwanted supra and sub-gingival sediments. Moreover, prominent factors like the high prevalence of dental caries, increasing the emphasis on dental beauty, and increasing dental spending on good oral hygiene expected to drive the periodontal scalers and curettes market growth.
Industry Dynamics
Growth Drivers
According to the FDI World Dental Federation, oral diseases have an impact of 3.9 billion people worldwide, with untreated dental caries affecting more than half of the world's population (44%), making it the most prevalent of the 291 diseases included in the Global Burden of Disease Study in 2019.
Periodontal gum disease (gingivitis and periodontitis) affected 50.0% of the adult population worldwide. As for the U.S. Center for Disease Control and Prevention (CDC), 84.9% of children aged 2-17 years, 64.0% of adults aged 18-64 years, and 65.6% of adults aged 65 and over had at least one dental visit in 2018.
Behavioral factors such as high smoking, alcohol consumption, unsanitary diet, and high sugar intake are the leading causes of dental conditions such as periodontitis and caries, which are the most common form of chronic disease encountered worldwide. This is usually seen in developing economies experiencing rapid urbanization. Good oral among millennials is also gaining spotlight as a social experience, where an individual has become more apprehensive.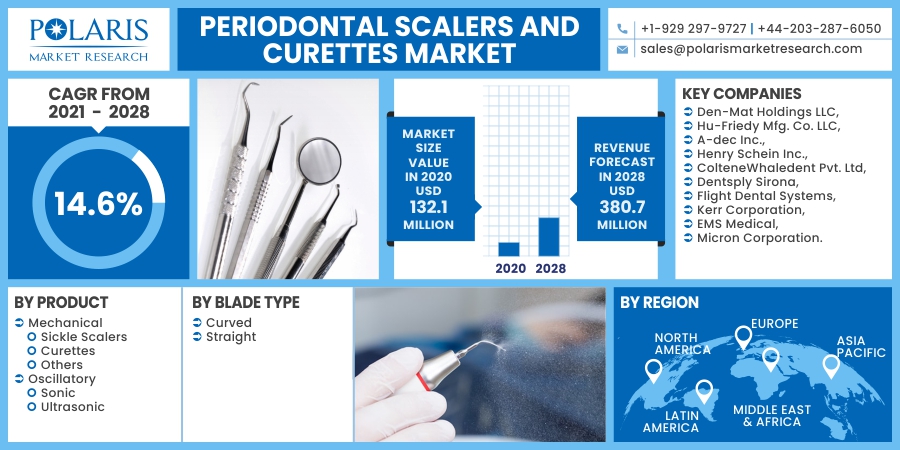 Know more about this report: request for sample pages
Periodontal Scalers and Curettes Market Research Scope
The market is primarily segmented on the basis of by product, blade type, and region.
By Product

By Blade Type

By Region

Mechanical

Sickle Scalers
Curettes
Others

Oscillatory

North America (U.S., Canada)
Europe (France, Germany, UK, Italy, Spain, Netherlands, Austria)
Asia Pacific (Japan, China, India, Malaysia, Indonesia, South Korea)
Latin America (Brazil, Mexico, Argentina)
Middle East & Africa (Saudi Arabia, UAE, Israel, South Africa)
Know more about this report: request for sample pages
Insight by Product
Amongst all, the oscillatory market segment held the largest share in the global market for periodontal scalers and curettes in 2020, these are power-driven scalers, as high vibrational energy is produced in the oscillation generator, which is then driven to the tip of the scaler. These are air-to-turbine units that run at extremely low frequencies between 3000 to 8000 cycles/second.
Ultrasonic scalers are powered by generators that transform energy into ultrasonic waves and a tip acceleration of between 20,000 and 40,000 cycles per second. These scalers are commonly used by dental practitioners as they tend to be highly effective in tearing down calculus formation over scalers. Mechanical scalers are the dental instruments used to manually extract stones from developmental and blood grooves in teeth.
Insight by Blade Type
On the basis of application, the global market for periodontal scalers and curettes is categorized into curved and straight. The curved blade market segment had the largest revenue share of the periodontal scalers and curettes market in 2020. The market segment is predicted to witness a substantial growth rate over the market study period. The section of the blade type is classified into curved and straight blades.
Curved or angled products are primarily used for posterior teeth, which are difficult to access. These help to enhance accessibility to premolars and molars. Straight scaler is commonly used for removing calculus accumulated across the teeth, including the lateral incisors, central incisors, and canines.
Geographic Overview
North America dominated the global market periodontal scalers and curettes, accounting for a revenue share of over 38% in 2020. The region is anticipated to witness a substantial market growth for periodontal scalers and curettes over the forecast period. This is due to a growing population with a prevalence of dental disorders, a high emphasis on good oral health, the presence of key players, and the development of preventive dental treatments.
In addition, 85.0% of people in the U.S. appreciate their dental health and good oral health to be a critical part of the overall treatment. The combination of the above factors is expected to drive the region's market growth for periodontal scalers and curettes over the forecast period.
In Asia Pacific, the market demand for the periodontal scalers and curettes is projected to have the highest CAGR over the forecast period. The Asia Pacific countries are densely populated with a high burden of dental disease due to factors pertaining to behaviors. Such countries are also famous for their low cost of care and surgery is, therefore, a favored market for medical tourism. These factors are driving market growth for periodontal scalers and curettes in the region.
Competitive Insight
Some of the major players operating the global market for periodontal scalers and curettes include Den-Mat Holdings LLC, Hu-Friedy Mfg. Co. LLC, A-dec Inc., Henry Schein Inc., ColteneWhaledent Pvt. Ltd, Dentsply Sirona, Flight Dental Systems, Kerr Corporation, EMS Medical, and Micron Corporation.