The global referral management market was valued at USD 2.87 billion in 2021 and is expected to grow at a CAGR of 13.79% during the forecast period.
The primary drivers of the market growth are technological developments in the healthcare system, rising adoption of digital solutions, different advantages of automated referral processes, and increased funding for incorporating healthcare IT solutions. The increasing number of geriatrics and the resulting disease burden will drive even more demand for referral management services.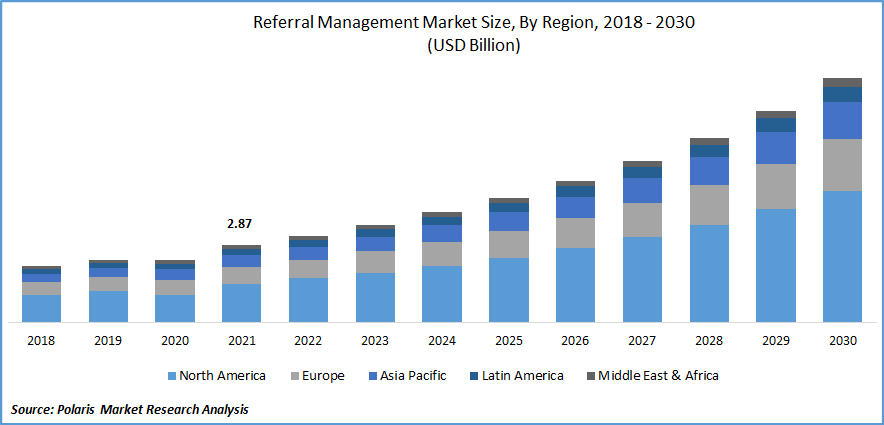 Know more about this report: Request for sample pages
A referral management system is a distinctive and powerful tool that allows the medical field to track patient referrals across the patient journey. The primary goal of this system is to enhance and recognition process among primary-care physicians, professionals, and any other healthcare practitioners involved in a patient's care.
Globally, advanced technology and the advancing healthcare sector in developing countries are predicted to remain significant growth factors for referral management systems mostly during the study period.
The continued growth of virtual care will drive the market forward. Furthermore, the rising patient number is expected to increase the need for consultation management services exponentially. Implementing interoperable alternatives to manage the patient flow of money effectively will result in profitability and growth for the market.
The players are engaged in intense competition in the market. With technological solutions and upgrades, several more new players enter the market. The players participate in research and development activities to explore new techniques. These operations ensure constant development and result in the uncovering of insights that help players increase their revenues, thereby contributing to the expansion of the market.
Strategic partnerships are also a crucial component of the referral managerial market's growth path. For instance, in December 2021, Clouded, the leader in economic planning and development, acquired par8o, an innovative medical technology company specializing in 340B and patient referral management systems for healthcare providers. This merger expands Cloudmed's 340B Discovery Services capabilities and enhances its CloudmedAI system with par8o's advanced machine learning software.
Furthermore, AristaMD, a US-based company offering e-consult, or online health discussion and referral business solutions, acquired Preferral for an undisclosed sum in January 2021. This acquisition will assist AristaMD in developing new referral management technologies. It would also aid in the advancement of care and the provision of services at a lower cost. These factors are boosting the market growth over the forecast period.
The COVID-19 pandemic initially impacted medical practices of all sizes due to the interruption of care provided to a large number of patients. As the number of COVID-19 patients continued to increase, so did the supply of precise diagnosis and treatment throughout various countries. Because of the requirement for social distance among doctors and patients, the continued growth of virtual care has boosted the utilization of telehealth and referral management software and services.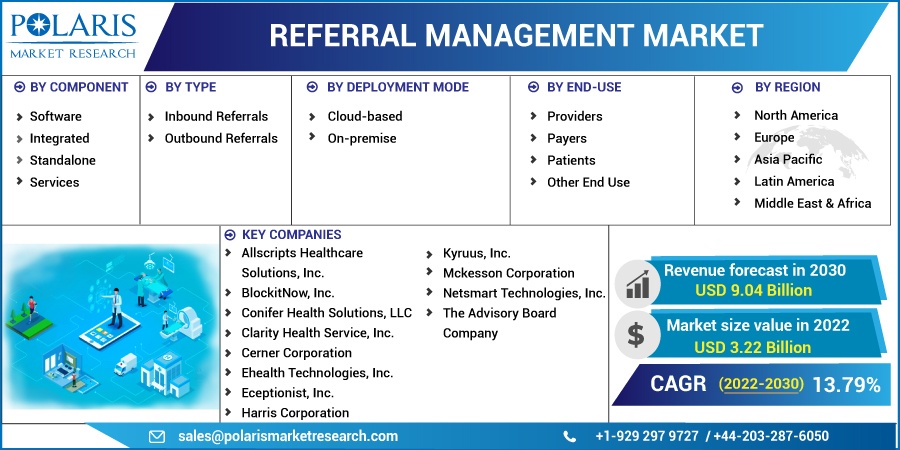 Know more about this report: Request for sample pages
Industry Dynamics
Growth Drivers
Factors including technological developments in healthcare facilities and the growing adoption of referral management systems by healthcare professionals to provide better patient care are boosting the growth in the market.
Many healthcare providers are implementing referral management solutions to enhance their day-to-day operations. For example, In September 2022, ReferralMD announced the most recent version of its Customer Relationship Management (CRM) alternative for healthcare. The PRM/CRM solution from ReferralMD enables marketing departments and referral organizers to organize their insurance companies, document outreach activity, enhance customer service, and keep driving increased referral volume.
Furthermore, government initiatives from around the world are expected to drive the implementation of relevant IT solutions to enhance the healthcare scenario. In India, in June 2022, the Karnataka government launched the Ayushman Bharat-Arogya internet referral system. The program is expected to help increase the need for patient referral software while improving patient healthcare demands at a low cost.
Report Segmentation
The market is primarily segmented based on component, type, deployment mode, end-use, and region.
By Component

By Type

By Deployment Mode

By End-Use

By Region

Inbound Referrals
Outbound Referrals

Providers
Payers
Patients
Other End Use

North America (U.S., Canada)
Europe (France, Germany, UK, Italy, Netherlands, Spain, Russia)
Asia Pacific (Japan, China, India, Malaysia, Indonesia, South Korea)
Latin America (Brazil, Mexico, Argentina)
Middle East & Africa (Saudi Arabia, UAE, Israel, South Africa)
Know more about this report: Request for sample pages
The inbound type segment is expected to witness the fastest growth in 2021
In a single chance, inbound referrals are obtained from numerous sources such as fax, emails, mobile, and walk-ins. The assisting analytical tools offer performance measures of the patient's ongoing process and historical data that can be re-targeted in possessing the patients, enhancing their satisfaction, and attracting new clients.
The increasing need for faster referral processing, better communication among healthcare professionals, and digitalization are expected to drive the implementation of inbound referrals. Introducing new patients regularly is essential for boosting the revenue of medical practices.
In addition to promoting connectivity with insurance companies, constructing a trustworthy referral program is an excellent method for acquiring new clients. Referral clients are happier and more profitable than regular patients. It implies that a referral program should be included in the marketing toolkit of any medical practice. The most significant benefit of a physician referral program is that it creates a steady stream of new patients.
The cloud-based segment industry accounted for the highest market share in 2021
Cloud-based solutions, among other things, offer on-demand self-service insights, low initial capital investment for hardware, and remarkable capacity flexibility. This industry has seen rapid growth. A cloud database is a real-time collection of data that synchronizes data to all connected clients. A cloud-based referral platform allows for two-way communication between health providers and the general public. In August 2019, Moorfields Eye Hospital researchers collaborated with Big Picture to create a cloud-based solution determining whether patients need to be referred to a hospital.
In addition, customer referral software uses phone apps and social communication methods that can be easily integrated with the cloud system. Furthermore, the company offers various cloud solutions expected to propel the market's cloud segment. Cloud-based services are gaining popularity due to the numerous advantages they offer. The solutions can be used anywhere, and the information can be accessed from anywhere. As a result, participants in the market are mainly concentrating on cloud-based solutions.
Patients are expected to hold the significant revenue share
Patient referral systems are becoming more popular as the geriatric population grows and the prevalence of chronic illnesses rises. Patients are assessed by healthcare providers based on diagnostic test measures, after which they are transferred to specialists based on their care needs.
Because of the increasing burden of patient referrals, the provider segment held the largest share. The majority of patients are attended to by healthcare providers, who serve as the first point of contact for a variety of general and specialized health issues. As a result, providers maintain a large pool of patients for referral to various hospitals and segments.
The demand in North America is expected to witness significant growth
Geographically, North America dominates the global market due to rapid development, an increasing penetration rate of these systems in healthcare practices, and well-established infrastructural facilities. Because of increasing technological advancements in healthcare IT and the increasing adoption of patient referral software applications, North America dominated the market.
The COVID-19 global epidemic has accelerated advances in cloud computing and health monitoring. For example, in April 2020, GE Healthcare launched a cutting-edge cloud-based remote monitoring solution to assist doctors with COVID-19 patients. Furthermore, in June 2022, Think Research Corporation, a Canadian provider of health insurance software solutions, announced that it had decided to expand its Ontario eReferral Scheme with Caredove. The eReferral interprocess communication is anticipated to assist clinical customers in communicating with over 100 community assistance programs and homes.
The increasing patient volume, which has helped boost a system that ensures end-to-end client care to guarantee healthy recovery, will drive the expansion of the APAC market. Several factors, including the implementation of federal initiatives to incorporate HCIT solutions, increased government expenditure on healthcare, and the existence of a huge patient pool in majorly populous nations such as China and India, are expected to fuel the expansion of the Asia Pacific referral management market. Furthermore, the region's growing geriatric population, as well as the resulting burden on hospitals and medical organizations, will provide opportunities for growth in the market.
Competitive Insight
Global players include Allscripts Healthcare, BlockitNow, Inc., Conifer Health Solutions, Clarity Health Service, Cerner Corporation, E-health Technologies, Inc., Eceptionist, Inc., Harris Corporation, Kyruus, Inc., Mckesson Corporation, Netsmart Technologies, and Advisory Board Company.
Recent Developments
In July 2022, N1X10, a corporation that aims to empower patients to fight cancer through collaboration with oncology specialists constantly, joined forces with eHealth Technologies to fetch and convert large amounts of medical data.
Referral Management Market Report Scope
| | |
| --- | --- |
| Report Attributes | Details |
| Market size value in 2022 | USD 3.22 billion |
| Revenue forecast in 2030 | USD 9.04 billion |
| CAGR | 13.79% from 2022 - 2030 |
| Base year | 2021 |
| Historical data | 2018 - 2020 |
| Forecast period | 2022 - 2030 |
| Quantitative units | Revenue in USD billion and CAGR from 2022 to 2030 |
| Segments Covered | By Component, By Type, By End-Use, By Deployment Mode, By Region |
| Regional scope | North America, Europe, Asia Pacific, Latin America; Middle East & Africa |
| Key Companies | Allscripts Healthcare Solutions, Inc., BlockitNow, Inc., Conifer Health Solutions, LLC, Clarity Health Service, Inc., Cerner Corporation, Ehealth Technologies, Inc., Eceptionist, Inc., Harris Corporation, Kyruus, Inc., Mckesson Corporation, Netsmart Technologies, Inc., and The Advisory Board Company |