The global ski poles market was valued at USD 127.29 million in 2022 and is expected to grow at a CAGR of 3.5% during the forecast period. Skiers utilize ski poles for propulsion as well as better balance and timing. Ski poles were initially just stuck, then bamboo, and finally steel. Aluminium ski poles are still one of the most popular ski pole kinds on the market, although composite ski poles are significantly lighter and stronger. Before correct turning skills were established, skiers used poles for hunting. One pole served as a means of balance and braking, while the other featured a spearhead or sharpened tip that could be used as a spear.
To Understand More About this Research: Request a Free Sample Report
The majority of poles have interchangeable straps, handles, baskets, and ferrules. Because there is a chance of wrist damage if the pole should snag on an unnoticed branch or root, the wrist strap is often not utilised when skiing in the backcountry. The only forms of skiing that do not include the use of poles are ski jumping, ski carving, aerials, and skiboarding.
One of the most well-liked winter sports in the world, skiing is also acknowledged by several governing bodies like the International Ski Federation (FIS) and the International Olympic Committee as a competitive activity (IOC). Ski poles are among the most crucial pieces of gear in this activity, and the rising need for expensive poles is increasing as skiing becomes more and more popular as a leisure and competitive sport. One of the most well-liked developments in the industry is the use of a range of raw materials, such as carbon fibre and aluminium, to bring unique features.
The market is expanding as more people choose to engage in different types of skiing, fueling a significant increase in the demand for the ski poles. Also, a well-known Australian manufacturer called Atomic Ski is working to incorporate clever and effective shake technology into a variety of ski poles. The firm is concentrating its efforts on ski poles that are equipped with aluminium/carbon pole technology. Customers benefit from the ski poles' rigidity, lightness, and longevity owing to this technology. Major manufacturers are concentrating on expanding their product profiles and enhancing client brand identification through the use of sophisticated technology solutions in a variety of ski poles.
The worldwide economy has been severely impacted by the COVID-19 pandemic. Although huge firms were also impacted, small enterprises were primarily impacted. The COVID-19 lockout also harmed market demand, which temporarily decreased consumer interest in various travel and tourism activities and hampered market expansion.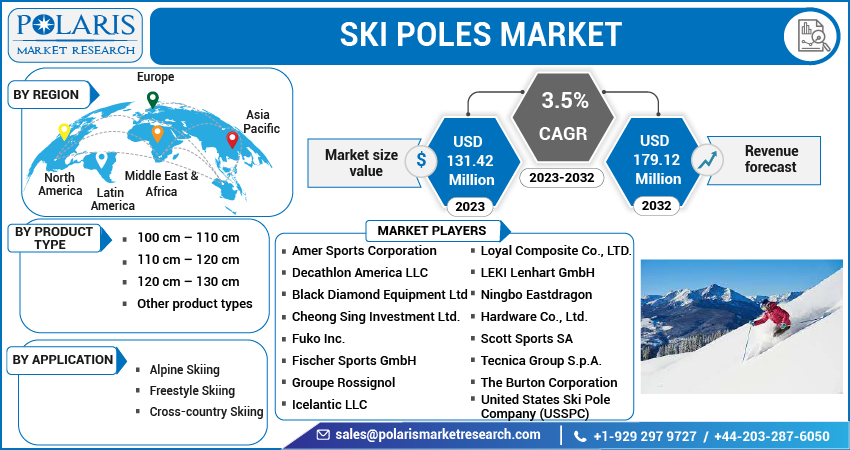 For Specific Research Requirements, Request a Customized Report
Industry Dynamics
Growth Drivers
Broader participation in international sports events would open up lucrative growth prospects for top manufacturers boosting the growth of the ski poles market over the forecast period. Skiing has maintained its appeal worldwide as more people watch international sporting events like the Olympics. For instance, the National Bureau of Statistics of China estimates that 300 million participants competed in ice and snow sports during the 2022 Winter Olympic and Paralympic Games in China. Moreover, there have been 10.5 million users snowboarders and skiers in the United States in 2021. For instance, 224 athletes from either the United States and 217 athletes from Canada will compete in the Olympics in Beijing.
Moreover, the addition of snowboarding and skiing shows to broadcast companies' portfolios is another strategy for diversifying their offerings, which has resulted in a rise in consumer demand for ski boards and other gear. Leading producers are concentrating on shifting their investment towards building a unique range of ski equipment that caters to the wants of numerous clients, banking on the expanding preferences and requirements of the consumers. Also, compared to other places, the number of skiers in various European nations is projected to stay high. In the upcoming years, this tendency is probably going to persist in several European nations.
Report Segmentation
The market is primarily segmented based on product type, application, and region.
By Product Type

By Application

By Region

100 cm – 110 cm

110 cm – 120 cm

120 cm – 130 cm

Other product types

Alpine Skiing

Freestyle Skiing

Cross-country Skiing

North America (U.S., Canada)

Europe (France, Germany, UK, Italy, Netherlands, Spain, Russia)

Asia Pacific (Japan, China, India, Malaysia, Indonesia. South Korea)

Latin America (Brazil, Mexico, Argentina)

Middle East & Africa (Saudi Arabia, UAE, Israel, South Africa)
For Specific Research Requirements: Request for Customized Report
Freestyle Skiing segment is expected to witness the fastest growth over the forecast period
Aerials, moguls, cross, half-pipe, slopestyle, and big air are all types of skiing competitions that fall under the category of "freestyle skiing" in the Winter Olympics. The popularity of this application is rising as more people sign up to compete in the Olympics. Also, Skiers who compete in giant slalom select between straight and bent poles depending on their preferences and the circumstances. Because the pace of giant slalom courses can vary substantially, aerodynamic drag is less important on slower courses.
Racing poles have distinctive qualities all their own. These are used in the slalom skiing because of the slower speeds and more reliance such poles. Slalom poles frequently have protection affixed to the grip to prevent gates from striking the pole. Thus, the segment is boosting with the fastest growth.
Cross country skiing segment accounted for the largest market share in 2022
The segment is holding the largest share due to its various benefits for the users. Cross-country skiers use their arms to propel themselves forward on the snow while utilising poles, which can also add stability. The technique when poling is crucial in cross-country skiing competitions, especially during mass starts where double-poling is the primary form of propulsion.
Cross-country skiing requires longer poles due to various tactics. With the classic style, the pole length is commonly measured from the skier's armpit to the ground. The length of the pole for the skating method is normally measured from the ground to the skier's top lip. These length choices strike a compromise between technical considerations and maximal thrust. Size charts are typically offered by manufacturers of Nordic ski poles. Thus, the various advanced features of cross-country skiing are developing the growth of the segment.
The demand in North America is expected to witness significant growth
Winter sports such as skiing involve individuals using skis to move through the snow. Such games were typically exclusively practised in cold climates throughout the winter, but manufactured ice and snow allow for greater flexibility. Snow cover is vital for regulating climate because of its reflecting qualities. As per the National Centers for Environmental Information, in North America, there were 15.5 million square kilometres of snow in January 2021. The area of snow cover in the Northern Hemisphere in February 2023 was 45.53 million square kilometres (17.58 million square miles), 170,000 square kilometres (70,000 square miles) less than the average from 1991 to 2020.
When compared to other significant regions, the high number of buyers who take up skiing as a recreational sport in countries like the US and Canada may be the cause of this rise. Due to an increase in global trade, North America is predicted to experience significant market expansion. Region's disposable income of individuals has grown rapidly, functioning as the main market driver as middle- & high-income consumers in urban areas to luxury goods and services. This encourages people to make investments in leisure activities. Also, it is anticipated that shortly, demand for ski equipment and gear would increase due to the growing number of female skiers as a result of businesses developing new products and technology geared toward women's safety.
Further, due to encouraging government and private organisational support for the development of snow sports zones and resorts in nations like India, and China, which results in a high average consumption of such products in the region, the Asia Pacific region is anticipated to have the fastest market growth. The market is being influenced by a rise in the number and popularity of sporting events, a rise in consumer interest in outdoor sports, a rise in household income, and an increase in the supply of cutting-edge product offerings. There is also growing knowledge of the mental and physical health advantages of winter sports.
Competitive Insight
Some of the major players operating in the global ski poles market include Amer Sports Corporation, Decathlon America LLC, Black Diamond Equipment Ltd, Cheong Sing Investment Ltd., Fuko Inc., Fischer Sports GmbH, Groupe Rossignol, Icelantic LLC, Loyal Composite Co., LTD., LEKI Lenhart GmbH, Ningbo Eastdragon Hardware Co., Ltd., Scott Sports SA, Tecnica Group S.p.A., The Burton Corporation, and United States Ski Pole Company (USSPC),
Recent Developments
In March 2021, Black Diamond Equipment joined forces with NuORDER. By bringing together two industry experts in related disciplines, this alliance denotes the outdoor industry's accelerated transition to digital. Black Diamond will be able to perform online and in-person sales presentations with ease owing to NuORDER's platform, which offers its suppliers a B2C-like level of comfort.
Ski Poles Market Report Scope
| | |
| --- | --- |
| Report Attributes | Details |
| Market size value in 2023 | USD 131.42 million |
| Revenue forecast in 2032 | USD 179.12 million |
| CAGR | 3.5% from 2023- 2032 |
| Base year | 2022 |
| Historical data | 2019- 2021 |
| Forecast period | 2023- 2032 |
| Quantitative units | Revenue in USD million and CAGR from 2023 to 2032 |
| Segments Covered | By Product Type, By Application, By Region |
| Regional scope | North America, Europe, Asia Pacific, Latin America; Middle East & Africa |
| Key Companies | Amer Sports Corporation, Decathlon America LLC, Black Diamond Equipment Ltd, Cheong Sing Investment Ltd., Fuko Inc., Fischer Sports GmbH, Groupe Rossignol, Icelantic LLC, Loyal Composite Co., LTD., LEKI Lenhart GmbH, Ningbo Eastdragon Hardware Co., Ltd., Scott Sports SA, Tecnica Group S.p.A., The Burton Corporation, and United States Ski Pole Company (USSPC), |