The global ultrasound devices market was valued at USD 8.19 billion in 2022 and is expected to grow at a CAGR of 4.7% during the forecast period. The increasing adoption of ultrasound devices for diagnostic imaging and treatment, rising demand for minimally invasive surgery, and advancements in ultrasound imaging technology are driving the market growth. Ultrasound is a valuable diagnostic tool in medical imaging due to its speed, cost-effectiveness, and safety compared to other imaging technologies that use ionizing radiation and magnetic fields.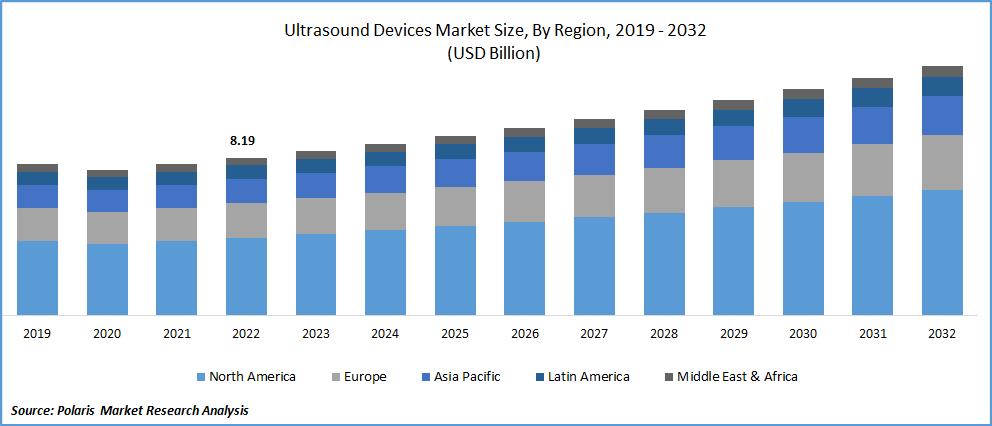 Know more about this report: Request for sample pages
Several technological advancements, such as increasing portability, enhancing image quality, improving battery technology, and improving overall performance, are synergistically evolving ultrasound technology into a high-performance and affordable imaging tool accessible to a wider user base. Similarly, extensive research and development are underway to incorporate miniaturization, intuitive interfaces, and software-driven platforms in this technology.
In the future, as ultrasound is becoming an integral aspect of healthcare, many private companies and public institutions are investing in research and development of novel technologies in the field of ultrasound imaging. The government is taking initiatives to spread awareness among the masses regarding breast cancer, fetal health, and other health-related issues, thereby creating awareness among the people.
In addition, the rising tide of the so-called grey tsunami with several chronic ailments coupled with the lower cost and relative safety are boosting market growth together. Improving healthcare infrastructure and increasing disposable incomes in developing countries further fuel the market growth.
Ultrasound has several applications in the fields of diagnosis and treatment, and unexplored areas of application are being identified, which has led to its wider adoption across the globe. However, the need for more skilled professionals is causing the under-usage of ultrasound devices. Also, stringent FDA regulations govern the usage of this technology.
Furthermore, in several developing countries, gender determination is illegal, and pre-natal diagnostic ultrasound is misused for child sex determination, which hampers the ultrasound device market growth. Novel fields of application, such as the use of High-Intensity Focused Ultrasound (HIFU) for treating prostate, breast, and kidney cancers, and ultrasound-medication drug delivery, and untapped markets in developing countries provide several opportunities for growth in the years to come.
The COVID-19 pandemic has had a significant impact on the ultrasound devices market. While the demand for diagnostic imaging equipment like ultrasound devices remained strong, the pandemic resulted in a decline in non-urgent procedures and elective surgeries, leading to a temporary slowdown in the market. In addition, supply chain disruptions and restrictions on international trade due to lockdown measures led to delays in the production and distribution of ultrasound devices, causing a shortage of equipment in some regions.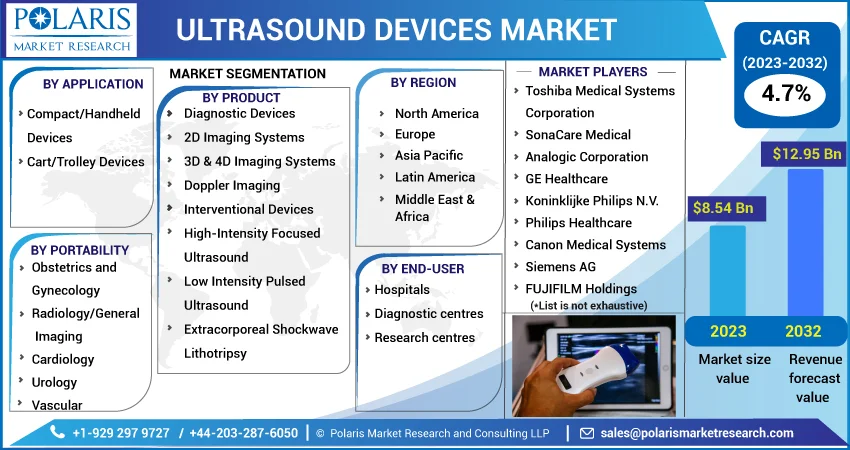 Know more about this report: Request for sample pages
Industry Dynamics
Growth Drivers
Increasing demand for diagnostic imaging and treatment. This is fueled by a growing prevalence of chronic and lifestyle-related disorders, which require regular imaging and monitoring to manage effectively. Additionally, the rising demand for minimally invasive surgery drives the adoption of ultrasound devices, which can guide procedures and reduce the risk of complications.
Ultrasound devices are technological advancements in ultrasound imaging technology. These advancements have significantly improved image quality, enabling more accurate diagnoses and treatment planning. Furthermore, compared to other imaging technologies such as CT scans and MRIs, the safety and cost-effectiveness of ultrasound make it a valuable tool in medical imaging. For instance, In June 2022, Mindray introduced a new ultrasound machine called Imagine I9, specifically designed to cater to the requirements of busy obstetrics and gynecology practices.
Another important driver of the ultrasound devices market is the increasing adoption of ultrasound devices for point-of-care and emergency settings. Portable and handheld ultrasound devices are becoming increasingly popular due to their ease of use and ability to provide rapid diagnostic information in various stages. The COVID-19 pandemic has accelerated the adoption of telemedicine and remote patient monitoring, leading to an increased demand for portable ultrasound devices that can be used for remote consultations and monitoring.
Report Segmentation
The market is primarily segmented based on product type, portability, application, end-use, and region.
By Product Type

By Portability

By Application

By End-Use

By Region

Diagnostic Devices

2D Imaging Systems

3D & 4D Imaging Systems

Doppler Imaging

Interventional Devices

High-Intensity Focused Ultrasound

Low Intensity Pulsed Ultrasound

Extracorporeal Shockwave Lithotripsy

Compact/Handheld Devices

Cart/Trolley Devices

Obstetrics and Gynecology

Radiology/General Imaging

Cardiology

Urology

Vascular

Others

Hospitals

Diagnostic centres

Research centres

Others

North America (U.S., Canada)

Europe (France, Germany, UK, Italy, Netherlands, Spain, Russia)

Asia Pacific (Japan, China, India, Malaysia, Indonesia, South Korea)

Latin America (Brazil, Mexico, Argentina)

Middle East & Africa (Saudi Arabia, UAE, Israel, South Africa)
Know more about this report: Request for sample pages
Diagnostic devices segment accounted for the largest revenue share in 2022
The diagnostic devices segment is a significant market driver, accounting for the largest revenue share. This segment is driven by the increasing prevalence of lifestyle-related disorders and the demand for advanced diagnostic tools in various medical fields such as obstetrics, cardiology, and oncology. Diagnostic ultrasound devices offer a non-invasive and cost-effective method for diagnosing different medical conditions, making them an essential tool for medical professionals.
In addition, technological advancements such as miniaturized 2D and 3D/4D imaging have significantly contributed to the growth of the diagnostic devices segment in the market. These advancements have enabled healthcare professionals to obtain high-quality diagnostic images and provide accurate diagnoses and treatment recommendations. Furthermore, the increasing demand for portable and handheld ultrasound devices for point-of-care and emergency settings has also driven the growth of the diagnostic devices segment.
Cart/trolley segment holds the largest revenue share
The cart/trolley-based segment holds the largest revenue share due to its ability to transport the machine to the patient's location, making it easier to diagnose and treat patients without transferring critically ill patients. Additionally, cart/trolley-based ultrasound devices are widely used in emergency departments and intensive care units, contributing to their high demand.
The compact/handheld segment is expected to grow faster during the forecast period due to the increasing demand for home healthcare and remote patient monitoring, where compact/handheld devices are used during the COVID-19 pandemic. Furthermore, technological advancements such as miniaturization and improved imaging capabilities are expected to boost the adoption of handheld ultrasound devices.
Radiology/general imaging segment accounted for the highest share
The radiology/general imaging segment accounts for the highest revenue share. Increasing use of ultrasound devices for diagnosing abdominal disorders and the rising number of abdominal examinations. General imaging is less expensive and easy to handle technology. For diagnosis and treatment, clinicians require various body scans, including thyroid, musculoskeletal, spleen, small parts, liver, pancreas, bladder, urology, scrotum, kidneys, abdominal, and gallbladder.
During the forecast period, the obstetrics and gynecology segment is expected to experience the fastest growth. This growth is primarily due to ultrasound devices' preference as a diagnostic modality for obstetrics and gynecological conditions, such as pregnancy, reproductive, and fertility issues. This preference is expected to drive the growth of the industry.
Hospitals segment holds the largest revenue share in 2022
The hospital segment dominated the market and has the largest revenue share. This segment is expected to maintain its lead in the projected period, owing to the widespread use of ultrasound devices in hospital settings and the growing number of patients with lifestyle-related disorders seeking medical attention.
The demand for ultrasound devices in both outpatient and inpatient departments is expected to increase with the introduction of portable systems. Also, the collaborations with the market players and hospitals are raising which involve the installation and performance qualification systems that drive the growth of ultrasound devices in hospital segment.
North America dominated the global market in 2022
North America dominated the market and is its largest globally and will continue its dominance over the forecast years. Due to increasing technological advancements, rising demand for minimally invasive diagnostic procedures, and the high adoption of ultrasound devices in various medical applications. In this region United States is largest market driven by the high prevalence of chronic diseases, well-established healthcare infrastructure, and the increasing demand for minimally invasive diagnostic procedures
However, the Asia Pacific is expected to witness significant growth in the coming years, due to increasing healthcare expenditure, rising awareness about the benefits of early disease diagnosis, and the expanding patient pool. The region also offers substantial growth opportunities for market players due to many untapped markets and the rising demand for advanced ultrasound devices.
Competitive Insight
Some of the major players operating in the global market include Toshiba Medical Systems Corporation, SonaCare Medical, Analogic Corporation, GE Healthcare, Koninklijke Philips N.V., Philips Healthcare, Canon Medical Systems, Siemens AG, FUJIFILM Holdings Corporation Hitachi Medical Corporation, Esaote S.p.A. Samsung Medison, Shimadzu Corporation and Mindray Medical International Limited.
Recent Developments
In February 2023, GE Healthcare will acquire Caption Health, a company that offers FDA-approved, AI-powered diagnostic imaging solutions. This acquisition is expected to expand the use of ultrasound technology and provide support to new users.

In December 2022, Siemens Healthineers Ultrasound has introduced an AWS Remote Services platform that offers diagnostic, functional, and financial solutions for various clinical areas. This platform is designed to cater to the specific needs of healthcare providers and is powered by AWS, making it easily accessible and efficient.
Ultrasound Devices Market Report Scope
| | |
| --- | --- |
| Report Attributes | Details |
| Market size value in 2023 | USD 8.54 billion |
| Revenue forecast in 2032 | USD 12.95 billion |
| CAGR | 4.7% from 2023 – 2032 |
| Base year | 2022 |
| Historical data | 2019 – 2021 |
| Forecast period | 2023 – 2032 |
| Quantitative units | Revenue in USD billion and CAGR from 2023 to 2032 |
| Segments Covered | By Product Type, By Portability, By Application, By End-Use, By Region |
| Regional scope | North America, Europe, Asia Pacific, Latin America; Middle East & Africa |
| Key Companies | Toshiba Medical Systems Corporation, SonaCare Medical, Analogic Corporation, GE Healthcare, Koninklijke Philips N.V., Philips Healthcare, Canon Medical Systems, Siemens AG, FUJIFILM Holdings Corporation Hitachi Medical Corporation, Esaote S.p.A. Samsung Medison, Shimadzu Corporation and Mindray Medical International Limited. |