The global veterinary reference laboratory market was valued at USD 3.73 billion in 2021 and is expected to grow at a CAGR of 10.9% during the forecast period. The rising trend of pet adoption, increasing need for dietary products and meat originating from animals, and rise in animal healthcare expenses have surged the veterinary reference laboratory market's growth.
Know more about this report: request for sample pages
Nonetheless, the expanding number of veterinary reference laboratory professionals and their rising income levels in developed nations, and increased awareness of animal illnesses are expected to drive the global veterinary reference laboratory market over the forecast period.
The veterinary reference laboratory specializes in the high value of animal health diagnostic tests and international services. Clinical Chemistry, cytopathology, hematology, urinalysis, endocrinology, parasitology, microbiology, histopathology, and serology are among the testing services provided by the reference laboratory. COVID-19 testing volumes on humans and animals keep rising as the disease's incidence spreads worldwide. As a result, players and reference laboratories have been compelled to develop new and improved animal testing.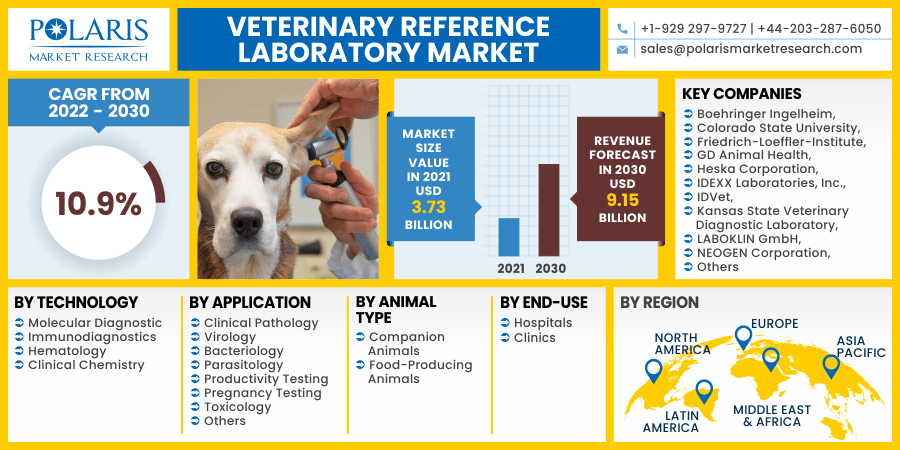 Know more about this report: request for sample pages
Industry Dynamics
Growth Drivers
Companion animals, dogs, and cats have seen considerable growth in population over the years. Generally, for social connections, people opt cats and dogs, and their ties with humans bring mutual mental health advantages in most cases.
Despite the global spread of COVID-19 infection, social distancing measures such as the work-from-home policy have been strengthened worldwide. In addition to lack of employment, the average number of hours spent at home by the general public has grown significantly since the pandemic compared to the same seasons in 2019, which significantly increased the need for companion animals. According to Frontiers Media S.A., The global relative search volume (RSV) for pets adoption surged in April 2020, during the COVID-19 pandemic.
Similarly, cat adoption interest rose between the 10th and 16th of May 2020. For pet (40), dog (58), and cat (21), these were significantly higher than the 5-year global RSV norm. Thus, the high adoption rate of companion animals in the urban population, rising urbanization has contributed to increasing per capita expenditure on animal health. The global market of veterinary reference laboratories is being propelled forward by raising public awareness of animal health.
Report Segmentation
The market is primarily segmented on the basis of technology, application, animal type, end-use, and region.
By Technology

By Application

By Animal Type

By End-Use

By Region

Molecular Diagnostic
Immunodiagnostics
Hematology
Clinical Chemistry

Clinical Pathology
Virology
Bacteriology
Parasitology
Productivity Testing
Pregnancy Testing
Toxicology
Others

Companion Animals
Food-Producing Animals

North America (U.S., Canada)
Europe (France, Germany, UK, Italy, Spain, Netherlands, Austria)
Asia Pacific (Japan, China, India, Malaysia, Indonesia. South Korea)
Latin America (Brazil, Mexico, Argentina)
Middle East & Africa (Saudi Arabia, UAE, Israel, South Africa)
Know more about this report: request for sample pages
Insight by Technology
The clinical chemistry technology segment dominates the animal specialist reference lab market growth based upon technology due to its numerous uses in monitoring and disease diagnosis. Clinical chemistry tests measure the function and capability of the entire metabolism and organs by analyzing body fluids such as blood and urine. These variables provide crucial information for disease diagnosis and surveillance.
Sample collection, analysis, and consultation are all part of this technology. This process uses an automatic analyzer, a pH meter, an osmometer, and an immulite automated chemiluminescent immunoassay system.
The segment is likely to grow as more immunodiagnostic kits for veterinary reference laboratory application, such as sophisticated diagnostic technologies and immunoassay methods, are adopted. Due to increased initiatives for animal health care and the availability of cost-effective tools for illness diagnosis and management, this segment is expected to rise significantly during the forecast periods.
Insight by Application
Based on application, the clinical pathology segment has witnessed the largest market share as of 2021 due to the growing awareness for pet healthcare and the rise in pathology tests for routine pet health monitoring. In hematology, diagnostic cytology, immunology, urinalysis, clinical chemistry, clinical pathology provides high-quality, rapid, thorough, and accurate lab tests of animal specimens. The pathology offers professional consultation for results as part of this service.
The toxicology segment is further expected to witness substantial market growth over the forecast period due to its massive market demand for animal food testing. To sustain veterinary reference and human wellness, strict food safety rules are likely to encourage the implementation of these tests. Identifying the poison source and conditions of exposure, diagnosis of the kind of poisoning, treatment, and implementation of management or educational initiatives to prevent poisoning are all part of veterinary reference toxicology.
Moreover, to reduce livestock loss due to contamination, there is a greater need to understand veterinary reference toxicity. Melamine contamination in pig feed and pet jerky treats caused severe disease and death in animals worldwide, demonstrating the relevance of veterinary reference toxicology in animal health and food safety. Furthermore, the increased detection of arsenic, mercury, lead, and cadmium in popular pet meals is expected to expand toxicological testing in the future years.
Geographic Overview
North America market dominated the veterinary reference laboratory market in 2021 and is expected to maintain its dominance during the projection period. The presence of major players, modern healthcare infrastructure, and high healthcare expenditure are all aspects that contribute to the segment's larger share.
Keeping animals healthy and thereby people healthy is vital to the U.S. economy. Biopharmaceutical firms that invest in R&D to develop innovative medications for food-producing and companion animals have significantly influenced the market's growth.
The animal health business interacts with veterinarians, government agencies, farmers and ranchers, and other groups to protect the health and safety of food supply, humans, and animals.
In December 2021, the Animal and Plant Health Inspection Service (APHIS) of the U.S. Department of Agriculture (USDA) invested more than USD 16.3 million to 64 projects with states, universities, and other partners to strengthen the animal health programs. Animal health helps defend and preserve U.S. export markets while keeping foreign animal diseases out of the country helps expand rural America's export potential to new and better markets.
Competitive Insight
Some of the major market players operating in the global veterinary reference laboratory market include Boehringer Ingelheim, Colorado State University, Friedrich-Loeffler-Institute, GD Animal Health, Heska Corporation, IDEXX Laboratories, Inc., IDVet, Kansas State Veterinary Diagnostic Laboratory, LABOKLIN GmbH, NEOGEN Corporation, ProtaTek International Inc., SYNLAB International GmbH, Texas A&M Veterinary Medical Diagnostic Laboratory, The Pirbright Institute, Thermo Fisher Scientific, Inc., VCA, Inc., Vetnostics, Virbac, Washington Animal Disease Diagnostic Laboratory, and Zoetis Inc.
Veterinary Reference Laboratory Market Report Scope
| | |
| --- | --- |
| Report Attributes | Details |
| Market size value in 2021 | USD 3.73 billion |
| Revenue forecast in 2030 | USD 9.15 million |
| CAGR | 10.9% from 2022 - 2030 |
| Base year | 2021 |
| Historical data | 2018 - 2020 |
| Forecast period | 2022 - 2030 |
| Quantitative units | Revenue in USD million/billion and CAGR from 2022 to 2030 |
| Segments covered | By Technology, By Application, By Animal Type, By End-Use, By Region |
| Regional scope | North America, Europe, Asia Pacific, Latin America, Middle East & Africa |
| Key Companies | Boehringer Ingelheim, Colorado State University, Friedrich-Loeffler-Institute, GD Animal Health, Heska Corporation, IDEXX Laboratories, Inc., IDVet, Kansas State Veterinary Diagnostic Laboratory, LABOKLIN GmbH, NEOGEN Corporation, ProtaTek International Inc., SYNLAB International GmbH, Texas A&M Veterinary Medical Diagnostic Laboratory, The Pirbright Institute, Thermo Fisher Scientific, Inc., VCA, Inc., Vetnostics, Virbac, Washington Animal Disease Diagnostic Laboratory, and Zoetis Inc. |