The worldwide market size for wireless in-flight entertainment market is estimated to be USD 1,012.2 million in 2017 and is estimated to grow at a CAGR of 15.4% during the forecast period. The constant increase in the adoption of smart devices including, tablets, smartphones, and laptops has encouraged airlines worldwide to provide their passengers with wireless in-flight entertainment services. These services enable the passengers to access, on their own smart devices, an extensive range of streaming and stored content as well as other connectivity services. The Federal Communications Commission along with Federal Aviation Authority has allowed the passengers to use Portable Electronic Devices inside an aircraft in the US, with certain specified guidelines. This change in the government regulation is anticipated to provide new opportunities to the wireless in-flight entertainment solutions. Further, the amalgamation of in-flight connectivity and entertainment together has offered several positive prospects to the overall growth of the industry including, streaming live content, movies, as well as other video on-demand services.
Also, a remarkable growth is anticipated for companies engaged in the development of entertainment services for wireless in-flight entertainment hardware and equipment owing to constant increase in the demand for dynamic entertainment solutions. Certain prominent content providers such as Stellar Entertainment and Global Eagle Entertainment Inc. are projected to witness growth at a high pace attributed to their capability of providing unique content services offered through stored a streamed channels.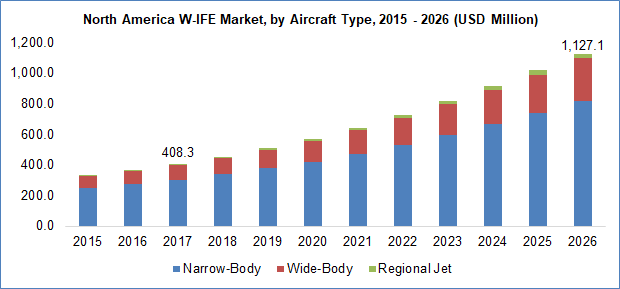 Know more about this report: request for sample pages
In the current scenario, airlines worldwide are significantly investing to implement contemporary satellite broadband as well as connectivity technologies for meeting the rising passenger expectations. Also, the rising adoption of BYOD trend is anticipated to be one of the major contributor to the market growth, as the passengers are favoring wireless in-flight entertainment services on their personal devices. The BYOD trend has also benefitted airlines by eliminating the back-seat in-flight entertainment systems thus, decreasing the overall weight of the aircraft resulting in fuel saving. This is further helping cost competitive airlines in fare reduction while providing in-flight entertainment experience to its passengers.
Ka-band connectivity is anticipated to grow at a higher CAGR from 2017 to 2026 and is expected to dominate the services offered by Ku-band in terms of both speed and cost. The wireless in-flight entertainment market of North America currently holds the largest market as passengers' in the developed countries of the region are more inclined towards air travel spending, particularly for their uninterrupted need for connectivity. Whereas, with the rising awareness among people for wireless in-flight entertainment in the developing economies, Asia Pacific region will notice the highest growth during the forecast period.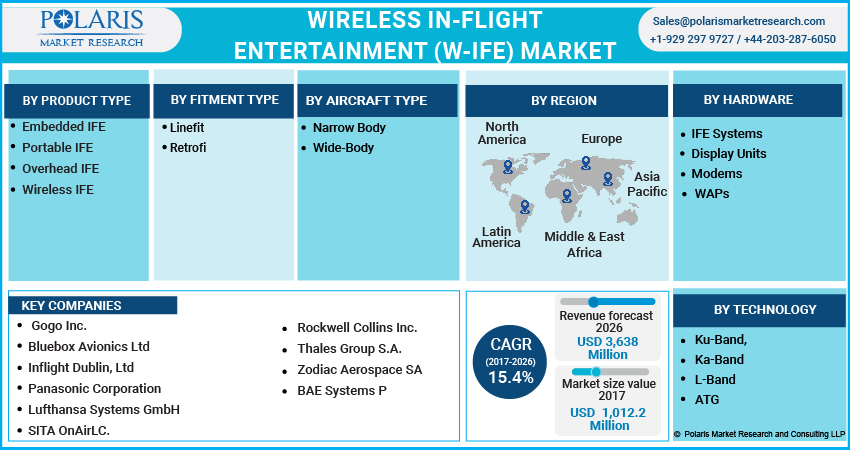 Know more about this report: request for sample pages
Competitive Landscape
Major industry players including Inmarsat plc., Gogo Inc., and Panasonic Avionics Corporation are considerably investing for the deployment the required infrastructure to provide content and connectivity. Such investments are anticipated to facilitate airlines to effectively address demands of the passengers' for in-flight entertainment and will also improve connectivity experience. Major industry players include Gogo Inc., Bluebox Avionics Ltd, Inflight Dublin, Ltd, Panasonic Corporation, Lufthansa Systems GmbH, SITA OnAir, Rockwell Collins Inc., Thales Group S.A., Zodiac Aerospace SA, and BAE Systems PLC.