The global reservoir analysis market was valued at USD 8.78 billion in 2022 and is expected to grow at a CAGR of 3.72% during the forecast period. Reservoir analysis process generates subsurface data by combining the evaluation of the rocks, pores, and fluids from several reservoirs. Moreover, it computes the dynamic rock and fluid parameters and provides indirect measurements for the reservoir model. These reservoirs provide oil, gas, and coal, which are utilized as fuel and sources of energy in a variety of industries, including transportation, aviation, and the production of electricity. The industry has recently witnessed advancements in software and drilling technologies utilized in reservoir production.

To Understand More About this Research: Request a Free Sample Report
The use of cutting-edge technologies for reservoir fluids and formation optimization has allowed producers to employ drilling and exploration technology that has made significant strides. Some of the cutting-edge tools and equipment utilized in manufacturing include precision pumps, mechanical integrity testers, & the dynalink telemetry systems. It offers field performance, volumetric computation, and probabilistic models that produce more accuracy, dependability, and accessibility to information with less effort. An accurate characterization of the reservoir is achieved through the collection, processing, and integration of a variety of fundamental data, including fluid properties, core analysis, and well logging. This process aims to deliver geophysical, geological, and engineering data for greater accuracy. Thus, development in production and exploration technologies is crucial to the market for reservoir analysis.
Furthermore, reservoir analysis is rapidly advancing technologically, which is increasing the precision of hydrocarbon composition predictions and field efficacy. With the help of real-time monitoring choices and helpful data made available by technological improvements, producers can now make decisions more quickly, easily, and profitably. Yet, the data are efficiently used by pressure transient analysis (PTA) and rate transient analysis (RTA) to support decision-making for on-time production planning. For instance, outmoded practises include old methods of data assimilation into numerical simulation models. Thus, significant technical advancements and greater utilisation to achieve better accuracy will be what will drive growth for the reservoir research in this area in the next years.
The establishment of COVID-19 coincides with a fundamental oil market management conflict that primarily concerns market shares held by the Saudi Arabia & Russia. The global oil business is in shambles as a result of the pandemic's ultra-low worldwide demand and the combined impact of OPEC+ chaos. Oil market management disagreements invariably lead to lower pricing. There has been a significant drop, with record-low declines in both OECD (-4.8%) and non-OECD nations (-3.9%). The United States, which is the second-largest energy production in the world, had a 5.3% fall last year, the worst domestic decline ever. The production of nuclear energy, biofuels, and all fossil fuels decreased.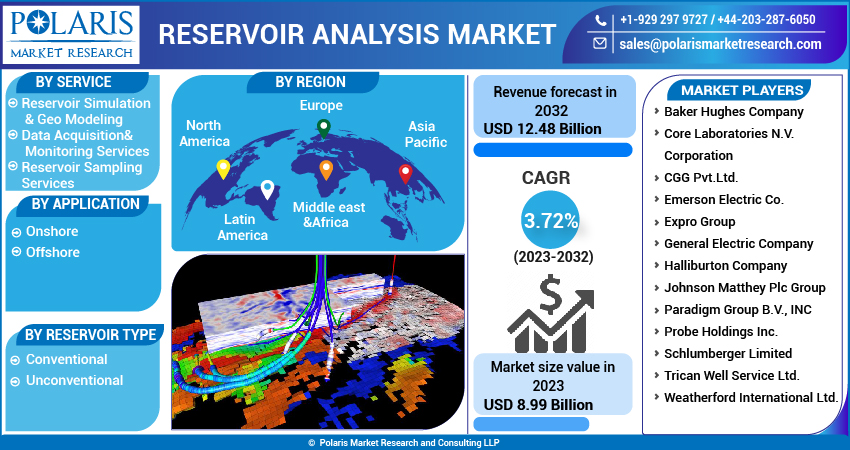 For Specific Research Requirements, Speak to the Research Analyst
Industry Dynamics
Growth Drivers
The rapidly rising energy costs brought on by a rising population, there is a huge increase in the demand for oil and gas. Oil corporations are working to fully develop remote oil & gas sources that were previously unreachable due to technological constraints to meet this growing demand. Consequently, it has become more crucial than ever to keep these fields producing at their peak levels and to take the most resources possible to continue output. The supply of energy has increased as a result of the rising demand.
Additionally, the initial source of energy was reservoirs. To attain commercial flow rates, They need unique procedures. Over time, some methods have been created to improve reservoir flow. Traditional methods of oil discovery are unable to keep up with the oil demand, which is always rising. The expanded use of the reservoir analysis technology is necessary to extract the greatest amount of hydrocarbons from the existing fields & to find new fields to make up for this gap. With the global oil demand predicted to reach 4 GTOE, by 2020, more fields are anticipated to expand. It is anticipated that the rising oil demand would increase the need for reserve analysis technology.
Report Segmentation
The market is primarily segmented based on service, application, reservoir type, and region.
By Service

By Application

By Reservoir Type

By Region

Reservoir Simulation & Geo Modeling

Data Acquisition& Monitoring Services

Reservoir Sampling Services

Conventional

Unconventional

North America (U.S., Canada)

Europe (France, Germany, UK, Italy, Netherlands, Spain, Russia)

Asia Pacific (Japan, China, India, Malaysia, Indonesia. South Korea)

Latin America (Brazil, Mexico, Argentina)

Middle East & Africa (Saudi Arabia, UAE, Israel, South Africa)
For Specific Research Requirements: Request for Customized Report
Data acquisition & monitoring segment witnessed the fastest growth during forecast period
The extensive use of cutting-edge technology, which enables the producer to forecast relevant real-time data, automated measurements, and communications capabilities, the data collecting and monitoring segment is responsible for the largest share. As a result of having more sophisticated technology, this product has the biggest market share worldwide. Due to its widespread use in pressure depletion and completion deterioration within the oil and gas sector utilizing intricate computerized models, reservoir simulation is also growing in popularity. This lowers drilling costs and improves reservoir drainage. In both conventional and unconventional reservoirs, reservoir sampling is also employed for completion and making production choices. Hence, over the projection period, among other categories, the demand for the data acquisition & monitoring segment is boosted by rising energy consumption and considerable technological progress.
The onshore segment is expected to hold the significant revenue share in 2022
As onshore exploration and production operations increase, the onshore sector is now dominating the worldwide market. The deployment of offshore applications in low, medium, and high ocean depths necessitates a large financial commitment. As a result, the demand for the reservoir analysis market during the projected period is driven by an expanding onshore project.
The demand in North America is expected to witness significant growth during forecast period
North America is anticipated to have the largest market share in the market, followed by the Asia-Pacific region. Because of increased oil and gas exploration operations from unconventional resources, particularly in the United States, the market in North America is also anticipated to dominate the market throughout the projected period. The US, which surpassed Saudi Arabia & Russia to become the world's top producer of the oil & natural gas hydrocarbons.
According to the US Energfy Information Administration, in 2021, the United States produced the most dry natural gas ever—roughly 34.5 trillion cubic feet (Tcf), or an averaging of 94.6 billion cubic feet per day. In particular in shale, sandstone, carbonate, and other constrained geologic formations, directional wells and hydraulic fracturing techniques have been responsible for the majority of production gains since 2005. Natural gas is extracted from coal beds, as well as from on- and offshore natural gas and oil wells. Production of dry natural gas in the United States in 2021 was almost 13% higher than total gas consumption in the country. Almost 70% of the nation's dry natural gas output in 2021 came from only five of the 34 states that produce it.
Also, the Mexican energy sector's liberalization is anticipated to draw foreign investment and fuel the market for reservoir analysis. Many national and international oil firms are interested in exploring the sedimentary basins and shale regions of Canada due to the estimated 573 trillion cubic feet of shale reserves that are present there. All of these elements play a role in North America's rapid economic expansion.
The market is anticipated to expand strongly in Asia Pacific. China, India, and Indonesia are key contributors to the world's oil and gas output, which has increased both production and exploration operations. The market is driven by rising demand for hydrocarbon recovery and technological progress. Thus, the market expanded over the projected period as a result of rising energy demand and expanding technological innovation. For drilling and exploration projects, the Middle East, Africa, and Europe are constantly working on integrating cutting-edge technologies. The need for reservoir analysis tools has risen in the global market as a result of significant advancements in oil well drilling and production technologies. Thus, throughout the projected period, rising oil output and expanding exploratory projects will drive the market.
Competitive Insight
Some of the major players operating in the global reservoir analysis market include Baker Hughes, Core Laboratories, CGG Pvt., Emerson Electric, Expro Group, General Electric, Halliburton Company, Paradigm Group, Probe Holdings, Schlumberger, Trican Well Service, and Weatherford International.
Recent Developments
In December 2022, Dome Principals, Kappa, and Amarile received two significant software contract awards from ADNOC Offshore. ADNOC will get "Reservoir Software Management Systems" from the Kappa, including TOPAZ, EMERAUDE, & SAPHIRE. Amarile is a business that aids reservoir engineers in streamlining and enhancing their process for field dynamic simulation.
Reservoir Analysis Market Report Scope
| | |
| --- | --- |
| Report Attributes | Details |
| Market size value in 2023 | USD 8.99 billion |
| Revenue forecast in 2032 | USD 12.48 billion |
| CAGR | 3.72% from 2023- 2032 |
| Base year | 2022 |
| Historical data | 2019- 2021 |
| Forecast period | 2023- 2032 |
| Quantitative units | Revenue in USD billion and CAGR from 2023 to 2032 |
| Segments Covered | By Service, By Application, By Reservoir Type, By Region |
| Regional scope | North America, Europe, Asia Pacific, Latin America; Middle East & Africa |
| Key Companies | Baker Hughes Company, Core Laboratories N.V. Corporation, CGG Pvt.Ltd., Emerson Electric Co., Expro Group, General Electric Company, Halliburton Company Johnson Matthey Plc Group, Paradigm Group B.V., INC, Probe Holdings Inc., Schlumberger Limited, Trican Well Service Ltd., and Weatherford International Ltd. |