The global smart glass market size was valued at USD 4.64 billion in 2020 and is expected to grow at a CAGR of 7.0% during the forecast period. Smart Glass is increasingly being used owing to its property to change the opacity of the glass through changes in electric current. The properties of the glass can be switched through light sensors, switch, movement sensors, or remote control.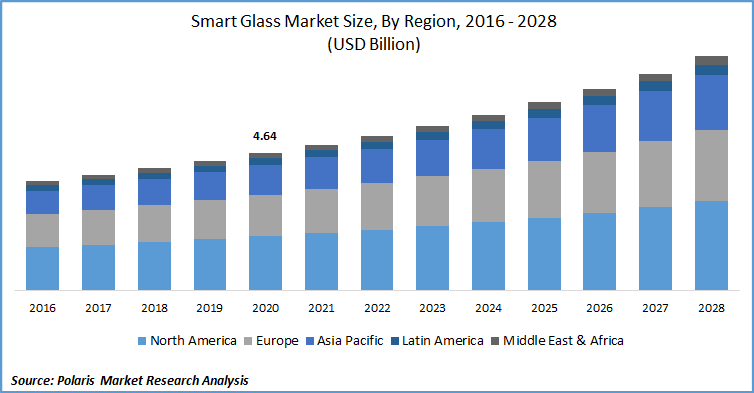 Know more about this report: request for sample pages
Smart glass offers control of light entering a space along with improved privacy. Smart glass is increasingly being used in buildings for increased energy efficiency, privacy control, improved security, and reducing heating and cooling costs.
Smart glass is used in hospitality interiors, healthcare facilities, marine and aviation applications, government and military sector, and educational institutes among others. Smart glass is used in hospitals owing to its anti-microbial and hygienic properties, ease of cleaning, and affordable replacement for traditional disposable curtains.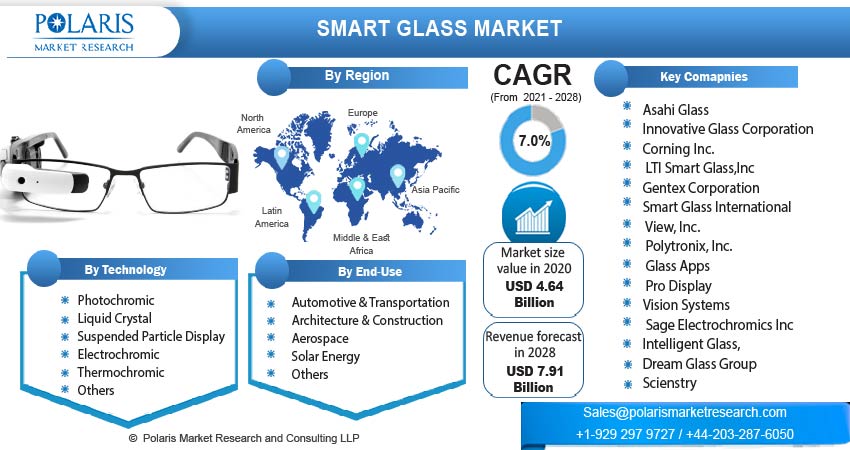 Know more about this report: request for sample pages
Industry Dynamics
Growth Drivers
Active smart technologies include polymer dispersed liquid crystal, electrochromic, and suspended particle device, among others. Active smart type is controlled by the user through an electrical stimulus, whereas passive switchable glass responds to stimuli such as light, heat, or color.
Some passive smart technologies include thermochromic and photochromic. Thermochromic windows are controlled by outdoor air temperature, being tinted in summers, and transparent during winters. Photochromatic windows respond to light to darken or lighten the product.
Rising industrialization, growing urbanization, and increasing demand from the automotive sector drive the market growth for the product. Increasing application in sunroofs, rise in demand for passenger vehicles, and growing modernization of vehicles accelerates the market growth for smart glass.
Modernization of vehicles to improve performance and efficiency coupled with stringent vehicular regulations and rising environmental concerns have fueled the market growth for smart glass across the globe. Integration of the product in vehicles offers benefits such as glare control, reduced heat entering the vehicle, decreased noise, enhanced UV protection, reduced fuel consumption, and increased vehicle efficiency.
The growing shift towards sustainable buildings owing to the greater need for energy savings, stringent carbon goals, and increasing aging of existing buildings has fueled the market growth for smart glass. The integration of the product in buildings offers enhanced privacy, light control, and heat management. It is also capable of providing superior air quality, and flexible use of space.
It enables the entry of natural light in open floor plans while offering instant privacy. The product can be controlled through smartphones and is often integrated with automation systems for the execution of smart or connected buildings. Increasing disposable income, changing lifestyles, and the increasing trend of design-centric spaces has increased the adoption of the product in the architecture and construction sector.
Smart Glass Market Report Scope
The market is primarily segmented on the basis of technology, end-use, and region.
By Technology

By End-Use

By Region

Photochromic
Liquid Crystal
Suspended Particle Display
Electrochromic
Thermochromic
Others

Automotive & Transportation
Architecture & Construction
Aerospace
Solar Energy
Others

North America (U.S., Canada)
Europe (Germany, UK, France, Italy, Spain, RoE)
Asia Pacific (China, India, Japan, South Korea, RoAPAC)
Latin America (Brazil, Mexico, Colombia, RoLATAM)
Middle East & Africa (Saudi Arabia, South Africa, Israel, UAE, RoMEA)
Know more about this report: request for sample pages
Technology Outlook
On the basis of technology, the market is segmented into photochromic, liquid crystal, suspended particle display, electrochromic, s, and others. The demand for suspended particle displays is expected to be high during the forecast period owing to increasing demand from the construction and automotive sector. The suspended particle display is equipped with nano-scale particles suspended in a liquid.
This product offers little light transmittance to provide privacy. The glass uses electricity through a control panel for lining up particles and becoming transparent. Rapid technological advancements in the construction industry coupled with increasing penetration of passenger vehicles and modernization of vehicles are factors fueling the market growth for the product.
End-Use Outlook
On the basis of end-use, the market is segmented into automotive and transportation, architecture and construction, aerospace, solar energy, and others. The architecture and construction segment dominated the global market for smart glass in 2020. The increasing use of the product in the construction of buildings coupled with growing disposable income, higher living standards, and public infrastructure development drives the market growth.
The use of the product in buildings increases efficiency, reduces maintenance costs, and results in significant energy savings. Increasing urbanization coupled with growth in building automation across the globe drives the market growth.
Geographic Overview
North America dominated the global smart glass market in 2020. The increasing shift to urban areas, growing consumer spending, the presence of international players in this region, and technological advancements are some factors driving the growth of this region.
The introduction of regulations regarding energy savings, rising automotive penetration, and increasing construction and development activities further boost the market growth. Rising application in aerospace and solar energy application, and initiatives to promote the use of electric vehicles has increased the demand for the product in the region.
Competitive Landscape
The leading players in the smart glass market include Asahi Glass, Innovative Glass Corporation, Corning Inc., LTI Smart Glass, Inc, Gentex Corporation, Smart Glass International, View, Inc., Polytronix, Inc., Glass Apps, Pro Display, Vision Systems, Sage Electrochromics, Inc, Intelligent Glass, Dream Glass Group, and Scienstry.
These players are expanding their presence across various geographies and entering new markets in developing regions to expand their customer base and strengthen their presence in the market. The companies are also introducing new innovative products in the market to cater to the growing consumer demands.