The global tobacco packaging market was valued at USD 16.57 billion in 2022 and is expected to grow at a CAGR of 3.2% during the forecast period. Tobacco is a crop that is made by curing tobacco leaves. Because it acts as a barrier against moisture and shields the tobacco from viruses, degradation, and scent transmission, the packaging is a crucial component. Many nations have embraced the idea of simple packaging as a way to control tobacco use within their borders. Due to this, there needs to be more room for makers of tobacco packaging to innovate and create new package products. As a result, packaging firms take advantage of every chance to create functional, aesthetically pleasing packaging.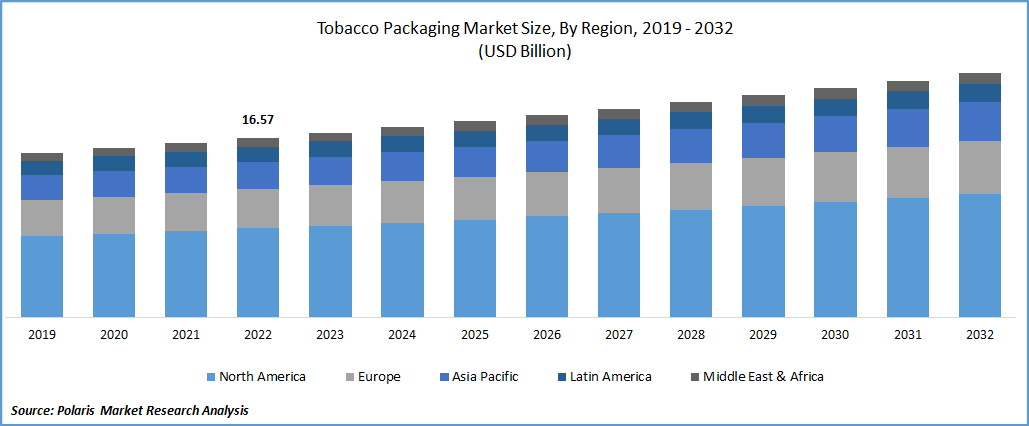 To Understand More About this Research: Request a Free Sample Report
The dried tobacco leaves used to make bidis, cigarettes, smokeless tobacco, cigars, dissolvable tobacco, and shishas or water pipes are packaged in the tobacco packaging industry and include the highly addictive drug nicotine. Paper, boards, films, cartoons, foils, laminates, and membranes are materials used to manufacture primary tobacco packaging. Bundle wraps, hinge-lid cartons, shells, and slides are some of the packaging materials used for bulk or commercial tobacco products.
The packaging types are used to divide the market into Primary and Secondary categories. The various packaging items used to safeguard tobacco products from unfavorable environmental effects are called tobacco packing. These packaging materials protect the product's longevity and freshness when transported in difficult circumstances.
During the pandemic's peak, sales fell substantially on a global scale. People who use tobacco products have damaged lungs, which increases their risk of COVID-19. As a result, several tobacco product stores were compelled to close completely. Many nations have closed their ports, airports, and commercial and domestic transportation modes due to the COVID-19 epidemic and lockdowns.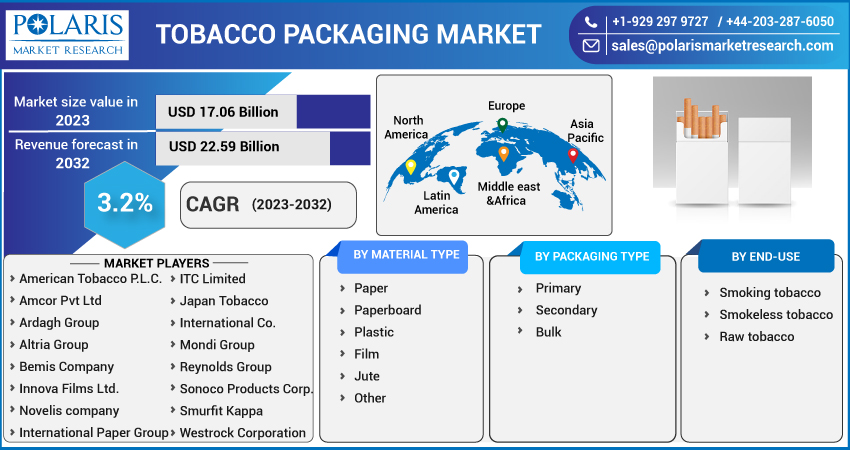 For Specific Research Requirements, Request for Customized Report
Industry Dynamics
Growth Drivers
Increasing cigarette production because of high cigarette consumption and rising per capita income are major factors influencing the growth of the global industry. In Addition, people are resorting to stimulants and anti-depressants like cigarettes to deal with stress and weight problems due to altered lifestyles, rising workloads, and stress, particularly in urban regions. The youth population has made cigarettes more popular, which has led to a high consumption rate. Hot-foil stamping, rotogravure, offset printing, and other production technologies are currently used in tobacco packaging, and increased R&D spending also contributes to the market's expansion globally.
The rise in government smoking prohibitions, the volume of anti-smoking initiatives, and the prevalence of various respiratory illnesses are the major factors bolstering the tobacco packaging market growth. For instance, in February 2022, The World Health Organization created the "Quit Tobacco App" to assist people in quitting smoking and any other tobacco use, including smokeless tobacco and other more recent products.
In Addition, in June 2022, The US Food and Drug Administration intends to create a current product requirement that would impose a maximum nicotine level to lessen the addictive qualities of cigarettes as well as other combusted tobacco products, according to plans for future potential regulatory actions published by the Biden-Harris Administration. The possible rule's objective would be to lower death, addiction, and use among young people. Tobacco use is the primary cause of preventable disease and death in the United States, accounting for 480,000 premature deaths yearly from smoking-related illnesses. The direct medical expenses and lost productivity associated with tobacco use are approximately $300 billion annually. Therefore, the rising government regulations and efforts for tobacco products are boosting the market growth.
Report Segmentation
The market is primarily segmented based on material type, packaging type, end-use, and region.
By Material type

By Packaging type

By End-Use

By Region

Paper

Paperboard

Plastic

Film

Jute

Other

Smoking tobacco

Smokeless tobacco

Raw tobacco

North America (U.S., Canada)

Europe (France, Germany, UK, Italy, Netherlands, Spain, Russia)

Asia Pacific (Japan, China, India, Malaysia, Indonesia. South Korea)

Latin America (Brazil, Mexico, Argentina)

Middle East & Africa (Saudi Arabia, UAE, Israel, South Africa)
For Specific Research Requirements: Request for Customized Report
Smokeless tobacco packaging segment is expected to witness the fastest growth during forecast period
The expanding detrimental effects of tobacco smoke on active and passive smokers, especially children, have boosted the demand for smokeless tobacco. Those who prefer not to smoke utilize snuff, snus, gutka, gum, and chewing tobacco, among other smokeless products. Specialized packaging materials are created to protect the products' quality from potential harm caused by variations in ambient temperature and moisture absorption. If snus marketing activities increase, there will be a growth in demand for cigarette packaging. For instance, the US FDA approved the marketing of 8 smokeless tobacco products in October 2019 because it "reduces the risk of stroke, heart disease, lung cancer, oral cancer, chronic bronchitis, and emphysema in comparison to smoking."
Secondary Packaging industry accounted for the largest market share in 2022
The packing type determines the primary and secondary market segments. The review period is expected to see the biggest rise in secondary packaging. During storage, wholesale, and transit, the secondary packaging keeps the original packaging safe and permits the grouping of primary packages. The secondary packaging section of the tobacco packaging industry will experience strong tobacco packaging market growth as a result of the rising demand for creative cigarette boxes and the increasing demand for cigarettes and cigars.
Secondary packaging, like flexible packaging, which frequently contains re-closable pouches & bags, has finally evolved into the industry standard for cigarette packing. This flow-wrapped film on these packs helps to meet the barrier criteria. Tobacco items like cigarettes, like other delicate goods, require packaging with barrier properties to deliver the product in ideal condition. Therefore, tobacco is packaged to enhance the company's brand value in consumers' thoughts without interfering with governmental regulations.
Paperboard segment industry accounted for the largest market share in 2022
It is a heavy paper-based substance used to create goods like cigarettes & cigars. Paperboard's characteristics, including its lightweight, foldability, & printability, are credited with driving the segment's expansion. Furthermore, it makes it possible to confine and safeguard packed tobacco goods against moisture & deterioration.
Due to its ability to wrap or hold tobacco blend in cigarettes, paper is the second-most common material businesses use. The form used in cigarettes must have the same porosity as the type of tobacco blend because this affects how quickly the cigarette burns. The cigarette's tip, which serves as the mouthpiece and holds the cigarette filter, is likewise made of paper. Additionally, these papers come in various sizes and forms depending on the size of cigarettes produced.
The demand in Asia-Pacific is expected to witness significant growth during forecast period
Japan, China, and India are the top three producers of tobacco products worldwide. The governments of the nations are also developing programs for creating awareness of the harmful effects of products that are driving tobacco packaging in this way to create awareness among people. The increase is linked to the expanding tobacco demand, which also presents the market in this area with lucrative growth potential. Due to its packaging, tobacco usage is increasing in China. In this country, many tobacco product producers play on people's emotions, particularly young people. Smoking is frequently associated with taking in China's natural beauty and rural lifestyle. The temptation to purchase tobacco products increases as a result.
Cigarette usage is expanding quickly in the North American continent and the European Union. But this region's growth is slowing down because of the severe prohibitions on cigarette usage. Also, as e-cigarette use rises, the area's tobacco products market is declining. The world's third-largest region is mostly due to the rising use of tobacco products such as chewing tobacco, cigars, and cigarettes. As a result, there is now more demand for the local market. Its expansion is being fueled by e-cigarette development and persistent marketing. Many people, especially young ones, use them because they think they are safer and healthier alternatives to traditional tobacco products.
Competitive Insight
Some of the major players operating in the global market include American Tobacco, Amcor, Ardagh Group, Altria Group, Bemis Company, Innova Films, Novelis company, International Paper, ITC Limited, Japan Tobacco International, Mondi Group, Philip Morris International, Reynolds Group, Sonoco Products Corp., Siegwerk Druckfarben, Smurfit Kappa, and Westrock Corporation
Recent Developments
In November 2022, Philip Morris International Inc. (PMI) announced the availability of their newest heat-not-burn tobacco heating element, BONDS by IQOS, and the BLENDS tobacco products that go with it.
Tobacco Packaging Market Report Scope
| | |
| --- | --- |
| Report Attributes | Details |
| Market size value in 2023 | USD 17.06 billion |
| Revenue forecast in 2032 | USD 22.59 billion |
| CAGR | 3.2% from 2023- 2032 |
| Base year | 2022 |
| Historical data | 2019- 2021 |
| Forecast period | 2023- 2032 |
| Quantitative units | Revenue in USD billion and CAGR from 2023 to 2032 |
| Segments Covered | By Material Type, By Packaging, By End-Use, By Region |
| Regional scope | North America, Europe, Asia Pacific, Latin America; Middle East & Africa |
| Key Companies | American Tobacco P.L.C., Amcor Pvt Ltd, Ardagh Group, Altria Group, Bemis Company, Innova Films Ltd., Novelis company, International Paper Group, ITC Limited, Japan Tobacco International Co., Mondi Group, Philip Morris International Inc., Reynolds Group, Sonoco Products Corp., Siegwerk Druckfarben Ag & Co., Smurfit Kappa, and Westrock Corporation |