The global cigarette paper market was valued at USD 1,217.08 million in 2022 and is expected to grow at a CAGR of 3.3% during the forecast period.
Cigarette smoking has been a common habit worldwide for a very long time. Additional tobacco products include waterpipe tobacco, roll-your-own tobacco, numerous smokeless tobacco options, cigars, cigarillos, pipe tobacco, bidis, and kreteks. The smoke exhaled by a smoker or released from the ends of a cigarette is known as secondhand tobacco smoke. There is no safe contact threshold with secondhand smoke because more than 4000 compounds have been found in tobacco smoke.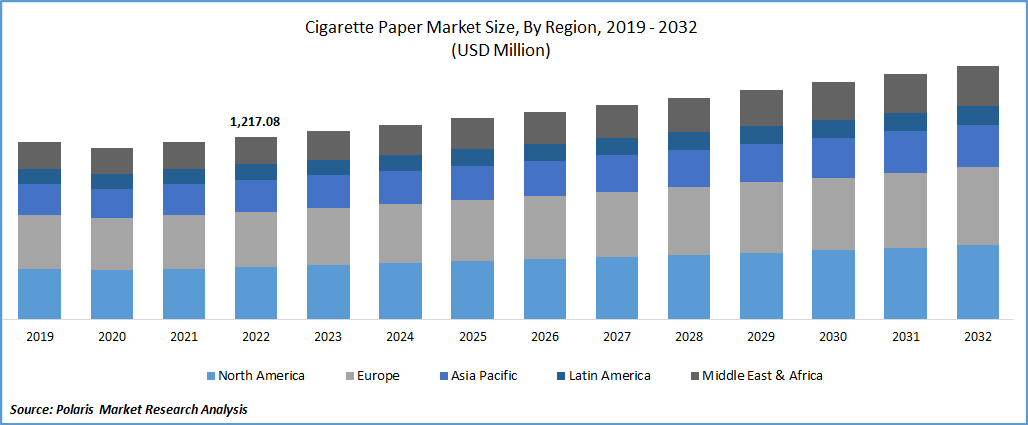 Know more about this report: Request for sample pages
Non-wood plant fibers such as flax, rice straw, & esparto are used to make cigarette paper because they are thin and lightweight. A narrow glue strip runs down one long edge of the article, which is offered in rolls & rectangular sheets. It might have flavor, color, and transparency. Its base weight is 10 and 28 g/m2, and contains much filler. This paper has additives that control burning and a porosity appropriate for the type of tobacco to maintain the smoking qualities. Permeability is an essential property of paper; smoke dilution is one of its main physical effects.
Further, increased cigarette smoking, especially among those who roll their cigarettes, has increased demand throughout the years. According to the annual Cigarette Report published by the Federal Trade Commission, producers sold 203.7 billion cigarettes in 2020, up over 202.9 billion in 2019 – a 0.4% rise. Cigarette sales surged last year amid the COVID-19 outbreak for the first time in twenty years as tobacco corporations increased government spending to promote their goods. A report shows that, in the world, almost 6.5 trillion packs of cigarettes are sold annually, or around 18 billion bags every day. Additionally, the market's expansion is being constrained by consumer preference for electronic cigarettes as a substitute for traditional cigarettes produced in factories.
Unexpected natural disasters and pandemics like COVID-19 impact all economies around the world. Due to lockdowns and declining demand from cigarette manufacturing sectors, which are the significant customers of cigarette paper, COVID-19 has also affected the market for cigarette paper. In addition, reducing the need and erratic industrial output have hampered the market. However, the demand for cigarette paper and factory production returned to pre-recession by the third period of 2021.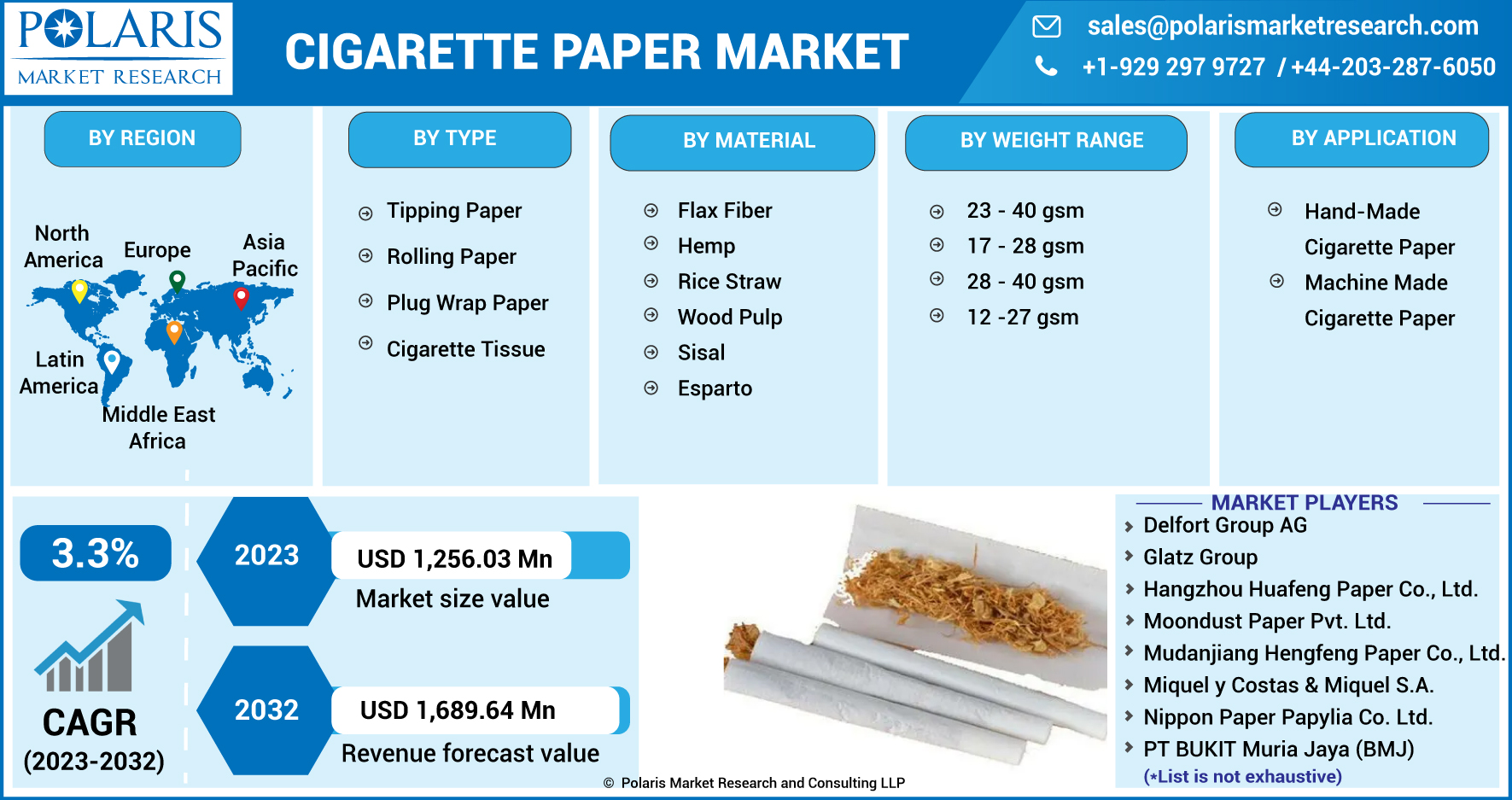 For Specific Research Requirements, Request for a Customized Report
Industry Dynamics
Growth Drivers
The government regulations for the legalization of cannabis used in cigarettes rolled on paper are the primary factor driving the cigarette paper market growth over the forecast period. Cannabis use has been made legal worldwide for both recreational and therapeutic purposes. Currently, cannabis is authorized for medical use in 34 states in the US (including Washington DC), and it is permitted for recreational use in ten additional states.
Governments of many countries are legalizing cannabis more and more to reduce the use, trafficking, and criminality associated with it while also fostering the global market for it. According to the Federal Food, Drug, and Cosmetic Act (FD&C Act) and its accompanying rules, the FDA controls the production, importation, packaging, labeling, advertising, marketing, sale, and marketing of cigarette and roll-your-own tobacco. The tobacco and cigarette rolling paper is likewise subject to FDA regulation.
Due to legislation, the minimum age for selling tobacco products will increase from 18- 21 years old. The sale of any tobacco-based product to a person under the age of 21 is prohibited by law, including the sale of cigarettes, cigars, & e-cigarettes. Over the next few years, cannabis use will significantly increase demand for roll-your-own cigarette paper.
Report Segmentation
The market is primarily segmented based on type, material, weight range, application, and region.
By Type

By Material

By Weight Range

By Application

By Region

Tipping Paper
Rolling Paper
Plug Wrap Paper
Cigarette Tissue

Flax Fiber
Hemp
Rice Straw
Wood Pulp
Sisal
Esparto

23 - 40 gsm
17 - 28 gsm
28 - 40 gsm
12 -27 gsm

Hand-Made Cigarette Paper
Machine Made Cigarette Paper

North America (U.S., Canada)
Europe (France, Germany, UK, Italy, Netherlands, Spain, Russia)
Asia Pacific (Japan, China, India, Malaysia, Indonesia. South Korea)
Latin America (Brazil, Mexico, Argentina)
Middle East & Africa (Saudi Arabia, UAE, Israel, South Africa)
Know more about this report: Request for sample pages
Hemp segment is expected to witness the fastest growth
The hemp segment is anticipated to exhibit the highest CAGR. Hemp pulp is more challenging and tear-resistant than wood pulp and has a fiber that is four to five times longer and significantly lower in lignin than that wood pulp. These traits drive the segment. Additionally, the sisal market is anticipated to exhibit the highest share. The category is expected to grow as sisal usage rises in paper, automobile, pharmaceutical, construction, and other industries.
The wood Pulp segment industry accounted for the highest market share in 2022
Wood pulp is used extensively in the production of cigarettes, accounting for more than half of the market. Wood pulp holds a high position as a significant pulp source for the production of cigarette paper due to its wide availability. Additionally, hemp and rice straws are gaining popularity due to the addition of flavors and lower ionization propensity.
The Rolling Paper segment industry accounted for the largest market share in 2021
During the projection period for cigarette paper, the rolling paper segment is anticipated to rise at a substantial CAGR and hold a significant market share in 2022. There are several architectures for rolling papers, including primary, colored, and improved varieties. These sheets provide desired air porousness, thickness, and consumption rate control.
During the anticipated time frame, the segment for cigarette tissue is also expected to increase at the fastest rate. The segmental surge is caused by cigarettes' tissues' capacity to reduce the amount of nicotine inhaled while also reducing the inhalation of potentially harmful substances. Additionally, during the projected period, the advantages of cigarette tissues will drive the segment's growth.
The demand in Asia-Pacific is expected to witness significant growth
Asia-Pacific dominated the market's growth due to being the largest producer and exporter of tobacco. The rising popularity of cigarettes and chewing tobacco will also contribute to the region's cigarette rolling paper expansion over forecasting time. Including over 300 million smokers who smoke regularly—roughly one-third of all smokers worldwide—China is the world's biggest producer and consumer of tobacco, as reported by the World Health Organization (WHO). Due to the rising demand for the tobacco paper sector, the Middle East and Africa are expected to grow considerably in the cigarette rolling paper market. Additionally, it is projected that the increasing use of water pipes or shishas will further fuel the expansion of the regional call for cigarette rolling papers in the upcoming years.
Furthermore, the rising government regulation, as well as rising cigarette consumption in North America, is driving the region's growth. As per the CDC, the main contributor to preventable illness, disability, and mortality in the US is tobacco smoking. 3.1 Mn middle & high school children used at least 1 product. Around 1,600 American teenagers under the age of 18 light up their first cigarette every day. Nearly 500,000 Americans pass away before their time each year due to smoking or being around second-hand smoke. Another 16 Mn people suffer from a severe sickness brought on by smoking. The United States spends about USD 225 Bn annually on medical treatment to treat diseases brought on by adult smoking.
Competitive Insight
Key players include Delfort Group, Glatz Group, Hangzhou Huafeng Paper, Moondust Paper, Mudanjiang Hengfeng Paper, Miquel y Costas & Miquel, Nippon Paper Papylia, PT BUKIT Muria Jaya, Pura Group, Republic Technologies International, Richer Paper, SWM international, Schweitzer-Mauduit International, & Rolling Paper Co.
Recent Developments
In February 2022, under the brand name "Botani," Schweitzer Mauduit International (SWM) introduced a new product of superior hemp & botanical products. Rolling & pre-roll papers, cannabis wrappers, & hemp fillers are a few items being offered.
Cigarette Paper Market Report Scope
| | |
| --- | --- |
| Report Attributes | Details |
| Market size value in 2023 | USD 1,256.03 million |
| Revenue forecast in 2032 | USD 1,689.64 million |
| CAGR | 3.3% from 2023 – 2032 |
| Base year | 2022 |
| Historical data | 2019 – 2021 |
| Forecast period | 2023 – 2032 |
| Quantitative units | Revenue in USD million and CAGR from 2023 to 2032 |
| Segments Covered | By Type, By Material, By Weight Range, By Application, By Region |
| Regional scope | North America, Europe, Asia Pacific, Latin America; Middle East & Africa |
| Key Companies | Delfort Group AG, Glatz Group, Hangzhou Huafeng Paper Co., Ltd., Moondust Paper Pvt. Ltd., Mudanjiang Hengfeng Paper Co., Ltd., Miquel y Costas & Miquel S.A., Nippon Paper Papylia Co. Ltd., PT BUKIT Muria Jaya (BMJ), Pura Group, Republic Technologies International, Richer Paper Co., Ltd., SWM international, Schweitzer-Mauduit International, Inc., and The Rolling Paper Company |