The global 1,3 propanediol market was valued at USD 433.4 million in 2021 and is expected to grow at a CAGR of 11.5% during the forecast period. The demand for biodiesel has been encouraged by a continuous transition away from petroleum products due to growing environmental concerns and the volatility of their price, which is thus anticipated to have a favorable impact on the 1,3 propanediol market.

Know more about this report: Request for sample pages
A polyfunctional organic molecule, 1,3 propanediol, can be made either by petrochemical or bio-based processes. To make polymers like polytrimethylene terephthalate and polyisoprene as well as paints and varnishes, resins, and adhesives, 1,3-propanediol is a necessary building element.
It is a petrochemical that can be biologically produced from substances like propenal or ethylene oxide. Glycerol or sugar fermenting is a part of the bio-based approach. Glycerol is produced as a byproduct during the production of biodiesel, and growing biodiesel production is anticipated to positively impact industry expansion.
The demand for biodiesel has been sparked by a continuous transition away from petroleum products due to growing environmental concerns and the instability of their price, which is thus anticipated to have a favorable impact on the 1,3 propanediol market.
One of the key factors propelling the growth of the industry is the increase in demand for polyesters like poly trimethylene terephthalate (PTT). Increased use of polyurethane in a variety of end-use sectors and a shift away from petroleum products due to rising environmental concerns and the volatility of their price are driving the 1,3 propanediol market's expansion. The industry for 1,3 propanediol is further impacted by the increasing importance of glycerol as a key raw material for 1,3 PDO production and the growth of polyester applications in a variety of sectors.
The majority of the industry where 1,3-propanediol is utilized as a component in the manufacturing of various parts of the product is impacted owing to supply chain disruption as a result of the COVID-19 outbreak internationally. Poly trimethylene Terephthalate (PTT), which is used to make carpets, leisure, sportswear, and other textiles, is the main use in the 1,3 propanediol market. Due to the statewide lockdown and manufacturing activities in many industries, COVID-19 has influenced the demand for PTT from end-use applications, which has led to a drop in the industry's demand for 1,3-propanediol.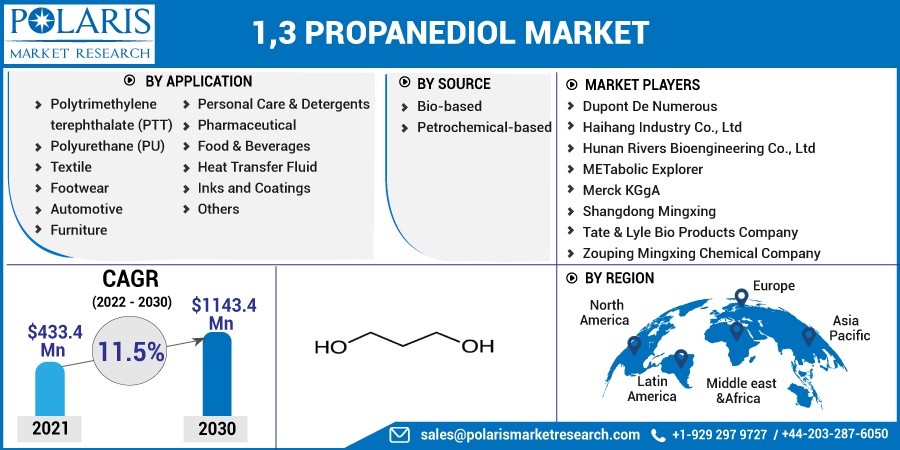 Know more about this report: Request for sample pages
Industry Dynamics
Growth Drivers
Environmental restrictions are putting more of an emphasis on environmentally friendly products, which is causing the industry for bio-based 1,3-propanediol to expand. Due to the depletion of traditional resources, consumers are becoming more aware of environmentally friendly items. 1,3-propanediol is produced by businesses using renewable resources like crude glycerol. In several businesses, biological methods are used to produce 1,3-propanediol.
Further, technological advancements in the industry are also boosting market growth over the forecast period. Recent technological developments and worldwide research have revealed that polyesters made with 1,3-propanediol offer exceptional flexibility and resistance when compared to other types of polyester. Numerous studies have discovered that 1, 3-Propanediol as a feedstock has a wide range of possible uses. Additionally, it can take the place of glycols like propylene, butadiene, and glycerine in cosmetic and pharmaceutical products.
Report Segmentation
The market is primarily segmented based on, application, source, and region.
By Application

By Source

By Region

Polytrimethylene terephthalate (PTT)
Polyurethane (PU)

Textile
Footwear
Automotive
Furniture
Others

Personal Care & Detergents
Pharmaceutical
Food & Beverages
Heat Transfer Fluid
Inks and Coatings
Others

Bio-based
Petrochemical-based

North America (U.S., Canada)
Europe (France, Germany, UK, Italy, Netherlands, Spain, Russia)
Asia Pacific (Japan, China, India, Malaysia, Indonesia. South Korea)
Latin America (Brazil, Mexico, Argentina)
Middle East & Africa (Saudi Arabia, UAE, Israel, South Africa)
Know more about this report: Request for sample pages
The Bio-based segment is expected to witness the fastest growth
As people become more aware of the use of bio-based 1,3-propanediol, even the rigorous laws are boosting industry growth. People are focusing increasingly on fossil-free resources because petroleum is a limited resource, and it contributes to global warming, making natural gas and shale gas some of the temporary solutions to the issue.
This boosts the use of bio-based 1,3-propanediol (PDO). Therefore, it is anticipated that there will be high demand for bio-based PDO that uses renewable feedstock, making it more sustainable. Because of this, it is predicted that the industry for eco-friendly, bio-based products will grow.
The raw materials used to create conventional products, like ethylene oxide and acrolein, are derived from crude oil. Glycerol and corn syrup can be used to make bio-based 1,3 PDO. Compared to conventional production, bio-based technologies have several benefits, including cheaper costs, less energy use, biodegradable products, less environmental effect, and non-toxic processes.
Polytrimethylene terephthalate (PTT) is expected to hold the significant revenue share
PET, PBT, and PTT fiber-based polyester fabrics and yarns are appropriate for engineering applications like mobile phone housings, automobile parts, and many other commercial and consumer goods. The market is anticipated to be driven by the increasing manufacturing of P.U. and other technical plastics manufactured with PDO.
The most common applications are poly-trimethylene terephthalate and polyurethane. Detergents, engine coolants, heat transfer fluids, de-icing fluids, personal care products, and other items are also made using it. In terms of demand and market value, PTT production makes up approximately two-thirds of all consumption, with polyurethane coming in far behind.
PTT substitution for other polyesters is expected to gain more traction, providing industry players with some new options. It is anticipated that strong polyester demand from both emerging and developed nations in a variety of industries will support the global market.
Inks and coatings, pharmaceuticals, food & drinks, personal care & detergents, heat transfer fluid, polyurethane, polytrimethylene terephthalate (PTT), and other products make up the other half of the global market's application segmentation. Additionally, the market will grow as more bio-based products are introduced, including bio-based synthetic leather uppers, bio-based TPU outsoles, and bio-based waterproof breathable films.
The demand in North America is expected to witness significant growth
North America emerged as the undisputed market leader for PDO. The regional market is anticipated to be driven by a favorable regulatory environment, particularly in the U.S., to promote bio-based chemicals as governments throughout the world develop tight regulations governing the use of bio-based materials in the production of biodiesel, particularly in the USA and Canada.
Similar to 1, 3-Propanediol can be made from petrochemical and bio-based resources. The rules in favor of adopting bio-based resources are created while taking into account the petrochemical sources' unstable pricing and increasing environmental concerns.
Additionally, favorable government mandates and laws related to biodiesel are increasing production in emerging nations. This will enhance glycerol production, which will then support the expansion of the market. To fulfill the rising demand in the Asia Pacific, some businesses are constructing 1,3-propanediol production facilities in nations.
Furthermore, market sales will be boosted by the expanding automotive industry and rising investment in construction projects. The availability of consumer goods has improved owing to rising investments in the retail sector's development, which is, boosting demand for 1,3-propanediol from personal care goods. As a result, during the projection period, the market for personal care products in China is anticipated to increase.
Competitive Insight
Some of the major players operating in the global market include Dupont De Numerous, Haihang Industry Co., Ltd, Hunan Rivers Bioengineering Co., Ltd, METabolic Explorer, Merck KGgA, Shangdong Mingxing, Tate & Lyle Bio Products Company, Zouping Mingxing Chemical Company, and Zhangjiagang Huamei Biomaterial Limited.
Recent Developments
In March 2021 Ajinomoto Animal Nutrition Europe was acquired by METabolic Explorer, a cleantech biochemical firm that creates and commercializes competitive, sustainable fermentation technologies that provide alternatives to petrochemistry for the manufacturing and commercialization of functional components.
In May 2019, To create a bio-based substance plan for personal care products, DuPont Tate and Lyle Bio Products Company, LLC, Corbion, INOLEX Inc., and ACT Solutions Corporation collaborate. This group assisted the company in meeting the growing demand for natural products.
1,3 Propanediol Market Report Scope
| | |
| --- | --- |
| Report Attributes | Details |
| Market size value in 2021 | USD 433.4 million |
| Revenue forecast in 2030 | USD 1143.4 million |
| CAGR | 11.5% from 2022 - 2030 |
| Base year | 2021 |
| Historical data | 2018 - 2020 |
| Forecast period | 2022 - 2030 |
| Quantitative units | Revenue in USD million and CAGR from 2022 to 2030 |
| Segments Covered | By Application, By Source, By Region |
| Regional scope | North America, Europe, Asia Pacific, Latin America; Middle East & Africa |
| Key Companies | Dupont De Numerous, Haihang Industry Co., Ltd, Hunan Rivers Bioengineering Co., Ltd, METabolic Explorer, Merck KGgA, Shangdong Mingxing, Tate & Lyle Bio Products Company, Zouping Mingxing Chemical Company, and Zhangjiagang Huamei Biomaterial Limited |