The global Arrhythmia market was valued at USD 6.39 billion in 2021 and is expected to grow at a CAGR of 6.8% during the forecast period. The expansion of the industry is being driven by factors such as an expanding worldwide number of cases of lifestyle choices such as smoking, excessive alcohol consumption, and obesity (which renders a person more prone to cardiac arrhythmias) and increasing patient awareness levels.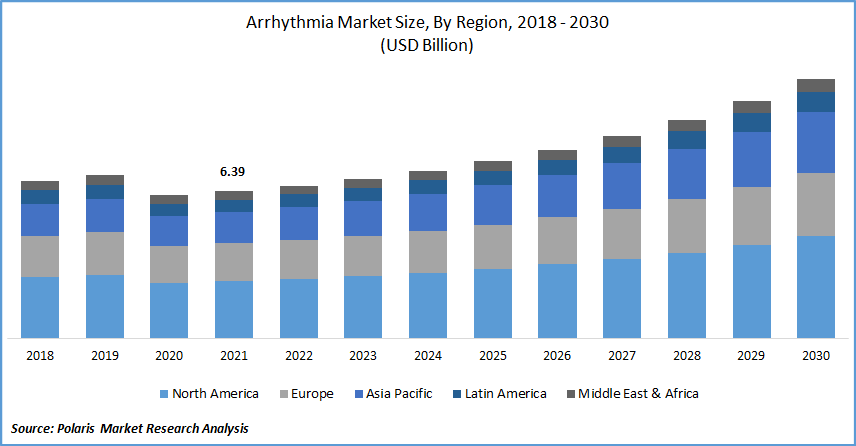 Know more about this report: Request for sample pages
Factors such as increased junk food/fast food consumption are causing global population health to deteriorate, increasing obesity prevalence, particularly in industrialized countries, which is expected to accelerate vertical growth. Further, the high prevalence of these risk factors fuels the prevalence of the disorder. Thus, excessive tobacco smoking increases the risk factors exponentially for the disorder in the region, boosting the market. The rising prevalence of the arrhythmia market in the rest of the Asian region drives the market towards growth.
For instance: As per Singapore Heart Foundation, the total number of deaths due to cardiac disease in Singapore was 6,291 in 2019 and has risen to 6,990 deaths in 2020. Thus, the high mortality rates in the country play an important role in escalating the awareness of the treatment of cardiac arrhythmia, thereby boosting the market growth. Despite the positive considerations, difficulties associated with such devices, as well as an increase in arrhythmia monitoring device recalls, could have an adverse influence on the arrhythmia market share.
Industry Dynamics
Growth Drivers
The surge in cases of cardiac arrhythmias is the factor that is driving the growth during the forecast period. As per the National Institute of Health, Atrial fibrillation affects 37,574 million people globally (0.51 % of the population), and it has increased by 33% in the previous 20 years. In addition, as per the Center For Disease Control and Prevention (CDC), the most frequent type of treated heart arrhythmia is atrial fibrillation, also known as AFib or AF.
When the heart beats too slowly, too quickly, or irregularly, it is called an arrhythmia. AFib is expected to affect 12.1 million people in the US by 2030. AFib was noted on 183,321 death certificates in 2019, with AFib being the underlying cause of death in 26,535 cases. Europeans are more prone than African Americans to suffer from AFib. AFib affects more women than men since the number of cases grows with age, and women live longer than men.
Also, in the US, almost 454,000 hospitalizations with AFib as the primary diagnosis occur each year. Every year, over 158,000 people die as a result of this disease. For more than two decades, the death rate from AFib as a major or contributory cause of death has been rising. Congenital heart abnormalities, coronary artery disease, excessive blood pressure, and other types of cardiovascular disorders are also major causes of abnormal heart rhythms or situations that can lead to the condition.
According to a National Health Service report from September 2021, more than 2 million people in the United Kingdom suffer from heart rhythm issues. Thus, the rising prevalence of cardiac disease and other heart problems is driving the growth of the market.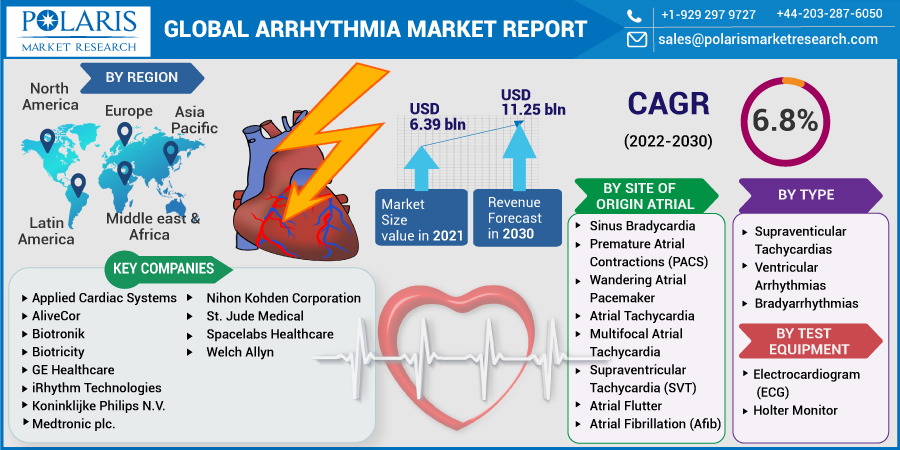 Know more about this report: Request for sample pages
Report Segmentation
The market is primarily segmented based on test equipment, site of origin atrial, type, and region.
By Test Equipment

By Site of Origin Atrial

By Type

By Region

Electrocardiogram (ECG)
Holter Monitor

Sinus Bradycardia
Premature Atrial Contractions (PACS)
Wandering Atrial Pacemaker
Atrial Tachycardia
Multifocal Atrial Tachycardia
Supraventricular Tachycardia (SVT)
Atrial Flutter
Atrial Fibrillation (Afib)

Supraventicular Tachycardias
Ventricular Arrhythmias
Bradyarrhythmias

North America (U.S., Canada)
Europe (France, Germany, UK, Italy, Netherlands, Spain, Russia)
Asia Pacific (Japan, China, India, Malaysia, Indonesia, South Korea)
Latin America (Brazil, Mexico, Argentina)
Middle East & Africa (Saudi Arabia, UAE, Israel, South Africa)
Know more about this report: Request for sample pages
Insight by Test Equipment
Based on the test equipment segment, the Holter monitor segment is expected to be the most significant global revenue contributor. Holter monitoring devices are a market leader because they may be utilized for longer periods to diagnose sporadic symptoms in patients.
They also provide more easy and faster monitoring to improve patient compliance and treatment outcomes. The increasing number of people suffering from the disorder, as well as many advances in the cardiac monitoring devices market, are driving the segment's growth.
Geographic Overview
North America had the largest revenue share. By 2030, the CDC predicts that 12.1 million Americans will suffer from atrial fibrillation (AFib). Furthermore, Mobile Cardiac Outpatient Telemetry (MCOT) is gaining popularity in the US. For example, the US FDA awarded Biotricity's Biotres Cardiac Monitoring Device 510(k) certification for ECG monitoring in January 2022.
The Biotres Cardiac Monitoring Device is a wearable Holter patch that records ECG data in three channels continuously. This has aided the corporation in expanding its cellular device product offering in the US. As a result of these factors, the market is predicted to rise rapidly over the forecast period.
Moreover, Asia Pacific is expected to witness a high CAGR in the global arrhythmia market. Because of the faster growth rate of diagnosis, treatment, and research activities, quality improvements, rising number of collaborations, and healthcare modernization, countries in the Asia-Pacific area, such as China and India, are hotspots for investment potential. To boost revenue, ECG monitoring device manufacturers are focusing on the development of advanced ECG devices, boosting the region's growth.
Competitive Insight
Some of the major players operating in the global market include Applied Cardiac Systems, AliveCor, Biotronik, Biotricity, GE Healthcare, iRhythm Technologies, Koninklijke Philips N.V., Medtronic plc., Nihon Kohden Corporation, St. Jude Medical (Abbott Laboratories), Spacelabs Healthcare (OSI Systems, Inc.), and Welch Allyn (Hillrom Services, Inc.), among others.
Arrhythmia Market Report Scope
| | |
| --- | --- |
| Report Attributes | Details |
| Market size value in 2021 | USD 6.39 Billion |
| Revenue forecast in 2030 | USD 11.25 Billion |
| CAGR | 6.8% from 2022 - 2030 |
| Base year | 2021 |
| Historical data | 2018 - 2020 |
| Forecast period | 2022 - 2030 |
| Quantitative units | Revenue in USD Billion and CAGR from 2022 to 2030 |
| Segments covered | By Test Equipment, By Site Of Origin Atrial, By Type, By Region |
| Regional scope | North America, Europe, Asia Pacific, Latin America, Middle East & Africa |
| Key companies | Applied Cardiac Systems, AliveCor, Biotronik, Biotricity, GE Healthcare, iRhythm Technologies, Koninklijke Philips N.V., Medtronic plc., Nihon Kohden Corporation, St. Jude Medical (Abbott Laboratories), Spacelabs Healthcare (OSI Systems, Inc.), and Welch Allyn (Hillrom Services, Inc.) |