The global breast cancer therapeutics market was valued at USD 14.2 billion in 2017 and is anticipated to grow at a CAGR of 10.3% during the forecast period. Brest cancer is a type of cancer developing in the breast tissue. The common indication of breast cancer includes red patches and formation of lump in breast on the skin. Some of the risk factors for developing breast cancer are overexposure to radiation, obesity, lack of physical exercise, and high consumption of alcohol.
According to the reports of The National Cancer Institute approximately 246,660 cases of breast cancer were diagnosed during 2016. The rising prevalence rate and increasing occurrence of breast cancer are major factors boosting the global breast cancer therapeutics market growth. Currently, several breast cancer awareness programs for early detection and treatments are held in several emerging nations across Asia Pacific and Latin America which is further anticipated to generate the market opportunities in the market. It is believed that with such initiatives including early diagnosis and treatment, the demand for global breast cancer therapies is expected to increase along with factors such as pharmacology promoting drug development, high investment in R&D and advancements in oncology.
Global Breast Cancer therapeutics Market Share, By Therapy Type, 2017 - 2026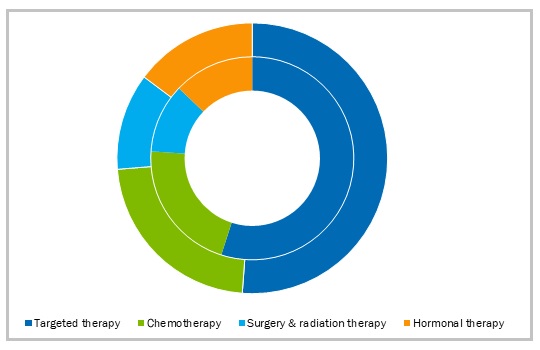 Know more about this report: request for sample pages
Segment Analysis
The global breast cancer therapeutics Market is segmented on the basis of therapy type and region. On the basis of therapy type, the market is categorized into targeted therapy, chemotherapy, surgery & radiation therapy, and hormonal therapy.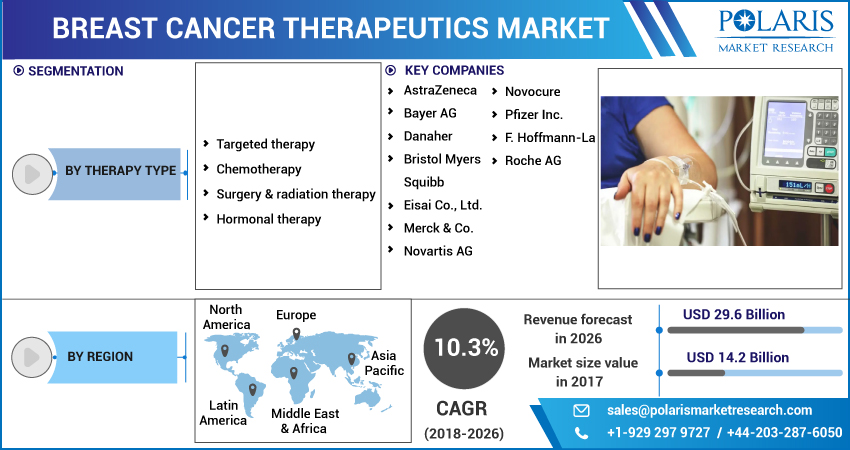 Know more about this report: request for sample pages
Breast Cancer Therapeutics Market Scope
By Therapy Type

By Region

Targeted therapy
Chemotherapy
Surgery & radiation therapy
Hormonal therapy

North America (U.S., Canada)
Europe (Germany, UK, France, Italy, Spain, Belgium, Russia, Netherlands)
Asia-Pacific (China, Japan, India, Australia, Korea, Singapore, Malaysia, Indonesia, Thailand, Philippines)
Latin America (Brazil, Mexico, Argentina)
Middle East and Africa (UAE, Saudi Arabia, South Africa)
Know more about this report: request for sample pages
Regional Analysis
The Breast Cancer therapeutics Market report comprises a detailed geographic distribution of the market across North America, Europe, Asia Pacific, Latin America, and Middle East & Africa regions. North America is segmented into U.S., Canada, and Mexico. European region comprises of Germany, UK, France, and Italy. Asia-Pacific is further bifurcated into China, India, Japan. On the basis of geography, North America breast cancer therapies market is observed to hold the largest market share. The major factors responsible for the high market growth in this region includes high occurrence of breast cancer, growing government welfares and increasing female geriatric population base. In addition, strong demand of diagnostic tests and advancement in technology for the effective treatment of breast cancer are other factors marking the significant growth of breast caner therapies market in North America.
Competitive Analysis
The leading players in the breast cancer therapeutics market include AstraZeneca, Bayer AG, Danaher, Bristol Myers Squibb, Eisai Co., Ltd., Merck & Co., Novartis AG, Novocure, Pfizer Inc., and F. Hoffmann-La Roche AG among others. The leading players in the market are introducing new innovative products in the market to cater to the growing consumer demands. Global players are entering new markets in developing regions to expand their customer base and strengthen market presence.