The global bulletproof vest market was valued at USD 1,303.18 million in 2022 and is expected to grow at a CAGR of 5.5% during the forecast period. Bulletproof vests, usually bulletproof jackets, are always used to protect soldiers. Shields soldiers from projectiles such as bullets, knives, and bomb explosions by deflecting the force of the blow and preventing the attack from penetrating the body. Police officers and members of the armed forces must wear bulletproof vests. These vests bend the bullet and spread its impact over a greater area of the cloth, mushrooming it into a platter shape. They do this by using many layers of tough fibers.

Know more about this report: Request for sample pages
In addition, there are two primary categories of bulletproof vests: soft vests and hard vests. Strong woven fibers can be used to weave soft vests, which are made of soft vests. The material most frequently used in soft vests is kevlar, interlaced into a dense net to absorb significant energy. Kevlar, ultra-high molecular mass polyethylene, and graphene are materials used to make bulletproof vests. Police departments and military personnel are the final consumers of bulletproof vests.
The increased requirement for civilian and military security brought on by rising geopolitical tension and the possibility of terrorist attacks drives the global market for bulletproof vests. To support and enhance the survivability of military personnel, several governmental agencies and defense organizations are swiftly implementing next-generation armament systems, such as cutting-edge bulletproof vests. The demand for bulletproof jackets is rising worldwide due to the growing security awareness across various businesses. Security concerns, such as those around retail, healthcare, and transportation, are rapidly growing as threats multiply. However, the demand for bulletproof jackets is constrained by their high price among consumers worldwide.
The COVID-19 virus affects the defense industry. This industry's dynamics have changed due to decreased demand and postponed product deliveries. The lockdown significantly negatively affected the defense industry and slowed the manufacture of defense goods. Due to budget cuts brought on by COVID-19, the Department of Indian Military Affairs requested all of the armed forces to postpone their capital purchases. Due to COVID-19, the military industry faced unheard-of difficulties due to falling defense spending and production halts brought on by the lockdown.
The COVID-19 pandemic has had less of an effect on the market. Over recent years, there has been a noticeable rise in the demand for bulletproof vests. Due to the temporary shutdown of production facilities in 2020, the companies' output for making bulletproof vests remained lower than in the previous years. But since 2021, the market has returned owing to demands from the military and police administration.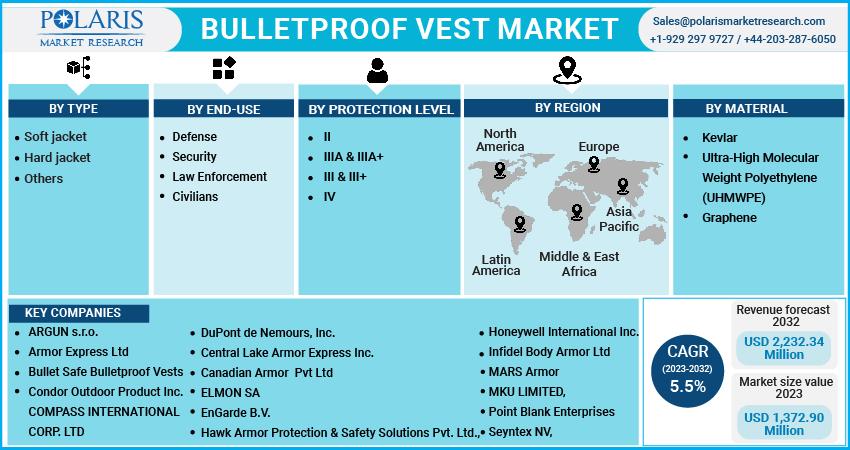 Know more about this report: Request for sample pages
Industry Dynamics
Growth Drivers
The bulletproof vest market driving due to rising government spending on defense. Several nations have increased their defense budgets due to increased terrorism, geopolitical instability, and political unrest worldwide. The Office of Management and Budget estimates that the United States spent $754 billion on defense for fiscal year (FY) 2021. The Department of Defense (DoD) spent $718 billion, or most of the total defense budget, on military operations in FY2021. The remaining $36 billion was used by other organizations, like the Department of Energy and the Federal Bureau of Investigation, on defense-related projects.
In 2021, $141 billion was spent on acquiring weapons and systems, and around $106 billion was spent on developing new weapons and equipment. In addition, the military spent $1 billion on various ancillary activities and nearly $10 billion on developing and maintaining military buildings, including barracks and family housing.
Furthermore, a factor driving the government's decision to boost the defense budget and reinforce security measures is the rise in security concerns. Bulletproof jackets were designed to protect the wearer from the damaging effects of gunshots on internal organs. Projectile bullets cannot penetrate the wearer's body, and the jacket reduces small explosive pieces. Polythene plates, metal plates, and woven or laminated fibers are stacked on top of one another to create them. As terrorism, violence, and threats increase globally, there is a growing need for civilian & military protection, which will also lead to a rise in the use of bulletproof vests in the defense industry.
Report Segmentation
The market is primarily based on type, end-use, protection level, material, and region.
By Type

By End-use

By Protection level

By Material

By Region

Soft jacket

Hard jacket

Others

Defense

Security

Law Enforcement

Civilians

II

IIIA & IIIA+

III & III+

IV

Kevlar

Ultra-High Molecular Weight Polyethylene (UHMWPE)

Graphene

North America (U.S., Canada)

Europe (France, Germany, UK, Italy, Netherlands, Spain, Russia)

Asia Pacific (Japan, China, India, Malaysia, Indonesia. South Korea)

Latin America (Brazil, Mexico, Argentina)

Middle East & Africa (Saudi Arabia, UAE, Israel, South Africa)
Know more about this report: Request for sample pages
The Soft Jacket segment is expected to witness the fastest growth in 2022
The soft jacket market category held the top spot, accounting for the highest growth rate. The growing consciousness of workplace safety also contributes to the global demand for this product. The soft jacket is made of several layers of woven & laminated fibers and protects security personnel & soldiers from bombs, shotguns, & small-caliber handguns. Soft vests can be paired with metal plates to bolster defense against attacks with weapons and knives. These vests' several layers of strong fibers bend the bullet by distributing the impact force over a greater thread area.
Furthermore, bulletproof clothing is designed to distribute the round's energy. Hard bulletproof jackets are made from steel plates that have been strengthened. The bulky vests can also protect wearers from mild steel-cored AK-47 rounds. The aforementioned elements will be the primary drivers of hard vest bulletproof jacket demand over the forecast period. Hard vest bullet protective jackets are used for high-risk tactical missions & hostage release missions, unlike soft vests with several layers of fiber coating. These jackets deflect shotgun and handgun projectiles away from the human body. The wearer of the hard jacket is also protected from risks bigger than category III A.
M

ilitary segment industry accounted for the highest market share in 2022
The military sector garnered the largest share. The primary cause is increased military spending, which has fueled widespread purchases of body armor and bulletproof vests for the military's dismounted army units. However, the rise in attacks, violence, and threats worldwide raises concerns about safeguarding both soldiers and civilians, which will also result in a growth in the use of bulletproof vests in the military. The national defense departments of various nations are anticipated to invest in acquiring highly effective wearables, particularly in developing nations that experience border tension wi th neighboring nations and would need the most technologically advanced and adaptable military wearables to outperform their rivals and guarantee the safety of their soldiers.
Kevlar segment industry accounted for the largest market share in 2022
The Kevlar market segment has the largest market share. Due to its advantages over other materials, including lightweight, flexible, & ballistic protection, Kevlar is the most often utilized material in producing these vests. In addition, during the projection period, the graphene category will have impressive expansion. Due to its excellent resistance to ballistic, pointed, & sharp-edged devices, UHMWPE will experience tremendous expansion.
The demand in Asia-Pacific is expected to witness significant growth during forecast period
The largest market share was in Asia Pacific. Due to the country's large number of active military and law enforcement personnel, China is expected to continue to be the top consumer of bulletproof ballistic protection items during the projection period. The deterioration of current bulletproof vests and the escalating tensions along the region's borders are projected to drive market growth. Defense R&D is expanding in the area as new versions of bulletproof vests are being developed. This will increase product demand over the expected period.
Asia-Pacific region, as well as various Middle Eastern and African nations, as a result of the increased emphasis on domestic manufacturing. Additionally, businesses are investing in creating new, lightweight bulletproof vests made of cutting-edge materials, offering improved protection and increasing their market share throughout the anticipated era. Also, the rising programs in the North American region are boosting regional growth. The Soldier Protection System - Torso and Extremity Protection (SPS-TEP) program, which encourages the adoption of full body armor by soldiers, is the principal program among them. Along with these programs, increased military spending in the United States and Canada will increase market penetration even more.
Competitive Insight
Some of the major players operating in the global bulletproof vest market include ARGUN s.r.o., Armor Express, Bullet Safe Bulletproof Vests, COMPASS INTERNATIONAL, DuPont, Central Lake Armor, Canadian Armor, ELMON, EnGarde, Hawk Armor Protection, Honeywell International, Infidel Body Armor, MARS Armor, MKU LIMITED, Point Blank Enterprises, Seyntex, Safari Land, U.S. Armor Corporation, & VestGuard.
Recent Developments
In August 2021, The Queensland Government intended to give the Queensland Police Service (QPS) integrated load-bearing vests (ILBV). From December 2021, the 4,750 ballistic plates and vests will be replaced with 12,200 fully integrated massive vests.
Bulletproof Vest Market Report Scope
| | |
| --- | --- |
| Report Attributes | Details |
| Market size value in 2023 | USD 1,372.90 million |
| Revenue forecast in 2032 | USD 2,232.34 million |
| CAGR | 5.5% from 2023 – 2032 |
| Base year | 2022 |
| Historical data | 2019 - 2021 |
| Forecast period | 2023 - 2032 |
| Quantitative units | Revenue in USD million and CAGR from 2023 to 2032 |
| Segments Covered | By Type, By End-use, By Protection level, By Material, By Region |
| Regional scope | North America, Europe, Asia Pacific, Latin America; Middle East & Africa |
| Key Companies | ARGUN s.r.o., Armor Express Ltd, Bullet Safe Bulletproof Vests, Condor Outdoor Product Inc., COMPASS INTERNATIONAL CORP. LTD, DuPont de Nemours, Inc., Central Lake Armor Express Inc., Canadian Armor Pvt Ltd, ELMON SA, EnGarde B.V., Hawk Armor Protection & Safety Solutions Pvt. Ltd., Honeywell International Inc., Infidel Body Armor Ltd, MARS Armor, MKU LIMITED, Point Blank Enterprises, Seyntex NV, Safari land pvt ltd, U.S. Armor Corporation, and VestGuard UK Pvt Ltd. |