The ethylene carbonate market was valued at USD 454.06 million in 2021 and is expected to grow at a CAGR of 13.7% during the forecast period. Ethylene carbonate is used as raw material for lubricant production as it is a high polar solvent dissolving many electrolytes and is used in lithium batteries in the electrolyte solutions. It finds applications in various industries, including automotive, industrial, medical, oil & gas, personal care, and hygiene.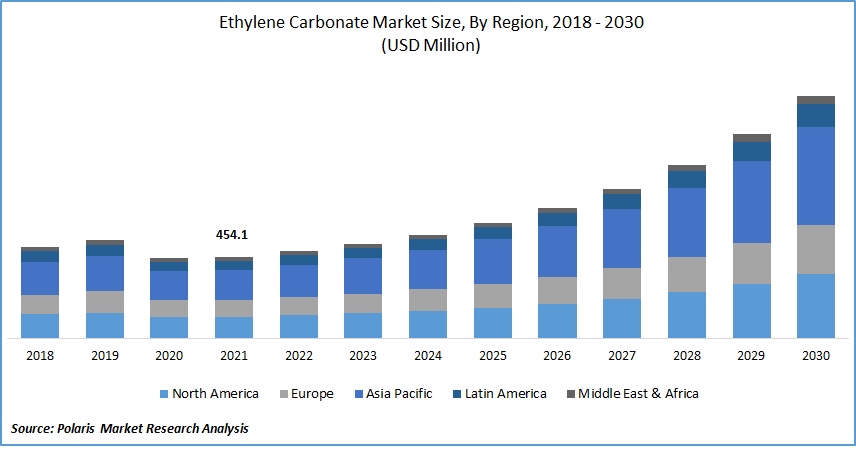 Know more about this report: request for sample pages
It dissolves polymers leading to its use as a release agent and detergent. The products made by ethylene carbonate are of high quality with low impurity levels. The ethylene carbonate utilization is expanding daily because of its low toxicity and high electrolyte production in lithium-ion batteries, driving the industry demand.
Ethylene carbonate is built up by the reaction of carbon dioxide and ethylene oxide, and the number of complexes and cations catalyzes the response at high temperature and pressure. It is also used as a plasticizer and a vinylene carbonate precursor, with polymers and organic synthesis applications.
The Covid-19 pandemic has negatively impacted market growth due to restrictions worldwide. Amongst these, the automotive industry has been affected greatly due to the closure of showrooms and transportation and supply chain restrictions. Additionally, due to lockdowns, demand for personal and commercial vehicles has been significantly reduced. Also, the consumer's plans of buying cars and vehicles were cancelled due to the Covid-19 pandemic, which negatively impacted the market.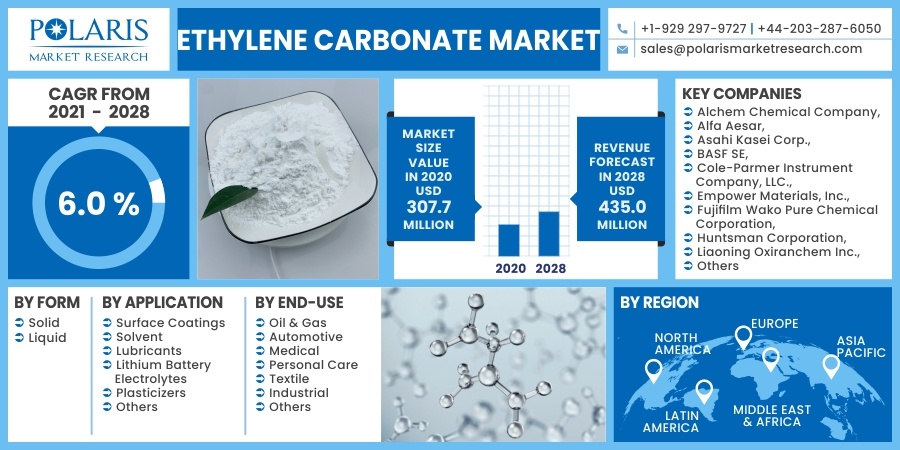 Know more about this report: request for sample pages
Industry Dynamics
Growth Drivers
Several processes lead to the development of low-cost, eco-friendly, and highly efficient alternatives. Lithium-ion batteries are prominent for their properties; however, they are not abundant for particular applications, including transport and power grid applications, which opens a new pathway to examine the potential of lithium-sulfur batteries.
The lithium-sulfur batteries' energy storage capacity is driving up the demand in the market as it offers a steep increase in energy storage capacity over lithium-ion batteries. They are considered next-generation electric vehicle batteries as compared to lithium-ion batteries, they have sulfur cathode readily available and low toxic effect on the environment, which has driven the demand for ethylene carbonate in lithium-sulfur batteries.
The changing trends and the living standard have led to the growth of the automotive industry, resulting in increasing lubricant demand, which has driven the market growth. Additionally, environmental issue such as the rigorous emission of pollutants has increased the demand for electric vehicles, increasing the growth of ethylene carbonate.
Lithium ions are also used in electronic devices and gadgets such as mobile phones, tablets, and medical equipment. Thereby, an increase in the production and sales of these gadgets has also driven the growth of the market for ethylene carbonate.
Report Segmentation
The market is primarily segmented based on form, application, end-use, and region.
By Form

By Application

By End-Use

By Region

Lithium Battery Electrolytes
Lubricants
Plasticizers
Surface Coatings

Automotive
Industrial
Medical
Oil & Gas
Personal Care and Hygiene

North America (U.S., Canada)
Europe (France, Germany, UK, Italy, Netherlands, Spain, Russia)
Asia Pacific (Japan, China, India, Malaysia, Indonesia, South Korea)
Latin America (Brazil, Mexico, Argentina)
Middle East & Africa (Saudi Arabia, UAE, Israel, South Africa)
Know more about this report: request for sample pages
Solid form market segment accounted for the largest revenue share in 2021
Based on form, the ethylene carbonate market is categorized into solid and liquid, in which solid form accounted for a significant revenue share in 2021 due to an increase in utilization in several applications such as chemical intermediates, lubricants, solvents, and plasticizers. At room temperature, ethylene carbonate is a transparent crystalline solid, practically odorless and colorless, and soluble in water. And in a liquid state, it is a colorless, odorless liquid.
The solid ethylene carbonate form is used as a solvent for lubricants, as a crosslinking agent in super absorber polymer production, as an intermediate in the synthesis of polycarbonate diol, and in the separation of the gas washing process and oil field. It's also used as a fiber processing agent, soil hardening agent, plasticizers, resist strip solvents, medical products, solid battery electrolytes, and solid capacitor electrolytes.
It's also used as an additive in the manufacturing of cosmetics, soldering fluxes, and pharmaceuticals. It is used as a solvent for reducing the viscosity during high temperature or extreme pressure drilling operations in oil & gas industries. Therefore, its several usages drive solid ethylene carbonate's growth and account for the largest share.
Lubricants is expected to account for the highest share in 2030
Based on applications, the report has been segmented into lubricants, plasticizers, lithium battery electrolytes, and surface coatings. The lubricant segment accounted for the largest market share in 2021. It is also estimated to be the fastest-growing segment during the forecast period.
The growth for this segment is assigned to its growing utilization in end-use sectors such as automotive, oil & gas, industrial, and personal care and hygiene. As ethylene carbonate is used as a raw material for producing lubricants, it has driven the industry growth, increasing the shares for its lubricant application.
They are widely used in manufacturing and transportation industries to smooth product operations. In the automotive sector, it is used as a cleaning and cooling agent, preventing the friction caused by metallic parts and protecting the engine from wear and tear. It also clears the contamination caused during the operation of the object. The growing utilization in all industries has driven the market's growth, increasing its demand in lubricant application.
Automotive is expected to grow at the highest rate during the forecast period
Based on end-use, the report is segmented into automotive, industrial, medical, oil & gas, and personal care and hygiene. Automotive accounts for the largest revenue share and is expected to grow fastest during the forecast period due to manufacturers' requirements for reduced emission of volatile organic compounds, which produce smog.
Demand for electric vehicles to reduce pollution and environmental issues has driven market growth. Additionally, increasing utilization in the automotive industry for safety and protection against electric shock in manufacturing parts, including ignition cable sets, spark plugs, and battery terminals is likely to complement market growth.
Asia Pacific is projected to grow at the highest growth rate during the forecast period
The market in the Asia Pacific accounted for the largest revenue share in the ethylene carbonate market during the forecast period due to the growth factors driven by the rising demand from the approaching industries. Additionally, this region is a leader in producing battery electrolytes for EV lithium-ion batteries.
An increase in utilization in several end-use sectors such as oil & gas, automotive, industrial, and medical in this region has driven the market. Also, China's growing population and rising economic growth are leading to a steep increase in the ethylene carbonate market in this region.
The increase in strict environmental protection norms by the government has added pressure on this region, leading to a rise in the sale and production of electric vehicles, which have shown in the growing demand for lithium-ion batteries and driven the demand for ethylene carbonate in Asia Pacific.
Competitive Insight
Some of the major players operating in the global market include Alchem Chemical Company, Alfa Aesar, Asahi Kasei, BASF, Empower Materials, Fujifilm Wako Pure Chemical Corporation, Huntsman, Liaoning Oxiranchem Inc., Linde Oriental Union Chemical Corporation, Mitsubishi Chemical, New Japan Chemical Co., Otto Chemie Pvt Ltd, Panax Etec, Parsol Chemicals Pvt. Ltd, RX Marine International, Shandong Senjie Cleantech Co. Ltd, Taixing Taida Fine Chemical Co. Ltd, Toagosei Co., Ltd., Tokyo Chemical Industry Co. Ltd, Vizag Chemical International, Zibo Donghai Industries Co. Ltd., and Zhengzhou Meiya Chemical Products Co., Ltd.
Ethylene Carbonate Market Report Scope
| | |
| --- | --- |
| Report Attributes | Details |
| Market size value in 2021 | USD 454.06 million |
| Revenue forecast in 2030 | USD 1,356.82 million |
| CAGR | 13.7% from 2022 - 2030 |
| Base year | 2021 |
| Historical data | 2018 - 2020 |
| Forecast period | 2022 - 2030 |
| Quantitative units | Revenue in USD million and CAGR from 2022 to 2030 |
| Segments covered | By Form, By Application, By End-use, By Region |
| Regional scope | North America, Europe, Asia Pacific, Latin America; Middle East & Africa |
| Key companies | Alchem Chemical Company, Alfa Aesar, Asahi Kasei, BASF, Empower Materials, Fujifilm Wako Pure Chemical Corporation, Huntsman, Liaoning Oxiranchem Inc., Linde Oriental Union Chemical Corporation, Mitsubishi Chemical, New Japan Chemical Co., Otto Chemie Pvt Ltd, Panax Etec, Parsol Chemicals Pvt. Ltd, RX Marine International, Shandong Senjie Cleantech Co. Ltd, Taixing Taida Fine Chemical Co. Ltd, Toagosei Co., Ltd., Tokyo Chemical Industry Co. Ltd, Vizag Chemical International, Zibo Donghai Industries Co. Ltd., Zhengzhou Meiya Chemical Products Co., Ltd. |